ClevelandPeople.Com News
ClevelandPeople.Com News


Important Notice - Cleveland Ethnic Events and Coronavirus (COVID-19)
As you know, this is a fluid situation - things are being announced hourly it seems. We will do our best to update our Calendar of Events with cancellations and other notices but we encourage you to check with the event organizers to confirm details before attending an event. And, of course, if you are not feeling well, please stay home!
---
Over 45,000 attended Cleveland Asian Festival
Continental Cup 10th Anniversary International Youth Sports Festival
Continental Cup 10th Anniversary International Youth Sports Festival
Over 3,000 athletes from dozens of countries travel to Cleveland each July to compete for championships at professional sports venues, meet new friends from around the world and create life-long memories.
Details about the Continental Cup
Top of Page
---
Anthony Yen grand nephew wedding
Anthony Yen grand nephew wedding
Dr. Anthony Y Yen is Chairman Trustee Council of the Confucius Institute at Cleveland State University. Dr. Anthony Yen was inducted into the Cleveland International Hall of Fame in 2012. Dr Yen is proud to announce the wedding of his grand-nephew Peter and "his new beautiful Indian wife" Meghan.

Photos of the happy couple

Top of Page
---
Trivia Challenge with Jeopardy Champion Arthur Chu
America's Got Bollywood at Cleveland Asian Festival
America's Got Bollywood at Cleveland Asian Festival
The Cleveland Asian Festival delights their attendees each year with dozens of colorful acts representing culture from all over Asia. The Cleveland Asian Festival has also become known for bringing in a national act each year as a special treat. This year get ready for America's Got Bollywood.

The 2015 Cleveland Asian Festival will feature the Mona Khan Company, a critically acclaimed Bollywood dance & fitness company based in the San Francisco Bay Area. Their dance troupe has an extensive repertoire which includes performances with numerous Bollywood singers and actors like Shah Rukh Khan, Shaan and Shankar Mahadevan.

In 2010, the Mona Khan Company was chosen out of 70,000 acts across the nation to be in the Top 48 on the NBC show, America's Got Talent, Season 5.

America's Got Bollywood at Cleveland Asian Festival Press Release

Top of Page
---
Redevelopment of Slavic Village in Cleveland
Redevelopment of Slavic Village in Cleveland
Slavic Village, a historical neighborhood located outside of downtown Cleveland, was devastated by the national housing crisis and continues to struggle in the aftermath of economic decline. A once vibrant neighborhood rich in history and culture has been plagued by blight, vacant homes and financial hardships. But it's on its way back.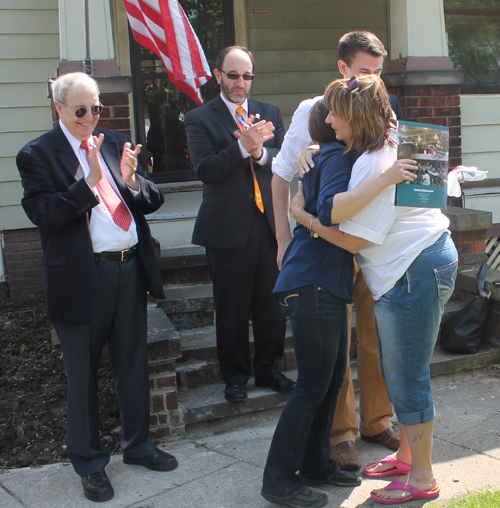 New Slavic Village neighbors
Slavic Village recovery and celebration of its 25th homebuyer
Top of Page
Senator Portman Meets with Cleveland Eastern European Communities
Senator Portman Meets with Cleveland Eastern European Communities
U.S. Senator Rob Portman (R-Ohio) traveled to Ukraine to meet with Ukrainian President Petro Poroshenko, as well as other government officials. Portman has repeatedly called for increased U.S. military assistance to Ukraine as they continue to face Russian aggression.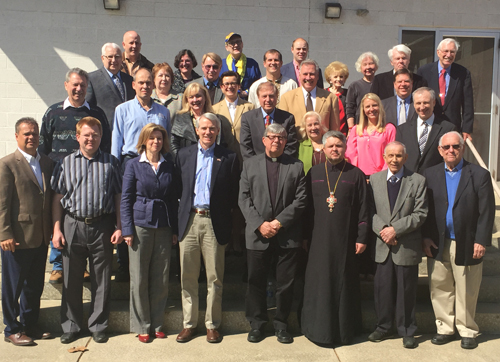 Senator Portman and Cleveland Eastern European leaders



Portman also traveled to Latvia to meet with Latvian officials, U.S. troops and discuss the importance of the U.S.-Latvia relationship. Prior to his trip, Portman met with Latvian Ambassador Andris Razans to discuss recent developments in U.S.-Latvian relations.

On Friday, April 17, 2015 Senator Portman, co-chair of the Senate Ukraine Caucus, met with members of Eastern European communities in Cleveland to discuss his recent visit to Ukraine and Latvia.

More from Senator Portman's meeting at the Ukrainian Museum & Archives

Top of Page

World Marketplace at Cleveland Asian Festival
World Marketplace at Cleveland Asian Festival
With over 100 vendors, the Cleveland Asian Festival is the place to find unique items for the whole family.

Attendees have come to expect a variety of sumptuous Asian food in the Asian Food Court. From tasty drinks and desserts to full lunches and dinners, over 20 restaurants will offer their specialties representing Thai, Chinese, Indian, Japanese, Korean, Filipino, Vietnamese, Laotian and other cuisines.

Attendees will need to refuel at the Asian Food Court after visiting the World Marketplace at the Cleveland Asian Festival. The World Marketplace consists of many dozens of exhibitors

World Marketplace at Cleveland Asian Festival Press Release

Top of Page
---
Free Health Screenings at Cleveland Asian Festival
Free Health Screenings at Cleveland Asian Festival
The Cleveland Asian Festival is known for its cultural performances, family friendly activities and delicious food. These components contributed to the Cleveland Asian Festival being named Best Festival in Cleveland. The annual two-day event typically draws about 40,000 people to Cleveland's Asia Town and they spend about $2 million at the event and in the area.

But the most valuable contribution of the annual Cleveland Asian Festival may be the Health Pavilion. Free Health Screenings are available for all attendees at the Cleveland Asian Festival. Major health care organizations will be in attendance: Cleveland Clinic, MetroHealth, Louis Stokes Cleveland VA Medical Center, Asian Services in Action, and Cleveland Department of Public Health.

Free Health Screenings at Cleveland Asian Festival Press Release

Top of Page
---
Cleveland Asian Festival named Best Festival
Cleveland Asian Festival named Best Festival
The Cleveland Asian Festival was named Best Festival by Cleveland Hot List voters. The Cleveland Hot List (http://cleveland.cityvoter.com) features more than 6,000 businesses competing for the title of Cleveland's best. The results are based on more than 100,000 votes from local experts.

The competition was between over 10 longtime and newer Cleveland area festivals and the Cleveland Asian Festival climbed to the top in a relatively short time. 2015 marks the 6th year of the Cleveland Asian Festival.

Cleveland Asian Festival named Best Festival Press Release

Top of Page
---
A message from Mayor Jackson
A message from Mayor Jackson
April 28, 2015

Dear Community Leader:

In the wake of the tragic events that unfolded in Baltimore, and bearing in mind the series of police-related matters and legal proceedings currently in process here in Cleveland, I am writing to let you know that the City of Cleveland has been planning and is prepared to address upcoming developments.

As I am sure you are aware, it is likely that the trial of Officer Michael Brelo will conclude within the next few days. Other high-profile cases are still pending, as well as continued negotiations with the Department of Justice.

Clearly, these are very complex situations that affect people at every level in our community. We are focused on how best to create a sense of safety, trust and confidence in our community, while empowering our police to enforce the law and maintain order.

We are planning for a variety of contingencies and are being very proactive in both communication and outreach. We are partnering with community and faith-based leaders, corporate entities and individuals to foster an environment that informs audiences about the changes taking place, while recognizing the importance of listening and engaging with all parties involved. We all have a shared responsibility for maintaining peace and order moving forward.

More than ever, let us work together to ensure that Cleveland is a community where all citizens receive the respect they expect and deserve.

Sincerely,

Frank G. Jackson
Mayor

Top of Page

Ethnic Leaders 8th annual Summit
Ethnic Leaders 8th annual Summit
The first annual meeting and 8th annual Summit put on by the International Community Council-Worldwide Intercultural Network (ICC-WIN) with partners American Nationalities Movement and ClevelandPeople.Com was held at MetroHealth on Saturday.

One of the discussions focused on how to present Cleveland's divesrity to the RNC media. More to come...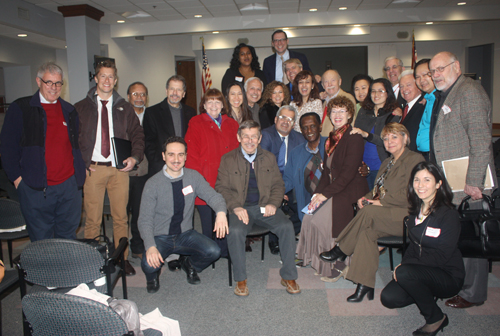 Some of the ICC-WIN summit particpants
Top of Page
Opportunities

Do you want to reach any or all of the ethnic communities in Cleveland and Northeast Ohio? If you are interested in reaching thousands of people representing the many ethnic cultures that make up the Cleveland area, please let us know.

It is also possible to focus on one or more particular groups.

Contact us via e-mail at info@ClevelandPeople.Com
or by voice at 216-781-1757

or mail to

ClevelandPeople.Com
868 Montford Rd.
Cleveland Hts, OH 44121
USA
Do you offer a Product or Service that would be of interest to one (or more) of our other Groups?
Contact us if you have questions or comments on any aspect of these sites or if you are interested in sponsoring, advertising or content-providing opportunities for any of our sites targeting:
Baby Boomers and Seniors
Women
Men
Teens
Kids
Business people
Various Ethnic Groups
and even Pets
---
We offer a growing, specialized audience eager to view your company information 24 x 7 x 365 at inexpensive, cost-effective rates that will fit your budget.
Contact us today for more information.
---
Submit Your Group's Event
If you want your group's events listed in our Calendar, please send an e-mail to events@clevelandpeople.com with the details. Please allow at least 2 weeks lead time.
Top of Page
---
On-line store for browsing and shopping
Do you need a Hungarian Flag? A shirt that says "I love Slovenian girls"? How about a sign that says No Parking except for Irish Grandmother?
These and hundreds of other items for your particular ethnic group are available for browsing at our on-line store. It's safe, fast, easy and fun. And there is a wide selection you will never find in the stores!
---

Sponsored in part by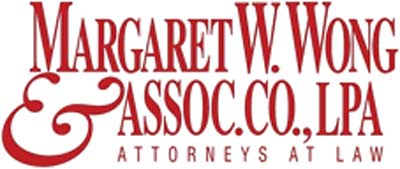 Thanks to Vision Net for hosting this site
Stay informed about the news and special events of the Group(s) you choose by signing up for the free ClevelandPeople.Com e-newsletter
---
---
Visit our On-line Store featuring Books, DVDs, Music, Flags, Clothes, Food and more from our various ethnic groups.
---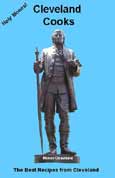 Cleveland Cooks!
- The best recipes from Cleveland. There are over 350 recipes from your neighbors and friends as well as local celebrities such as Dick Goddard, Wilma Smith, Romona Robinson, Lee Jordan, Al Roker, Stacey Bell, Sister Mary Assumpta, Mary Ann the Ghost Whisperer, Les Roberts, Food TV's Jack Hourigan, Hoolihan, SuperHost, Miss Barbara and many more.

Look for delicious recipes celebrating the diverse ethnic makeup of Cleveland - Hungarian, Jewish, Italian, Armenian and many more.

You know those special recipes that have been your family's favorites for years? Maybe they were brought over from the "Old Country" by a relative. Maybe there's a unique or funny way that you always serve it. Or maybe it's just a tried and true recipe that always gets raves.

We've gathered these best recipes and assembled them all in one cookbook to show that Cleveland Cooks!

Click for more information or to order.


---