Calendar of Events
Cleveland and Northeast Ohio
Ethnic and Cultural Events
Cleveland International and Cultural Events

If you have annual events and/or know the date of future events, please send them now and we will post. That will assist other groups in their planning so there are not too many conflicting events.
---
If you like the work of ClevelandPeople.Com you can contribute to the cause via credit card safely via Paypal. Click on the Donate button below and you can enter any amount. Thanks.
---
May 27, 2022


Russia, Energy, and the German Economy
11 AM
Virtual

The Russian invasion of Ukraine on February 24th has had a major impact on businesses active in the region – and on the global economy. After an initial trickle, many western firms are leaving Russia or have done so already. Others have reduced or paused their activities in Russia. The first to leave were major oil companies with technology firms and professional service providers following suit. Chemical company BASF decided almost immediately after the invasion not to expand its business in Russia and Belarus and has since decided to wind down the company's remaining activities in both countries by the beginning of July 2022. An exemption from this decision is business to support food production since the war appears to be triggering a global food shortage.
But, the issues are not limited to the region. The war in Ukraine has disrupted energy flows and supply chains. BASF recently warned it could be hit by fallout from the Russian invasion of Ukraine as well as measures being introduced in China to curb the spread of Covid-19. Join the American Council on Germany for a discussion with ACG Board member Michael Heinz, Chairman and CEO of the BASF Corporation and Member of the Board of Executive Directors of BASF SE, about the impact of the current crisis on the Germany economy.
More info and register

Top of Page


---
May 27, 2022


German American Cultural Center Beer & Brats
5 - 10 PM
7370 Columbia Rd
Olmsted Twshp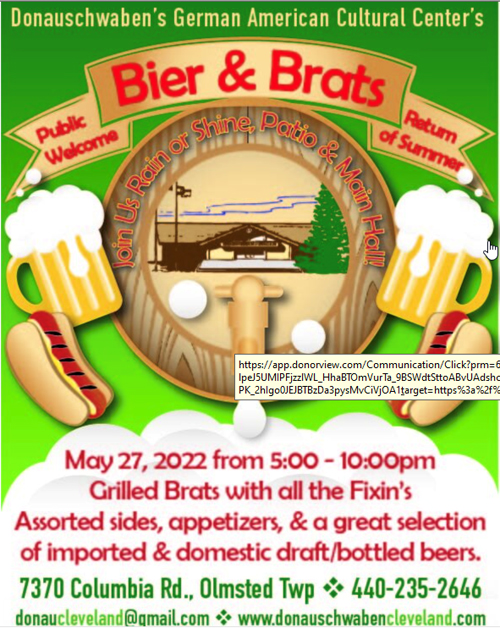 Top of Page
---
May 28, 2022


The Indigneous Voyage to Hawai'i
1 - 3:30
Sari Feldman Auditorium - Cuyahoga County Library
2111 Snow Rd. Parma·

The Indigneous Voyage to Hawai'i though narration, music and dance. Hosted by American Asia Pacific Islander Organization. Manivics Dance Company and Hawaian Island Entertainment. More info call 440-638-4991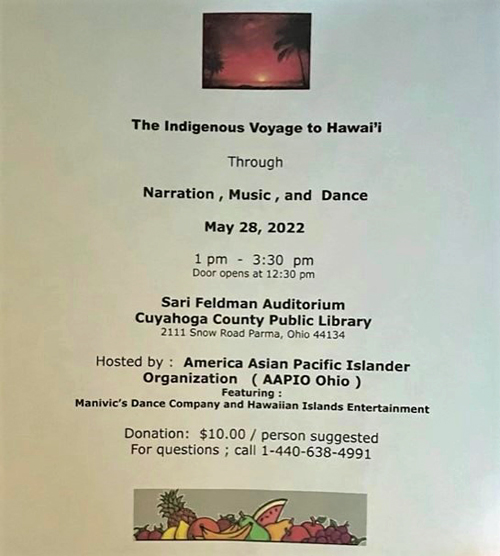 Top of Page
---
May 28, 2022


Latina Image 2022: Preliminary Fashion Show
6 PM
Julia De Burgos Cultural Arts Center
2800 Archwood Ave·

TCome and vote for your favorite candidate at this year's Latina Image Program Preliminary Fashion Show! Doors open at 6:00pm (no early entry) Tickets $10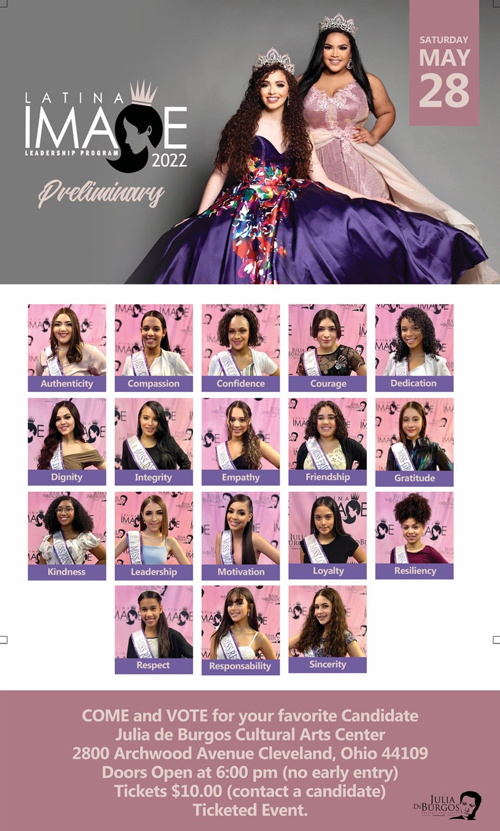 Top of Page
---
May 29, 2022


Donauschwaben National Soccer Tournament
11 AM
Donauschwaben's German-American Cultural Center
7370 Columbia Road, Olmsted Twp·

More information to follow
---
May 29, 2022


Hungarian Memorial Day
3 PM

More information to follow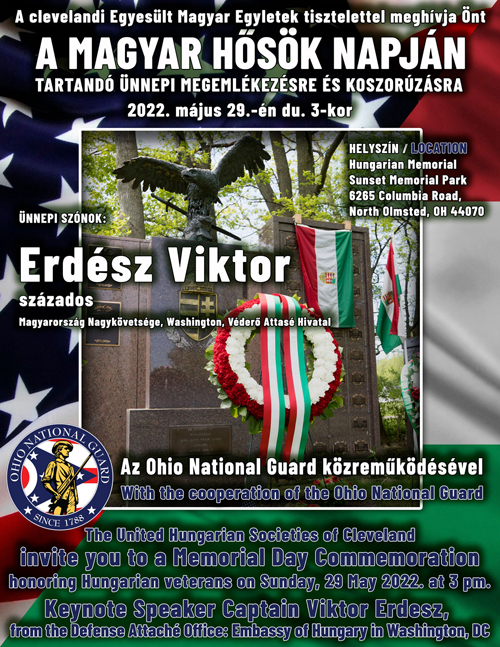 Top of Page
---
May 29, 2022


66th Cleveland Feis
3Begins 8 AM

Force Sports
34650 Melinz Parkway, Eastlake, OH 44095
The Feis, which means "an Irish Festival, usually folk music, dancing and sports" will be a day of Irish Dancing and Irish Music competitions, ranging from beginner dancers and musicians to championship level, along with ceili and other group dances. The dancing competitions will begin at 8:00 am, and run until all competitions are completed. Music, both instrumental and vocal, be run between 9:00 am and 1:00 pm. For more information, please go to The Cleveland Feis.
Irish step dances are relatively modern, creations of the dancing masters prevalent in Ireland in the 18th and 19th centuries. "... almost all references to Irish dances in literature, down to the beginning of the eighteenth century, deal only with Round and Long dances, and ... there is a marked absence of any indication of the existence of the dancing-master until about the same time." The intricate steps were invented by the dancing masters, who elaborated on the simple steps of Round and Long dances. (Round and Long dances are group dances, requiring a minimum of four dancers depending on the dance. Round dances are known in step dancing as figure dances, e.g., six-hand reel, eight-hand reel, four-hand jig.)
There are four basic Irish step dances (solos): reel, (light) jig, slip jig, and hornpipe. There are, of course, many variations of reel, light jig, slip jig, and hornpipe steps. Each dancing school has its own versions of the steps. For those who are musically inclined and care about the timing of these dances: the reel is in 2/4 time; the light jig is in 6/8 time; the slip jig is in the complex 9/8 time; the hornpipe is also in 2/4 time, although with a different structure than that of the reel. An Irish dance competition, feis (pronounced fesh), can be found somewhere in the United States every month of the year, although the spring and summer months are the busiest. Competitions are also held in Canada, Ireland, the United Kingdom, Australia, New Zealand, and South Africa. Regional competitions (Oireachtas -- pronounced uh-roc-tus ) allow the best dancers to qualify for national competitions and thus for world competition.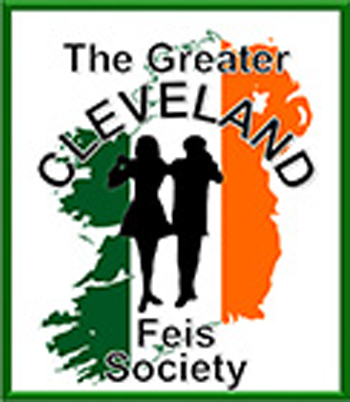 Top of Page
---
June 4, 2022


Martin Luther King Jr. Celebration Concert
7 PM
Severance Hall
11001 Euclid Ave, Cleveland, OH 44106
Presented by The Cleveland Orchestra, this uplifting concert will showcase the music of prominent Black composers — such as Dolores White, Mary D. Watkins, Carlos Simon, Brian Raphael Nabors, William Grant Still, and Samuel Coleridge-Taylor — as well as music in the African American spiritual tradition. The program concludes with James Weldon Johnson and J. Rosamond Johnson's beloved hymn "Lift Every Voice and Sing."
Details and tickets

Top of Page


---
June 5, 2022


Mayo Tea
2 - 5 PM
John Carroll University Dolan Atrium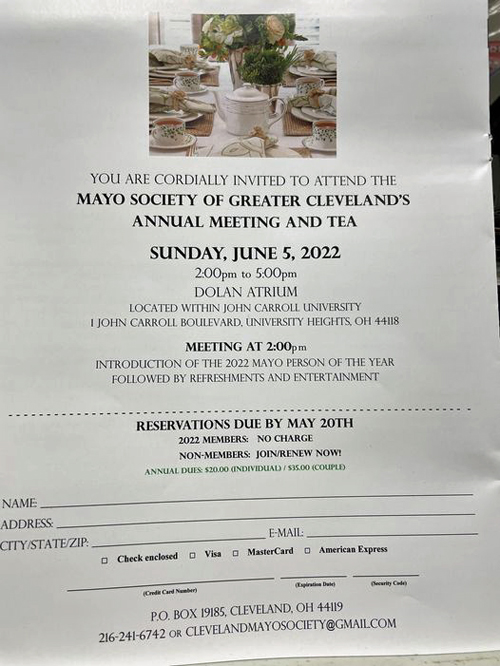 Top of Page
---
June 7, 2022


Cleveland International Hall of Fame Inductions
Windows on the River

Like so many others, the Cleveland International Hall of Fame (CIHF) had to cancel the 2020 and 2021 induction ceremonies due to the pandemic. But it is back and will be very special.
The 2022 CIHF induction ceremony will be held at Windows on the River on Tuesday June 7, 2022. Doors open at 5 with dinner and program at 6PM. TV3 anchor Russ Mitchell will be the MC and Bishop Edward Malesic will give the invocation and share his ethnic heritage story.
The 2022 honorees are:
• Anda Cook, (Latvian)
• Carl Robson, (Ethiopian community)
• Victor Ruiz, (Puerto Rican)
• Taras Szmagala, (Ukrainian)

In addition, we will recognize the 2020 inductees who missed out on their ceremony due to Covid.
• May Chen (Chinese)
• Margaret Lynch (Irish)
• Valarie McCall (African-American)
• Ramesh Shah (Indian)
• Berj Shakarian (Armenian)
• Joe Valencic (Slovenian)
Click on the name of the person above to view their photo and bio.
There will be special guests, music and an opportunity to sponsor Afghan, Ukrainian and other refugees and students to the event. Ethnic attire is encouraged.
Individual Tickets are on Sale Now. Click the link below to buy tickets securely with a credit card.

More Information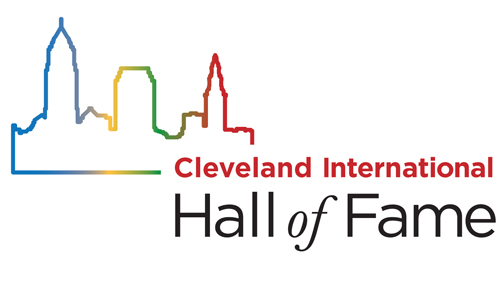 Top of Page
---
June 11, 2022


Cleveland Polka Association Family style Picnic
1 PM
St. Sava's Picnic Grove
2300 W. Ridgewood Drive Parma, OH 44134

Gate opens @ 1:00 pm Music by Polka Family (PA) 2:00 pm to 6:00 pm. Donation $15.00, 18yrs. and under are Free. Please NO b.y.o.b., NO coolers. Beverages will be available. Food, by Classic Cuisine will also be available. Snacks are welcome. For more information please call (216) 496-0223 Elaine. Public Welcome.

Top of Page


---
June 14, 2022


Slovakia, Treasures in the Heart of Europe
6:30 PM
Cuyahoga County Public Library Independence
6361 Selig Drive, Independence, OH 44131.

Slovakia, Treasures in the Heart of Europe - Produced & Narrated by History Channel's Pat Uskert. Sponsored by: Cleveland-Bratislava Sister Cities
Meeting Program: Come along with the History Channel's host Pat Uskert and Slovak guide Mila Kissova on a stunning journey across Slovakia from Bratislava to the High Tatra Mountains, exploring Slovakia's history, culture and breathtaking landscape. Pat & Mila will take us on a tour of Bratislava, the Rusyn churches and Andy Warhol Museum in eastern Slovakia, the medieval tour of Bardejov, Spis Castle, the Slovensky Raj, the Banska Stiavnica World Heritage site, the Velka Tatry mountains, and more. An open discussion of attendee's own experiences visiting these sites will take place after the video presentation.
For more information about the meeting or Cleveland-Bratislava Sister Cities and its programs, please call 703-728-4423.
Free. All are welcome!

Top of Page


---
June 17 & 18, 2022


Simply Slavic
TBD
Downtown Youngstown

Save the Date. More info to come.

Top of Page


---
June 18, 2022


Juneteenth in the Cultural Gardens
9 AM - 3 PM
African American Cultrual Garden

Car decoarting for the caravan will start at 9 AM and will begin at 10AM at Wheelock Ave. Mayor Justin Bibb is the Grand Marshall of the caravan.
The celebration kicks off at 11:15 with vendors, food, music, drummers and student talent. Free and open to the public.
More details at www.aaacg.org

Top of Page


---
June 19, 2022


Donauschwaben Father's Day Car Show
8 AM - 1 PM
Donauschwaben's German-American Cultural Center
7370 Columbia Road, Olmsted Twp·

More information to follow
---
June 19, 2022


Juneteenth
1 - 5 PM
Garfield Memorial Church
1534 South Green Rd.


Top of Page
---
June 24&25, 2022


Ohio Scottish Games & Celtic Festival
Cuyahoga County Fairgrounds
19201 E. Bagley Road

The Scottish American Cultural Society of Ohio is proud to be hosting the Ohio Scottish Games & Celtic Festival. There will be a parade of competitors, bagpipe competition, Scottish heavy athletics, keg toss, haggis throw, highland dance competitions, harp & fiddle competition, entertainment, genealogy, clans, entertainment, workshops, whiskey tasting, kilted mile, food and merchandise vendors and Tattoo! There are three separate entry ticket opportunities.
---
June 26, 2022


Estonian Cultural Garden Observance
1 PM
Estonian Cultural Garden
MLK Blvd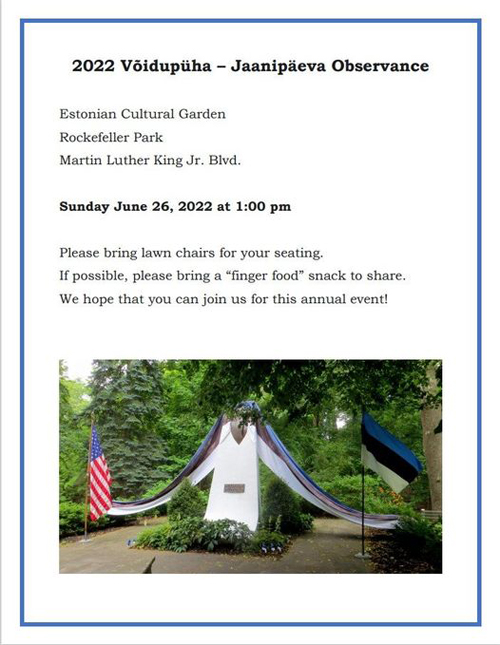 Top of Page
---
June 26, 2022


Sokol Sunday Duck Dinner
1 - 2:30 PM
Bohemian Hall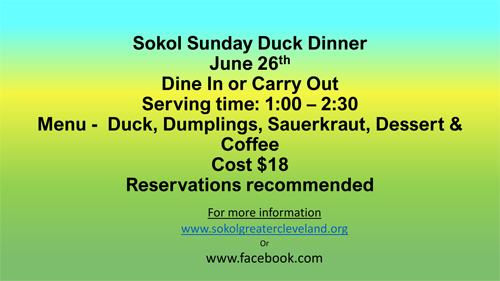 Top of Page
---
June 26, 2022


Hungarian Cultural Garden Dedication & Concert
4 PM
Cleveland Hungarian Cultural Garden
1070 East Blvd

The Hungarian Cultural Garden Invites you to the dedication of Bartók and Kodály Monoliths, followed by The Liszt Concert!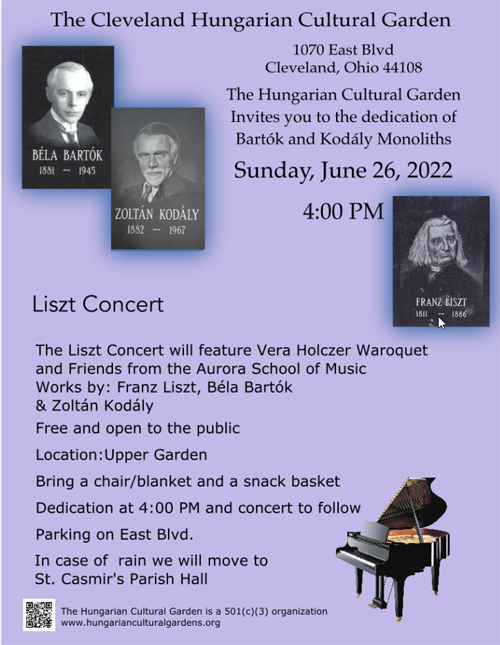 Top of Page
---
July 10, 2022


CAMEO Picnic
1 - 5 pm
Middleburg Hts Recreation Park
16000 East Bagley Rd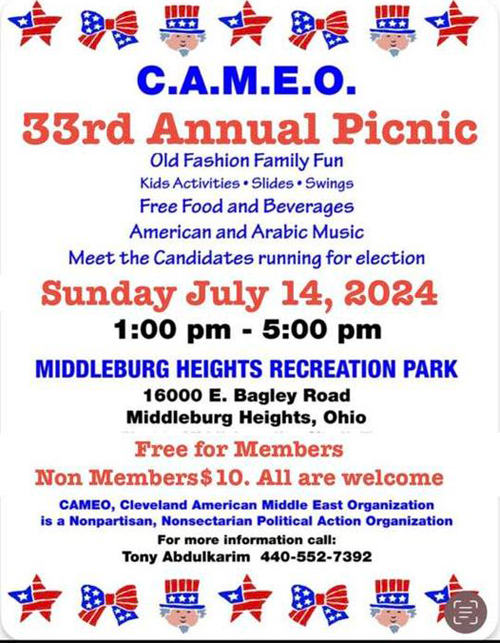 Top of Page
---
July 23, 2022


Bohemian Kings and Knights
1 pm
Bohemian National Hall
4939 Broadway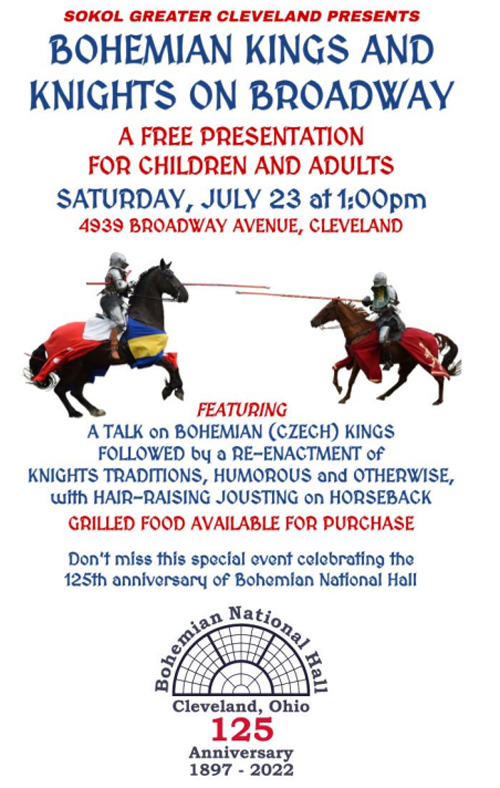 Top of Page
---
July 24, 2022


Opera in the Italian Garden
6:00 -7:30 pm
Italian Cultural Garden
990 East Boulevard

Featuring well known music from Italian opera, Broadway musicals and popular Italian songs with The Cleveland Opera and the Cleveland Ballet. Reserved seating available at $28.50 in front of the stage. Free general admission in the rest of the garden. Family friendly concert, bring a picnic! Enjoy free wine tastings from Little Italy Wines in the beautiful Italian Renaissance garden.
---
August 12-14, 2022


Ohio Celtic Festival
Lake County Fairgrounds in Painesville Twp.

Save the Date. More info to come.
---
August 19 - 21, 2022


Donauschwaben Sommer Oktoberfest
Donauschwaben's German-American Cultural Center
7370 Columbia Road, Olmsted Twp·

More information to follow
---
August 20, 2022


Lithuanian Club Picnic
Starts at 9 AM
Italian American Picnic Grounds
29717 Euclid Ave. Wickliffe

Save the Date. More info to come.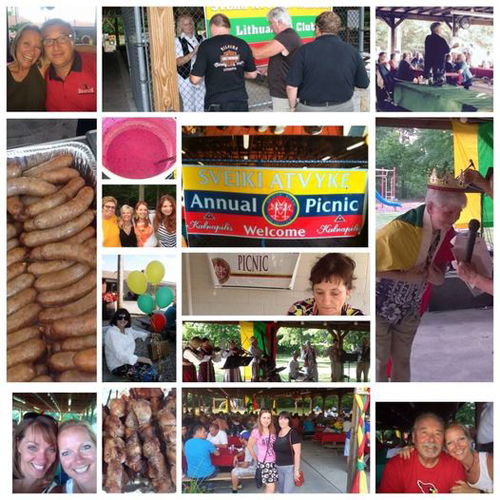 Top of Page
---
August 20, 2022


Stars of Summer International Music Competition
Cleveland Cultural gardens

Welcome to The Stars of Summer International Vocal and Piano Competition and Festival, which we organize in unique Cleveland Cultural Gardens. Save the Date. More info

Top of Page


---
August 28, 2022


One World Day
Starts 11 AM
Cleveland Cultural Gardens

Save the Date. More info to come.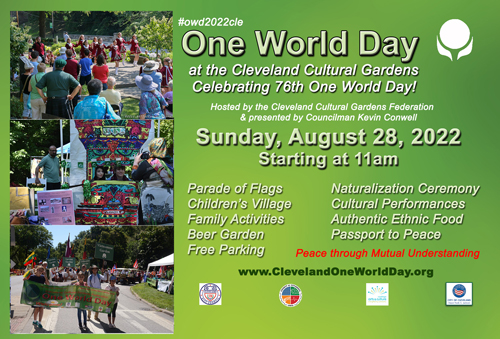 Top of Page
---
September 17, 2022


13th Annual India Festival USA
Starts 10 AM
Brecksville-Broadview Heights High School
6380 Mill Rd., Broadview Hts., Ohio 44147

India Festival USA is an annual event that attempts to bridge cultures, generations and communities through one-day of togetherness. It is a day when visitors are encouraged to participate in a thematic display of the rich culture and diversity of two of the greatest nations on earth – India and USA. India Festival USA promises an immersive environment that salutes history, embraces globalization and celebrates communities.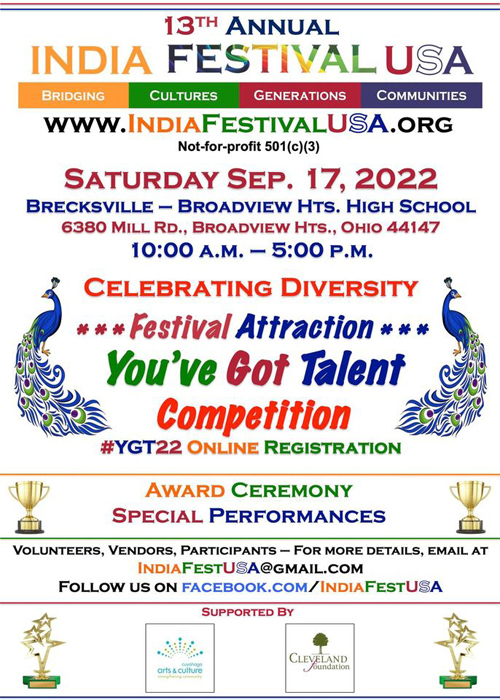 Top of Page
---
October 8, 2022


Mayo Society Green and Red Ball
6 PM
Intercontinental Hotel
9801 Carnegie Ave.

Save the Date for the annual Mayo Ball.
Cleveland Mayo Society

Top of Page


---
October 28, 2022


Cleveland Cultural Gardens Gala
6 PM
Embassy Suites Hotel
Independence

Moved from March because of Covid. The Cleveland Cultural Gardens Federation Gala to benefit the Gardens. Save the Date.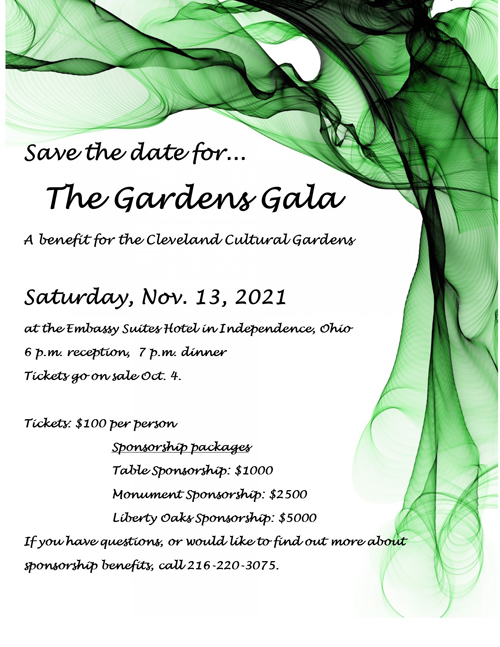 Top of Page
---