Calendar of Events
Cleveland and Northeast Ohio
Ethnic and Cultural Events
Cleveland International and Cultural Events

If you have annual events and/or know the date of future events, please send them now and we will post. That will assist other groups in their planning so there are not too many conflicting events.
---
If you like the work of ClevelandPeople.Com you can contribute to the cause via credit card safely via Paypal. Click on the Donate button below and you can enter any amount. Thanks.
---
September 27, 2022


Can the U.S. Reset the Agenda with Latin America?
5:30 pm - 7:30 pm
The Union Club
1211 Euclid Ave, Cleveland, Ohio 44115.

The Summit of the Americas, hosted in San Diego in June, brought about tense interactions between the U.S. and our hemispheric neighbors to the south. Debate about the guestlist, threats of boycott, and challenges to the agenda were just a few of the reasons many felt the gathering did not accomplish as much as it could have. Ambassador McKinley will argue that a wholesale reset of the relationship between the U.S. and the rest of the Americas is in order. With the recent elections of several leftist leaders in Latin America and increasing Chinese investment seen by these leaders as a solution to ongoing economic woes, Ambassador McKinley will warn that the time to reframe the relationship and set the groundwork for productive cooperation moving forward is now.
Ambassador P. Michael McKinley is Senior Adviser in the Americas Program at the Center for Strategic and International Studies. A four-time ambassador to Peru, Colombia, Afghanistan and Brazil, his 37-year career as a diplomat covered issues in development, trade, and peace negotiations. He also oversaw refugee resettlement programs for populations in Africa, Europe, and Latin America from 2001-2004. Ambassador McKinley is the recipient of numerous honors and awards, including State Department Distinguished Honor Awards and Presidential Performance Awards.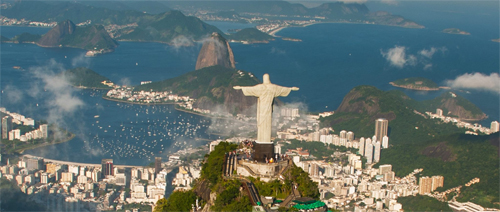 More info and register

Top of Page


---
October 1, 2022


Bohemian National Hall/Sokol Greater Cleveland Oktoberfest 2022
Begins 11 AM
Outside Bohemian Hall
4939 Broadway Ave.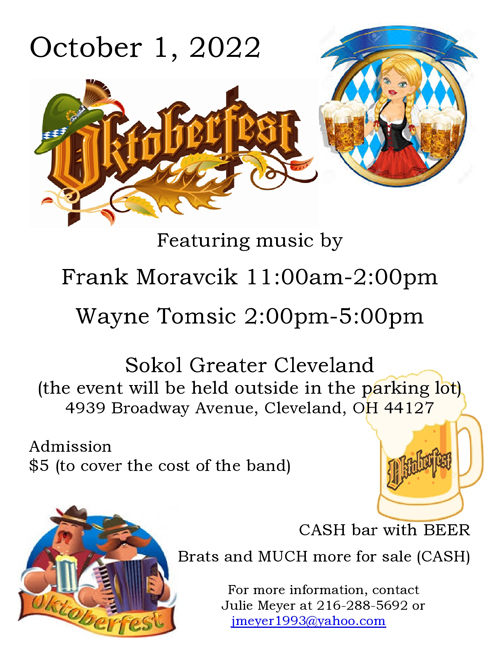 Top of Page
---
October 1, 2022


Refugees coming to Cleveland





There is an influx of refugees coming in Cleveland and they are in need of household goods such as cookware, bedding, and cleaning supplies. FICA extensions - Project Seva and Helping Handshave joined hands to help the incoming refugees. Donations can be dropped off at any of the following locations: East Side - Sangita Bafna: (216)-906-9064, Gauri Masurekar: (240)-593-2525, Sunita Vijayvargiya: (216)-970-9328

West Side - Mala Garg: (216)-533-5769, Swati Desai: (440)-506-0409

South Side - Satish Parikh: (216)-577-1628

Akron Area - Ketki Shah: (330)-612-3350

Please call the above volunteers to set up a drop off. All donations are accepted from September 26 to October 15th. Let's all come together to help resettle new incoming families. For all general inquiries call Gauri Masurekar: (240)-593-2525 Top of Page


---
October 1, 2022


Ukrainian Bandurist Chorus Benefit Concert Concert
7 PM
Maltz Performing Arts Center

The Ukrainian Bandurist Chorus of North America (UBC) will return to a stage in Cleveland on Saturday, October 1 at 7:00 PM for a unique concert "LESYA - Her Voice and Poetry Through Seven Strings" at the Maltz Performing Arts Center. A portion of the proceeds from the concert will go to humanitarian aid for Ukraine through the Ukrainian National Women's League of America (UNWLA).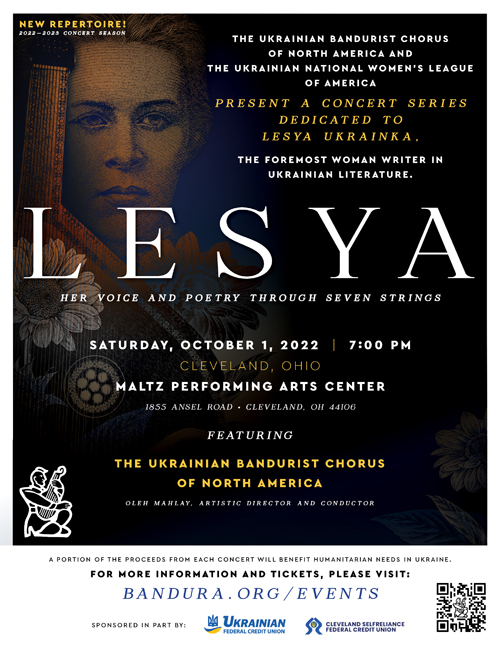 More info and tickets
Top of Page
---
October 1, 2022


Navratri
7 PM - Midnight
Lost Nation Sport Park
38630 Jet Center Drive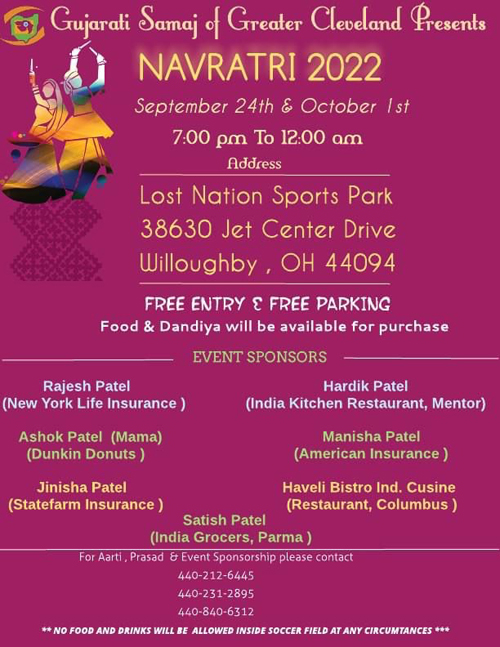 Top of Page
---
October 2, 2022


Kol Israel Fall Memorial
2 - 3 PM
Zion Memorial Park in Bedford Heights.

Now in its 61st year, the memorial was dedicated on May 28, 1961. The foundation was created in 1959 by Holocaust survivors who settled in Cleveland.
Rabbi Matt Eisenberg of Temple Israel Ner Tamid in Mayfield Heights will speak at the commemoration and the Shul Boys motorcycle club will also be honored. There will be a candle lighting ceremony honoring victims, liberators and those righteous among the nations, remarks from community leaders, psalms, songs and prayers, including the mourner's kaddish.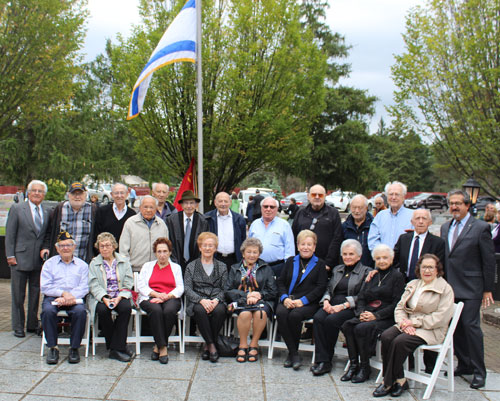 See our coverage of the 2019 event
Top of Page
---
October 6, 2022


8th Annual National Pierogi Day-Youngstown
79 AM - 8 PM
Kravitz Deli
3135 Belmont Ave., Youngstown, 44505

It's been too long since we have gathered to celebrate! Let's put the pandemic behind us and bring on the polkas, piwo and PIEROGI!!! PolishYoungstown Inc. is pleased to announce its 8th Annual National Pierogi Day-Youngstown will take place on Thursday, October 6, 2022, from 9 AM – 8 PM at Kravitz Deli at 3135 Belmont Ave., Youngstown, Ohio 44505. The group says it's the perfect day to join others nationwide in celebrating their favorite delicate dumpling…by eating some!
The deli will offer dine-in or pick-up of a variety of tasty, delicate pierogi as well as other delicious Polish food...Polish music...Polish beer...and even a virtual pierogi-making demo and lesson by our friends at Sip & Pinch pierogi parties! Flavors include Potato & Cheese; Kraut; Potato, Bacon & Kraut and it wouldn't be a Kravitz event if they didn't offer a REUBEN PIEROGI!!! Can't decide? Try the SAMPLER! For more information call 330-759-7889.
PLUS: •Special appearances by Stan the Pieróg, PolishYoungstown's beloved mascot! Get your GOT PIEROGI shirt and other gear from Polish Arts Club of Youngstown. BUT WHY EAT AT HOME WHEN YOU CAN CELEBRATE WITH YOUR FRIENDS?!! THE CELEBRATION CONTINUES INTO THE EVENING AS Polish Youngstown marks its 14th Birthday with Polish Happy Hour from 5 – 8 PM featuring LIVE POLKA MUSIC for dancing with Cleveland's Polonia Trio polka band, vodka specials, pierogi, Polish beer, and Birthday Cake, of course! Sto Lat!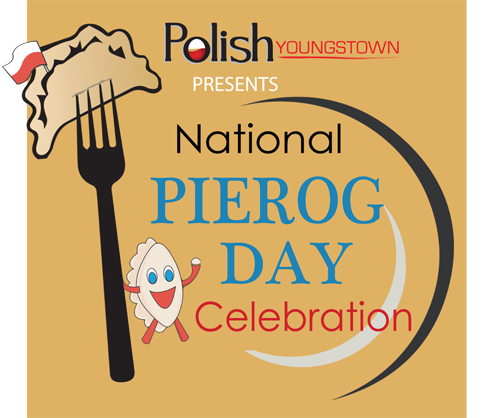 Top of Page
---
October 11, 2022


The Events Leading to the 1948 Communist Takeover of the Czechoslovak Government
6:30 PM
St. Andrew Abbey
Use the Benedictine High School Entrance, 2900 Martin Luther King, Jr. Drive

Father Michael Brunovsky will continue his series of talks on the history of Slovakia with a discussion of the political events taking place in Czechoslovakia in the aftermath of WWII leading to the coup d'état of February 1948 and the Communist takeover of the Czechoslovak government. Dark days for the Czechoslovak Republic. For more information about the meeting or Cleveland-Bratislava Sister Cities and its programs, please call 703-728-4423. Free. All are welcome!

Top of Page


---
October 18-20, 2022


Global Cleveland Sister Cities Conference
Cleveland Public Library

Meet with individuals from Cleveland's 23 Sister Cities around the world for three days of free panels and discussions exploring international partnerships.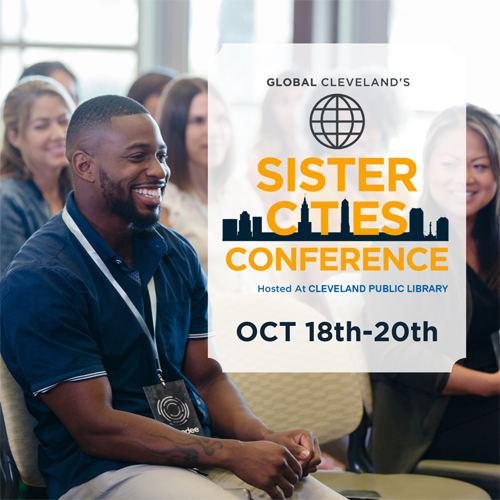 Top of Page
---
October 28, 2022


Polish Independence Day
7 PM
Polish-American Cultural Center
6501 Lansing Ave. Cleveland

Celebrate Polish Indpendence Day with hors d'oeuvres and wine. Artistic performances of patriotic songs and poems. Free.
---
November 11, 2022


Cleveland Cultural Gardens Gala
6 PM
Embassy Suites Hotel
Independence

Moved from March because of Covid. The Cleveland Cultural Gardens Federation Gala to benefit the Gardens. Save the Date.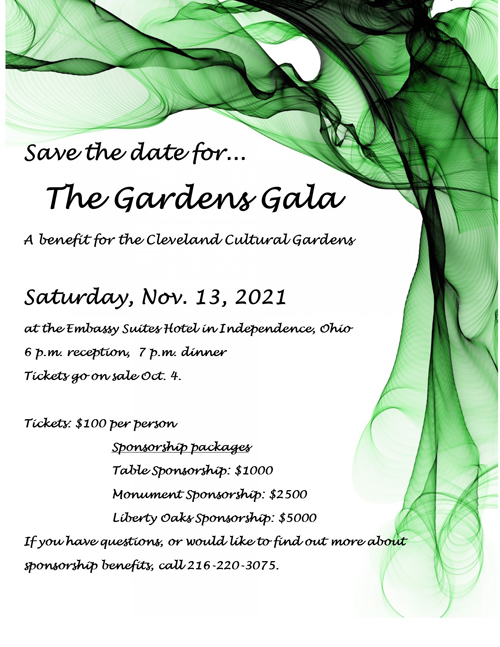 Top of Page
---
December 8, 2022


Global Cleveland Annual Meeting
TBA

From responding to the crisis in Ukraine and ensuring that our community was ready to welcome to refugees, to the publication of our report advocating the inclusion of immigrants in our workforce, 2022 has been a year marked by resilience and success. Global Cleveland welcomes you to join us as we reflect on our year of successes and celebrate some of Northeast Ohio's most impactful leaders at our Annual Meeting Presented by Medical Mutual.

Top of Page
---
December 11, 2022


Polish Wigilia Dinner
12:30 PM
Polish-American Cultural Center
6501 Lansing Ave. Cleveland

Formal meatless dinner of 12 courses. This dinner is usually prepared by Polish households on Christmas Eve. Advance sales $35 per person.
---