2022
Felicidades Argentina - World Cup Champions
Argentina won the World Cup after a thrilling championship game against France that went into extra time and became the third World Cup final to be decided by a penalty-kick shootout.

The win marks Argentina's third-ever World Cup victory and first since 1986. The stadium in Qatar erupted with Argentine fans displaying emotion and waving their country's white-and-blue striped flag and other insignia.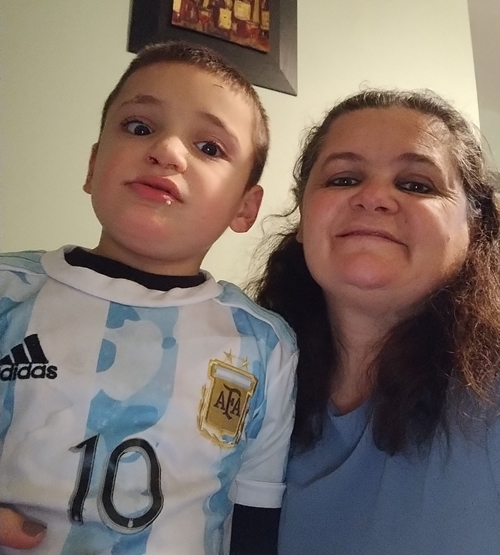 Maria Bozoklian and son in his Lionel Messi jersey

The local celebrations were equally festive as you can see in some photos from our Argentine Ambassador Maria Paula Bozoklian.

Congratulations Argentina!


---
Argentines in Cleveland at One World Day
The Cleveland Argentine community demonstrated their proud heritage at One World Day in the Cleveland Cultural Gardens. One World Day has been the official event of the Cleveland Cultural Gardens Federation since 1946. Over 40,000 people visited the gardens on One World Day 2022.

The Argentine community participated in the Parade of Flags which was moderated by TV news personalities Danielle Wiggins (Ch.3), Kelly Dobeck (Ch. 19), Tracy Carloss (Ch. 5) and Maia Belay (Ch. 8). Olympic Gold medalist Dominique Moceanu (Magnificent Seven Gymnastics Team 1996) was the Grand Marshall of the Parade of Flags and she marched with Cleveland Mayor Justin Bibb and other dignitaries.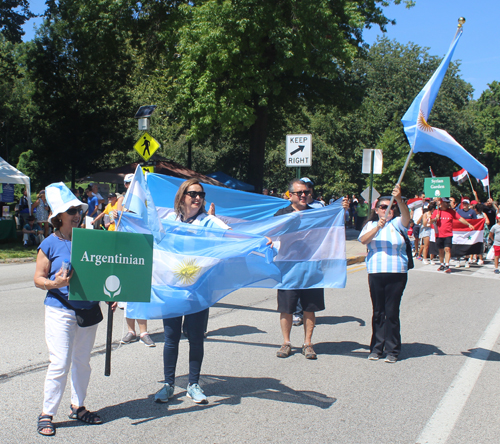 Maria Paula Bozoklian, Ambassador Argentines in Cleveland, said, "As the first time in several years, the Argentines in Cleveland participated this Sunday in the World Day Parade at the Cleveland Cultural Gardens. We were a small but enthusiastic group proud to represent our Nation. We had a lot of fun and appreciated the opportunity to be there with the rest of the nationalities. It was a honor for all of us to walk with our blue and white colors and our Argentine flags. We are returning stronger next year!"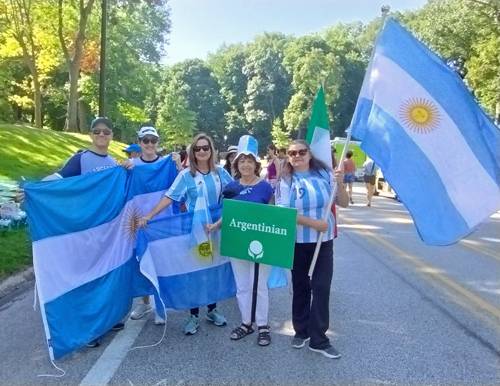 Argentines at One World Day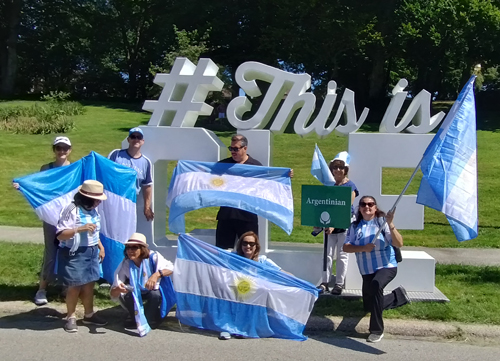 See more from Argentines at One World Day
---
Argentina's Independence Day
This July 9, 2022 Argentinos en Cleveland celebrated Argentina's Independence Day at North Chagrin Reservation. It was a beautiful sunny day filled with smiles, and good talks. We met new people and reunited with good friends. We had delicious home made Argentine food and drinks.

We sang our Himno Nacional Argentino and all of us feel very proud of where we are from and prayed for a better future for our dear nation.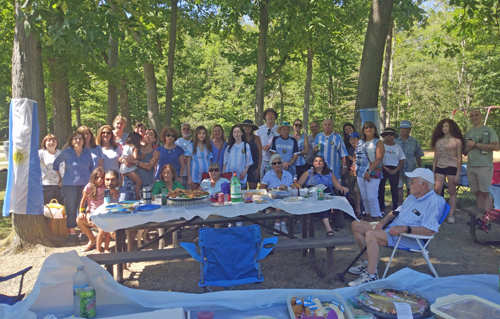 By Maria Paula Bozoklian
---
2020
Argentine Christmas Traditions
We asked community leaders of various ethnic heritages to share some holiday traditions of their culture. Maria Paula Bozoklian shared the following which was written by Lucio García Carluccio.

Each country has its own set of particular religious customs and Argentina is not an exception. Gathering together with family and friends during the Christmas - is one such sacred tradition. Some say that Argentinians "live to eat", and I can personally assure you that among other things - this one, is one of the most truthful!

Let me clarify - we normally set up our Christmas tree and fill it up with beautiful ornaments, annually on December 8th. And as you imagine - we would then sit down to eat, but as if we were… in the Winter time! We have copied these customs from the Northern hemisphere, despite us having some of the highest weather temperatures at this time of the year!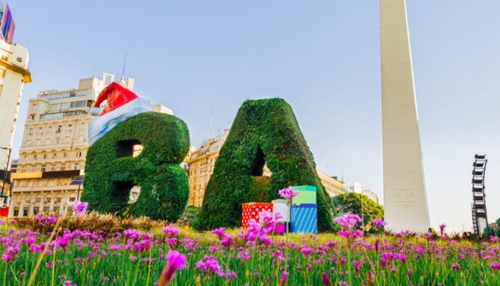 Christmas decorations in front of the Obelisk in Buenos Aires

So without further delay, let me share some of the tastiest dishes that we, Argentinians, like to serve around Christmas:

Asado

This is the main national specialty. The recipe's meat usually comes from a cow, but we also like to use pork or a piglet (we call it "lechón"), lamb or chicken. The meat would normally be roasted outdoors, on a grill. The main seasoning is called "chimichurri" and it contains garlic, parsley, chili pepper, oregano, pepper, vinegar, water and oil. And, of course, bread would never be left out of the company.

Vitel Toné

This is a thin slice of beef, known as "peceto", commonly seasoned with celery, bay leaf, anchovies, tuna, milk cream, mustard, mayonnaise, vinegar, salt, pepper and garlic.

Fiambre "Primavera" or Torre de Panqueques

This dish looks very similar to a layered pancake cake, though it's made with a lot of… mayonnaise, lettuce, tomato, chicken, ham, cheese, (not hot) red pepper and olives.

Sweet-scented "Pionono"

The dough here is similar to that of a sponge cake. Though it includes cheese, avocado, boiled eggs, non-spicy peppers, tomatoes, lettuce and tuna, all wrapped in mayonnaise.

Stuffed Eggs

These boiled eggs would be carefully cut in half, avoiding damaging the whites. The yolks would be then mixed with meat paté and mayonnaise, and garnished with olives.

Vinaigrette / "Escabeche"

The vinaigrette is a type of sauce characterized by its acid content. It's usually vinegar or a lemon juice plus oil, seasoned with different spices. The escabeches are vegetables or different meat bites, which were marinated for a long time in the vinaigrette.

The Russian Salad

Yes, you read that right - the Russian! The salad normally consists of potatoes, carrots, peas, boiled eggs, and some other boiled vegetables. It's usually served cold and is covered with a thick layer of mayonnaise.

Fruit "Salad"

After the roasted meat, this salad would be commonly served as a dessert. It's made of small chunks of fruits, mixed in a large container with water, sugar and juice from the same fruits (plus a bit of lemon juice to preserve it better). It can have apples, oranges, pears, bananas, pineapples, strawberries, cherries, or peaches. Sometimes it would also be accompanied with ice cream.

A Frozen Cake

There are people who prefer dough on all occasions. This is a biscuit-style cake, made with different layers of ice cream.

Mantecol and garrapiñadas

To finish the evening, Argentinians would usually serve mantecol, which is similar to peanut butter, though it's made in a solid bar form, as well as garrapiñadas, the candied almonds.

The "Picada"

It's usually served as an appetizer, right before "asado". These are the salty cheeses served with pork "chorizos" or sausages (the latter would be dried for months prior to intake) and bread, of course.

Pastas

There are a lot of Italian descendants here, hence why Argentinians love to eat numerous pastas with different sauces, though with a lot of grated salted cheese. The pizzas too, of course, however we like them… cold!

Guiso/EstofadoAs history would have it, our country was mainly settled by Spanish immigrants. That's why we have this dish. It's a kind of paella though with cow meat instead of fish. And there actually two versions: Guiso which uses pasta and rice, and Estofado which contains vegetables. They're both mixed with tomato juice.

I hope you enjoyed these delicious dishes from my beloved homeland, Argentina. Merry Christmas to all!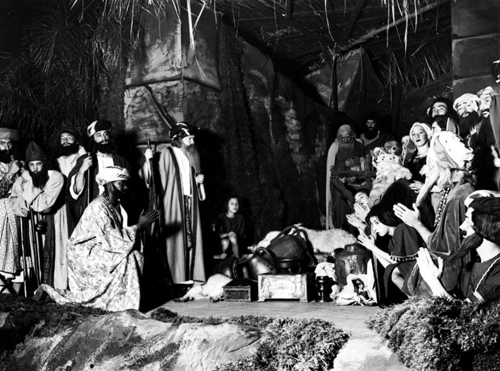 Nativity scene in Buenos Aires (1924)
Back to Ethnic Holiday Traditions
---
2015
Songs from Argentina at One World Day
Soprano Alejandra Martinez performed songs from Argentina accompanied by a piano in the Greek Cultural Garden as part of the 67th annual One World Day in the Cleveland Cultural Gardens.

More Argentine music from One World Day.






---
Revolución de Mayo Picnic
The May Revolution (Spanish: Revolución de Mayo) was a week-long series of revolutionary events that took place from May 18 to May 25, 1810, in Buenos Aires. It started the Argentine War of Independence, and it is considered the birth of modern Argentina.

In the present, it is a big Holiday for all Argentines. Here in Cleveland, a picnic was held on Saturday May 24 at 12pm at North Chagrin Reservation. Thanks to Ambassador Maria Paula Bozoklian for the photos.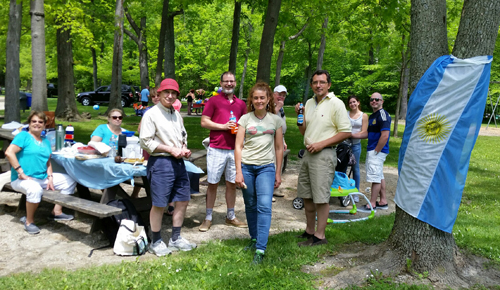 Cleveland Argentines at picnic for the May Revolution
---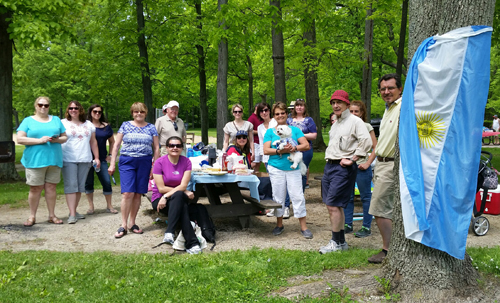 ---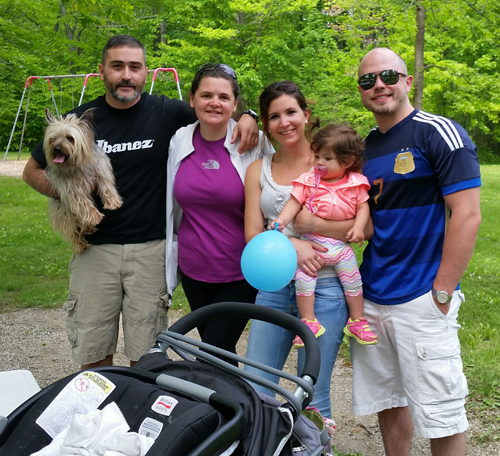 ---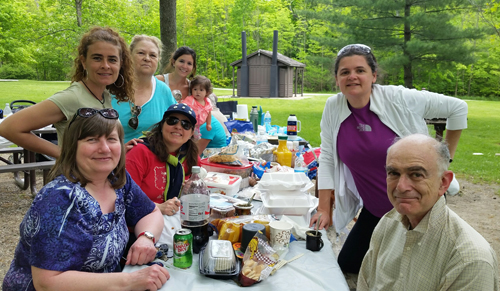 ---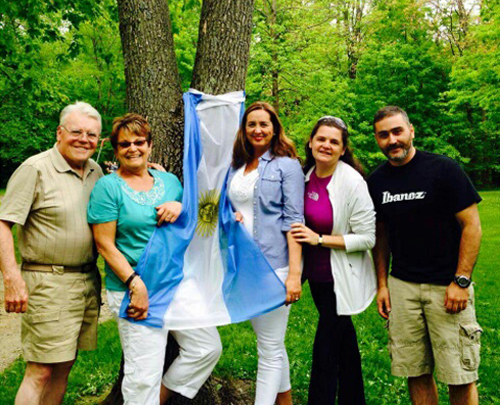 ---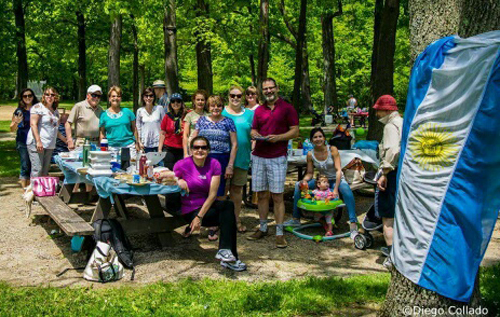 ---
Argentines at Cleveland International Film Festival
Ambassador Maria Paula Bozoklian sent this photo of Argentines in Cleveland supporting an Argentine movie, In The Clouds, with the director Marcelo Mitnik at Cleveland International Film Festival.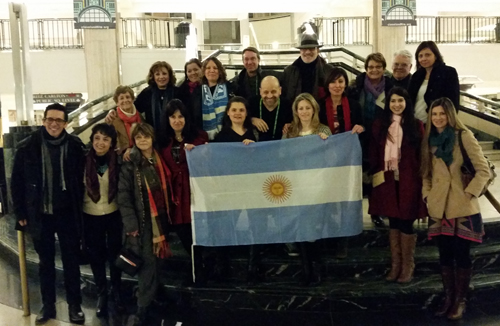 Argentines in Cleveland at CIFF
---
2013
Argentine Tango and Milonga in Cleveland
Brian James and his wife Galina from Tango Apasionado (Passion of Tango) performed a traditional Argentine Tango and Milonga dance at the 4th annual Worldwide Intercultural Network (WIN) holiday celebration of global diversity at the Ariel International Center in Cleveland.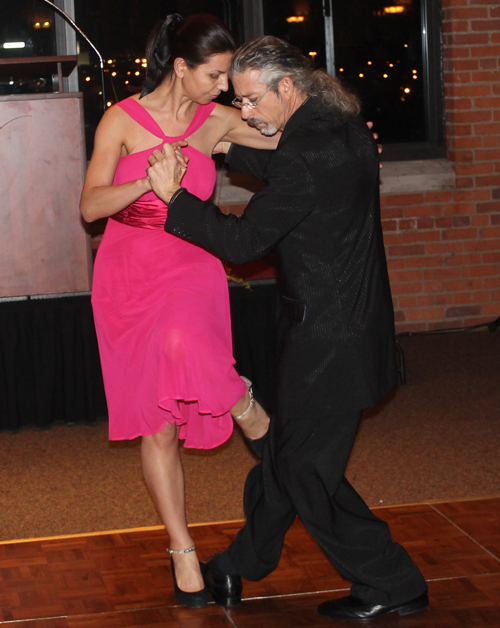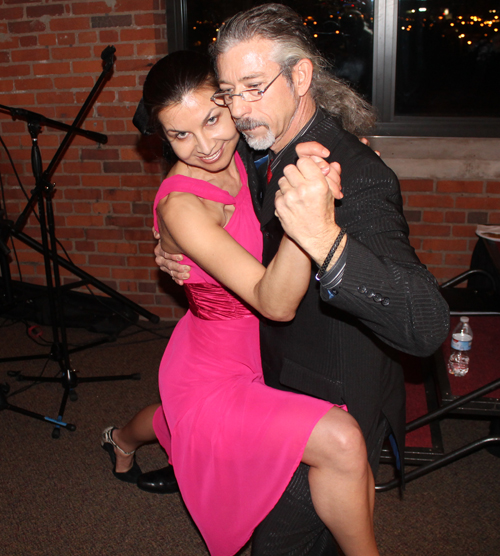 See other performances and more from the WIN celebration
---
Young Argentine girl at the La Sagrada Familia Latin Festival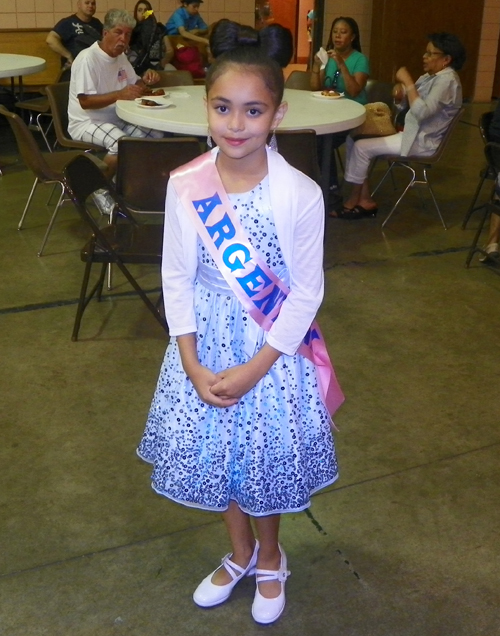 ---
Picnics at North Chagrin and Headlands Park
A group of Argentines living in Cleveland got together June 22nd at North Chagrin Reservation and June 23rd at Headlands Park for a picnic and camaraderie.

Thanks to Maria Paula Bozoklian for sharing these photos.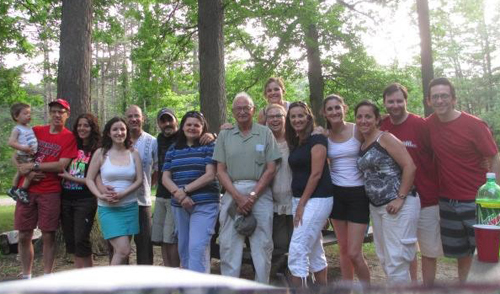 ---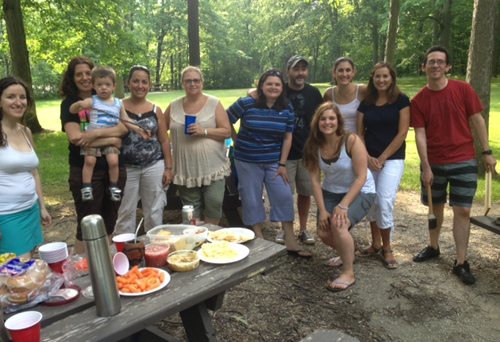 ---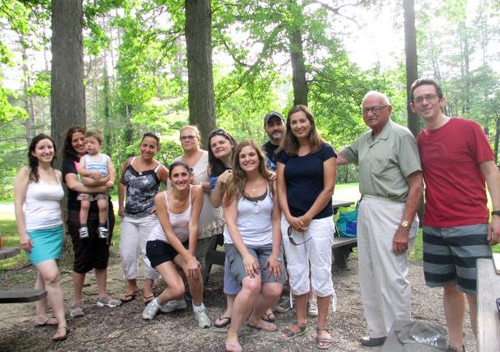 ---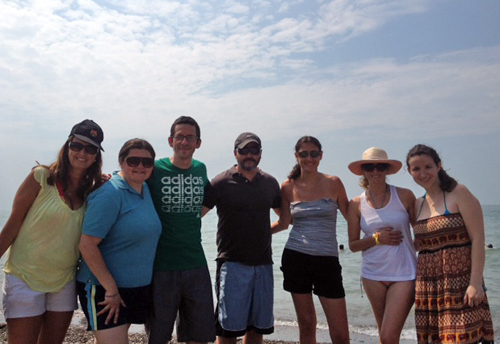 ---