2023
Filipino Cultural Garden
A coalition of groups is being formed to establish a Filipino Cultural Garden. The group, so far, consists of: The Philippine American Society of Ohio, the Association of Philippine Physicians, The Knights of Rizal of Ohio, the Philippine American Ministry and the Philippine Nurses Association of Ohio.

Representatives met with the Cleveland Cultural Garden Federation Board on February 21 to present their plans and find out more.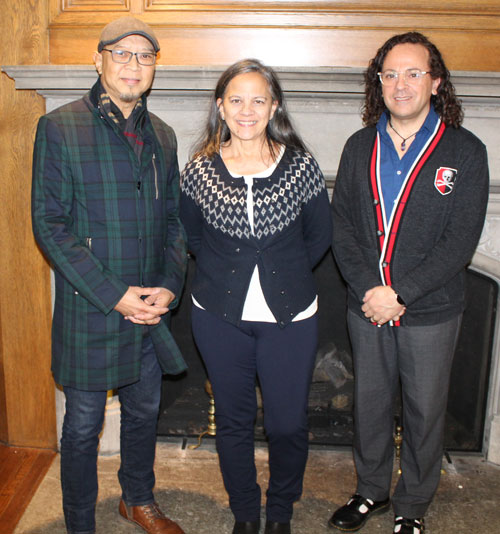 ---
2022
Filipino community at One World Day
The Cleveland Filipino community demonstrated their proud heritage at One World Day in the Cleveland Cultural Gardens. One World Day has been the official event of the Cleveland Cultural Gardens Federation since 1946. Over 40,000 people visited the gardens on One World Day 2022.

The Filipino community participated in the Parade of Flags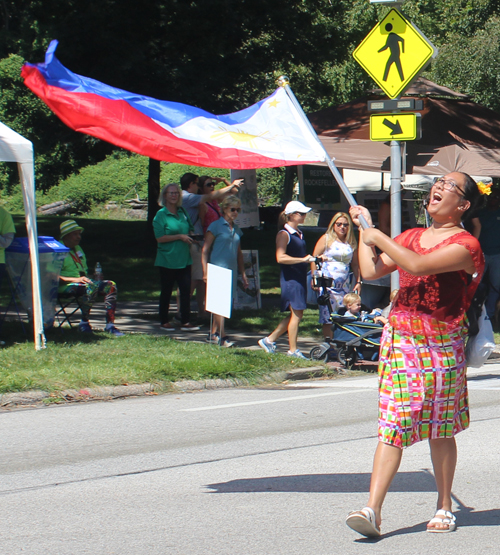 Cleveland Filipino community in Parade of Flags at One World Day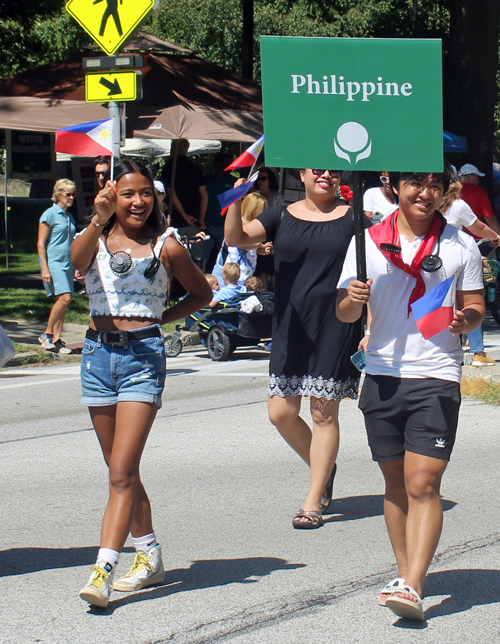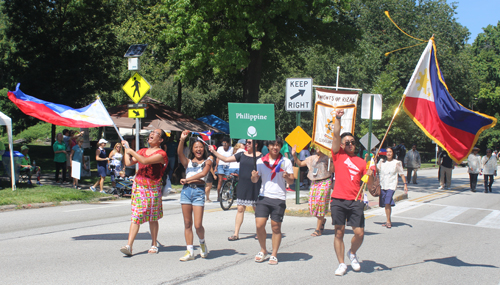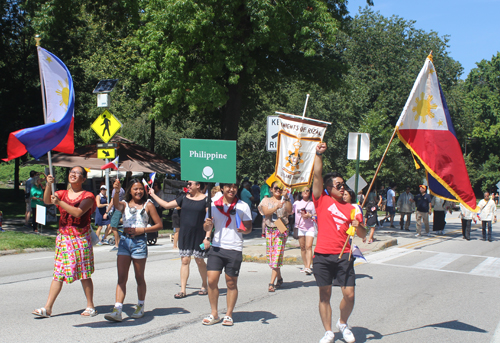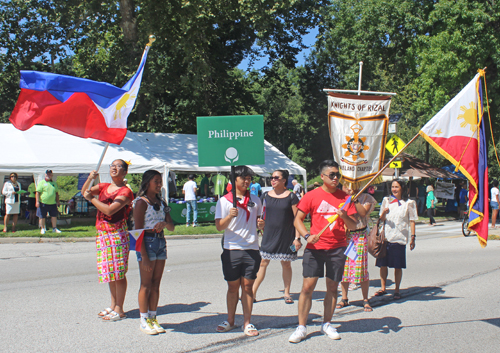 Here is a video of the entire Parade of Flags.
***
Stay informed about the local Filipino and other communities by signing up for the free Cleveland Ethnic eNews mailings. It's easy and free.
Fill out the form for the free eNews.
***
See more of One World Day 2022.
---
2020
Filipino American History Month
A message from Ronald Falconi,
Mayor of Brunswick and proud Filipino American.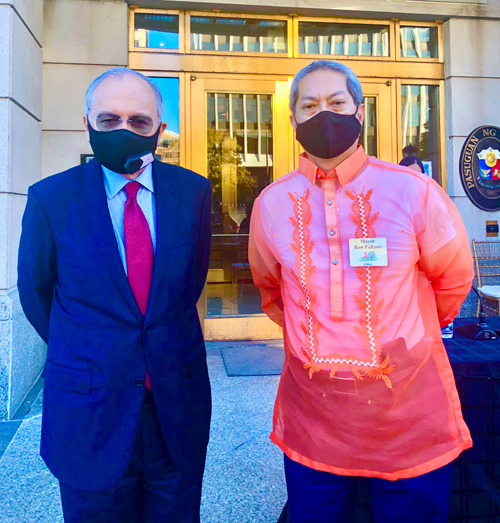 Philippine Ambassador to the US, Ambassador Romualdez
and Mayor Ron Falconi



This October, we celebrate Filipino American History Month and acknowledge the great accomplishments that those who came here before us. Half a century ago, many first came to America as doctors or engineers. As the years have progressed, Americans of Filipino descent have truly been a part of the great American melting pot, making an impact throughout American life, not just medicine or engineering, but also sports, law, entertainment, and, even politics. We number about 4-5 million people throughout the US.

Going forward, as the Filipino American community continues to grow, our impact and influence grow with it. That is why it is always important to be involved in our communities. If you can be a part of politics or government, that would be great. However, you do not have to be in politics to help effectuate change. You can get involved in your school, church, even your local rotary clubs, etc..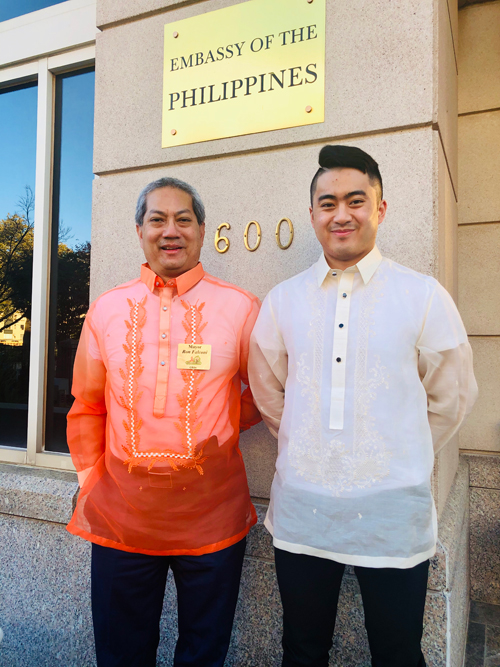 Mayor Ron Falconi and son
after the Mayor's speech at the Philippine Embassy


As we are a part of these communities, we bring to the table our values of God, family, hard work, and self-reliance, and we expand upon all of them as we continue to live and be a part of the American dream.


---
2018
Kultura Filippiniana Pag-apir (fan dance) at the 2018 Cleveland Asian Festival
Kultura Filippiniana, self-described as a group of moms, performed a Filipino Pag-apir or fan dance at the 2018 Cleveland Asian Festival. They were introduced by MC Chris Tanaka.

Kultura Filippiniana at the 2018 Cleveland Asian Festival
See video and more pictures of Kultura Filippiniana at the 2018 Cleveland Asian Festival
---
2017
Filipino community at Cleveland Multicultural Holiday Celebration
The Filipino community was represented at the 8th Annual ICC-WIN Cleveland Multicultural Holiday Celebration on Wednesday, December 6, 2017 at the Global Center for Health Innovation in Cleveland.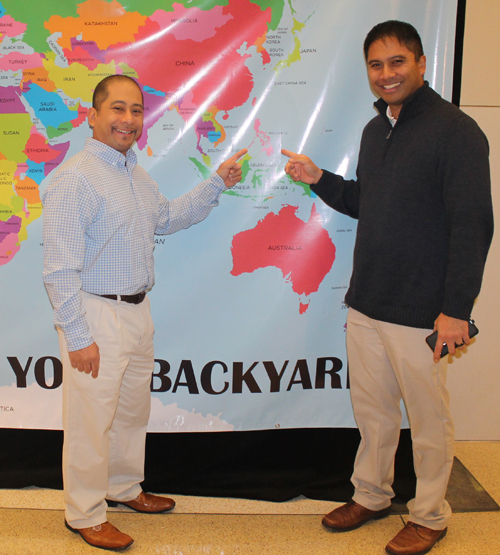 Posing with a map of the Philippines
See more from the Cleveland Multicultural Holiday Celebration
---
Igorot Dance from the Philippines by Kultura Filipiniana Dance Troupe
One of the highlights of the 8th annual Cleveland Asian Festival was the performances by the Kultura Filipiniana Dance Troupe. WKYC News Anchor Lynna Lai served as one of the MCs of the 8th annual Cleveland Asian Festival. She introduced and spoke with ladies from the Kultura Filipiniana Dance Troupe who performed an Igorot Dance which is a Philippine tribal dance. "Igorot" means people from the mountains.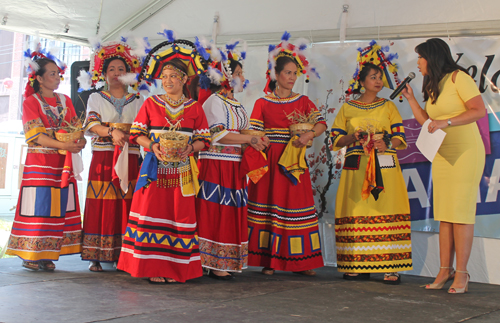 Lynna Lai interviews Kultura Filipiniana Dance Troupe
at Cleveland Asian Festival
Videos and photos of the Filipino dances
---
2014
Filipino Fashion at Cleveland Multicultural Event
Representatives from the Cleveland Filipino community participated in the International Community Council - Worldwide Intercultural Network's (ICC-WIN) 5th annual multicultural holiday celebration at the Global Center for Health Innovation in the Cleveland Convention Center in Cleveland Ohio. They modeled Filipino costumes at the International Fashion Show which featured traditional costumes of dozens of countries.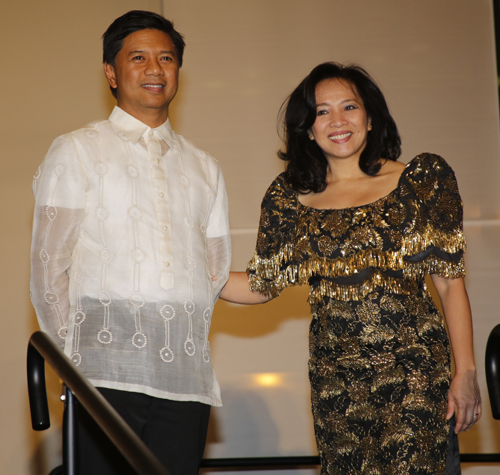 Fashion of the Philippines
Photos and videos of the International Fashion Show
---
Filipinos at Cleveland Asian Catholic Gathering
About 1000 people celebrated the Annual Mass and Gathering on Sunday, October 5, 2014 at 12 noon at St. Clarence Church. This is the 17th year the event was hosted by the Asian Ministry of the Diocese of Cleveland. It was an afternoon of family celebration of Asian culture and spirituality beginning with the celebration of the Mass with the Most Rev. Roger W Gries, OSB along with priests from the different Asian Catholic communities.

The cultural and ethnic diversity of the Asian Catholic communities assembled at the Mass was reflected throughout the celebration. Members of the various Asian communities came together with their own traditions, dressed in colorful ethnic clothes: shimmering saris, kimonos, karawangs, hanboks, barongs, and ao dai. The entrance procession included Vietnamese drums. During the Mass there was an incense ceremony by the Vietnamese, and the Indian aarti. Hymns were sung by the choirs in various Asian languages: Tagalog (Filipino), Korean, Vietnamese and Hindi (Indian). The readings and the prayers of the faithful were also said in various Asian languages.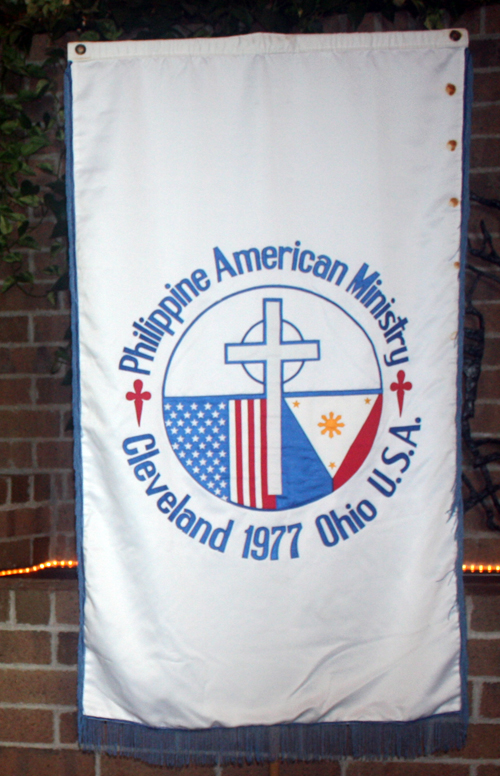 2 pages of photos and videos of the Asian Catholic Gathering
---
Asian Heritage Day Celebration
Cleveland City Hall Rotunda
May 28, 2014
The City of Cleveland Community Relations Board, led by Asian Liaison Chia-Min Chen, hosted an Asian Heritage Day Celebration on May 28, 2014 in the Cleveland City Hall Rotunda.

Over 60 Asian community groups and organizations participated. Chia-Min Chen called them up to the stage one at a time and each gave an elevator speech explaining their organization.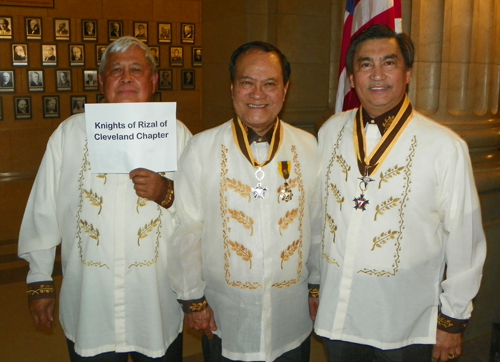 Knights of Rizal - Cleveland Chapter




Philippine Nurses Association of Ohio



The following Filipino groups were represented:
Knights of Rizal - Cleveland Chapter


Philippine American Society of Ohio


Philippine Nurses Association of Ohio
Learn more about each organization (and the other Asian groups) including photos and videos of the group leaders at the Asian Organizations in Cleveland pages.


---
The Filharmonic's Filipino Heritage
The Filharmonic headlines the 2014 Cleveland Asian Festival. This LA boy band performs a variety of styles - all a capella. They performed on NBC's The Sing Off Season 4.

Vocalists VJ Rosales, Joe Caigoy and Barry Fortgang, Vocal Bass Jules Cruz, and Beatboxer Niko Del Rey spoke about the importance of their Filipino heritage and their efforts to help after Typhoon Haiyan in a musical event called Rebuild Philippines.






---
2013
Dr. Joy Kouns Lewis spoke about the tragic storm devastation in her hometown and surrounding areas in the Philippines. Super Typhoon Haiyan - called Yolanda in the Philippines - landed in Eastern Samar and Leyte provinces and destroyed much of Tacloban City. Experts say it was one of the most powerful storms ever to hit land. Thousands are dead and thousands are missing. Local Filipino and other communities held events to raise funds to help those affected by this tragedy.




---
Cheesa, from NBC's The Voice, is proud of her Filipino heritage
Cheesa, from NBC's The Voice, is proud of her Filipino heritage which is noted for tight-knit families and a sense of community and support. Her brother Troy Laureta is her manager and while her parents envisioned a more traditional career for her (nurse, lawyer, etc.), the family is very supportive. Cheesa was in Cleveland to headline the Cleveland Asian Festival.




---
2013 Cleveland Asian Festival

May 18-19, 2013

The 4th annual Cleveland Asian Festival attracted 38,380 attendees over the weekend of May 18-19, 2013. They spent over $2 million in the AsiaTown neighborhood. There were dozens of performances from local, regional, and national performing groups including headliner Cheesa from NBC's The Voice.

People enjoyed Asian cuisine from over 20 different restaurants and shopping in the World Market which was filled with merchants of Asian themed products while sponsors had informational displays at their tent.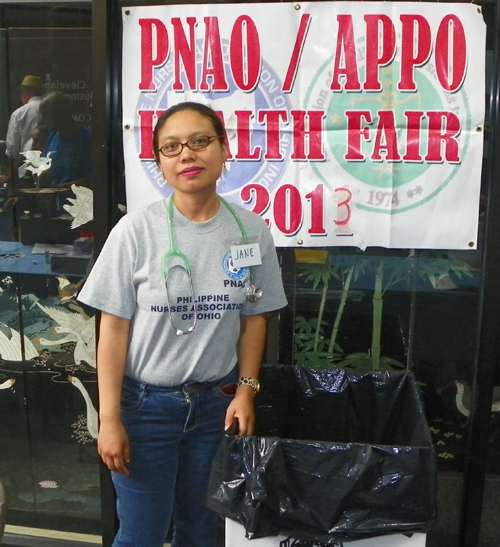 Philippine Nurses Association
---
10 pages of photos and videos of the Cleveland Asian Festival
---
Fillipino girls dance at Cleveland Asian Pacific Heritage Day celebration
---
Family immigration issues for Cleveland's Asian community
Philippine Cultural Center
April 4, 2013

Currently there are considerable discussions at the federal level about immigration reform. One of the key areas of debate is family immigration (sponsorship of relatives to immigrate to the United States) and the specifics on who is and who is not included as part of the provisions that are being discussed.

Michael Byun, Executive Director of Asian Services in Action, led a timely and critical panel discussion at the Philippine Cultural Center in Parma with representatives from the different Asian communities who are impacted.

Bessie Schiroky with the Philippine Nurses Association of Ohio was a panelist and gave examples of how families are being split and unfairly affected by current immigration laws from the situation in her own family.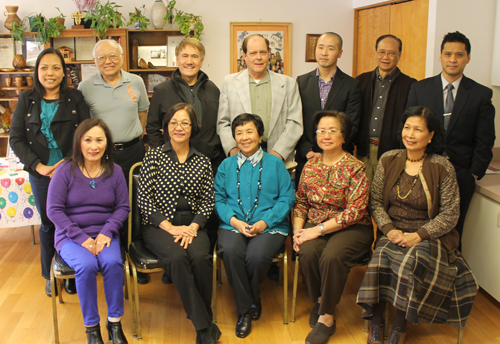 Some of the event participants
---
2012
Cleveland Asian Festival 2012
May 19 & 20, 2012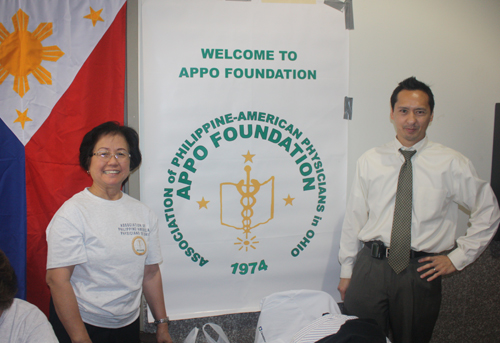 Association of Philippine-American Physicians in Ohio at Asian Festival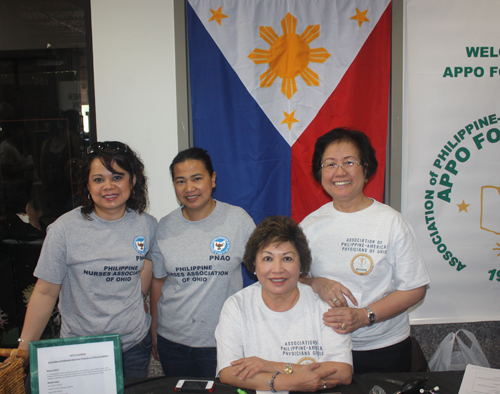 ---
2011
Young athletes from the Philippines compete in the 2011 Continental Cup
June 30, 2011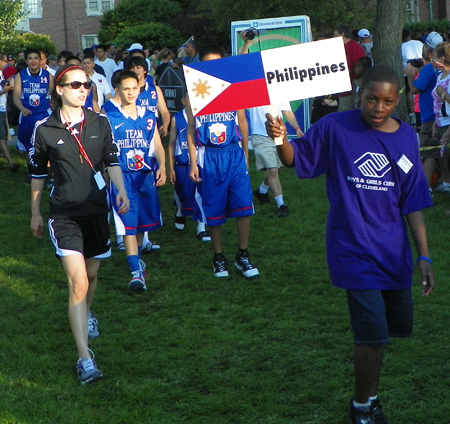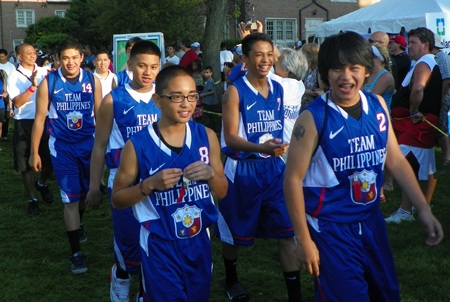 ---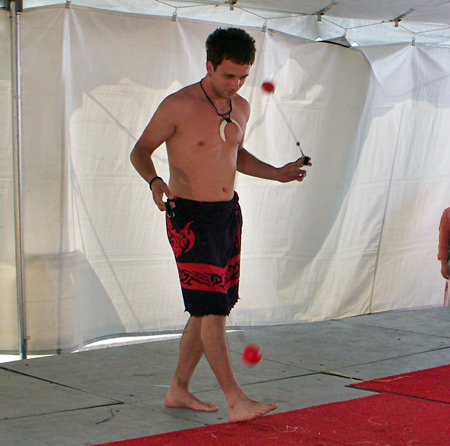 See photos and videos from the first annual Cleveland Asian Festival
ClevelandPeople.Com is proud to be a media sponsor of the Cleveland Asian Festival.
---
2009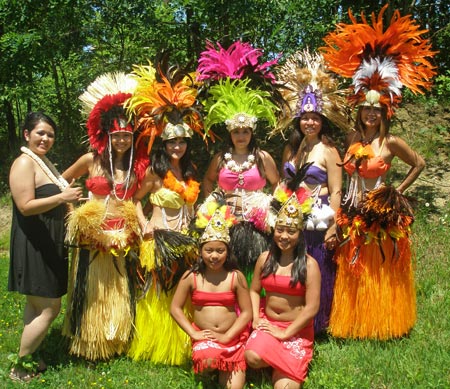 Ohana Aloha - a South Pacific dance Group



Filipino Festival 2009 - June 21, 2009
Pictures and videos from the 4th annual event

Ohana Aloa Dance performances
Pictures and videos from the Filipino Festival 2009 - June 21, 2009


---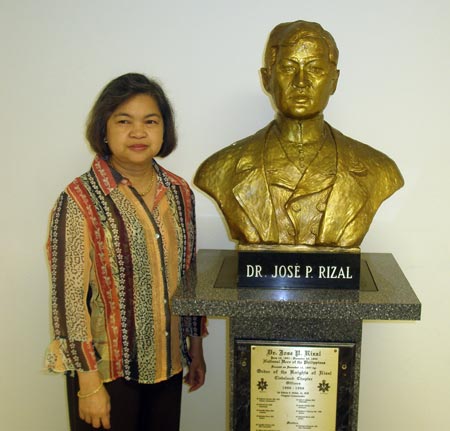 Consul General Blesila C. Cabrera, Philippine Consulate General of Chicago, with bust of Jose Rizal at 2009 Filipino Festival
---
The Philippines, officially known as the Republic of the Philippines, is a country in Southeast Asia. Manila is its capital city. It comprises 7,107 islands in the western Pacific Ocean.
The Philippines is the world's 12th most populous country with a population of about 90 million people. There are more than 11 million overseas Filipinos worldwide, about 11% of the total population of the Philippines.
A former colony of Spain and the United States, the Philippines is one of two predominantly Roman Catholic countries in Asia-Pacific, the other being East Timor. There are also a number of minority religious groups, including Islam, Buddhism and Hinduism.
Multiple ethnicities and cultures are found throughout the islands. Ecologically, the Philippines is one of the most diverse countries in the world.
---
Bulul guardian figure of the Ifugao people
---
The Philippines
The Philippine Islands became a Spanish colony during the 16th century; they were ceded to the US in 1898 following the Spanish-American War.
In 1935 the Philippines became a self-governing commonwealth. Manuel Quezon was elected president and was tasked with preparing the country for independence after a 10-year transition. In 1942 the islands fell under Japanese occupation during World War II, and US forces and Filipinos fought together during 1944-45 to regain control.
On 4 July 1946 the Republic of the Philippines attained its independence.
The 20-year rule of Ferdinand Marcos ended in 1986, when a "people power" movement in Manila ("EDSA 1") forced him into exile and installed Corazon Aquino as president. Her presidency was hampered by several coup attempts, which prevented a return to full political stability and economic development.
Fidel Ramos was elected president in 1992 and his administration was marked by greater stability and progress on economic reforms. In 1992, the US closed its last military bases on the islands.
Joseph Estrada was elected president in 1998, but was succeeded by his vice-president, Gloria Macapagal-Arroyo, in January 2001 after Estrada's stormy impeachment trial on corruption charges broke down and another "people power" movement ("EDSA 2") demanded his resignation.
Macapagal-Arroyo was elected to a six-year term as president in May 2004. The Philippine Government faces threats from three terrorist groups on the US Government's Foreign Terrorist Organization list, but in 2006 and 2007 scored some major successes in capturing or killing key wanted terrorists.
Decades of Muslim insurgency in the southern Philippines have led to a peace accord with one group and on-again/off-again peace talks with another.
(facts courtesy of CIA World Fact Book)


---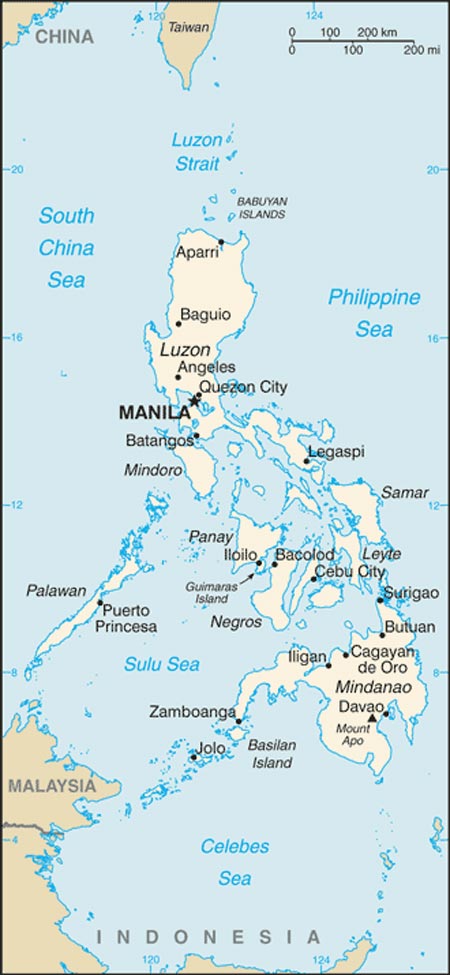 ---
Food of the Philippines
Including video descriptions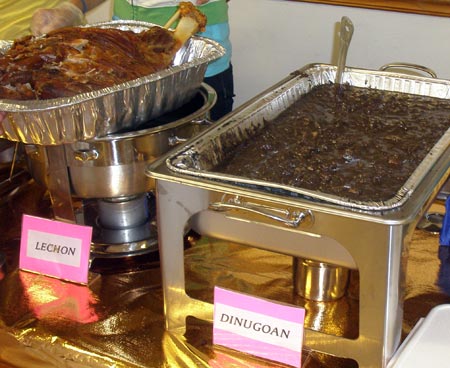 Tell us about the music, food, holidays, traditions, costumes, language and other qualities that make Filipinos so special.

Submit your Cleveland Filipino cultural items.


---