Tell us about the music, food, holidays, traditions, costumes, language and other qualities that make Armenians so special.



---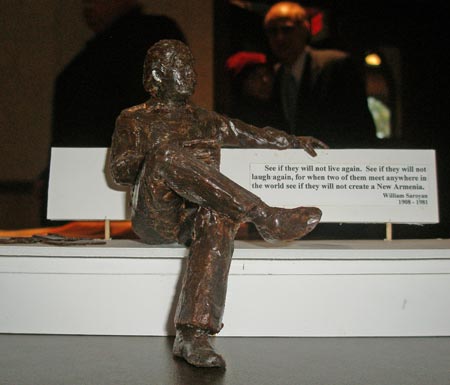 ---
Armenian Language
The language of Armenia is Armenian, but Russian is used almost as much. There are different regions, which produce different dialects. Cleveland Armenians are mainly from Malatia, but there are also those from Bursa and Aintab.
You can tell a little about a person's Armenian roots by the spelling of his/her last name. Usually an ending of "ian" (such as Mirakian, Atkian, Arselanian) represents roots nearer the Turkish borders, whereas "yan" (such as famed Dudak player Gasparyan) usually hale from the northern, Russian area.
Unlike many of the more modern languages, Armenian is considered a "pure" language, in that it is not really a derivative of any other. It does not have as its base the language of any other country, with the possible exception of Albania, because Armenia itself is such an ancient country.
St. Gregory's has been operating an Armenian language school for 30 years.
Armenian Music
Watch Loris Ohannes Chobanian, Ph.D. perform Lament for Homeland
at an Armenian Cultural event at JCU

Dr. Chobanian is Emeritus Professor of Composition and Guitar and Composer-in-Residence at Baldwin-Wallace College and performed original compositions on guitar at the event.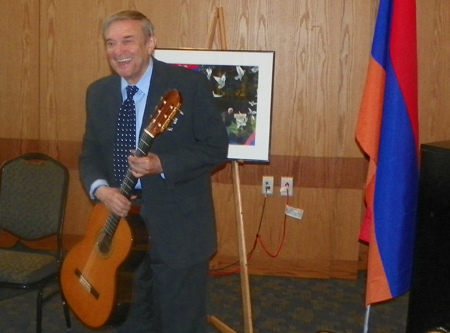 Dr. Loris Chobanian
---
The instrument most associated with Armenian music is the "Dudak", which is a flute-like instrument made from the wood of an apricot tree. The "Zurna", which is similar to a clarinet, is also a popular instrument. It has a loud, piercing, nasal sound and is often associated with great gala festivities.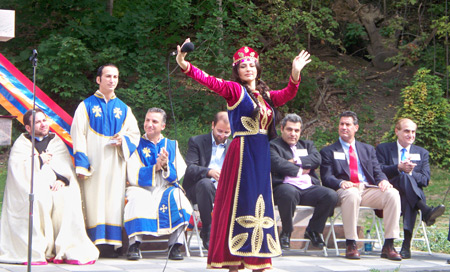 Ruzanna Tovmasyan performs at
the Armenian Cultural Garden dedication



The "guitar" with an oval and teardrop shaped body is known as the "Tar". It has two strings and it leans against the chest as it is played. Armenians also have a type of bagpipe, known as a "Parkapzuk", a drum referred to as "Dohl".

Together these instruments produce a haunting, lyrical sound unlike typical western music. Learning to play these instruments takes much patience and skill, but the result is worth the effort.

You can hear Armenian music every Sunday from 5-7:00 p.m. on WJCU 88.7 FM where Sam Mirakian has been hosting the Armenian program for twenty years.

Armenian Poetry

Watch a live reading of I'll Not Cry "Alas"
and read translations of these four poems from an Armenian Cultural event at JCU

Of My Motherland Armenia
Yeghishe Charents (1897-1937) Translation by Armine Grigoryan

Words For My Child
Silva Kaputikyan (1919-2006) Translation by Diana Der Hovanessian

I'll Not Cry "Alas"
Sayat-Nova (1712-1795) Translation by Aram Tokgian

Lined Up in the Sky
Shushanik Kurghinian (1876-1927) Translation by Shushan Avagyan
---
Armenian Culture
The Tekeyan is a small cultural organization. Along with the AGBU, the Tekeyan sponsors many cultural events. They are the original sponsors of the Armenian radio show. Dance troupes from Detroit and New York are often brought in to demonstrate Armenian dancing.
There are really no places in Cleveland to experience Armenian music and culture, other than the radio show and the special events put on by the various cultural groups.
Armenian Food
Traditionally, Armenians are noted for shish kebab, stuffed grape leaves and lahmajoon, (lamb meat with an assortment of spices)
They will eat rice, grains and vegetables, but you will seldom find potatoes on an Armenian table. Similarly, you will often find lamb and beef, but not pork. (This changes if the Armenians are from the northern section of Armenia in which case both pork and potatoes are prevalent).
Eggplant and zucchini are favorite vegetables and salad is a must. Rice pilaf and tabooleh, grace many of the Armenian tables. Then, of course, there is dessert! Sesame seeds and apricots are used in many cookies and candies and honey is often used as the sweetening agent. Shakareeshi is a melt-in-your-mouth sugar cookie and Paklava is similar to the better-known Greek pastry, Baklava.
It is unfortunate that you cannot find an Armenian restaurant in the greater Cleveland area, but if you watch for the Festival at St. Gregory's Church you will be able to taste some of these delicious foods.
---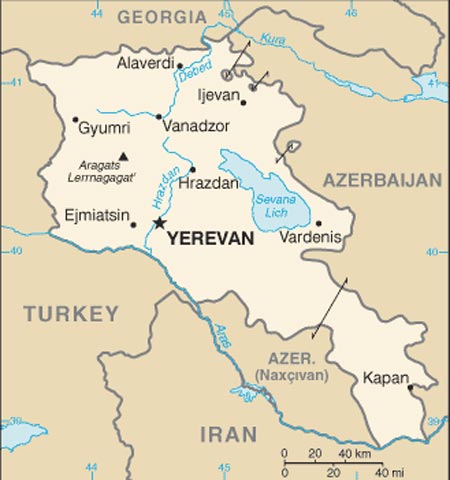 ---
Armenian History
Armenia prides itself on being the first nation to formally adopt Christianity (early 4th century). Despite periods of autonomy, over the centuries Armenia came under the sway of various empires including the Roman, Byzantine, Arab, Persian, and Ottoman.
During World War I in the western portion of Armenia, Ottoman Turkey instituted a policy of forced resettlement coupled with other harsh practices that resulted in an estimated 1 million Armenian deaths. The eastern area of Armenia was ceded by the Ottomans to Russia in 1828; this portion declared its independence in 1918, but was conquered by the Soviet Red Army in 1920.
Armenian leaders remain preoccupied by the long conflict with Muslim Azerbaijan over Nagorno-Karabakh, a primarily Armenian-populated region, assigned to Soviet Azerbaijan in the 1920s by Moscow. Armenia and Azerbaijan began fighting over the area in 1988; the struggle escalated after both countries attained independence from the Soviet Union in 1991.
By May 1994, when a cease-fire took hold, Armenian forces held not only Nagorno-Karabakh but also a significant portion of Azerbaijan proper. The economies of both sides have been hurt by their inability to make substantial progress toward a peaceful resolution. Turkey imposed an economic blockade on Armenia and closed the common border because of the Armenian separatists' control of Nagorno-Karabakh and surrounding areas.
(facts courtesy of CIA World Fact Book)


---
Submit your Cleveland Armenian cultural items.
---