2020
Swedish Christmas Traditions
Karen Chilcote from the Nobel-Monitor Newsletter says "We all know the story of Lucia and the traditions of Christmas in Sweden-many we carry on in our own homes each year. But it's fun to revisit the story and reminisce about Swedish Christmases." In this article she shares some traditions including Advent Stars, the julbord, the Yule Goat and even Donald Duck!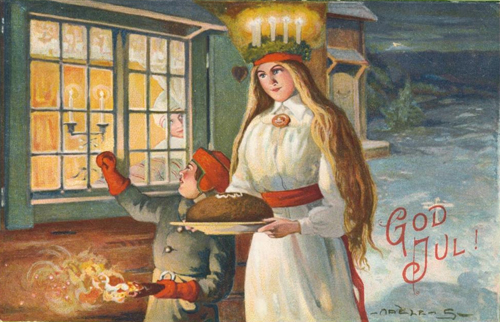 1916 Swedish Christmas card with Lucia in the snow
See more Swedish holiday traditions
---
2018
How long does Sweidsh Christmas last?
by Bo Carlsson
Swedes may be a little confused about when Christmas is actually over - but I suspect the tradition to make Christmas last a little longer has more to do with the desire to extend the enjoyment of the decorations, the festivities, and the lights in the darkness of winter. Indeed, with sunrise in Stockholm just before 9 AM and sunset at 3 PM at the end of December, who wouldn't like to have a little more light and warmth and cheer?

Read more about Christmas in Sweden


---
Santa Lucia Celebration
The Swedish Vasa community hosted a Swedish Lucia celebration on Saturday, December 8, at 4 p.m. at Church of the Saviour in Cleveland Heights. The program began with a winter concert of the Vasa Voices, directed by Judith Higbee, singing traditional winter and folk songs in Swedish. Following the vocal concert, the Lucia procession took place.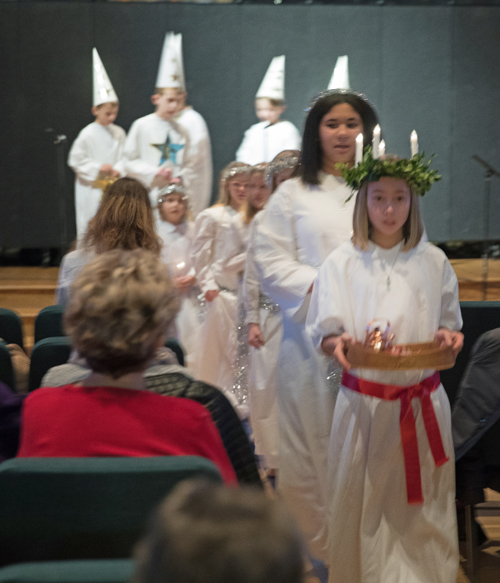 Lucia procession 2018
More photos from the Swedish Santa Lucia Celebration
---
Leif Erikson Day 2018
The Scandinavian community of Cleveland, including those from Norway, Sweden, Denmark and Iceland gathered at the bust of Leif Erikson in front of Shooters in Cleveland's Flats to celebrate Leif Erikson Day.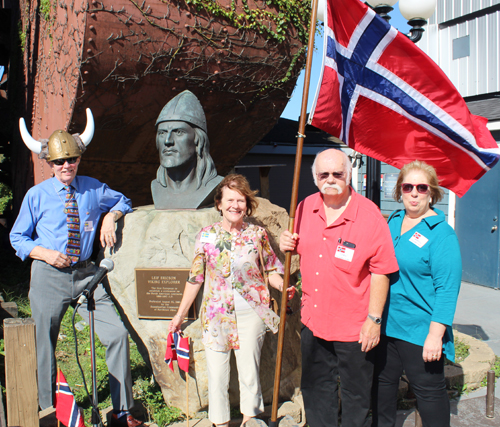 Leif Erikson was a Norse explorer regarded as the first European to land in North America (excluding Greenland), nearly 500 years before Christopher Columbus.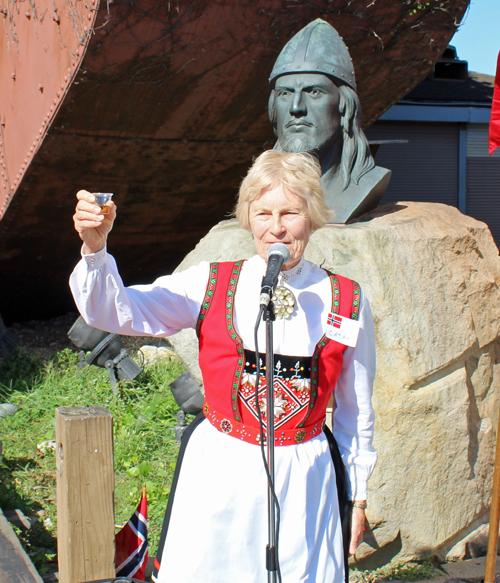 Catherine Jorgensen McCutcheon
See photos and a video of the 2018 Leif Erikson Day in Cleveland
---
2015
Lucia Fest
The Nobel-Monitor Lodge #130 Vasa Order of America hosted their annual Christmas and Lucia Fest on December 6, 2015. Highlights included the songs by the Vasa Voices Choir and the Lucia procession and songs by the children.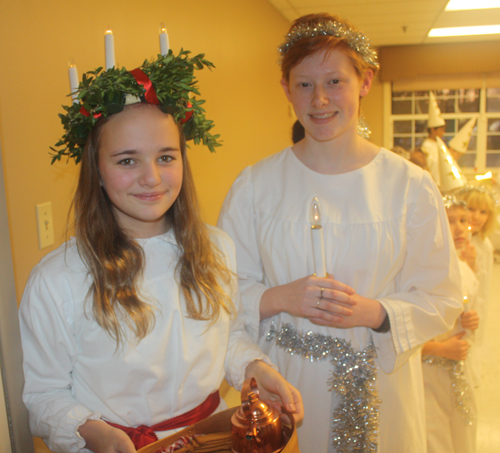 Lucia Procession
Santa Lucia Procession and Songs
---
Vasa Voices Choir of Nobel-Monitor Lodge #130 Vasa Order of America
The Vasa Voices Choir of Nobel-Monitor Lodge #130 Vasa Order of America performed at the 2015 Christmas and Lucia Fest in Highland Heights (Cleveland) Ohio.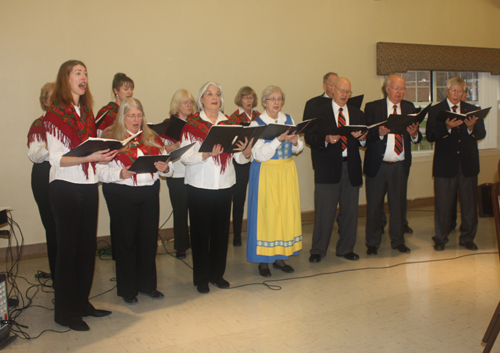 Vasa Voices Choir
Vasa Voices Choir
---
Oktoberfest in Scandinavia
The Octoberfest events in Scandinavia are very popular, and not only among local beer lovers! A Scandinavian Octoberfest is a great celebration when the warm weather diminishes in fall. Despite the name "Oktoberfest", most Oktoberfest events start in September.
---
2014
Easter in Scandinavia
Quite a peculiar national tradition in Norway is solving crimes during Easter. Publishers churn out series of books known as "Easter Thrillers" or "Påskekrimmen". Even the milk cartons change during the Easter season to have murder stories on their sides!

"Pääsiäinen" in Finland is celebrated with Easter egg hunts for the children. The hard boiled, chocolate, or candy eggs are hidden in the house or garden. Children also walk between houses, handing out twigs or decorations in exchange for a few coins.

In Denmark, there is a unique "Påske" tradition of sending teaser letters with little poems anonymously on Valentine's Day. If the recipient guesses who sent the poem, he or she receives the reward of an Easter egg.

In Sweden, children dress up as Easter witches with long skirts, colorful headscarves, and painted red cheeks. They go to neighboring houses presenting drawings in hopes of getting sweets in return. Folklore says the witches fly to "Blåkulla" (Blue Mountain) to meet the devil.

Another "Påsk" tradition is to place feathers on small branches of willow or birch in a vase.

By Karen Chilcote
2012
2012 Leif Ericson Day celebration in Cleveland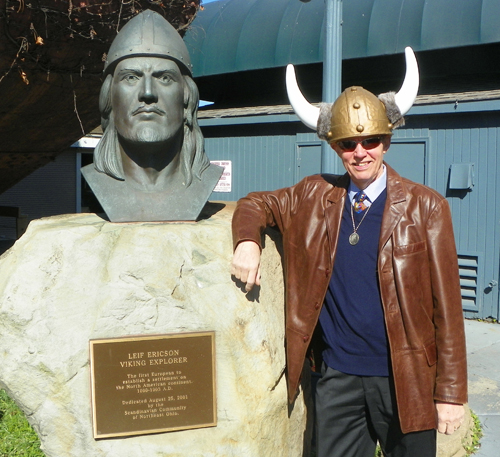 Bengt Gerborg with Leif Ericson bust
---
2010
Santa Lucia 2010
Forest Hills Presbyterian Church - December 11, 2010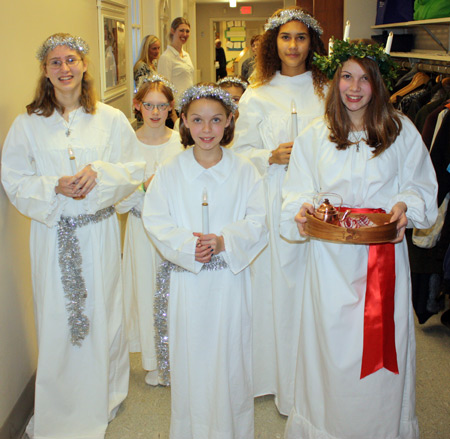 The Nobel-Monitor Lodge of the Swedish Vasa
Photos from the 100 year anniversary


---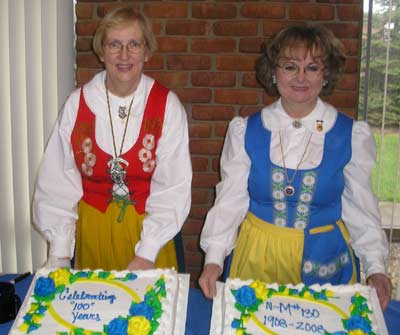 Marty Bergman and Karen Arvidson Chilcote
with 100 Year Anniversary cakes
---


Santa Lucia Celebration 2007
Photos and Video from the Forest Hills Presbyterian Church


---