Canadians in Cleveland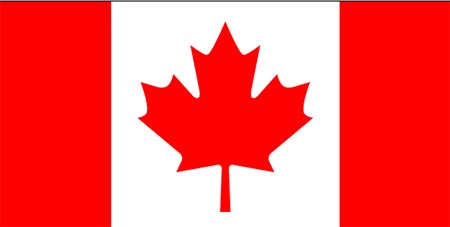 Welcome
---
Visit our on-line Canadian Store
Books, Music, DVDs, Clothes, Flags and More


---
News and Upcoming Events for Canadians in Cleveland
Submit your Cleveland Canadian news and events.
---
Are you interested in doing business in Canada?
Are you interested in taking a trip to Canada?
Are you of Canadian heritage and living, working or visiting Cleveland or Northeast Ohio?
Contact us for more information.
Out & About - Photos and Event Recaps
Canadian Foreign Affairs Minister Freeland Appoints Next Consul General in Detroit
The Honourable Chrystia Freeland, Minister of Foreign Affairs, has appointed Joseph John (Joe) Comartin of Windsor, Ontario to serve as the Consul General of Canada in Detroit. The Consul General in Detroit is the Government of Canada's senior representative in the states of Michigan, Ohio, Indiana, and Kentucky.

Comartin began his career as a civil litigation lawyer in Windsor, Ontario, before joining federal politics in 2000 as a Member of Parliament (MP) for Windsor-Tecumseh for the New Democratic Party. Mr. Comartin helped found the Canadian Auto Workers (CAW) Legal Services Plan and served as the plan's managing director for the Windsor-Essex region. He also helped to establish co-operative housing and the CAW Child Care Centre. As an MP for 15 years, he served as Opposition house leader (2011 to 2012), and as deputy speaker of the House of Commons (2012 to 2015). In 2015, he retired from politics. In 2016, Mr. Comartin became distinguished political scientist in residence at the University of Windsor, where he taught ethics and reform in Canadian Parliament and a Constitutional law course on the Charter of Rights and Freedoms.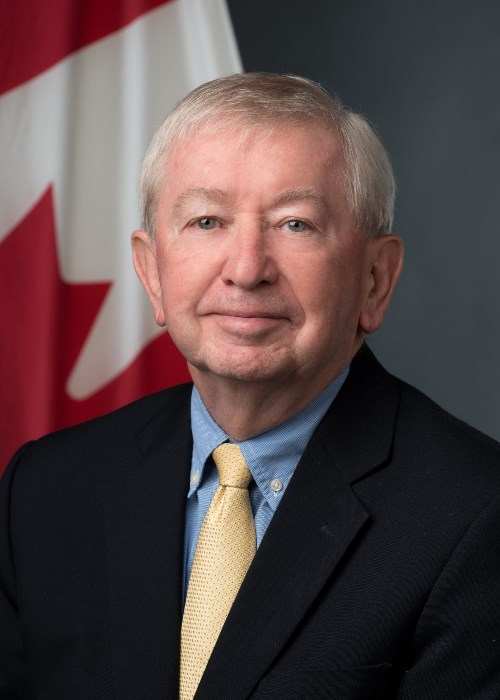 Joe Comartin



Outgoing Consul General Douglas George says that this is a good time for transition. "In the last two weeks, we took several monumental steps forward with Canada, Mexico, and the United States agreeing on a modernized trade agreement – the USMCA – which will bring benefits to all of North America, and the announcement from Prime Minister Trudeau and Michigan Governor Snyder of the start of construction on the Gordie Howe International Bridge between Windsor and Detroit."

Consul General George is currently in discussions with Global Affairs Canada to determine his next assignment. He previously served as Canada's Ambassador to Kuwait and in numerous economic posts at Global Affairs Canada, including the Commercial Policy Division, the GATT Division, and the US Trade and Economic Policy Division.

Located in Detroit, Canada's Consulate General works to promote trade and investment links, to engage citizens and decision-makers on matters of shared interest, and to assist Canadians living and traveling in the US. More information is available at www.detroit.gc.ca, on Facebook @CanadainDetroit and on Twitter @CanCGDetroit
---
2015
Young Athletes from Canada at Continental Cup in Cleveland
The Continental Cup, put on by the Greater Cleveland Sports Commission, is now in its 10th year and the 2015 event had 3300 athletes from 11 countries including Tanzania, Kenya, Mongolia, China, Bermuda, China, Colombia, Canada, Brazil, Nepal and Greece.

Canada was very well represented with hundreds of athletes.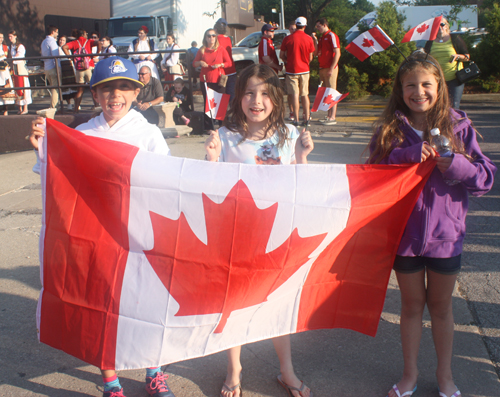 Young Athletes from Canada at Continental Cup in Cleveland
See more of the Canadian athletes and others
---
2013
The Tall Ships Festival at the Port of Cleveland drew several international ships including a few from Canada.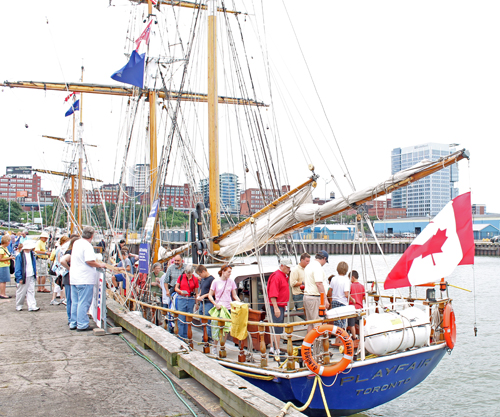 Tall Ships from Canada
---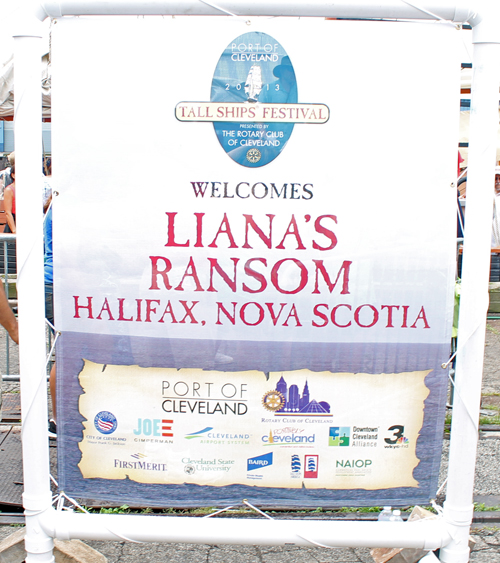 ---
2012
O Canada sung by Marie Crawley Diamond at the Robert Burns Dinner put on by the Scottish Heritage Association of Northeast Ohio (SHANO) on January 21, 2012.
---
2011
Young athletes from Canada compete in the 2011 Continental Cup
June 30, 2011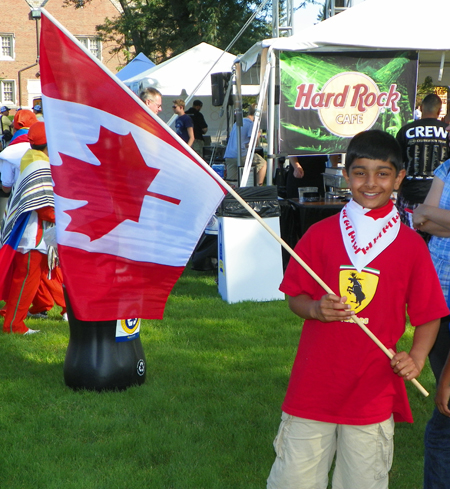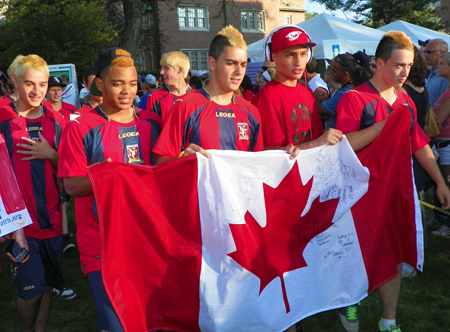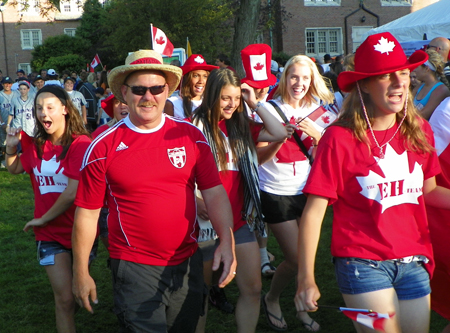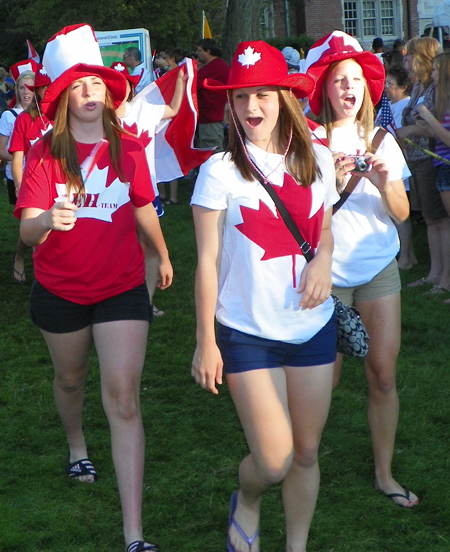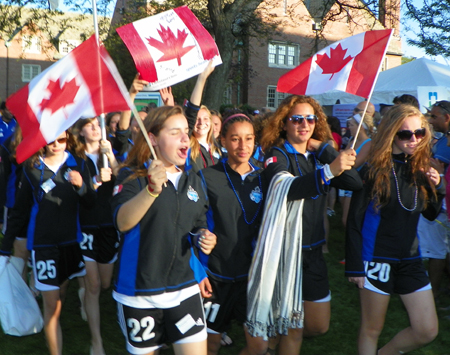 More from the 2011 Continental Cup
---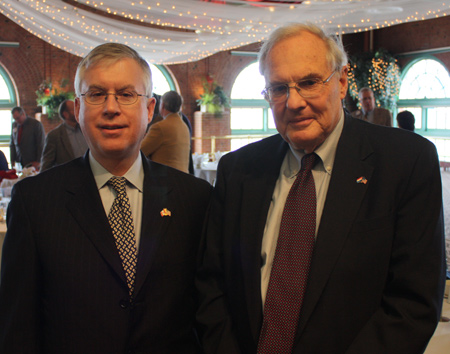 Consul General Roy Norton of Canada and Consulate of Netherlands Charles 'Arnie' de la Porte at Rotary Club of Cleveland event
More from the event honoring the Cleveland Orchestra
---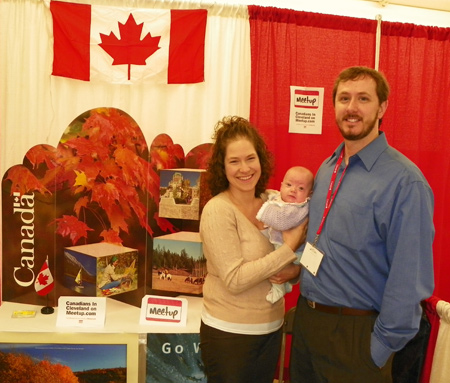 ClevelandPeople.Com Canadian Ambassador Richard Arnold with his wife Elizabeth and baby Madalyn at The Cleveland Home & Garden Show. Canada was the featured country at the January 2011 show.
---
Canada was well represented at the annual Continental Cup July 1-4, 2010 at John Carroll University in Cleveland.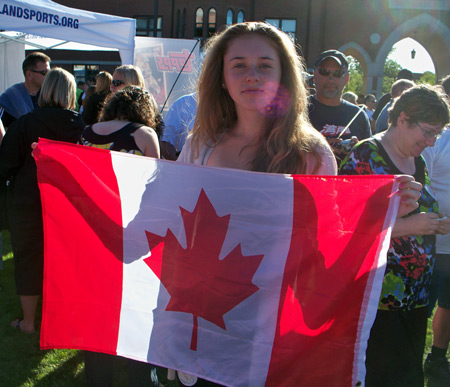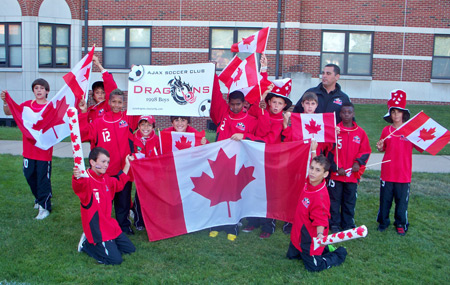 See more photos and videos of the young Canadian athletes
---
Organizations and Resources for Canadians in Cleveland
Can you name the 10 Canadian provinces and two territories?
Newfoundland,
Prince Edward Island,
New Brunswick,
Nova Scotia,
Quebec,
Ontario
Manitoba,
Saskatchewan,
Alberta,
British Columbia,
Yukon Territory
Northwest Territories.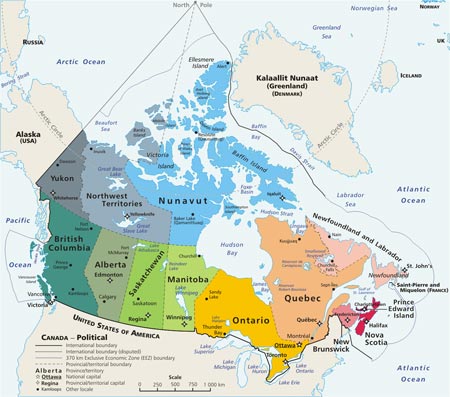 Provinces of Canada
Submit your Cleveland Canadian organizations and resources.
Business, Education and Employment Information
---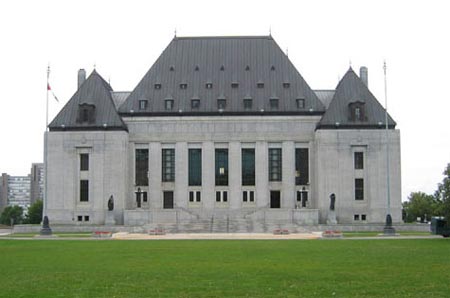 The Supreme Court of Canada in Ottawa, west of Parliament Hill
---
Submit your Cleveland Canadian jobs, classes and other opportunities.
---
Cleveland Canadian Feedback and Memories
---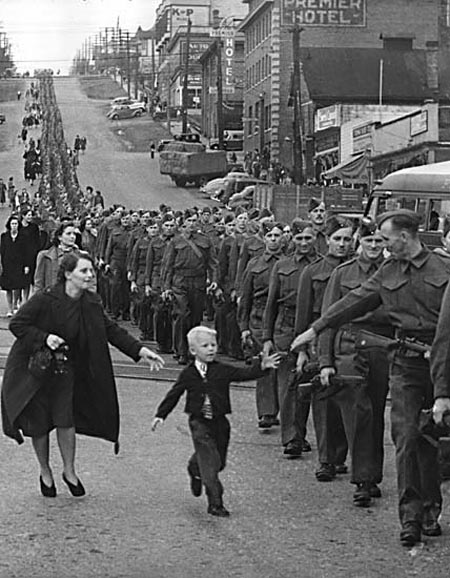 The BC Regiment, DCO, marching in New Westminster, 1940. 1.1 million Canadians served in WWII. Canadian servicemen played a major part in the D-Day landings of 6 June, 1944.


Canadian History and Culture

The name Canada comes from a St. Lawrence Iroquoian word, kanata, meaning "village" or "settlement". In 1535, indigenous inhabitants of the present-day Quebec City region used the word to direct French explorer Jacques Cartier towards the village of Stadacona.
Cartier later used the word Canada to refer not only to that particular village, but also the entire area subject to Donnacona (the chief at Stadacona); by 1545, European books and maps had begun referring to this region as Canada.
---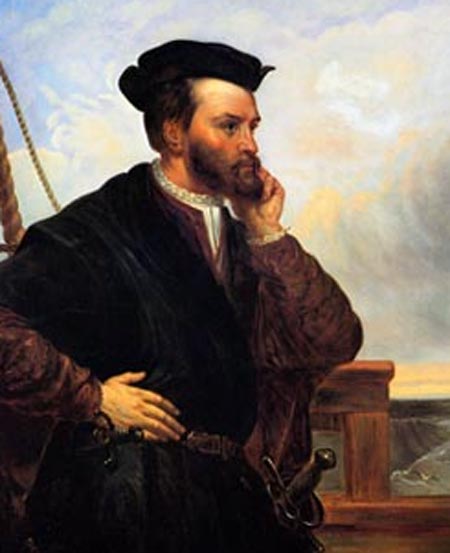 Jacques Cartier
---
Canada
A land of vast distances and rich natural resources, Canada became a self-governing dominion in 1867 while retaining ties to the British crown.
Economically and technologically the nation has developed in parallel with the US, its neighbor to the south across an unfortified border. Canada faces the political challenges of meeting public demands for quality improvements in health care and education services, as well as responding to separatist concerns in predominantly francophone Quebec.
Canada also aims to develop its diverse energy resources while maintaining its commitment to the environment.
(facts courtesy of CIA World Fact Book)


---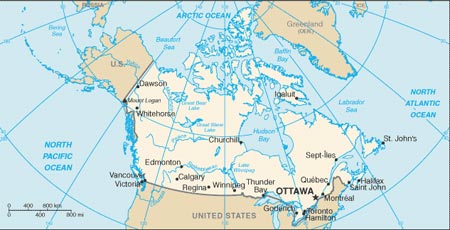 ---
Submit your Cleveland Canadian cultural items.
---
Profiles of Canadians in Cleveland and Northeast Ohio

If you know of a Cleveland Canadian who should be profiled,
please let us know.
---
ClevelandPeople.Com - Canadian Ambassadors
Read more about the Canadian and other Ambassadors. If you are interested in being considered to be an official ClevelandPeople.com Ambassador to the Cleveland Canadian community, please contact us.


---