Two centuries of Viking raids into Europe tapered off following the adoption of Christianity by King Olav Tryggvason in 994. Conversion of the Norwegian kingdom occurred over the next several decades. In 1397, Norway was absorbed into a union with Denmark that lasted more than four centuries.
In 1814, Norwegians resisted the cession of their country to Sweden and adopted a new constitution. Sweden then invaded Norway but agreed to let Norway keep its constitution in return for accepting the union under a Swedish king. Rising nationalism throughout the 19th century led to a 1905 referendum granting Norway independence.
Although Norway remained neutral in World War I, it suffered heavy losses to its shipping. Norway proclaimed its neutrality at the outset of World War II, but was nonetheless occupied for five years by Nazi Germany (1940-45). In 1949, neutrality was abandoned and Norway became a member of NATO.
Discovery of oil and gas in adjacent waters in the late 1960s boosted Norway's economic fortunes. In referenda held in 1972 and 1994, Norway rejected joining the EU. Key domestic issues include immigration and integration of ethnic minorities, maintaining the country's extensive social safety net with an aging population, and preserving economic competitiveness.
(facts courtesy of CIA World Fact Book)


---
---
Tell us about the music, food, holidays, traditions, costumes, language and other qualities that make Norwegians so special.

Catherine Jorgensen McCutcheon modeled a tradional Norwegian costume or bunad.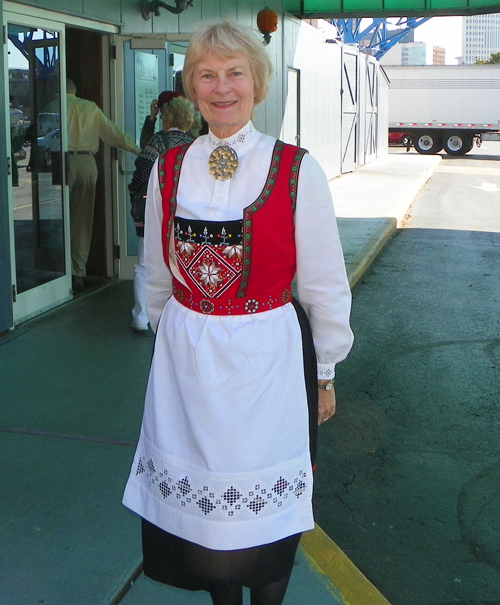 Catherine Jorgensen McCutcheon in her Norwegian bunad
In this short video, she and Vigdis Boge explain the lace, beading and other components of the authentic dress from Norway.
---
Easter in Scandinavia
Quite a peculiar national tradition in Norway is solving crimes during Easter. Publishers churn out series of books known as "Easter Thrillers" or "Påskekrimmen". Even the milk cartons change during the Easter season to have murder stories on their sides!

"Pääsiäinen" in Finland is celebrated with Easter egg hunts for the children. The hard boiled, chocolate, or candy eggs are hidden in the house or garden. Children also walk between houses, handing out twigs or decorations in exchange for a few coins.

In Denmark, there is a unique "Påske" tradition of sending teaser letters with little poems anonymously on Valentine's Day. If the recipient guesses who sent the poem, he or she receives the reward of an Easter egg.

In Sweden, children dress up as Easter witches with long skirts, colorful headscarves, and painted red cheeks. They go to neighboring houses presenting drawings in hopes of getting sweets in return. Folklore says the witches fly to "Blåkulla" (Blue Mountain) to meet the devil.

Another "Påsk" tradition is to place feathers on small branches of willow or birch in a vase.

By Karen Chilcote
---
Submit your Cleveland Norwegian cultural items.
---