We Pray the Rosary - Living Rosary DVD
Hail Mary, Full of Grace…

This DVD is a Living Rosary in the sense that over 200 people participated in saying a prayer. 3 bishops, numerous priests and sisters and a variety of lay people all said a prayer (Creed, Our Father, Hail Mary or Glory Be) that when put together combine to form the complete Rosary.

All 4 Mysteries (Joyful, Sorrowful, Glorious and Luminous) are included and there is an extra Decade for your special intentions.

We hope that this DVD inspires you to pray the Rosary more frequently. You can choose to view/pray a single Decade, a complete Mystery or all 4 Mysteries. The DVD includes a listing of all the Mysteries.

The Rosary is a great gift given to us by Our Blessed Mother.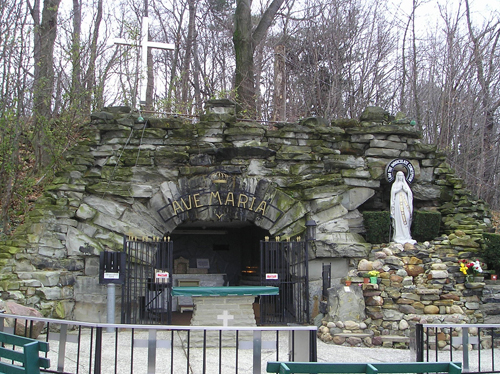 Learn more about the Living Rosary and how you can order this DVD
---
Prayer to End Abortion
Lord God I thank you today for the gift of my life and for the gift lives of all my brothers and sisters.

I know there is nothing that destroys more lives than abortion, yet I rejoice that You have conquered death by the Resurrection of Your Son.

I am ready to do my part in ending abortion. Today I commit myself never to be silent, never to be passive, never to be forgetful of the unborn.

I commit myself to be active in the Pro-life movement and never stop defending life until all my brothers and sisters are protected and our nation once again becomes a nation with liberty and justice not just for some but for all. Through Christ our Lord. Amen!
---
2021
Year of St. Joseph declared by Pope Francis
On December 8, 2020, Pope Francis declared that the next year, beginning on that day and concluding on December 8, 2021, as the Year of St. Joseph.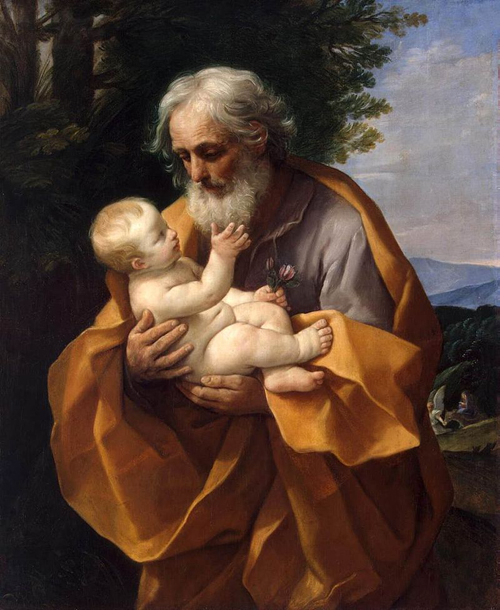 St Joseph with the infant Jesus by Guido Reni



This proclamation comes as we prepare to celebrate the 150th anniversary of the declaration of Saint Joseph as Patron of the Universal Church.

To mark this special year, the Pope wrote and Apostolic Letter entitles Patris corde, or "With a Father's Heart."

In it, he explores the man and father that Joseph was, and calls us to do the same. Especially in the time of this pandemic, Pope Francis says that Joseph "has helped us to see more clearly the importance of 'ordinary' people who, though far from the limelight, exercise patience and offer hope every day."

Pope Francis has also introduced a prayer for Saint Joseph to be used throughout the year.

See more aabout the Year of St. Joseph


---
2019
Saint John Paul II bust blessing and dedication in the Polish Cultural Garden
A statue of Saint John Paul II was dedicated on May 18, 2019 in the Polish Cultural Garden in Cleveland Ohio. Bishop Roger Gries and Father Jerzy Kusy led a prayer and blessed the statue.

Not only was it John Paul II's birthday but it was also the 56th anniversary of Bishop Gries' ordination.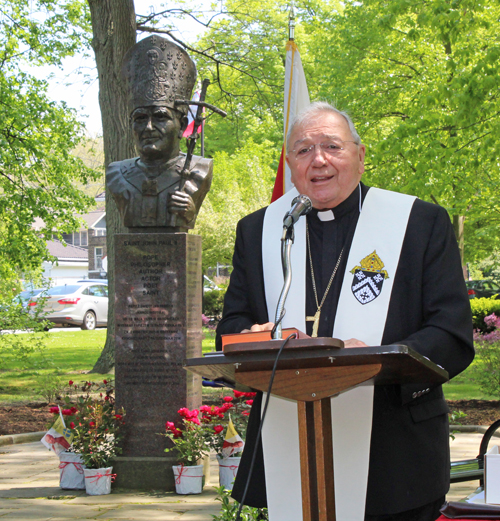 Bishop Roger Gries blessed the bust of Saint John Paul II




Bishop Roger Gries and Father Jerzy Kusy
See more from the Saint John Paul II blessing and dedication
---
Sunday, January 13th Three Kings Epiphany at St. Casimir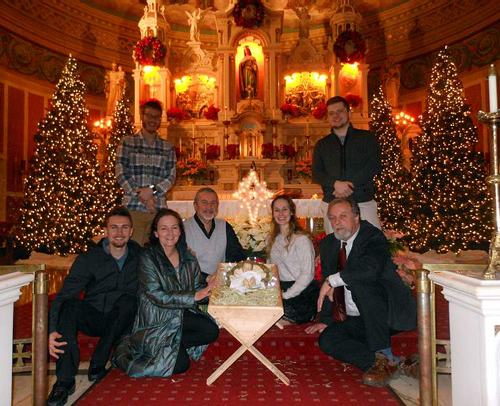 ---
2018
World Apostolate of Fatima Cleveland Diocesan Pilgrim Virgin Statue Our Lady of Fatima
The World Apostolate of Fatima Cleveland Diocesan Pilgrim Virgin Statue Our Lady of Fatima visited St. Casimir Church in July 2018 to coincide with the Taste of St. Casimir Polish Festival.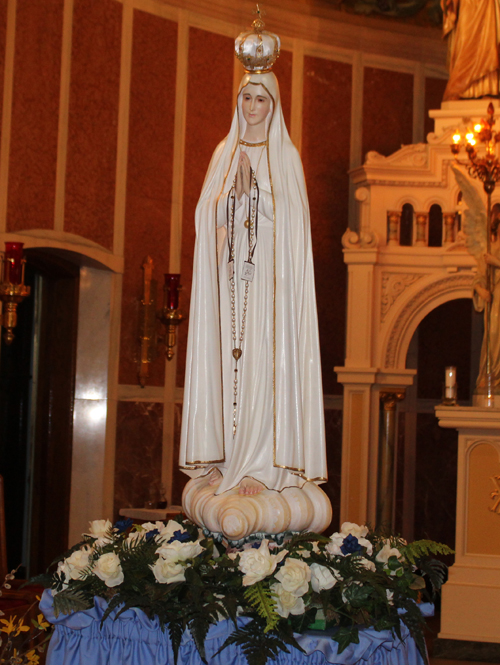 Our Lady of Fatima statue at St Casimir Church
See more of the Fatima statue and St Casimir Church
---
2017
World Union of Jesuit Alumni in Cleveland
The World Union of Jesuit Alumni (WUJA), founded in 1956, holds an international Congress every four years to gather Jesuit friends and alumni-from as many as 50 countries representing a global network of Jesuit ministries-to build international networks and affirm Jesuit centric values for a greater good.

From June 28-July 2, 2017, WUJA met for the first time ever in North America, at John Carroll University, in Cleveland, Ohio. WUJA 2017 gathered renowned, world-class speakers committed to Uniting Our Jesuit Frontiers in the arts, business, science, law, spirituality, theology, faith and leadership, service, and justice.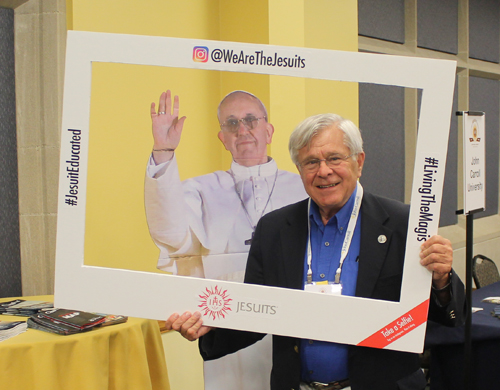 Fr. Don Doll, S.J.


---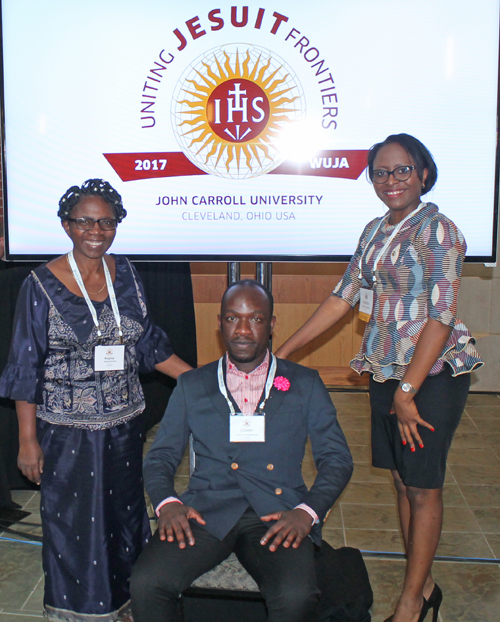 WUJA attendees from the Democratic Republic of the Congo
6 pages of photos and videos from the WUJA Congress
---
Jesuit Ministries Fair
A Jesuit Ministries Fair was held at the World Union of Jesuit Alumni (WUJA) event and included numerous organizations of interest such as the Ignatian Solidarity Network, Fr. Don Doll S.J., Manresa Jesuit Retreat House, Jesuit Refugee Service, International Samaritan, The Cana Institute, Loyola Press and more.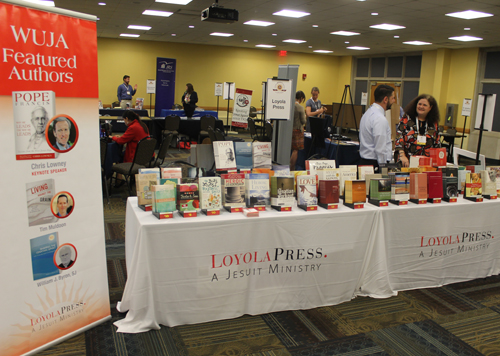 Photos and Videos of some of the Jesuit organizations
---
Come to the Feast - a Teaching Mass
What does a priest wear and why? Why do we sometimes say the Apostle's Creed and sometimes the Nicene Creed? What does 'Alleluia' mean?

Fr. Patrick Schultz of Communion of Saints Parish preached a one night Inter-Parish Mission at St Ann Church called "Come to the Feast." It was a "Teaching Mass" and Fr. Patrick explained many aspects of the Mass.

Watch short videos of the "teaching moments" from the Mass


---
Welcome Bishop Nelson J. Perez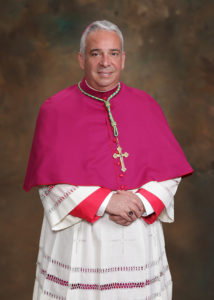 Pope Francis has named Bishop Nelson J. Perez, Auxiliary Bishop of Rockville Centre, N.Y., as Bishop of the Diocese of Cleveland, Ohio.

As a member of the United States Catholic Conference of Bishops, Bishop Perez serves as the Chair of the Bishop's Sub-Committee for Hispanic Affairs and is a former member of the Bishop's Sub-Committee for the Campaign for Human Development.

Bishop-designate Perez will be installed as the 11th bishop of the Diocese of Cleveland at a Solemn Mass on Tuesday, September 5, 2017 at the Cathedral of St. John the Evangelist in downtown Cleveland.






---
Cleveland Youth Rally for Life
For 43 years, pro-life people have publicly witnessed for the unborn babies in downtown Cleveland during the freezing January season. Since 1981 these Pro Life Rallies have been dedicated to our youth who enjoy first opportunity on speaking at the Rally.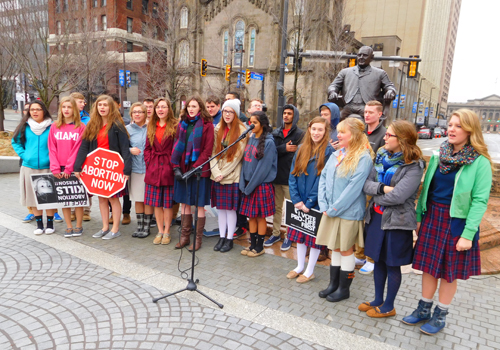 Youth Rally for Life Cleveland 2017
Photos and more about the Youth Rally for Life Cleveland 2017
---
2016
St Casimir Church 125th Anniversary
It was a big weekend for Greater Cleveland's Polish American Community. To celebrate the 125th Anniversary of the founding of St. Casimir's Parish, Fr. Eric Orzech, pastor of both St. Casimir and St. Stanislaus Churches invited the Most Reverend Andrzej Wypych, the Auxiliary Bishop of Chicago to be the Celebrant and Homilist at the Sunday, October 16th, 11:30 AM Solemn Mass of Thanksgiving.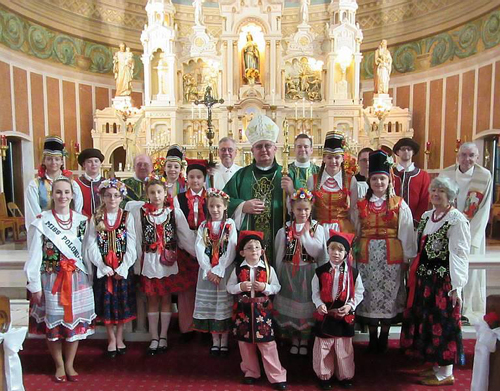 Bishop Andrzej Wypych, Fr Eric Orzech, altar servers and children of the Sienkiewicz Polish Language School and Piast Dancers
See more from the 125th anniversary of St Casimir Church
---
Mother Teresa Canonization Ceremony - Albanian Cultural Garden
The Albanian Cultural Garden hosted a canonization ceremony for Blessed Mother Teresa on Sunday September 4, 2016. "Many people don't know Mother Teresa was Albanian," said Cleveland Councilwoman Dona Brady, one of the founders of the garden and leader of the ceremony.

Bishop Roger Gries, O.S.B., Auxiliary Bishop Emeritus as well as Sister Judith Ann Karam, CSA, FACHE Congregational Leader, Sisters of Charity of Saint Augustine, and Sister Kathleen Ryan, administrator for the Cleveland Catholic Diocese, all spoke about the new saint and her influence on the world and their lives.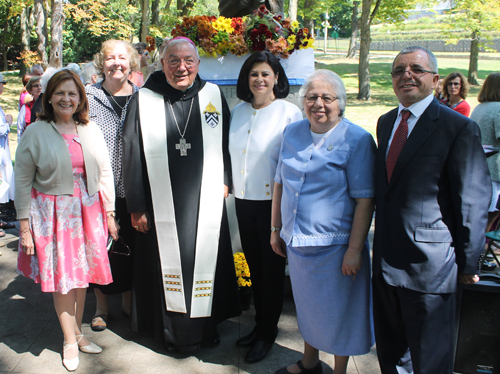 Sheila Crawford, Sister Ryan, Bishop Gries, Dona Brady,
Sister Karam and Adem Meta


See photos and videos of the Mother Teresa ceremony
---
St. Patrick's Day Parade
Many Cleveland Irish began the day with Mass at St. Colman's, St Patrick's or Saints Robert & William or other churches. There were many Catholic schools and organizations in the Parade as well including the Knights of Columbus.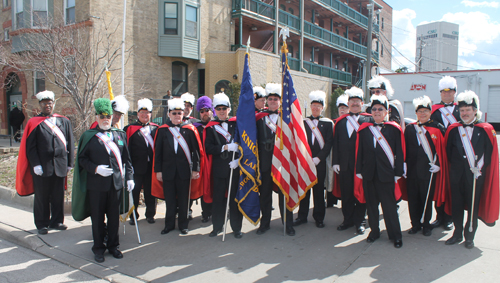 Knights of Columbus at the Parade



The Cleveland Right to Life marchers were greeted by hearty applause along the Parade route.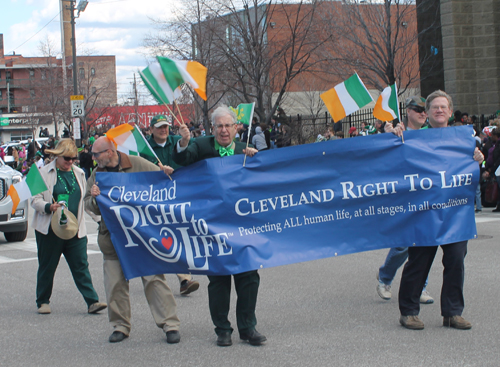 Right to Life at St Patrick's Day Parade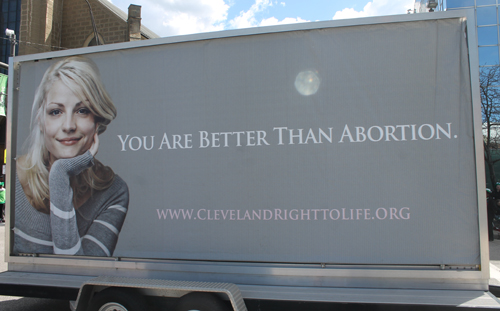 Cleveland's Polish community from St. Casimir Church celebrated 1050 Years of Christianity.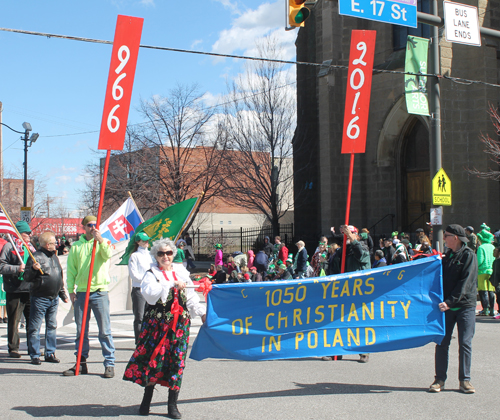 See more of Polonia at the Parade
See more from the 2016 Cleveland St. Patrick's Day Parade
---
Annual Youth Rally for Life
by Joseph Meissner
"Nobody will be there." This thought haunts me the night before our annual Youth Rally for Life in January 22, 2016.

We have sent out hundreds of emails about this event celebrating human beings and promoting respect for all human life from when we first begin at conception until we die a natural death.

Read the rest of Joe's experience at the 2016 Rally.


---
2015
Pope Francis visit influence on Cleveland Catholics
Fr. Joseph A. Bacevice, pastor of St. Casimir Parish in Cleveland Ohio was asked if Pope Francis' visit would have an influence.

He said that it will have a great influence especially with alienated Catholics. He said it already has with several people wanting to get back to the Faith.






---
Forty First Annual Youth Rally for Life - Cleveland
It is Thursday, January 22. This is the Forty First Annual Youth Rally for Life. Normally we have held this event on Cleveland Public Square at noon in the midst of all the lunch-time crowds. Despite the usual freezing cold, the young people have always come from their high schools and colleges to deliver their messages of hope and love. We more "mature young people" come to listen and find inspiration.

Read the rest of Joe's account of the Rally for Life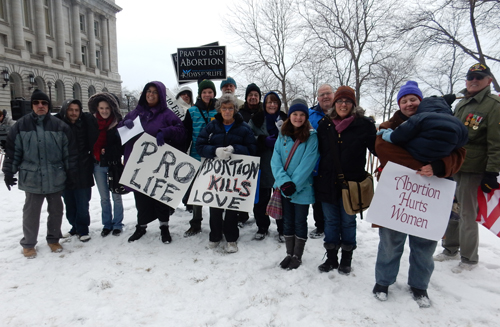 ---
2014
Fr. Bob Begin honored on St. Colman Day
Fr. Caroli B. Shao, A.J. Pastor of St Colman Church in Cleveland wrote these remarks about St Colman Day and the honoring of Fr. Robert Begin.

"This year as we honor Fr. Bob, we recall his 20 years of commitment to the people of St. Colman Parish and to the entire neighborhood. During his 20 years as Sacramental Minister and Pastor, we saw St. Colman Parish growing tremendously in all aspects of parish life: spirituality, social justice, service, education and finances.

Fr. Bob never sat back to watch what would happen. He became a key player in the field, along with all of the parishioners who work so hard to ensure St. Colman's future. Thank you, Fr. Bob, for your gift of service to the people of St. Colman's, the neighborhood and the City of Cleveland."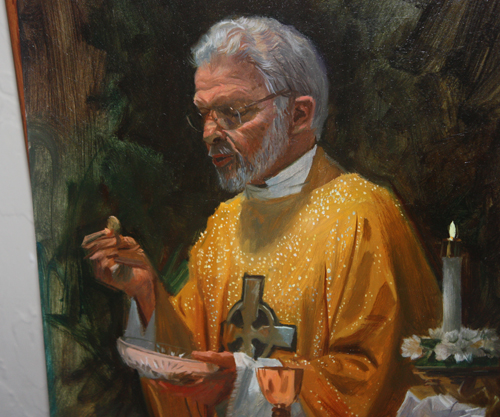 More from the Fr. Bob Begin reception
---
Cleveland Asian Catholic Gathering
About 1000 people celebrated the Annual Mass and Gathering on Sunday, October 5, 2014 at 12 noon at St. Clarence Church. This is the 17th year the event was hosted by the Asian Ministry of the Diocese of Cleveland. It was an afternoon of family celebration of Asian culture and spirituality beginning with the celebration of the Mass with the Most Rev. Roger W Gries, OSB along with priests from the different Asian Catholic communities.

The cultural and ethnic diversity of the Asian Catholic communities assembled at the Mass was reflected throughout the celebration. Members of the various Asian communities came together with their own traditions, dressed in colorful ethnic clothes: shimmering saris, kimonos, karawangs, hanboks, barongs, and ao dai. The entrance procession included Vietnamese drums. During the Mass there was an incense ceremony by the Vietnamese, and the Indian aarti. Hymns were sung by the choirs in various Asian languages: Tagalog (Filipino), Korean, Vietnamese and Hindi (Indian). The readings and the prayers of the faithful were also said in various Asian languages.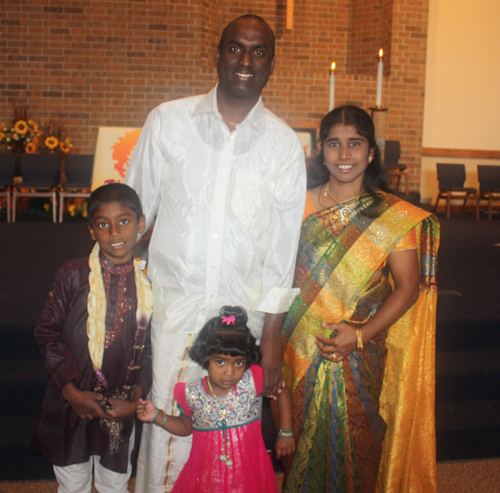 Sesuraj Family at the Asian Catholic Mass and Gathering
2 pages of photos and videos of the Asian Catholic Gathering
---
Tribute to newly canonized Saint Pope John Paul II

April 27, 2014
St Barbara Church at 1505 Denison in Cleveland has a large Polish American population. They celebrated the canonization of Pope John Paul II with a special service (in Polish and English) at St Barbara Church.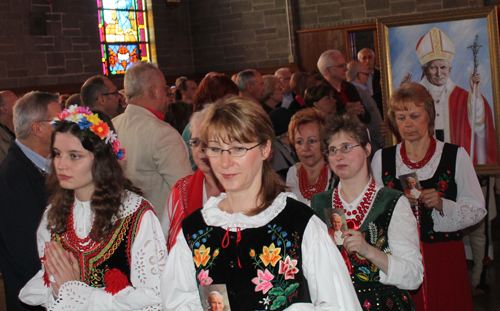 Processional into St Barbara Church
Photos and videos of the Polish Mass and ceremony at St Barbara Church
---
Mass Mob at St Barbara Church and Canonization of Popes John XXIII and John Paul II

April 27, 2014
St Barbara Church at 1505 Denison in Cleveland has a large Polish American population. Pastor Joseph Hilinski and Rev. Andrzej Panek were joined by 2 other priests at this special Mass celebrated in both Polish and English.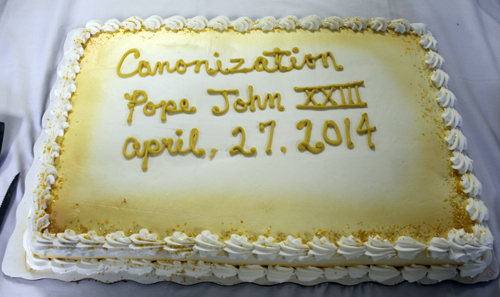 Cake for the canonization of Pope John XXIII
Photos and videos of the Polish Mass and ceremony at St Barbara Church
---
First Cleveland Mass Mob
Saint Casimir Church - 8223 Sowinski Ave. Cleveland
March 23, 2014
Social Media (Facebook, Twitter and others) has been used to create Flash Mobs for impromptu dance and other performances, Cash Mobs to help a small business get lots of customers and other "Mobs" to get a larger than usual group of people together for a common purpose.

Parishioner leaders from St Casimir Catholic Church in Cleveland have been active since the Church was originally closed down several years ago. Stanislav Zadnik, Joseph Feckanin, John Niadzialek, Wojtek Flezar and others organized weekly prayer vigils at the Church until it was reopened on July 15, 2012. Zadnik heard of the Mass Mob in Buffalo and spread the word to the others and, after discussing with pastor Rev. Eric Orzech, spread the news of a Catholic Mass Mob at St. Casimir Church at East 82nd and Sowinski.

Typically the 11:30 AM Sunday Mass at St Casimir would attract about 100 people but over 700 attended Mass on March 23, 2014 for the first Mass Mob in Cleveland.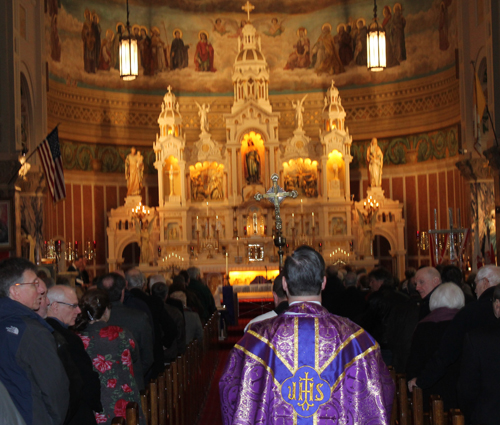 Fr. Orzech processes into the Church
Photos and Videos from the Mass Mob at St Casimir.
---
Jesus meeting the Samaritan woman at the well
Fr. Orzech' sermon from the 3rd Sunday of Lent reflected on the Gospel account of Jesus meeting the Samaritan woman at the well. His advice is inspiring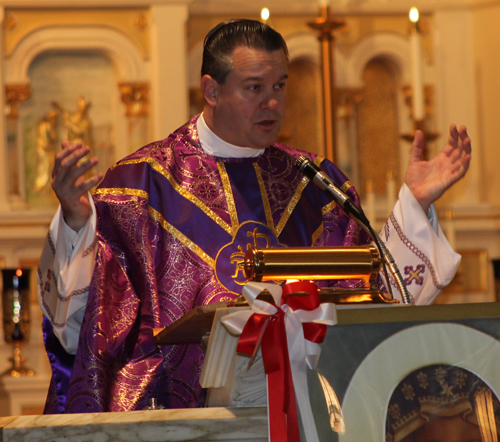 ---
Pilgrimage to Stop Deportation of Local Immigrant Father
Ricardo Ramos, an immigrant father of three U.S. citizen children, has been working (and paying taxes) in the nurseries of Lake County, OH for the past sixteen years. Currently, he's facing deportation on January 16th, the same day as his daughter's twelfth birthday.

St. Casimir Church in Cleveland is home to a predominantly Polish American congregation but St Casimir has become the adopted Church of Ricardo Ramos and his family. They learned of the miracles attributed to Our Lady of Czestochowa, also known as the Black Madonna.

On Monday January 13, 2014 about 100 supporters made a 20 mile pilgrimage walk in the cold and rain from Painesville to St Casimir to pray for a miracle in front of the icon of Our Lady of Czestochowa.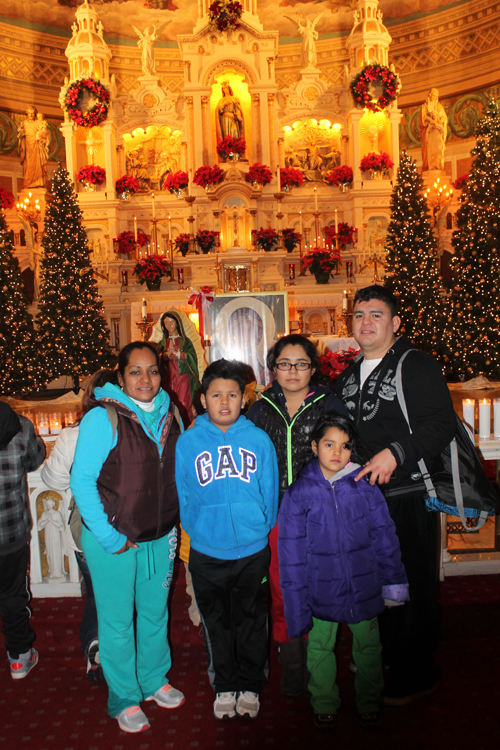 Ricardo Ramos family at St Casimir Church
Photos and Videos from the Pilgrimage
---
2013
Feast of the Nativity of Mary - Indian style
St. Agnes Church in Elyria
September 28, 2013

The Asian Indian Catholic Community celebrated the birth of the Blessed Virgin Mary at St. Agnes Church in Elyria. Fr. Albert Veigas, Pastor, is from India and said that in India the Feast is one of the most celebrated and revered days of the Church calendar. It coincides with the Harvest Festival and the two are combined to make Mary's birthday even more special.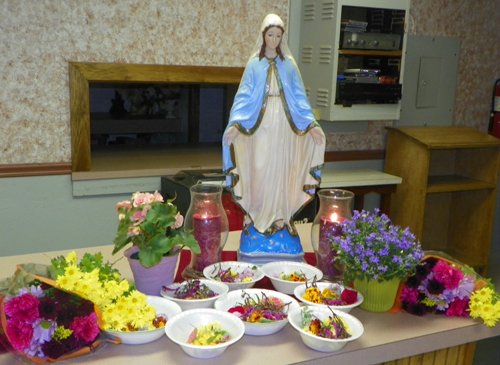 Statue of Blessed Virgin Mary - after children brought flowers
---
---
Interfaith Fellowship Day 2013
Myths and Mysteries in our Religions
February 4, 2013

Church Women United in Greater Cleveland is a group of women who gather together to promote the positive similarities of our faiths and accentuate the underlying oneness of the various religious groups and affiliations. This year's theme was "The Myths And Mysteries In Our Religions" and featured speakers from the following faiths: Catholic, Jewish, Lutheran, Muslim and Sikh.

Fr. Damian Ference of Borromeo Seminary spoke and explained that "stuff matters" in the Catholic faith because Jesus was incarnate not just spiritual. So the water, oil and other physical aspects of the sacraments are important.




---
Submit your Cleveland Catholic photos and event recaps.
---