Colombia was one of the three countries that emerged from the collapse of Gran Colombia in 1830 (the others are Ecuador and Venezuela). A nearly five-decade long conflict between government forces and anti-government insurgent groups, principally the Revolutionary Armed Forces of Colombia (FARC) heavily funded by the drug trade, escalated during the 1990s.
More than 31,000 former paramilitaries had demobilized by the end of 2006 and the United Self Defense Forces of Colombia as a formal organization had ceased to function. In the wake of the paramilitary demobilization, emerging criminal groups arose, whose members include some former paramilitaries. The insurgents lack the military or popular support necessary to overthrow the government, but continue attacks against civilians. Large areas of the countryside are under guerrilla influence or are contested by security forces.
In November 2012, the Colombian Government started formal peace negotiations with the FARC aimed at reaching a definitive bilateral ceasefire and incorporating demobilized FARC members into mainstream society and politics. The Colombian Government has stepped up efforts to reassert government control throughout the country, and now has a presence in every one of its administrative departments.
Despite decades of internal conflict and drug related security challenges, Colombia maintains relatively strong democratic institutions characterized by peaceful, transparent elections and the protection of civil liberties.
(Facts courtesy of the CIA World Factbook)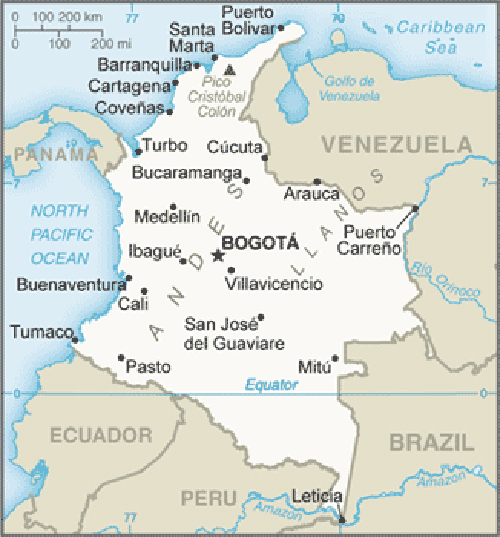 ---
Submit your Cleveland Colombian cultural items.
---