Danish in Cleveland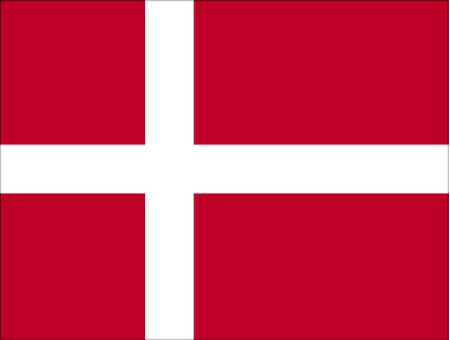 Velkommen
---
Visit our on-line Denmark Store
Books, Music, DVDs, Clothes,Flags and More


---
Are you interested in doing business in Denmark?
Are you interested in taking a trip to Denmark?
Are you of Danish heritage and living, working or visiting Cleveland or Northeast Ohio?
Contact us for more information.
News and Upcoming Events for Danish in Cleveland
Top of Page
---
Submit your Cleveland Danish news and events.
---
Out & About - Photos and Event Recaps
2022
Fun with Maps - Tour de France
In this special episode of Fun with Maps, host Dan Hanson looks at the map of the most famous bicycle race in the world, the Tour de France. Dan admits that he knew very little about the Tour de France outside of hearing names like Greg LeMond and Lance Armstrong and about the yellow jersey. But while flipping through TV channels he saw some of the race and became hooked.

The peloton is particularly intriguing with the large group of riders mere inches from each other and the individual and team strategies for drafting and more. He also learned about the significance of not just the yellow jersey but the green, white and polka dot jerseys. The 2022 Tour de France (going on right now) began on July 1 with the Grand Départ in Denmark, the 10th country to host a start. With about 5.8 million people in Denmark about 9 out of 10 Danes own a bicycle and there are about 12,000km of bike routes across the country. There are 673,000 bikes just in the capital city of Copenhagen which has been named the world's best cycling city.

In this video Dan touches on the history of the race and some of the countries it has passed through. He is looking forward to the final stage in Paris on July 24 as the cyclists ride down the Champs-Élysées.



Top of Page


---
Danish Contacts in Cleveland
We received this request. Let us know if you can assist.

My birth name was Thomas Henry Sello. My Family was Danish. In 1940 my Father died and I was adopted along with my twin sister, and my name was changed to Thomas Martin Osborn. I am seeking Family photos. Sello Family and Henricksen Family were member of the Our Savior's Rocky River Lutheran Church. I believe I'm the last member of our Sello Family. In Denmark it was Zello.
---
2018
Santa Lucia Celebration
The Swedish Vasa community hosted a Swedish Lucia celebration on Saturday, December 8, at 4 p.m. at Church of the Saviour in Cleveland Heights. The program began with a winter concert of the Vasa Voices, directed by Judith Higbee, singing traditional winter and folk songs in Swedish. Following the vocal concert, the Lucia procession took place.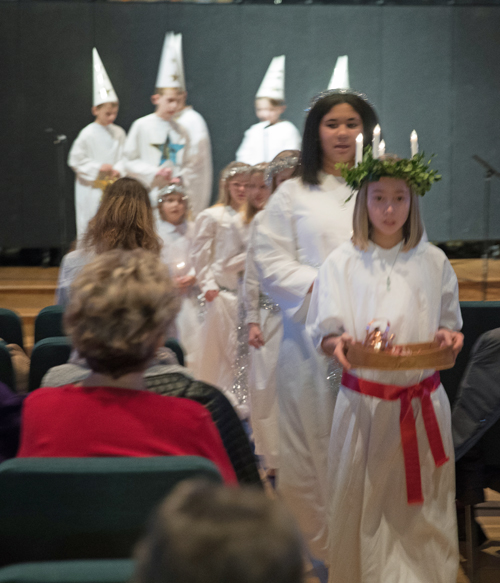 Lucia procession 2018
More photos from the Swedish Santa Lucia Celebration
---
Leif Erikson Day 2018
The Scandinavian community of Cleveland, including those from Norway, Sweden, Denmark and Iceland gathered at the bust of Leif Erikson in front of Shooters in Cleveland's Flats to celebrate Leif Erikson Day.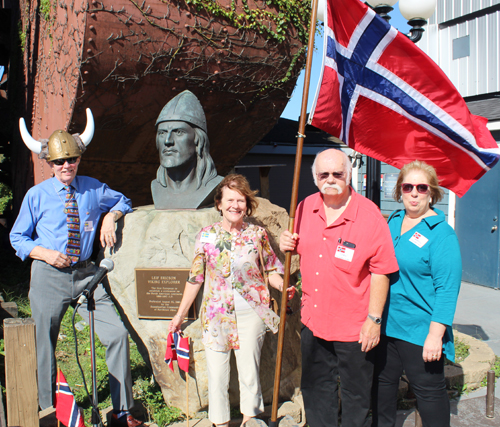 Leif Erikson was a Norse explorer regarded as the first European to land in North America (excluding Greenland), nearly 500 years before Christopher Columbus.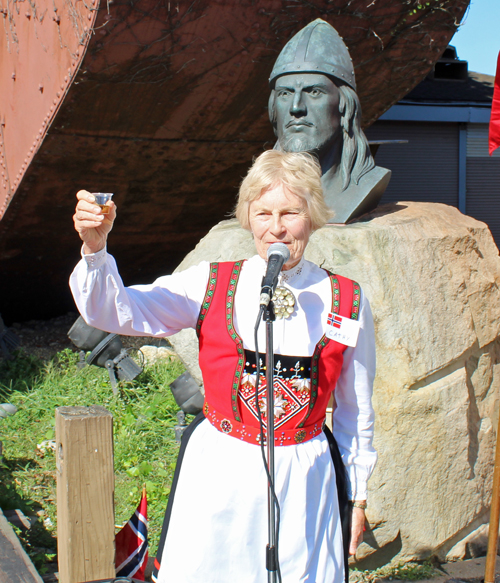 Catherine Jorgensen McCutcheon
See photos and a video of the 2018 Leif Erikson Day in Cleveland
---
News and Upcoming Events for Danish in Cleveland
---
Submit your Cleveland Danish news and events.
---
Out & About - Photos and Event Recaps
2015
Lucia Fest
The Nobel-Monitor Lodge #130 Vasa Order of America hosted their annual Christmas and Lucia Fest on December 6, 2015. Highlights included the songs by the Vasa Voices Choir and the Lucia procession and songs by the children.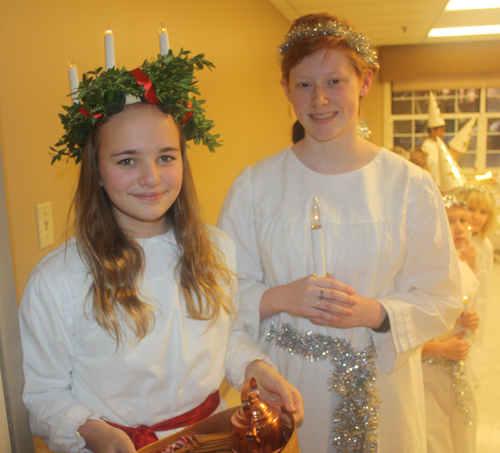 Lucia Procession
Santa Lucia Procession and Songs
---
Vasa Voices Choir of Nobel-Monitor Lodge #130 Vasa Order of America
The Vasa Voices Choir of Nobel-Monitor Lodge #130 Vasa Order of America performed at the 2015 Christmas and Lucia Fest in Highland Heights (Cleveland) Ohio.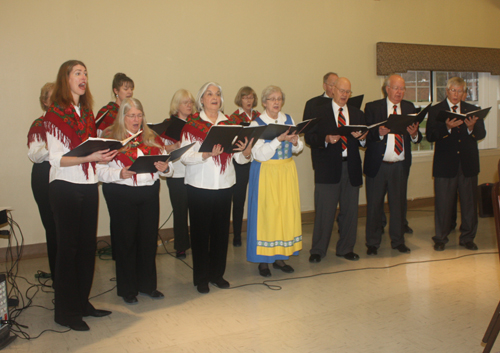 Vasa Voices Choir
Vasa Voices Choir
---
Oktoberfest in Scandinavia
The Octoberfest events in Scandinavia are very popular, and not only among local beer lovers! A Scandinavian Octoberfest is a great celebration when the warm weather diminishes in fall. Despite the name "Oktoberfest", most Oktoberfest events start in September.
---
2014
Easter in Scandinavia
Quite a peculiar national tradition in Norway is solving crimes during Easter. Publishers churn out series of books known as "Easter Thrillers" or "Påskekrimmen". Even the milk cartons change during the Easter season to have murder stories on their sides!

"Pääsiäinen" in Finland is celebrated with Easter egg hunts for the children. The hard boiled, chocolate, or candy eggs are hidden in the house or garden. Children also walk between houses, handing out twigs or decorations in exchange for a few coins.

In Denmark, there is a unique "Påske" tradition of sending teaser letters with little poems anonymously on Valentine's Day. If the recipient guesses who sent the poem, he or she receives the reward of an Easter egg.

In Sweden, children dress up as Easter witches with long skirts, colorful headscarves, and painted red cheeks. They go to neighboring houses presenting drawings in hopes of getting sweets in return. Folklore says the witches fly to "Blåkulla" (Blue Mountain) to meet the devil.

Another "Påsk" tradition is to place feathers on small branches of willow or birch in a vase.

By Karen Chilcote
---
2012
2012 Leif Ericson Day celebration in Cleveland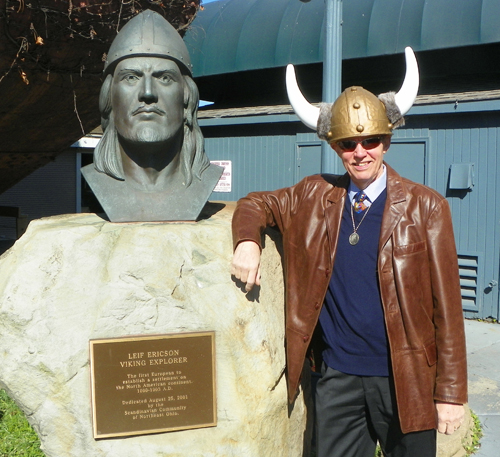 Bengt Gerborg with Leif Ericson bust
Top of Page
Submit your Cleveland Danish photos and event recaps.
---
Organizations and Resources for Danes in Cleveland
J.Christian Langmack, Honorary Consul
Royal Danish Consulate
Judy Stoiner, Assistant
13400 Glenside Road,
Cleveland, OH 44110
Phone: 216-541-0500
Fax: 216-541-5005
chris@niagaracustom.com
Danish Embassy in Washington
3200 Whitehaven Street, N.W.
Washington, D.C, 20008-3683
Tel: (202) 234-4300
Fax: (202) 328-1470
E-mail: wasamb@um.dk
http://www.ambwashington.um.dk/

---
Submit your Cleveland Danish organizations and resources.
Business, Education and Employment Information
Submit your Cleveland Danish jobs, classes and other opportunities.
---
Cleveland Danish Feedback and Memories


Submit your Cleveland Danish Feedback and Memories.


---
Danish History and Culture

Tell us about the music, food, holidays, traditions, costumes, language and other qualities that make the Danish so special.



---
Denmark
Once the seat of Viking raiders and later a major north European power, Denmark has evolved into a modern, prosperous nation that is participating in the general political and economic integration of Europe. It joined NATO in 1949 and the EEC (now the EU) in 1973.
However, the country has opted out of certain elements of the European Union's Maastricht Treaty, including the European Economic and Monetary Union (EMU), European defense cooperation, and issues concerning certain justice and home affairs.
(facts courtesy of CIA World Fact Book)


---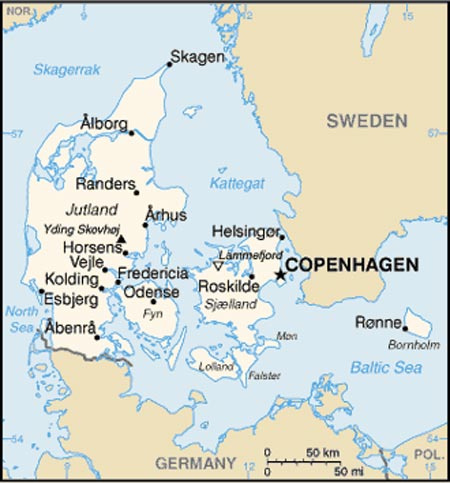 ---
Submit your Cleveland Danish cultural items.
---
Profiles of Danish in Cleveland and Northeast Ohio
---
If you know of a Cleveland Danish person who should be profiled,
please let us know.
---
ClevelandPeople.Com - Danish Ambassadors
Read more about the Danish and other Ambassadors. If you are interested in being considered to be an official ClevelandPeople.com Ambassador to the Cleveland Danish community, please contact us.


---


For sponsorship opportunities please contact us at info@clevelandpeople.com


---
Back to Top of Page
---
ClevelandPeople.com is sponsored in part by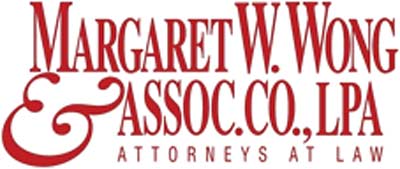 Please support the Danish pages of ClevelandPeople.Com