2021
Arab American Heritage Month
During the month of April, Arab America formally recognizes the achievements of Arab Americans through the celebration of National Arab American Heritage Month (NAAHM). Across the country, cultural institutions, school districts, municipalities, state legislatures, public servants, and Arab Americans will engage in special events that celebrate the community's rich heritage and numerous contributions to society.

Arab Americans have roots in 22 countries located in the Middle East and North African regions: Algeria, Bahrain, the Comoros Islands, Djibouti, Egypt, Iraq, Jordan, Kuwait, Lebanon, Libya, Morocco, Mauritania, Oman, Palestine, Qatar, Saudi Arabia, Somalia, Sudan, Syria, Tunisia, the United Arab Emirates, and Yemen. And within all those countries, there are various languages, religions, traditions that are now part of our American story. There are nearly 3.5 million Arab Americans in the United States, according to the Arab American Institute. Establishing Arab American Heritage Month was critical in combatting post-9/11 anti-Arab sentiments, and while Arab Americans still face prejudice regularly, acknowledging their fight for recognition and equality - and becoming better allies - is something we can all contribute toward.
CAMEO president Pierre Bejjani receiving
Arab American Heritage Month Proclamation
See more about Arab American Heritage Month in Cleveland
---
2019
Husein Rabah honored by Cleveland American Middle East Organization
Husein Rabah was born in a vaillage in Palestine in 1927 called Beut Hanina. He came to the US in 1952 and became a citizen in 1958. Husein Rabah was honored with the Cleveland American Middle East Organization (CAMEO) community service award. He was introduced by his son Murat Rabah.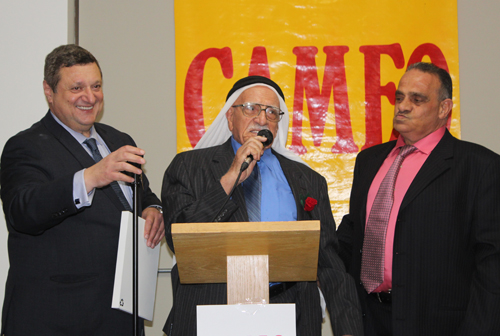 Pierre Bejjani, Husein Rabah and Murat Rabah



Here is the video of his award and acceptance sppech.

See more from the CAMEO event honoring Mr. Husein Rabah


---
2018
Ali Faraj honored by Cleveland American Middle East Organization
Ali Faraj came to the US from his native Palestine and became President and CEO of Seaway Cash and Carry and LaVilla Conference and Banquet Center. Ali Faraj was honored with the Cleveland American Middle East Organization (CAMEO) community service award. He was introduced by Mr. Sam Salem and presented with a proclamation from Cleveland City Council by Jasmim Santana.
See more from the CAMEO event honoring Mr. Ali Faraj


---
2017
Palestine represented at 8th annual Cleveland Multicultural Holiday Celebration
A highlight of the 8th Annual ICC-WIN Cleveland Multicultural Holiday Celebration on Wednesday, December 6, 2017 at the Global Center for Health Innovation in Cleveland was the International Fashion Show featuring almost 100 models from about 30 countries.

Shirien Muntaser is wearing a traditional Palestinian dress in celebration of her proud heritage. (Click on the arrow to watch the video)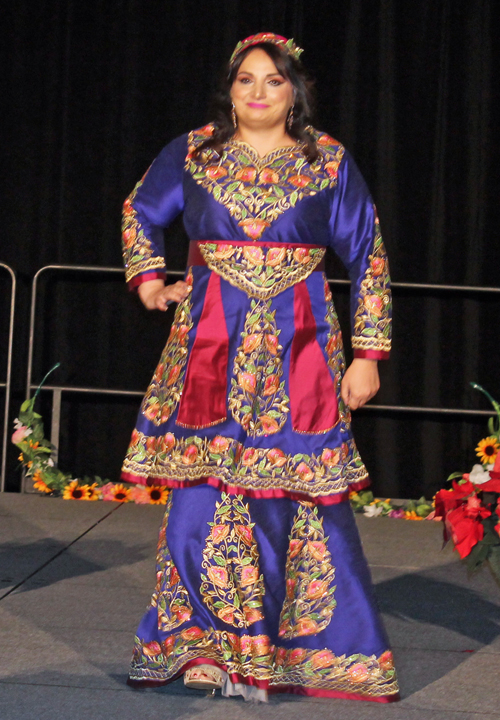 Shirien Muntaser representing Palestine
See more from the 8th annual Cleveland International Holiday party
---
Remnants of Palestine - Poem by Shirien Muntaser
People of the Quran, Bible, and Torah
Forgiveness is our duty ordained by God
Clear in the distance sits a white dove
Upon the Olive Branch
Let us rejoice in God's Mercy

Jerusalem
Holiest of the holy cities
Land of hope but destitute
Lingering coldness in the air
Sorrow is prevalent in the land

Palestinians in turmoil:
Oppression
Suppression
Depression

Although we Stand proud
Many wait for us to Whittle away

Our hearts passionately thriving for justice
But an iron fist carries no strength
We are disconnected from the world
We must put our pride to the side
Although our lands are occupied
Because of the soil beneath our feet

We shall not succumb
To our own demise

Battered with patience
Many can not bear

We must wash away all the hatred
That burdens our souls
Embrace our enemies
With brotherhood and good intent

We shall not shudder
For the pen is our sword
Our words of peace engraved in stone

Our voices are clear to be heard:
Objection
reflection
Redemption

Muslims, Christians, and Jews
Let us March for humanity
Release the pain of the past
Self prophecies only cause harm
In God's Kingdom
War has no home
---
Cleveland American Middle East Organization 47th anniversary
The Cleveland American Middle East Organization (CAMEO) is a nonpartisan, nonsectarian political action organization established in 1970. They celebrated their 47th anniversary and induction of new officers at a dinner event at St. Elias Cultural Center.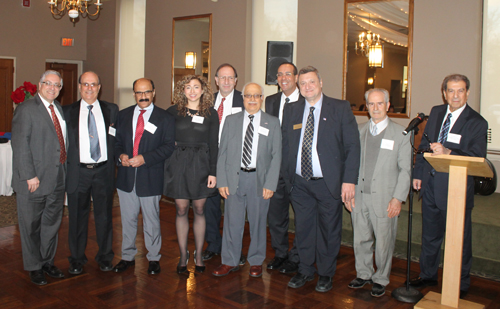 Cuyahoga County Executive Armond Budish and CAMEO Board
Photos and video of the CAMEO event
---
2016
Cleveland Palestine community at Cleveland Multicultural Event
The Cleveland Palestine Community was represented at the 7th annual International Community Council - Worldwide Intercultural Network (ICC-WIN) holiday party on December 14, 2016.

120 people participated in the fashion show and each walked the runway to music from their country. Click on the white arrow to watch the short video of the Palestinian model Shirien Muntaser.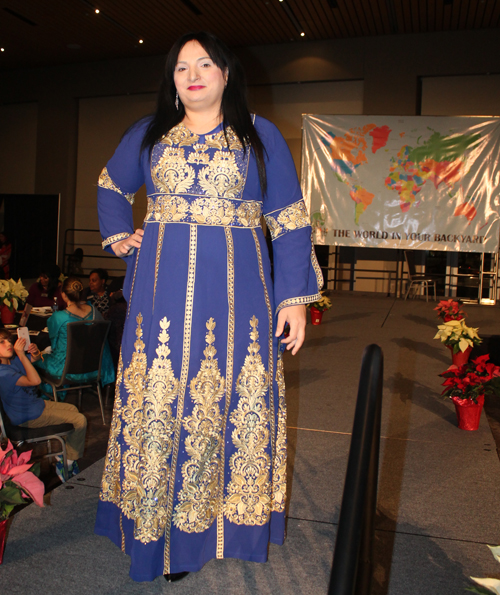 Shirien Muntaser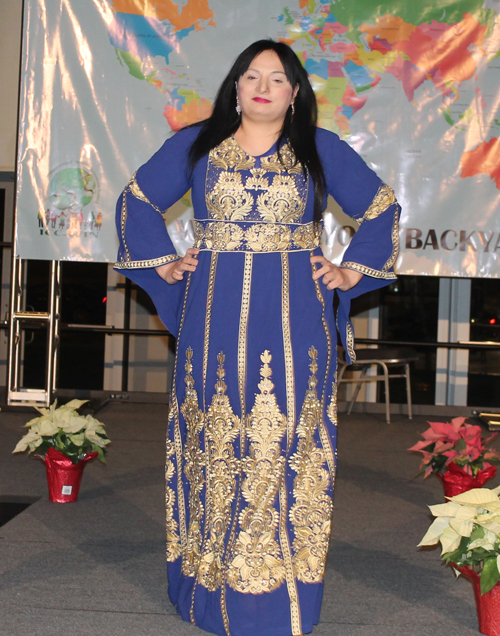 See more from the 2016 International Fashion Show
---
2014
Palestine Fashion at Cleveland Multicultural Event
Representatives from the Cleveland Palestinian community participated in the International Community Council - Worldwide Intercultural Network's (ICC-WIN) 5th annual multicultural holiday celebration at the Global Center for Health Innovation in the Cleveland Convention Center in Cleveland Ohio. They modeled Palestinian costumes at the International Fashion Show which featured traditional costumes of dozens of countries.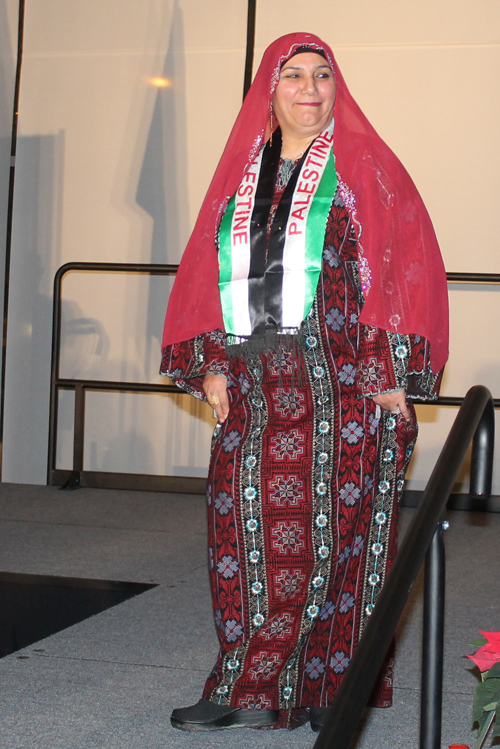 Fashion of Palestine
Photos and videos of the International Fashion Show
---
Musical Journey along the Silk Road - Musicians at Cleveland Museum of Natural History
Ali Amr was born in Morocco and now lives in Palestine. Ali Amr debuted as a qanun prodigy at 12 years of age and has earned overwhelming international recognition for over a decade. Amr's compositions span a variety of genres including classical music, flamenco, jazz and electronica. A Qanun is an Arabic zither instrument with 76 strings. He joked that he spends half his life tuning it.

He explained the different parts of the qanun and told about the instrument and Arabic music.




---
Tareq Rantisi is a percussionist who was born in Jerusalem, Palestine. This self-taught artist began his percussion career at 12 years of age. Rantisi received the Al-Qattan Foundation Music Scholarship to attend the prestigious Berkley College of Music in 2008. Graduating with honors in Percussion Performance, Rantisi performs with many modern musicians, composers and ensembles.

He explained the Arabic tambourine, a classical Arabic instrument with a high pitch and 4 different sounds. It is "a frame drum that jingles - the original snare drum."




More from the Museum performance


---
2013
The offices of immigration attorneys Margaret W. Wong & Associates has a new location in Parma, Ohio. Malak Jadallah is Director of Community and International Affairs for Ms. Wong and will run the Parma office. Malak is Palestinian-American and very familiar with the Middle Eastern community in Cleveland and formerly worked for Congressman Dennis Kucinich.
Malak Jadallah
See more from the grand opening
---