2016
Rotary's Four-Way Test Speeches
Kevin McGrath Jr., a freshman from St Ignatius High School, gave his speech called 'A Place for Religion?' at the Rotary Club of Cleveland. This was the third place presentation in a contest that focused on the Rotary's Four-Way Test of the things we think, say or do. Kevin asked why society has become so hostile toward religion, especially in schools.



The Four-Way Test of the things we think, say or do is a test used by Rotarians world-wide as a moral code for personal and business relationships. The 24 word test is as follows:

Is it the truth?
Is it fair to all concerned?
Will it build goodwill and better friendships?
Will it be beneficial to all concerned?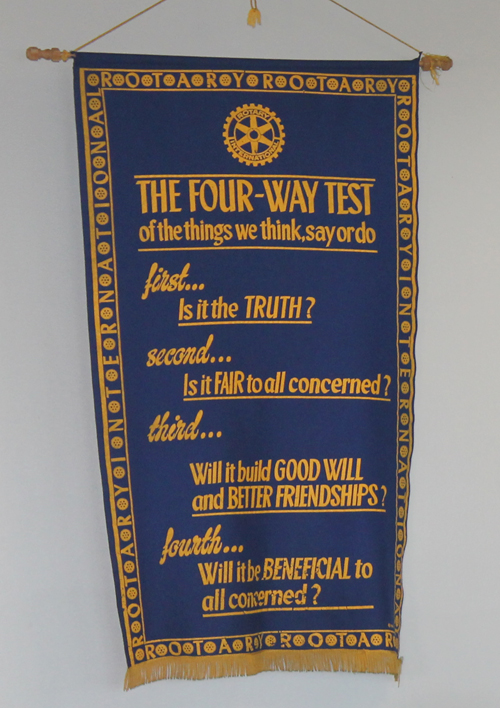 Anthony Pilla, also a freshman from St Ignatius High School, gave his speech called 'Troublesome Words' at the Rotary Club of Cleveland. This was the second place presentation and Anthony told about the pain that words can cause.



3 winners in the Rotary Four-Way Test speech contest.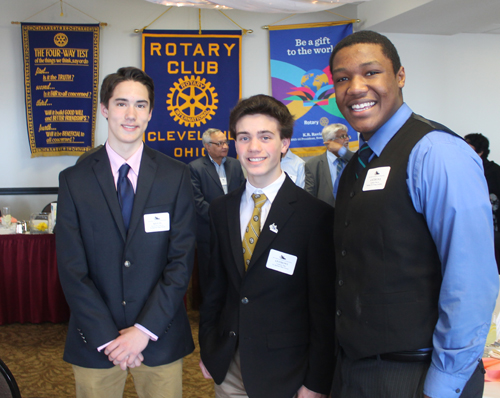 Kevin McGrath Anthony Pilla and Anthony Harris
---
2015
Numerous religions in India
Honorable Dnyaneshwar M. Mulay, Consul General of India spoke at Ariel International Center in Cleveland about Opportunities for US Companies interested in Investing or Doing Business with India. Consul Mulay began his remarks by telling about a question he received about how to describe India in one sentence. He told about the diversity and democracy of India and the numerous religions in India. Even the diversity within the Hindu faith.

See the rest of Consul Mulay's presentation


---
Cleveland Clinic MLK Day Interfaith Community Service
The annual Cleveland Clinic MLK Day of Celebration took place at the Cleveland Convention Center on January 16, 2015. It began with an Interfaith Community Service.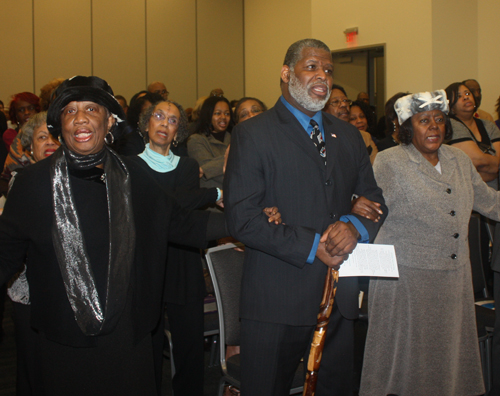 Singing We Shall Overcome
More of Cleveland Clinic MLK Day Interfaith Community Service
---
Interfaith Fellowship Day 2014
Interfaith Fellowship Day is an annual event sponsored by a council comprised of Catholic women, Jewish women, Eastern Orthodox Women's Guild, Islamic Women of Cleveland, Sikh-Guru Nanak Foundation, and Church Women United in Greater Cleveland.

For 2014, the program was held on Feb. 3rd at Executive Caterers in Mayfield Heights. Speakers addressed the theme "The Changing Role of Women in Religion." This year, the selected project to receive donations was Domestic Violence and Child Advocacy Center represented by Tim Boehnlein (not pictured).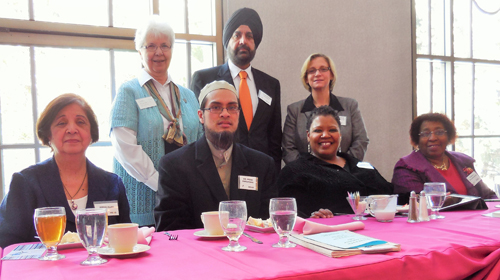 (seated left to right) Mona Alag, Br. Musa Sugapong, Rev. Christine Smith, Bennie J. Williams-Roper and standing Sister Marian Durkin, Bhupinder Sawhny, and Rabbi Sharon Young Marcus
---
2013
Interfaith Fellowship Day 2013
Myths and Mysteries in our Religions
February 4, 2013

Church Women United in Greater Cleveland is a group of women who gather together to promote the positive similarities of our faiths and accentuate the underlying oneness of the various religious groups and affiliations. The group has held a Interfaith Fellowship Day as far back as 1955 when Church Women United joined with the Women's Division of Jewish Community Federation. This year's theme was "The Myths And Mysteries In Our Religions" and featured speakers from the following faiths: Catholic, Jewish, Lutheran, Muslim and Sikh.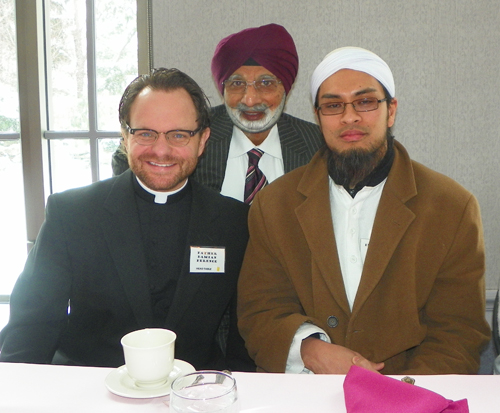 Father Damian Ference, Ratanjit Sondhe and Imam Musa Sugapong
---
The Status of Women in various faiths
At the 2013 Interfaith Fellowship Day three of the distinguished panel of experts (Muslim, Sikh and Catholic) in their faiths responded to an attendee's question about Women.


---
2012
Our condolences to the family and friends of the victims of the senseless tragedy in the Sikh Gurdwara in Milwaukee.
About 700 members of the Sikh and non-Sikh communities gathered on Sunday August 12 at the Richfield Ohio Sikh Gurdwara for a special service to unite the community and show support for the victims of this senseless tragedy.

Politicians and Sikh and other religious and community organizations leaders spoke. See photos and videos from the event.
---
Our condolences to the Egyptian community and the Coptic Orthodox Church on the March 17, 2012 passing of the beloved Pope Shenouda.
"Egypt is a nation that lives within us and not a nation we live in."
His Holiness Pope Shenouda III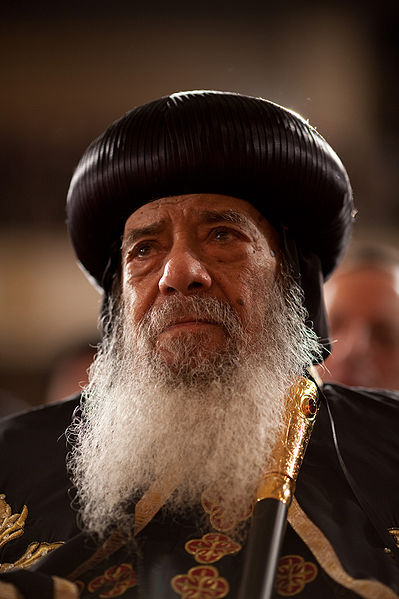 Pope Shenouda in 2009
---
Submit your Cleveland Religion news and events.
---