Cleveland Ethnic Media Association
The Cleveland Ethnic Media Association (CEMA) is a collection of media outlets (print, radio, web and others) that are of interest to the many ethnic cultures represented in the Cleveland, Ohio area.
The Cleveland Ethnic Media Association currently has over 1,000 ethnic media outlets in our database representing about 100 different ethnic, cultural and religious groups.
If you want to reach a particular ethnic community or several groups or all ethnic media outlets in the region, the Cleveland Ethnic Media Association is an easy, inexpensive and powerful way to do it. Contact us for more information.
Your message can be presented by a trusted source (the ethnic media publications and shows) and in the language(s) that are most effective in reaching the people you want to reach.
If you are an ethnic media resource, please contact us to be included in our database so that we can begin selling ads for you and providing information for your audience.
You may also mail your information to ClevelandPeople.Com, 868 Montford Rd, Cleveland Hts, Ohio 44121.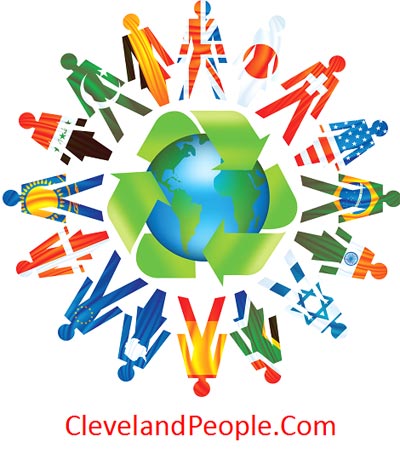 Cleveland Ethnic Radio Radio seems old-fashioned to many but almost everyone has access to it (even via an Internet or cellphone app). Ethnic radio in Cleveland has a long tradition of serving various communities. The radio show often created or encouraged ethnic events. For example, Tony Petkovsek did his daily polka show starting in 1961 and continued for over 50 years. His show led to the 185th Street Festival and the National Cleveland-Style Polka Hall of Fame.
---
Gerry Quinn has had his Irish Radio show https://quinnirishradio.com/ for 40 years. You can hear him Sunday mornigns on WHK 1420 from 10AM to noon.
---
Eugenia Stolarczyk and her late husband Jerzy Stolarczyk began their radio career in 1961. Since 1988, as a result of her diligent efforts, Eugenia also produces a Polish program on public radio, WCPN 90.3 FM Ideastream, promoting Polish classical music and featuring interviews with distinguished guests. Eugenia can be heard on WERE 1490 AM on Sunday from 9-10:00 AM, on WCPN 90.3 FM 9-10:00 PM and also online at www.newstalkcleveland.com and wcpn.org.
---
There are many more such as:

Czech Radio - The New Czech Voice of Cleveland with John Sabol

http://sokolgreatercleveland.org/CzechRadio.html The best in Czech music and community news Poslouchas (Are you listening) Sundays from 3:00 to 4:00 PM WHKW Radio 1220 AM. Listen via the internet: "Czech Voice" can also be heard on the wordcleveland.com/podcasts
---
Asiatown Voice
Sundays from 7 am to 8 am on WUJC 88.7 FM OCA Asiatown Voice provides an inside look at the Asian Pacific Americans community, culture, and events happening in Northeast Ohio along with music from Asia and APA artists.
---
Lithuanian Radio with Marius Juodisius
Sundays from 8 am to 10 am on WUJC 88.7 FM Music, news, and information for Greater Cleveland's Lithuanian community
---
Memories from Italy with Joe, Filippo, Aldo, and Donato
Sundays from 10 am to Noon on WUJC 88.7 FM
---
The Hungarian Hour
Every Saturday 11:00am - 12:30pm on WCSB 89.3 The Hungarian Hour, hosted by Bob Kita, provides music which most Hungarian-Americans grew up with and also showcases new music by contemporary Hungarian artists. Guests bring insight into activities and events concerning the Hungarian-American community.
---
Arabic Radio Program
Every Saturday 6:00pm - 8:00pm on WCSB 89.3. Host Charbel and Samir Forum. Features the latest music and songs as well as traditional and old favorites from the various parts of the Arab World. Also, we feature local activities and issues important to the community, such as immigration and local politics. Educational and cultural issues are also included in the program.
---
Bocskai Radio - The Voice of Hungary with Lorand
Sundays from 2 pm to 5 pm on WUJC 88.7 FM Bocskai Radio: The Voice of Hungary strives to serve the Hungarian population of Cleveland with the beautiful Hungarian language, news of our small but brilliant country, and wonderful Hungarian culture, literature and fabulous music!
---
Armenian Radio with Anna
Sundays from 5 pm to 7 pm on WUJC 88.7 FM Tune in for Armenian music of all genres as well as news, current events, and cultural programming, in both English and Armenian.
---
Latin Lingo with La Voz
Sundays from 7 pm to 9 pm on WUJC 88.7 FM Broadcast in Spanish, DJ La Voz explores the different flavors of Latin music around the world. Discover musicians in various genres including tropical, gitano, folk, jazz, mariachi, rock, pop, and urban, among others.
---
Jewish Community Radio with Fred
Fridays from 12:30 pm to 1 pm on WUJC 88.7 FM Community Jewish events, Israel news, and highlights featuring Jewish organizations and their work
---
A Sprinkle of Seoul with Lauren and Matt
Saturdays from 7 pm to 9 pm on WUJC 88.7 FM A Sprinkle of Seoul features Korean music, as well as music selected from a different Asian country each week. Each week has a theme, from R&B to techno, or classic folk to 90s throwback. There's more to Korean music than just K-pop... though we do play a lot of K-pop!
---
Slovenian Hour
Every Wednesday 6:00pm - 7:00pm on WCSB 89.3. Host Ed Mejac. Songs and melodies from beautiful Slovenia. Featuring folk and pop music, as well as the latest news from Slovenia.
---
Kapossy Hungarian Program
Every Sunday 7 -8 PM on WCPN 90.3 with hosts Andrea and Andrew Lazar. In order to acquaint a broad audience with Hungarian culture, programs are built around Hungarian music and composers, unique Hungarian instruments, popular and village bands and famous musicians, as well as the history of their respective times. We provide an open forum for guest from the greater Cleveland Hungarian community to join us to promote their organizations events and accomplishments.
---
Memories of Poland
Every Saturday 12:30pm - 2:00pm on WCSB 89.3. Host Anna Klik And Monica Sochecki I give the Polish community one and a half hours of memories, music and news, both local and abroad. I also take requests and play some old and new music, trying to satisfy everyone. I also do birthday and anniversary announcements.
---
Cleveland German Radio Show
Every Sunday 10:00am - 12:00pm on WCSB 89.3 Featuring folk music and news from Germany and Austria as well as club news of happenings in Northeast Ohio. Hosted by Dave and Renate
---
Latin Jazz Salsa Party
Every Monday 11:00am - 12:00pm on WCSB 89.3. Host Juan Carrion
---
Higher Vibes of the Caribbean
Every Thursday 1:00pm - 3:00pm on WCSB 89.3 Host Jomo Benn. "Higher Vibes of the Caribbean. Playing a wide varity of Caribbean/West Indian music. Roots Reggae, Lovers Rock, Dancehall, Dub, Calypso, Soca etc…. Both old and new. "
---
International Sound Machine
Saturdays from 3-4 EST at http://WWW.PolkaJammerNetwork.org. If you can't hear the show live, each show is available in the Polka Jammer Archives for 3 weeks after the show. Fred Ziwich hosts.
And more to come.
Please send us your radio shows
---