Yayoi Kusama Infinity Mirrors exhibit
Cleveland Museum of Art
July 7, 2018
The Cleveland Museum of Art has done it again. Yayoi Kusama: Infinity Mirrors is an amazing world-class exhibit that is nothing like you have ever seen, or experienced, before.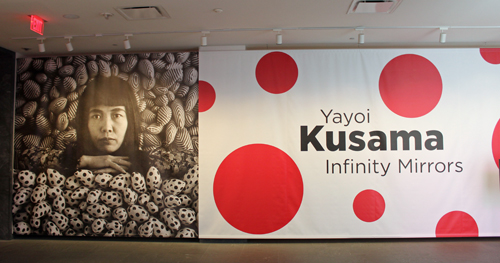 Yayoi Kusama: Infinity Mirrors celebrates the legendary Japanese artist Yayoi Kusama's 65-year career. The exhibition spans the range of Kusama's work, from her groundbreaking paintings and performances of the 1960s, when she staged polka-dot "Happenings" in the streets of New York, to her widely admired immersive installations and the U.S. debut of her recent series of paintings, My Eternal Soul.

Visitors have the unprecedented opportunity to experience seven of Kusama's captivating Infinity Mirror Rooms, including Where the Lights in My Heart Go (2016), exclusive to Cleveland. Additionally, a stunning array of large and vibrant paintings, sculptures, installations, works on paper and rare archival materials can also be seen.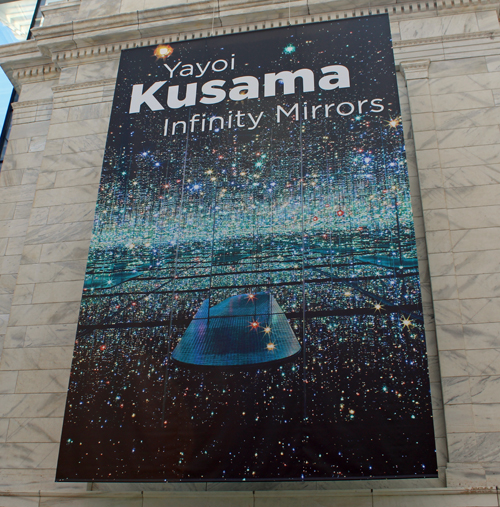 Yayoi Kusama: Infinity Mirrors is on view in the Kelvin and Eleanor Smith Foundation Exhibition Hall and Gallery, and in the Ames Family Atrium, July 7 through September 30, 2018.

The Cleveland Museum of Art is the only Midwest venue for Yayoi Kusama: Infinity Mirrors and one of only five U.S. venues to present this exhibition.

"Yayoi Kusama is internationally renowned for her immersive Infinity Mirror Rooms, and she has greatly impacted artists and audiences of all ages," said William Griswold, director of the Cleveland Museum of Art. "Infinity Mirrors has been a record-breaking sensation at its previous venues, and we look forward to welcoming many new and returning visitors while the show is on view in Cleveland."

Yayoi Kusama: Infinity Mirrors highlights the evolution of Kusama's immersive, reflective Infinity Mirror Rooms. Throughout her career, Kusama has produced more than 20 distinct Infinity Mirror Rooms, ranging from peep show-like chambers to expansive multimedia installations; each one offers the chance to enter a kaleidoscopic universe and experience an illusion of infinite space. Evoking the experience of virtual reality, the rooms demonstrate art's ability to represent alternatives to everyday life using analog formats.

"This exhibition celebrates the remarkable career and enduring legacy of one of the most important living artists who continues to evolve and inspire as an artist and activist," said Reto Thüring, curator of contemporary art and chair of modern, contemporary, decorative arts, and performing arts and film. "The show's narrative spans the entire arc of Kusama's groundbreaking oeuvre, from her early collages, paintings and sculptures, up to some of her most recent Infinity Mirror Rooms and architectural installations."

As you approach the exhibit in the Atrium of the Cleveland Museum of Art you will see huge polka dot spheres and hundreds of large balls.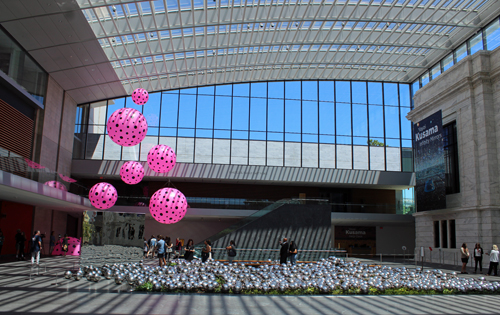 Atrium of the Cleveland Museum of Art
---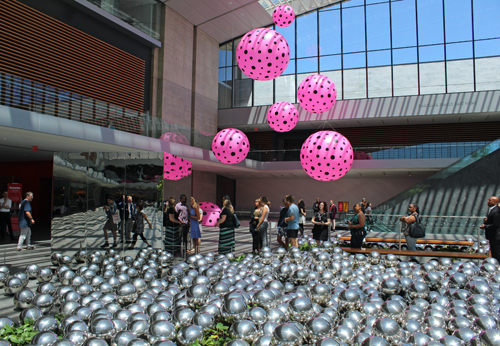 ---
---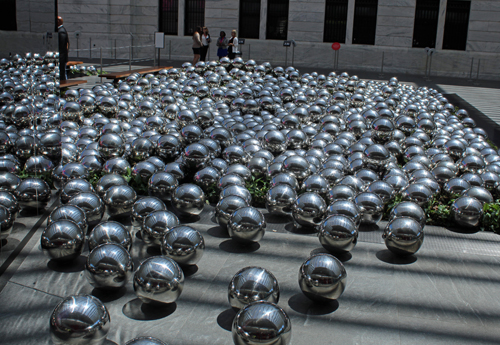 ---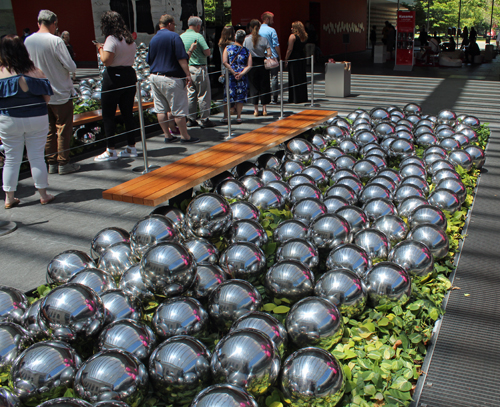 ---
There is one Infinity Mirror Room on the Atrium level before your go down the escalator to the exhibit.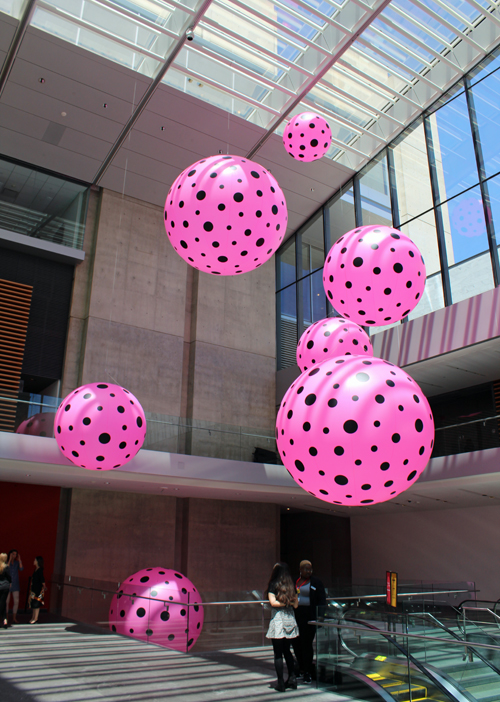 ---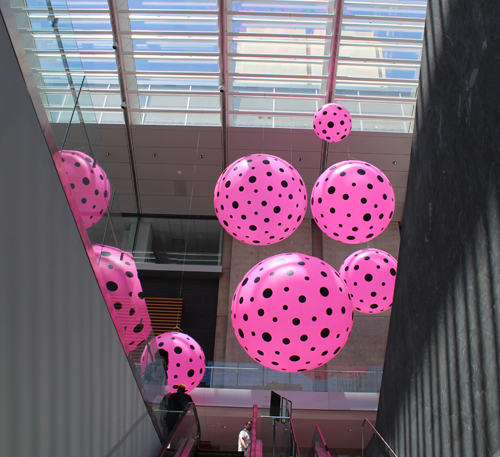 ---
The Infinity Mirror Rooms are amazing. You, and maybe 1 to 3 other people, enter a small room and stand in a small area in the center of the room. Mirrors and lights and sculptures and effects take place as you gaze at infinite copies. It's like a fun house mirror room on steroids. In 20 or 30 seconds the door will open and the next group will be invited in.

One of my favorites was the Infinity Mirror Room - Phalli's Field. In 1965, Kusama integrated mirrors into her art for the first time, using the reflective material to line the interior of Infinity Mirrored Room-Phalli's Field. Through the kaleidoscopic relationship between the mirrors and the materials inside the chamber, complex patterns emerged, appearing to extend infinitely in all directions.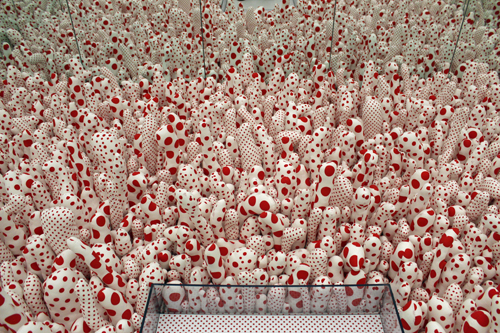 Infinity Mirrored Room-Phalli's Field
---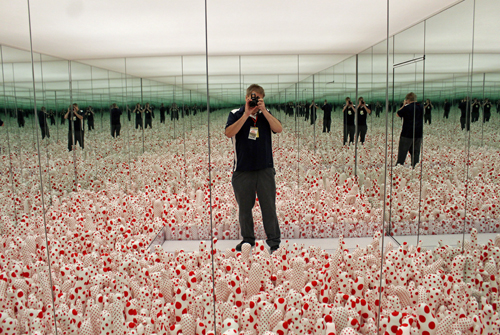 ---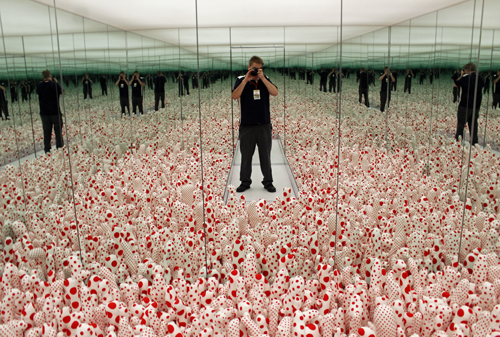 ---
This is a short video showing a sample of what you might see when you enter the Infinity Mirror Rooms. You can click on the white arrow to watch the video and you can make the video full screen once it begins by clicking the icon in the lower right corner.





The Cleveland Museum of Art will offer weekly ticket sales for Yayoi Kusama: Infinity Mirrors on Mondays throughout the run of the exhibition beginning Monday, July 16, from 9:00 a.m. to 5:00 p.m., or until tickets sell out. On this day only, tickets will be available for purchase for any open date and time slot. After July 16, tickets sold during the weekly ticket sales will only include a date and time for that week. The week of Labor Day (Monday, September 3), ticket sales will occur on Tuesday, September 4.

The museum recommends reserving tickets through its website by visiting ClevelandArt.org/Kusama. Tickets can also be reserved by phone at 216-421-7350. There will be no on-site ticket sales. Tickets are $30 for adults, $15 for children 6–17, and free for children 5 and under (limit 2 children up to age 17 per adult ticket). Tickets are nontransferable and nonrefundable. Ticket holders must present their government-issued ID card at the time of entry. CMA members must also provide their valid membership card. Membership account must be active through the date of the ticket.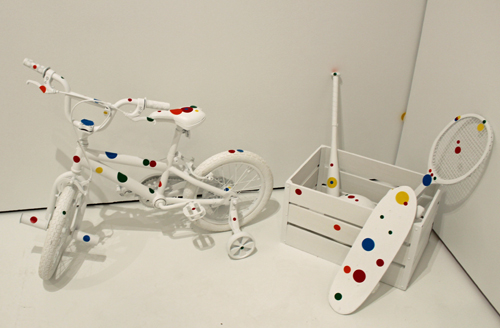 The Obliteration Room in the Kusama exhibit
at Cleveland Museum of Art



Another of my favorites was The Obliteration Room. It's a large room, all in white, with white furniture, toys, appliances and so on. Visitors are given some colorful round stickers and are encouraged to place them on anything in the room. So the pure white room will be "obliterated" with the colorful stickers that visitors place. As an early visitor, there was still, plenty of white space. As the days and weeks progress, the room will be more and more covered in colorful stickers.

Here is a short video taken in the Obliteration Room.





Kusama said "One day, after gazing at a pattern of red flowers on the tablecloth, I looked up to see that the ceiling, the windows, and the columns seemed to be plastered with the same red floral pattern. I saw the entire room, my entire body, and the entire universe covered with red flowers, and in that instant my soul was obliterated and I was restored, returned to infinity, to eternal time and absolute space."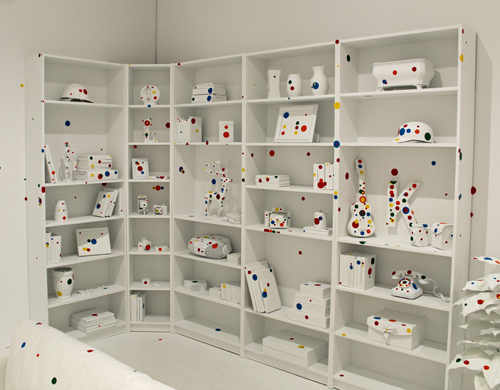 ---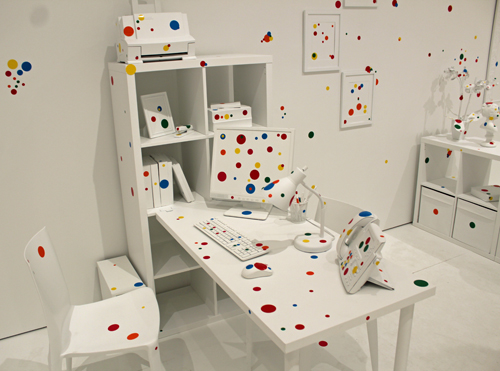 ---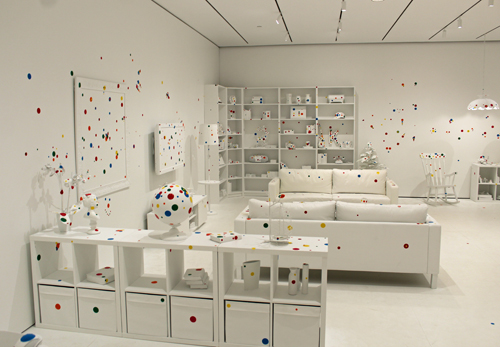 ---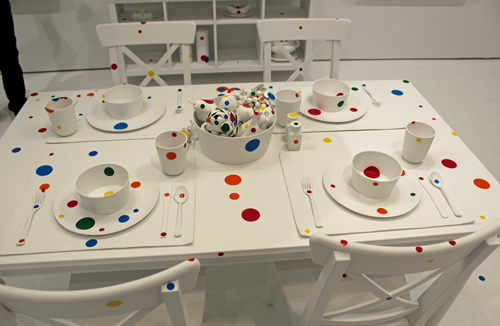 ---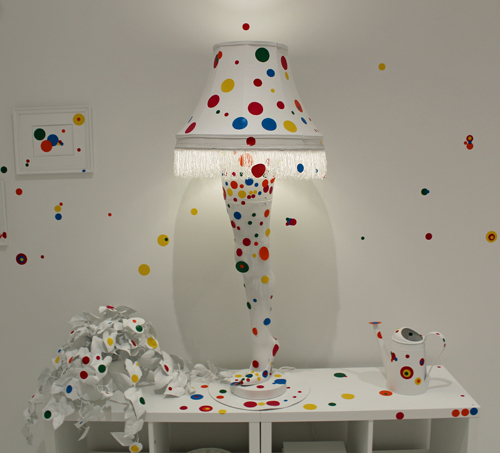 ---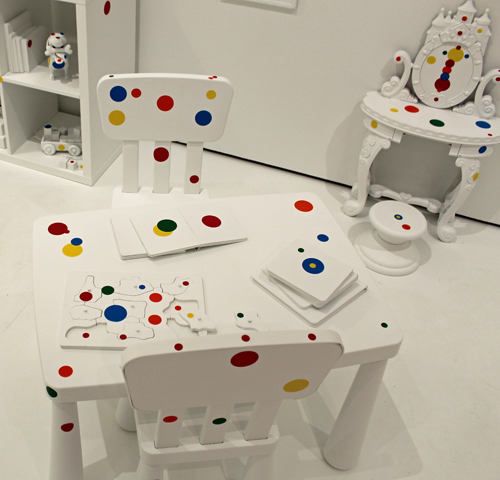 I admit it was difficult placing the fist sticker after a lifetime of training not to deface the art!

There is one Infinity Room that you don't enter, you peek in from one of two viewing squares and see a dazzling display of colors and lights.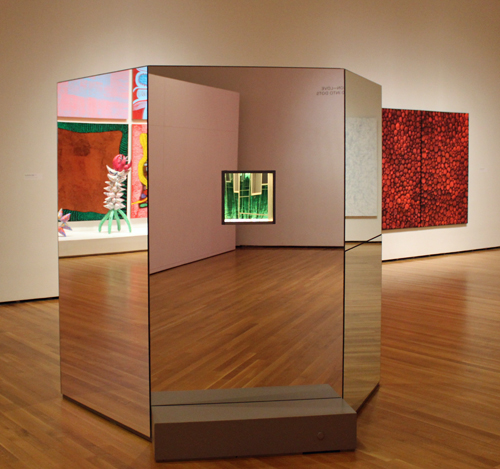 Infinity Room by Kusama that you peek in at Cleveland Museum of Art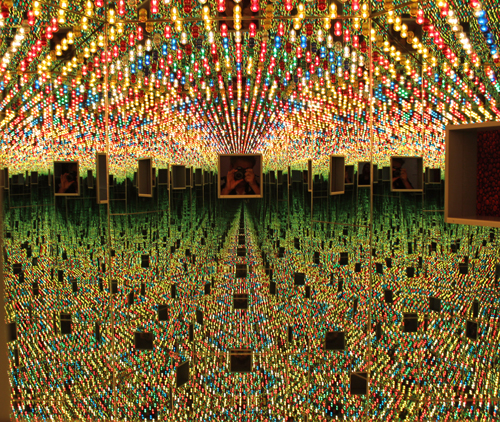 ---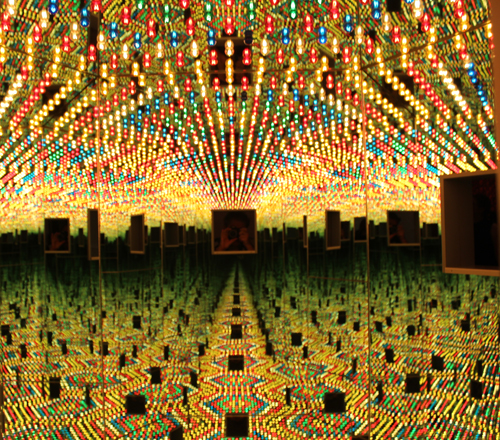 ---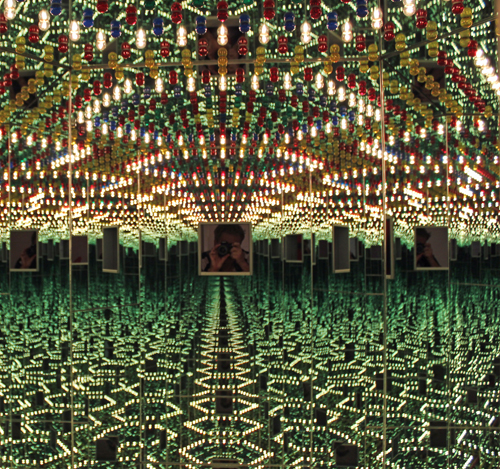 ---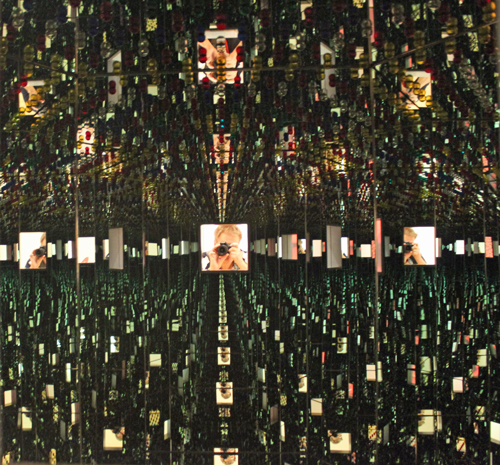 ---
Another favorite was Selected Works from My Eternal Soul consisting of lots of pieces in one big corner display.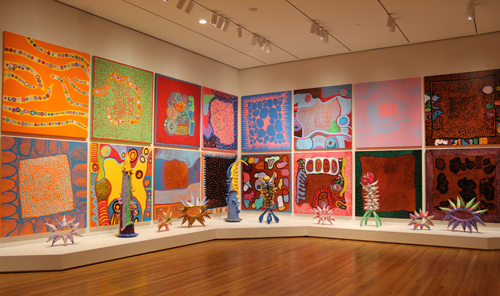 My Eternal Soul selected works by Kusama at Cleveland Museum of Art





Watch the short video to see what it looks like.





There are also other funky sculptures and displays such as Life (Repetitive Vision) (1998).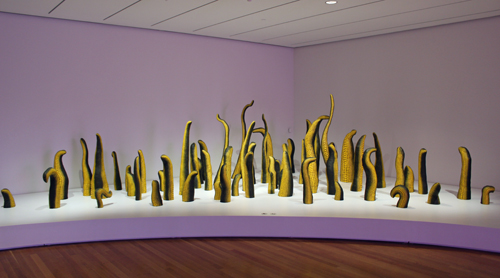 Life (Repetitive Vision) by Kusama at Cleveland Museum of Art
---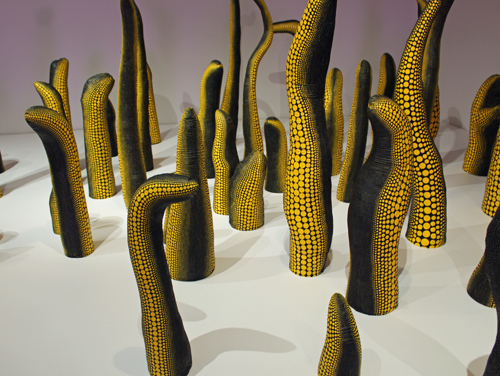 ---
Other wild pieces included Ennui, Accumulation, Red Stripes and Arm Chair.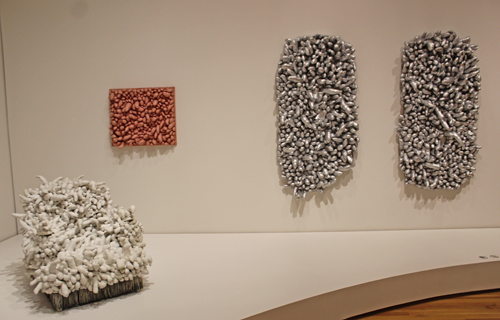 ---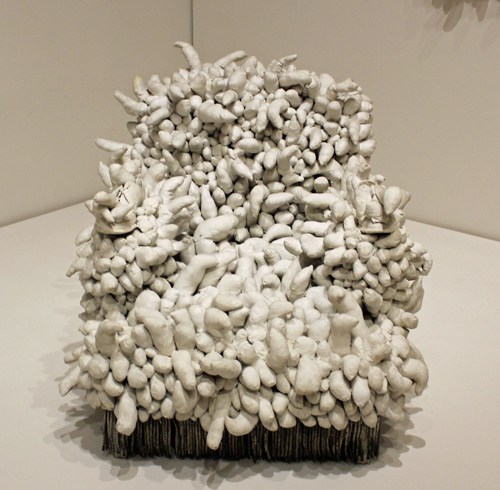 ---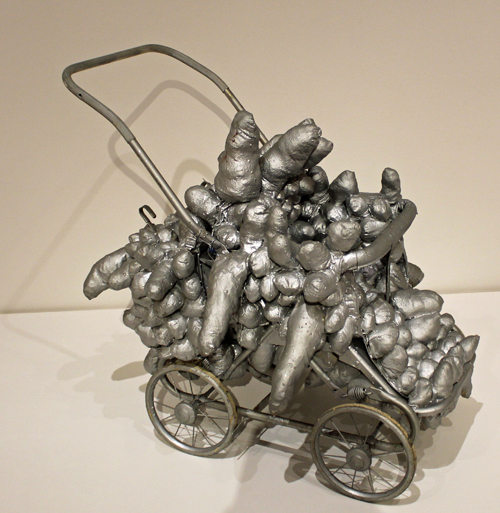 ---


Polka Dots are everywhere.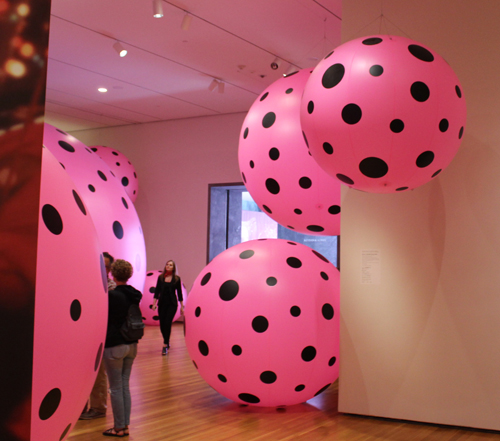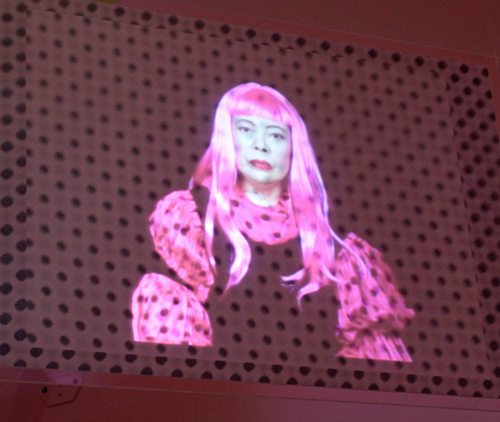 Yayoi Kusama in polka dots



Polka Dots are featured in the Dots Obsession-Love Transformed into Dots .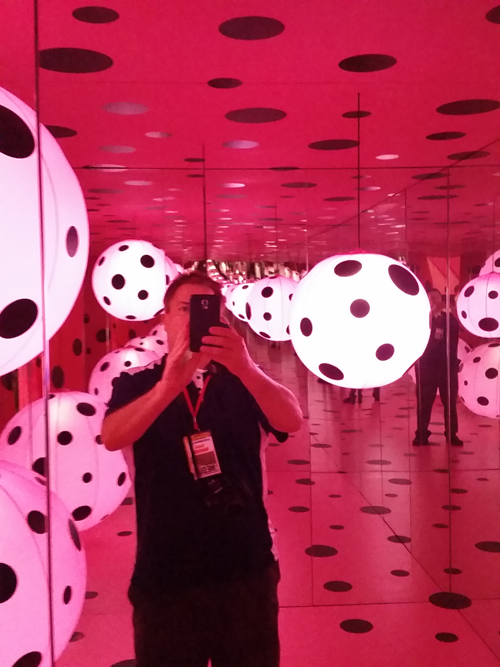 Dots Obsession-Love Transformed into Dots Infinity Room
---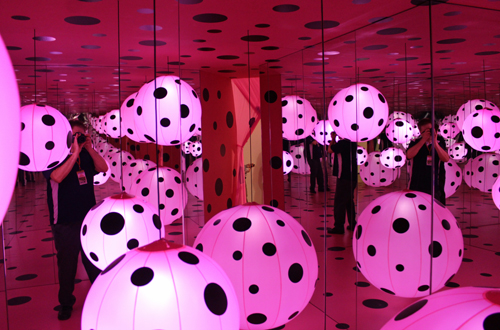 ---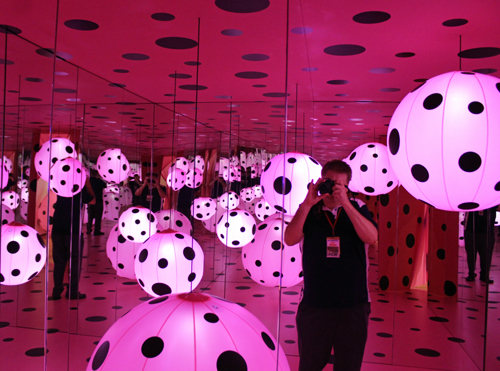 ---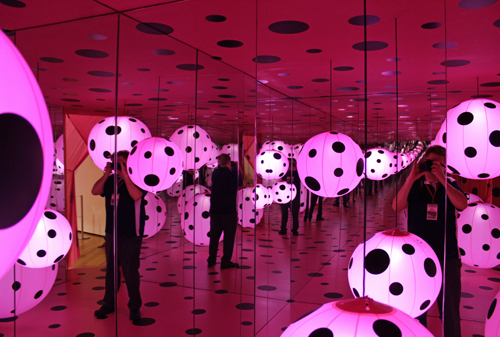 ---
This is an extremely unique exhibit and we are fortunate that the Cleveland Museum of Art has brought it to us. It is well worth your time to schedule a visit.

Learn more at ClevelandArt.org/Kusama
---
Top of Page
Back to ClevelandPeople.Com Community and Special Events