2023
African Heritage Day - Cleveland Cultural Gardens World on Stage
The Cleveland Cultural Gardens Federation 2023 World on Stage events in the Gardens are showcasing various heritages. The first 2023 event was African Heritage Day on July 1, 2023.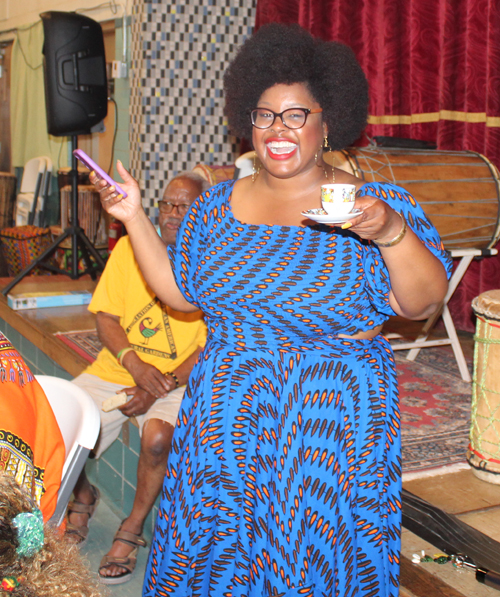 MC Sia Nyorkor with Ethiopian coffee

Audience members came from a variety of African countries including Liberia, Ghana, Congo, Tanzania, Nigeria, Ethiopia, Uganda, Egypt, Senegal, South Africa and Zambia. One attendee from Pretoria, South Africa said, "This is the first time I've felt like home since I came to Cleveland."

There was delicious West African food, an Ethiopian coffee ceremony, drummers, dancers and fun for families.

Main Page and photos and videos of 99 Treasures performance

See photos and videos of the Black Beanz performance

See photos and videos of the Ethiopian Coffee Ceremony

See photos and videos of the Djapo dancers and drummers performance

It was a great day to celebrate the heritage of the Cleveland People from the 54 countries of Africa.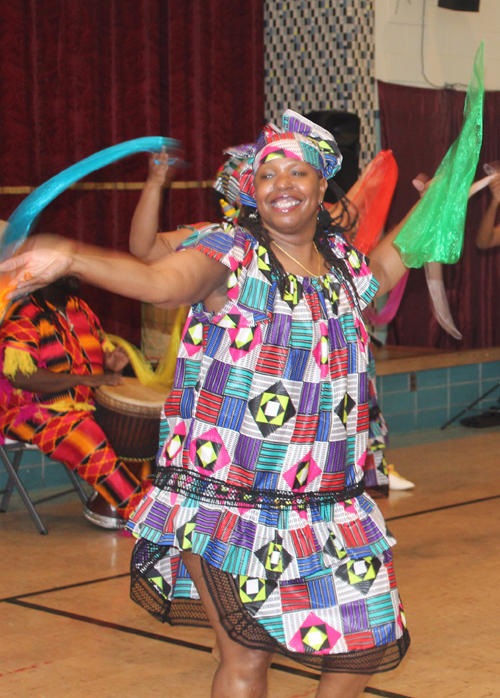 Djapo Cultural Arts Institute dancer
---
Work in Progress - Thanks for your Patience
---
2021
Fun with Maps - Lesotho
There are only 3 enclaved countries in the world. By enclaved we mean an independent country whose territory is completely surrounded by the territory of one other country. In Lesotho's case, it is within South Africa.

Lesotho is a unique and interesting country and the map really defines it. Did you know that the country of Wakanda in the Marvel superhero movie Black Panther was inspired by Lesotho? There's lots more interesting items about Lesotho. Keep having Fun with Maps.



Top of Page


---
Fun with Maps - North Africa
Casablanca, Marrakesh, Algiers, the Barbary Coast, Morocco, the Sahara Desert, Darfur, Benghazi, Tunisia, Tripoli.

You've seen these exotic locales in movies, TV shows and the news but do you know where they are or much about them? In this episode of Fun with Maps, host Dan Hanson looks at North Africa.

Africa is the world's second-largest and second-most populous continent and contains 54 fully recognized sovereign states (countries). This first episode in a series covering Africa includes Algeria, Egypt, Libya, Mauritania, Morocco (including Western Sahara), Tunisia and Sudan.

After watching you will never listen to Bob Dylan, Crosby Stills and Nash or even the US Marines Hymn the same.



See more episodes of Fun with Maps


---
2020
Fun with Maps - Madagascar
In this episode of Fun with Maps, host Dan Hanson looks at what has been called the 8th continent - Madagascar. The map shows how isolated Madagascar is from the rest of the world and that makes it a hotbed of biodiversity - 90% of its wildlife is found nowhere else on Earth. It has varieties of plants and animals that do not exist anywhere else. You've probably seen lemurs (endemic to Madagascar) but there are thousands of other unique animals and plants such as the fossa, chameleon, the baobab tree and more. Dan also shows a quick look at the Spiny Desert of Madagascar exhibit in the Cleveland Botanical Garden.






---
Fun with Maps - The Horn of Africa
In this episode of Fun with Maps, host Dan Hanson shows the Horn of Africa which consists of Ethiopia, Eritrea, Djibouti and Somalia. He shows how the close proximity to the Arabian Peninsula and the extended coastline of the peninsula have influence the politics, commerce and culture of the region. He also tells a story that connects a popular Beatles song and a famous fossil millions of years old.
---
Fun with Maps - The Nile River
In this episode of Fun with Maps, host Dan Hanson shows the Nile River, the longest river in the world. The Nile River and Egypt are intertwined but the Nile travels through almost a dozen countries in Africa including Sudan where the White Nile and Blue Nile merge. And, there is a surprising fact about the Nile that makes it unique.
Watch the introductory video of Fun with Maps
---