International Fashion Show
8th annual Cleveland Multicultural Holiday Celebration
International Community Council
Worldwide Intercultural Network (ICC-WIN)
December 6, 2017
A highlight of the 8th Annual ICC-WIN Cleveland Multicultural Holiday Celebration on Wednesday, December 6, 2017 at the Global Center for Health Innovation in Cleveland was the International Fashion Show featuring almost 100 models from about 30 countries.
Below are photos and videos in order of appearance in the show.
NOTE: All the images below with a white arrow in the middle are videos. (The other images are just photos) You can click on the white arrow to watch the video of whatever is described. Make sure your speakers are on and you can make the video full screen once it begins by clicking the icon in the lower right corner.
Zambia
The Fashion Show included Damon Wilson, Niza Phiri and their Baby "Princess" Sophia. Niza wore a typical dress most young women will wear on a daily basis, Damon wore a traditional shirt that young men would wear on a daily basis. Baby Sophia is wearing a Zambia dress.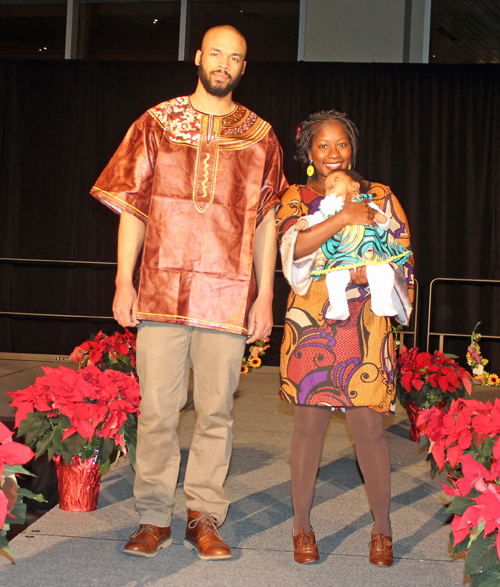 Damon Wilson, Niza Phiri and their Baby "Princess" Sophia
representing Zambia
---
Armenia
Tigran Baghdasaryan and Ellena Baghdasaryan represented Armenia. The Armenian national clothing, called Taraz in Armenian, represents a rich cultural tradition. Armenia national clothing typically incorporates wool, linen and silk, and includes lots of embroidery. Jewelry is added to complete the ensemble.

By the color and form of Armenian national dress it was possible to understand the person's marital status, how many children he/she had and their social status. National dress was also dependent on climatic conditions and ethnic environment, often becoming the symbol of tribal, gender and class identity.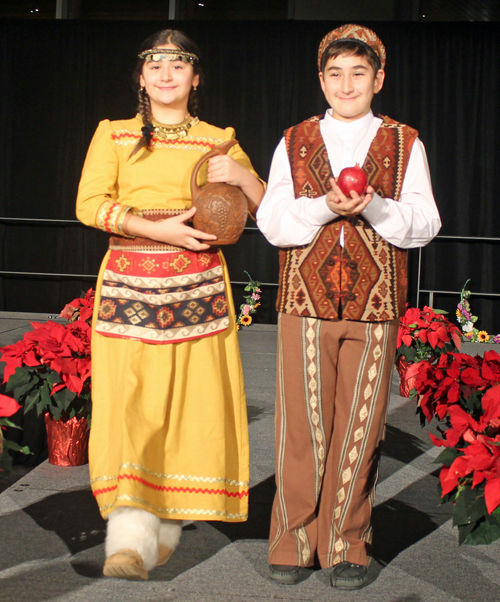 Tigran Baghdasaryan and Ellena Baghdasaryan
representing Armenia
---
Bangladesh
A last minute addition to the Fashion Show were these outfits from Bangladesh.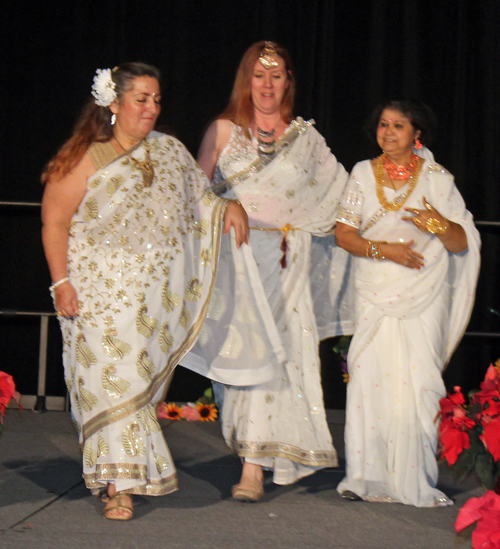 Outfits from Bangladesh
---
Cameroon
The Fashion Show included Maceline, Mireille, Diana, Sara and Martin doing a dance from the western region of Cameroon, called "Bend Skin".

The women are dressed in African "Pagnes" while men wear "Quatre Pouches". A long swath of fabric, the pagne is a wrapper-style garment worn by women in Cameroon. The type of cloth used varies from simple cotton batik prints to heavily embroidered satin fabrics for formal occasions. Pagnes are beautiful and functional, and may be used in several ways: as a protective head covering, a skirt, a sling-style baby carrier, or to provide warmth and dryness during the rainy season.

Quartre Pouches are a two-piece men's outfit found in southern and tribal Cameroon. It consists of a pair of loose-fitting pants and a shirt, often with square pockets on the front. The pieces are made of cotton in matching designs, resembling the geometric mud cloth patterns created in Mali, West Africa. The outfit sometimes is worn with a round, close-fitting hat made from matching fabric.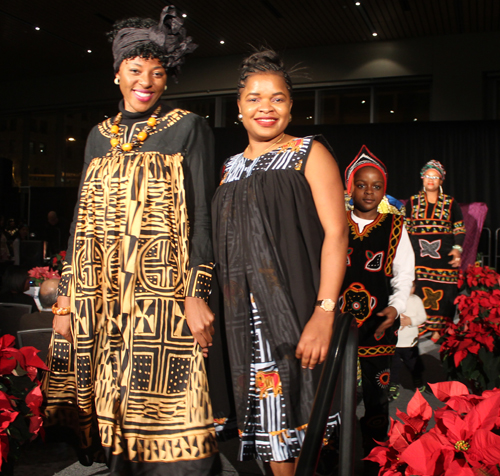 Traditional clothing of Cameroon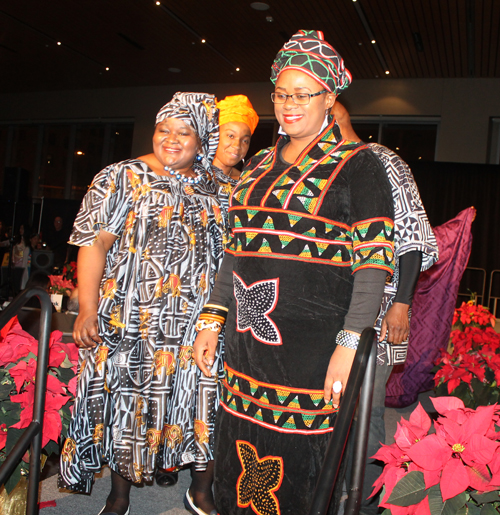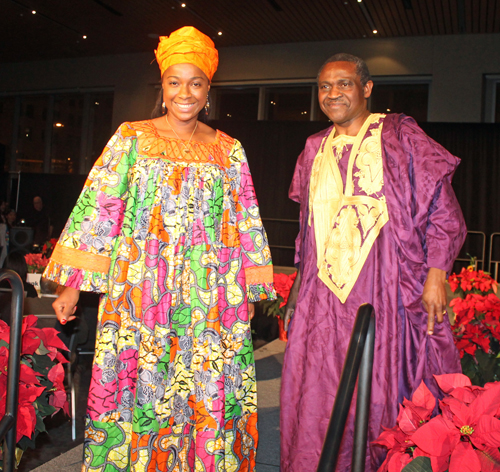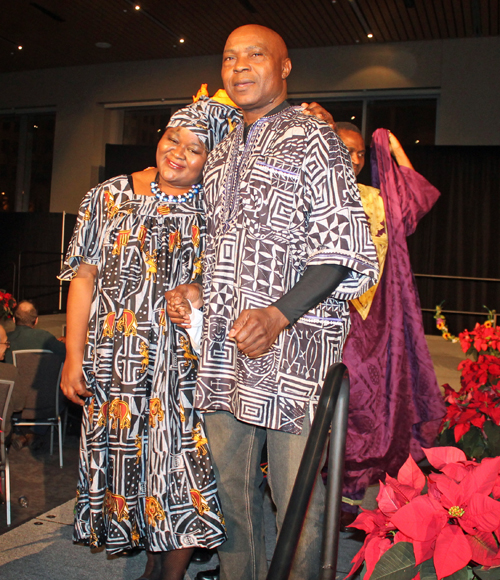 ---
China
Zijie Li, Lu Geng, Xiaocong Ding and Yufei Guo represented China.

Tibetan costume is not elaborate. It normally consists only of a chuba, a long capacious robe with wide, elongated sleeves which hang almost to the ground. This is caught up at the waist by a woolen girdle, so that its skirts reach only to the knees and its upper folds form an enormous circular pocket round its wearer's chest.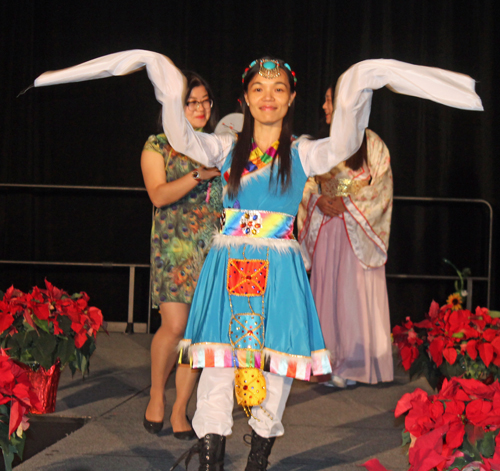 Qipao, the classic dress for Chinese women, combines the elaborate elegance of Chinese tradition with unique elements of style. The high-necked, closed-collar Qipao / Cheongsam, with a loose chest, fitting waist, and the attractive slits, is one of the most versatile costumes in the world. It can be long or short, some with full, medium, short or even no sleeves at all - to suit different occasions, weather and individual tastes.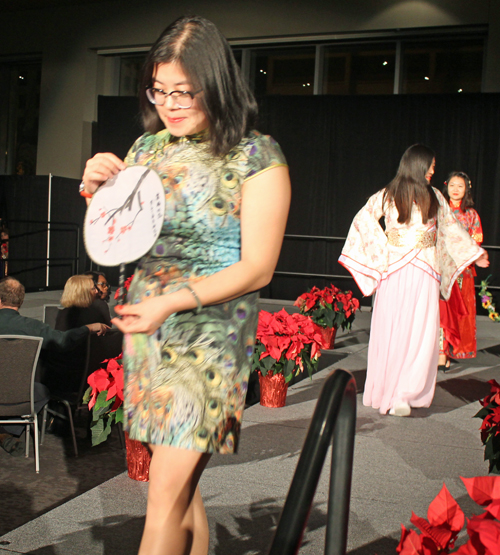 Han Chinese clothing had changed and evolved with the fashion of the days since its commonly assumed beginnings in the Shang dynasty. Many of the earlier designs are more gender-neutral and simple in cuttings. Later garments incorporate multiple pieces with men commonly wearing pants and women commonly wearing skirts. Clothing for women usually accentuates the body's natural curves through wrapping of upper garment lapels or binding with sashes at the waist.

Chinese wedding dress is based around the theme of good luck and happiness. Dragon, phoenix, red color are thought to bring good luck and happiness, so they are indispensable elements in Chinese wedding dress. The main color of Chinese wedding dress is bright red, the traditional and sacred color, which is intended to reflect the wedding atmosphere. During the traditional Chinese wedding ceremony, the bride is handed by her groom. Her head is covered by a red veil which is falling down to her shoulder for whole period. The veil is not taken off until all the relatives and friends have left. The groom needs to put the veil off by himself only.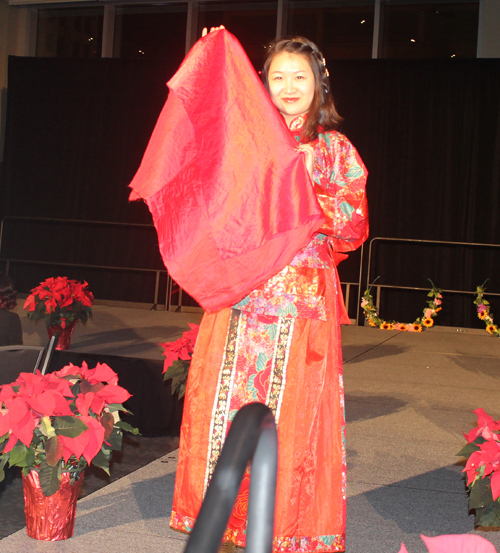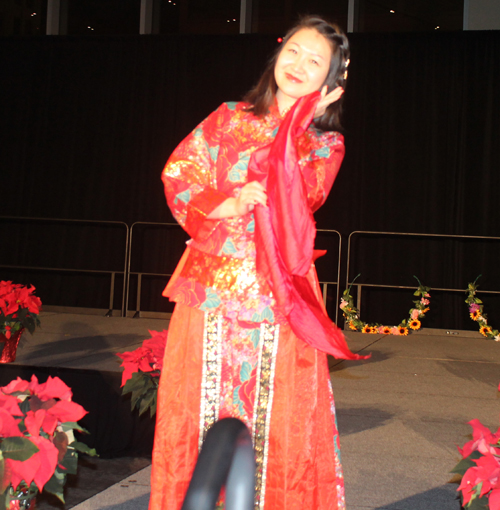 ---
Democratic Republic of Congo
Shekinah Kidjana and friends represented the Democratic Republic of Congo. She wore a kitenge blouse with a kitenge shirt.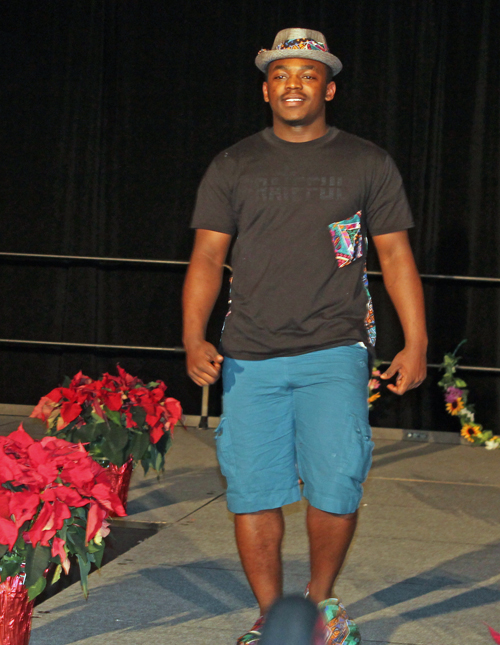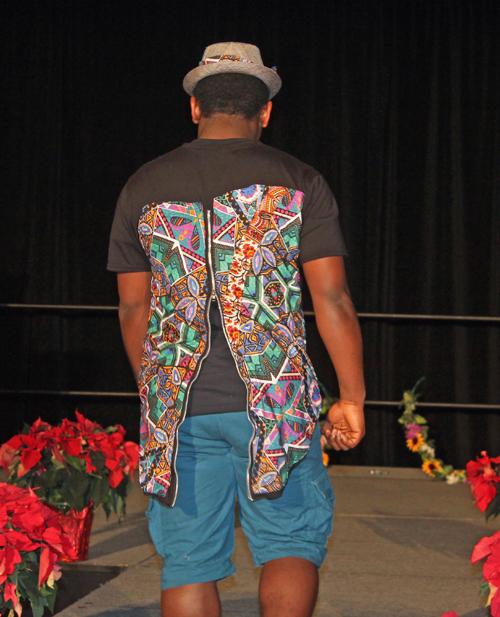 ---
Egypt
Nader Soliman and Hadia Tawadros represented Egypt.

Nader is wearing a King Tut outfit. Hadis wears a black gown with all golden beading, goldfish necklace and bracelets and fabulous golden head piece.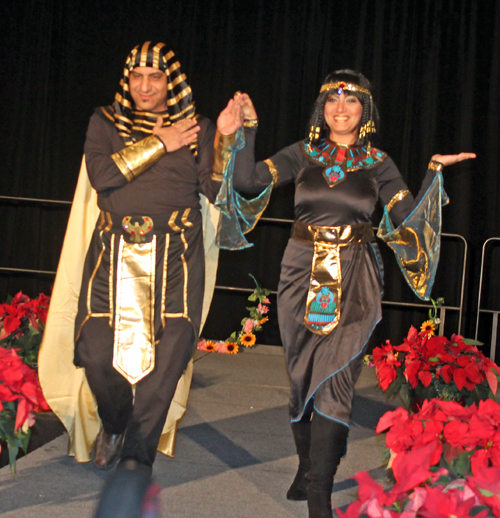 Nader Soliman and Hadia Tawadros
representing Egypt
---
Germany
Laura Vadaj and Jim Stracensky represented Bavaria, Germany's largest state. Laura is wearing a dirndl, the traditional Ladies' dress of Bavaria. Based on the traditional clothing of the farming people of the Alps. The dirndl consists of a bodice and full skirt and is worn with a puffy-sleeved blouse, an apron, and white stockings. A silver necklace is often worn as an accessory. The colors of dirndl, white and blue-echo the Bavarian flag.

Jim is wearing lederhosen, which are embroidered knee breeches made of leather. Originally worn in the Alpine region for hard physical labor because of their durability. Lederhosen are now considered part of the Bavarian folk costume and are worn at festivals as a symbol of regional pride.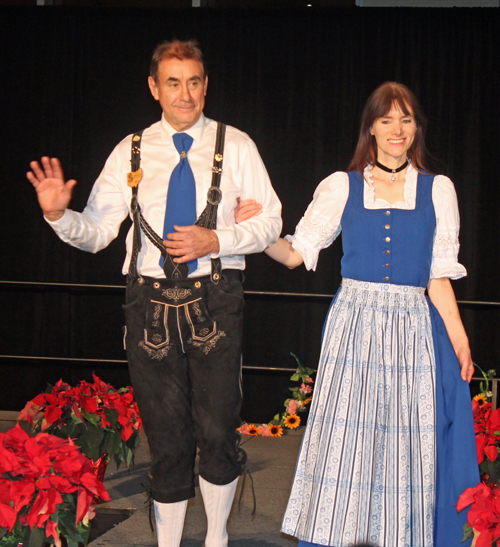 Jim Stracensky and Laura Vadaj
representing Bavaria, Germany's largest state
---
Greece
Eleni Papouras-Jenks wore the winter formal wear from the villages surrounding Thebes in mainland Greece. Brides were given this dress and draped in gold jewelry as part of their dowry and the headscarf would be wrapped. She would continue to wear it as a married woman with the headscarf thrown over the shoulders.

A man's Evzone costume would be based on clothing worn by the mountain men of mainland Greece during the war of Independence, with wool leggings and vest. By adding decorations to a velvet vest and putting 400 pleats in the foustanella kilt, it became the official uniform of those guarding the tomb of the Unknown Solder in Athens.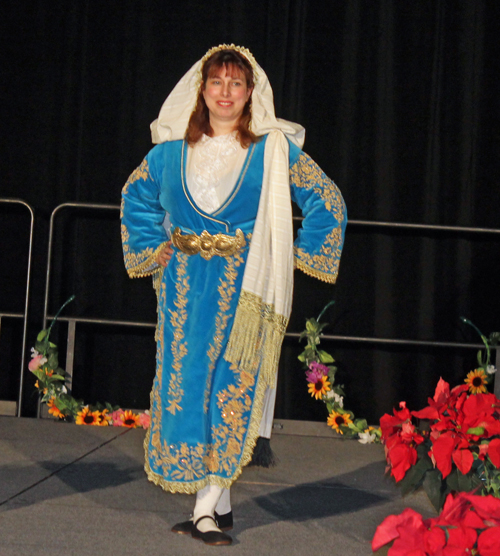 Eleni Papouras-Jenks representing Greece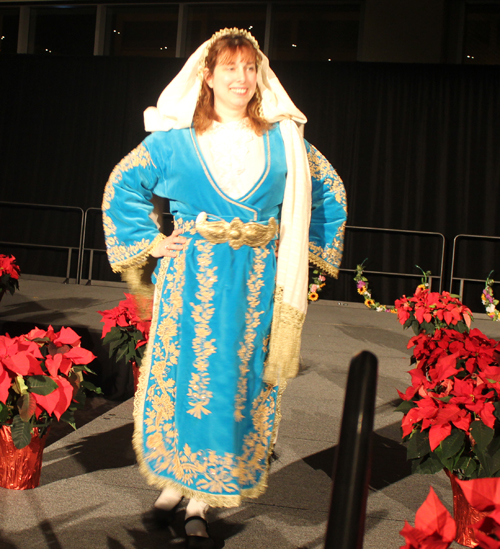 ---
Guinea-Conakry
Aicha Traore, Guita Kande, Folematou Doubouya, Tibou Shok and Sarata Kande represented Guinea aka Guinea-Conakry wearing traditional Guinean clothing for special occasions such as naming ceremony, wedding, religious events and formal gatherings.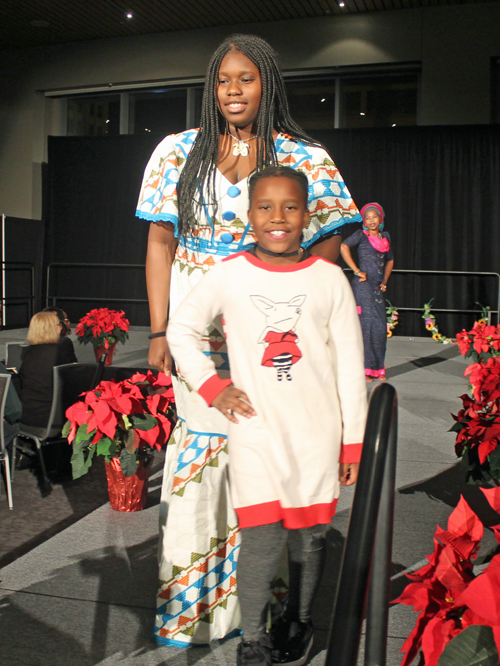 Representing Guinea-Conakry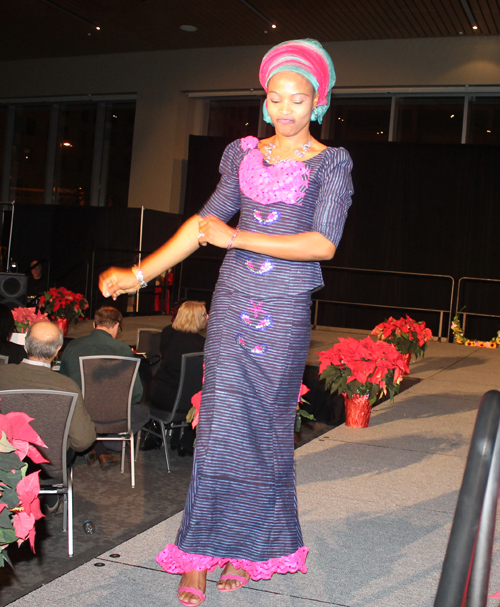 Aicha Traore
---
Hmong People
Suzanna Vang, William Vue, Safiah Vang, Desmond Vang, Pachia Lor and Hayden Xiong represented the Hmong people.

The Hmong people are an indigenous group in China who migrated to Southeast Asia in Laos and Thailand. The Hmong then resettled in the United States in the 1970s as refugees from the Vietnam War after being persecuted for allying with the US CIA.

Hmong clothing are traditionally handmade with intricate embroidery designs which indicate with subgroup or region of each family. Traditional clothing for males consists of long black fishermen pants and wraparound tops tucked and secured at the waist by a colored band.

For females, traditional clothing consists of a wraparound tops tucked into either long black pants or pleated skirts for a more formal look. The waist is also held up by a colored or embroidered bands. For female clothing, the head piece is the most unique and has become a fashion statement in modern Hmong clothing. Silver coins and beads were originally added to Hmong clothing to represent wealth that are passed down from generation to generation.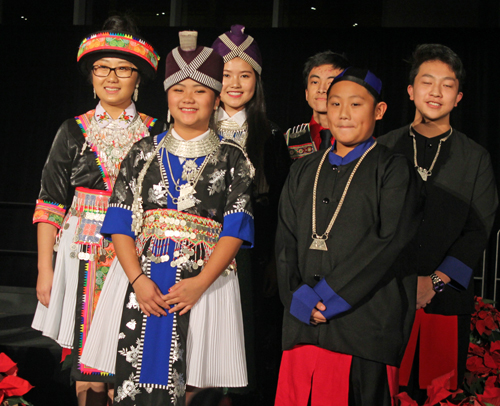 Representing the Hmong People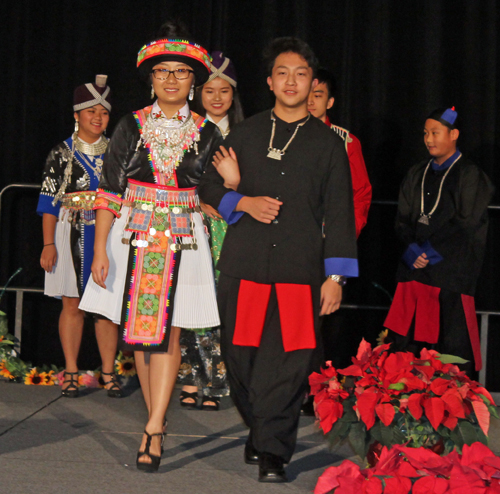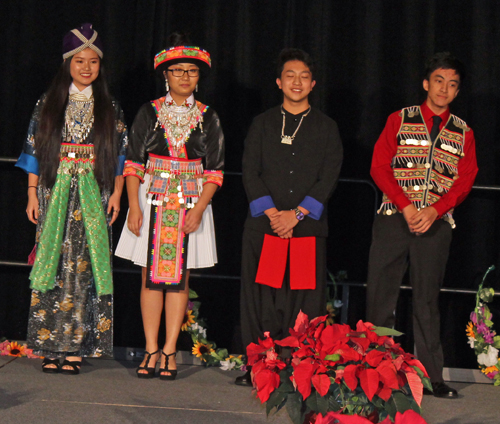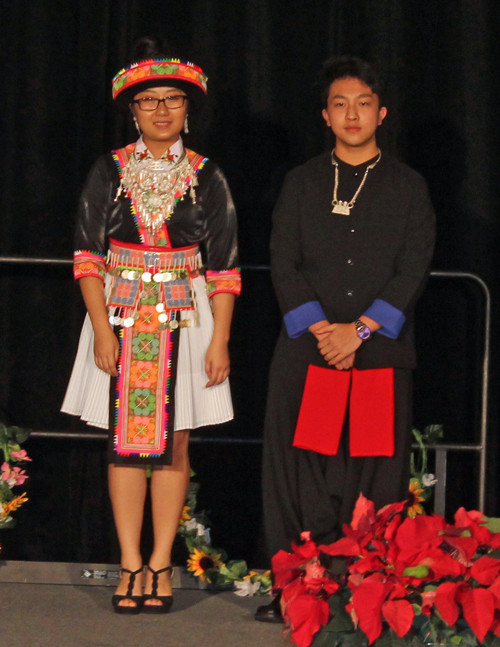 ---
India
Parul Parikh, Vimmi Jain, Sarla Venna, Neelam Jagetia, Rehana Fatteh and Sarita Nath represented India.

India is a land of colors and diverse cultures. Traditional clothing in India varies with region, religion and community. However, one thing that remains very true to the culture is its beautiful and vibrant colors of the clothing. Models are wearing Sarees, Lehengas, Anarkali Suits, and Ghagra Choli.

A Ghagra Choli or a Lehenga Choli is the traditional clothing of women in Rajasthan and Gujarat. The lehenga is a long skirt, which is embroidered and pleated. A choli is a midriff-bearing blouse is tailored to tightly fit the body with short sleeves and a low neck. Finally, women wear a dupatta to finish the look.

The saree (sari) is a long unstitched cloth from 4 to 9 meters in length, usually intricately patterned, which drapes around and over the body. It is worn with a tailored blouse. This is considered to be the staple of Indian women clothing.

The Anarkali suit is mostly worn in Northern parts of India and it consists of the Churidar - narrow trousers worn under the kameez (a long shirt or tunic). The anarkali suit varies in many different lengths and embroideries including floor length anarkali styles. This has become very popular and is worn at many Indian events.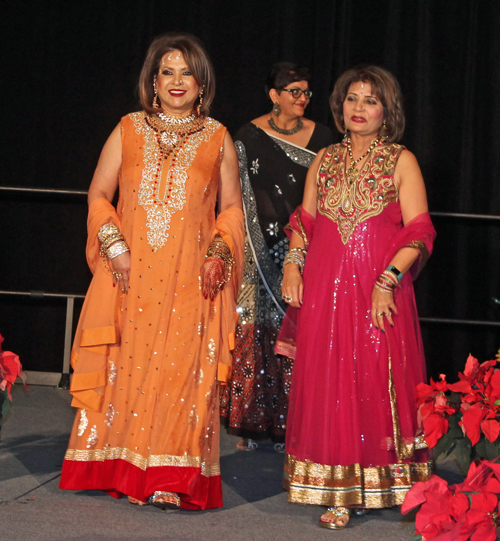 Representing India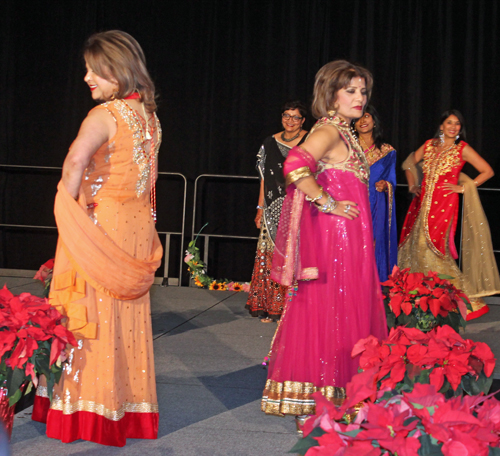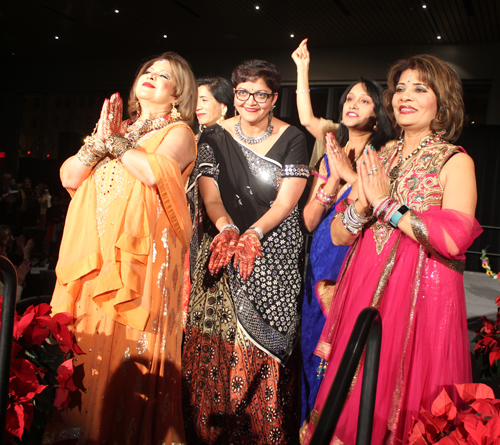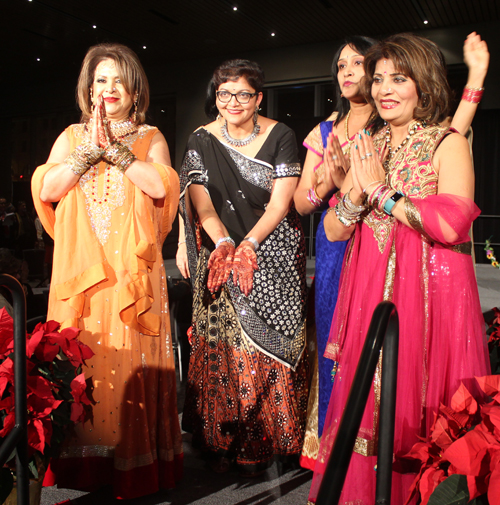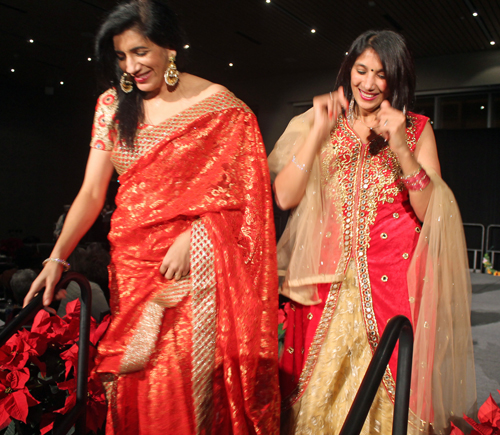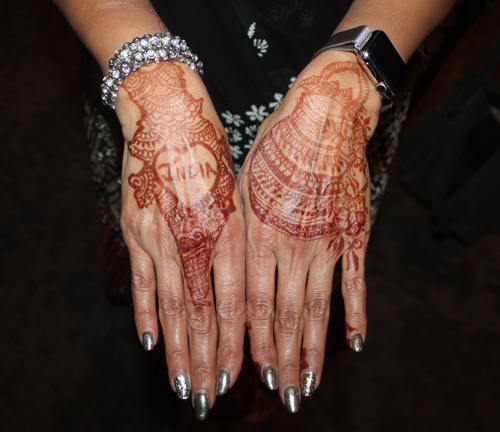 Henna body art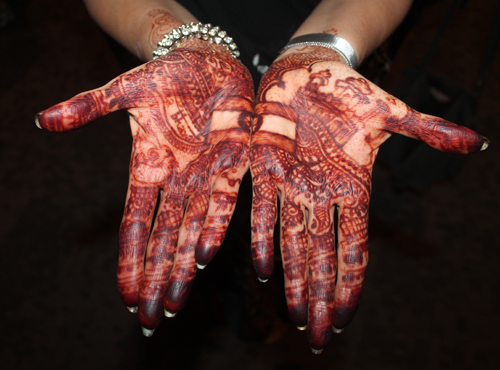 ---
Italy
Beatrice Colage and her father and Gino Colage represented Italy and the Italian Cultural Garden.

Beatrice is wearing a hand-sewn replica of a traditional 18th/19th century outfit worn by an "herb-woman" of the province of Vicenza in the region of Veneto, Italy. A wooden yoke would be carried over the shoulder to balance the transport of produce in baskets.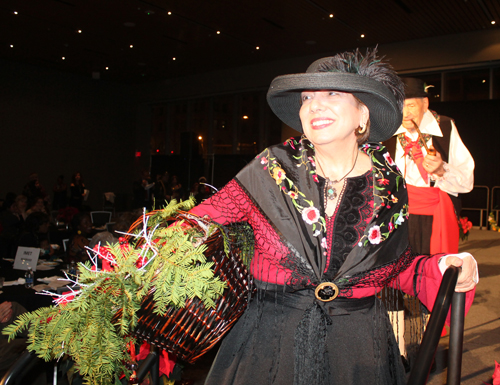 Beatrice Collage



Gino is wearing a combination of regional men's fashions that were popular in Italy during the 18th and 19th centuries. Gino used to wear this costume when he participated in a choral folkdance group based in Canton, Ohio. With walking stick and carved pipe in hand, Gino is ready for his "passeggiata", or walk.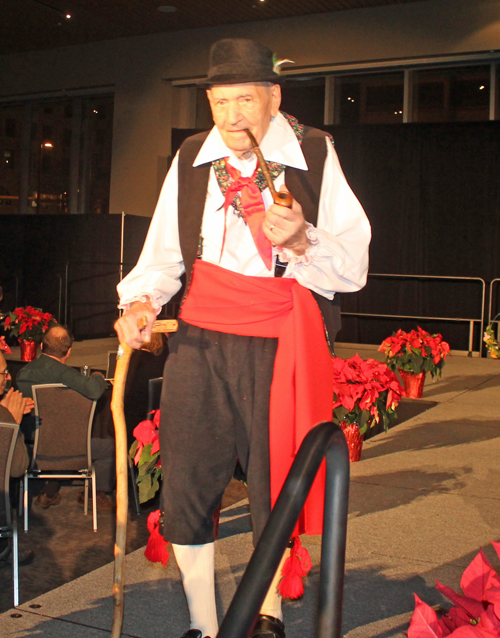 Gino Collage



Gino Colage began caring for the Italian Cultural Garden in 1992. The Cleveland Cultural Garden Federation honored Gino in August of 2015 for his many years of dedicated service. In a few weeks Mr. Colage will be celebrating his 92nd birthday - Happy Birthday, Gino!
---
Kuwait
Youssef Alanazi and Fatima Alanazi represented Kuwait.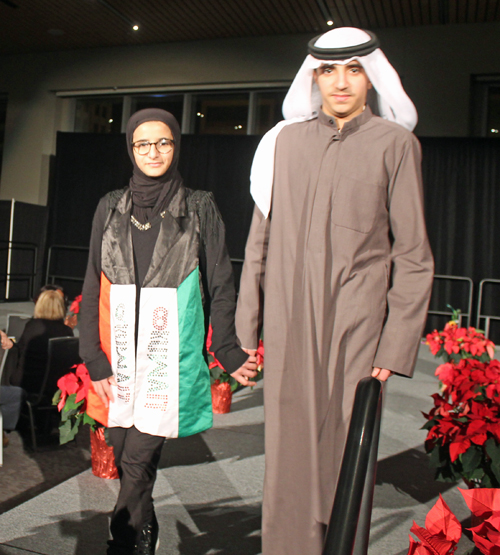 Youssef Alanazi and Fatima Alanazi
representing Kuwait
---
Continue on to Page 2 of the International Fashion Show
---
***
Want to learn about ethnic and cultural events in Cleveland such as this? Sign up for the free eNews and every Tuesday evening you will receive a free e-mail listing the next week's events. It's easy and free.

Select 'WEEKLY' when you fill out the form for the free weekly eNews.
***
---
Back to the main ICC-WIN party page

People Page - Who do you recognize?

***

Stay informed about the local ethnic and international community by signing up for the free eNews mailings for any group or groups (or all) that you choose. It's easy and free. Fill out the form for the free ethnic eNews.

***

---
Top of Page
Back to ClevelandPeople.Com Community and Special Events