Global Cleveland Global Employer Summit 2017
InterContinetal Hotel
May 31, 2017
The Global Employer Summit was presented by Global Cleveland to help realize the Untapped Potential of Global Talent in Northeast Ohio. This first-of-its-kind conference showed employers how to take advantage of the global talent being educated, resettled or immigrating to Cleveland to fill workforce needs and become a driver of economic growth.
Many Cleveland companies are already benefiting from high-skilled immigrants to enhance their competitiveness. The Summit presented information on:
Hiring international how-to's: The basic steps for hiring an international student, scientist or executive
How to partner with resettlement agencies to secure refugee workers renowned for loyalty and a strong work ethic
Making the business case for international hires
The keys to building a globally competitive team and retaining international employees
The summit featured expert speakers, panel discussions, breakout sessions and an exhibition of business ideas generated by international students, all in the ambience of the InterContinental Hotel.
Global Cleveland President Joe Cimperman welcomed the crowd and then introduced Dany Bahar, Brookings Institution Global Economy and Development Fellow and Associate, Harvard University Center for International Development for the first presentation.
NOTE: All the images below with a white arrow in the middle are videos. (The other images are just photos) You can click on the white arrow to watch the video of whatever is described. Make sure your speakers are on and you can make the video full screen once it begins by clicking the icon in the lower right corner.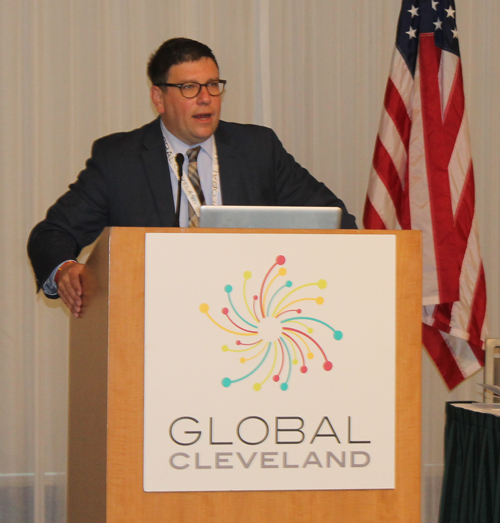 Joe Cimperman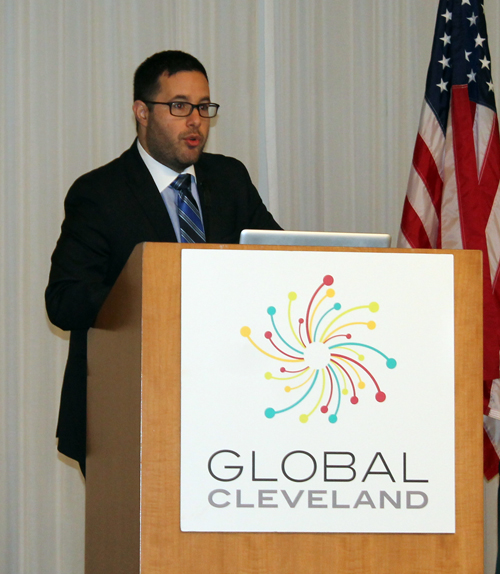 Dany Bahar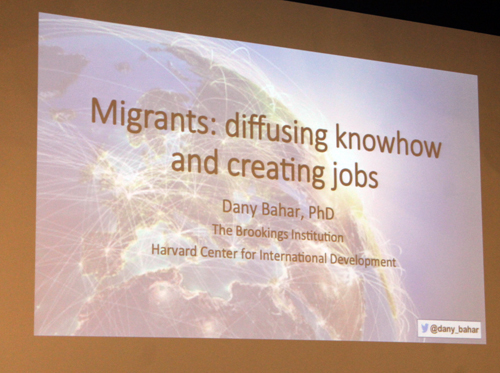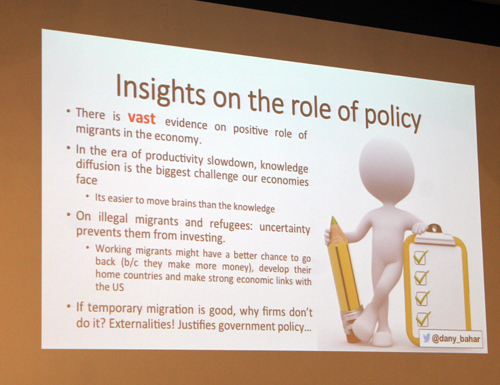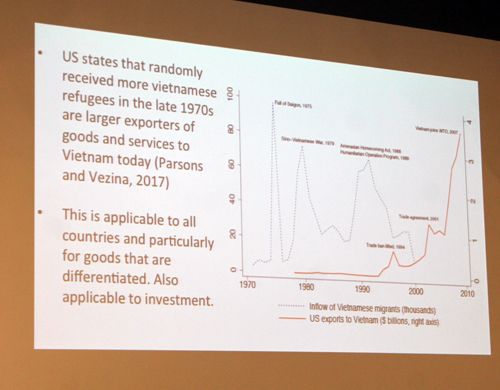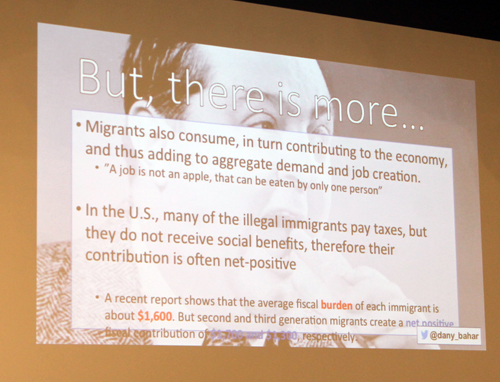 Next, Joe Cimperman introduced Cleveland Mayor Frank Jackson who gave welcoming remarks.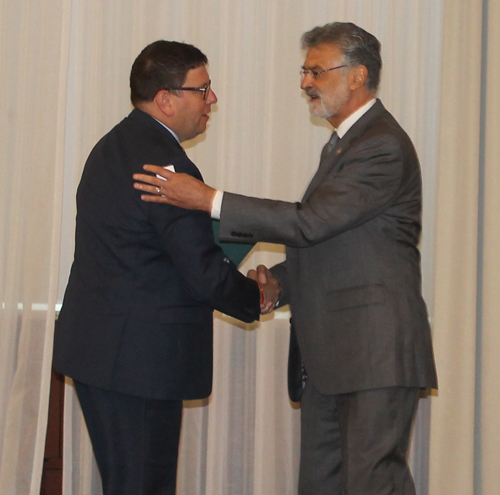 Joe Cimperman and Mayor Frank Jackson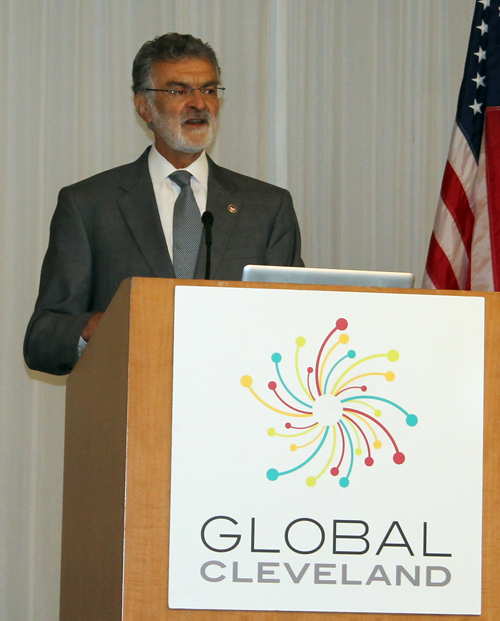 Mayor Frank Jackson



Cuyahoga County Executive Armond Budish also gave welcoming remarks.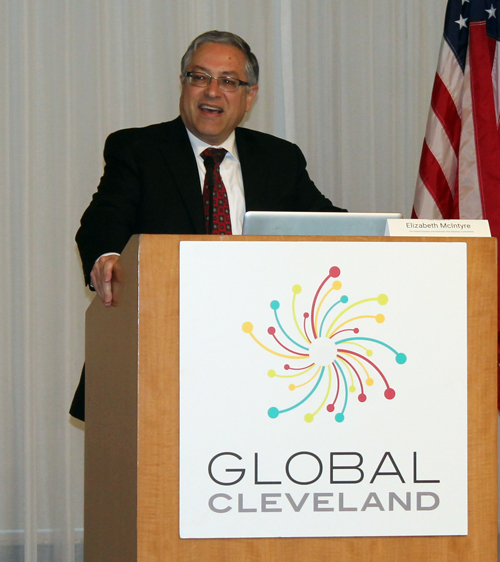 Armond Budish



The keynote address was given by Jon Baselice, Director of Immigration at US Chamber of Commerce who came in from Washington DC.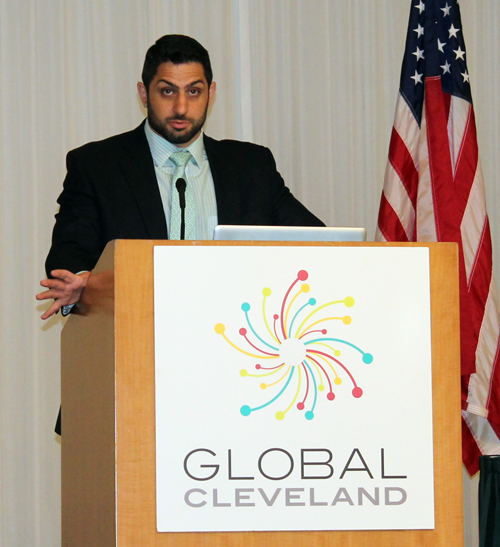 Jon Baselice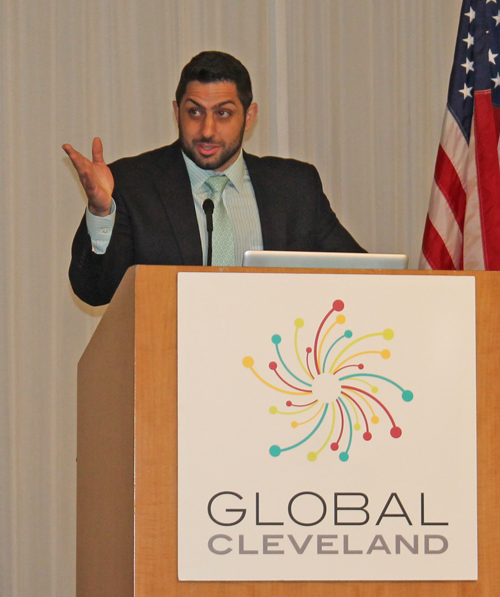 Jon Baselice



During the Q&A session Jon Baselice was asked about ramifications of the proposed Travel Ban.



Joe Cimperman asked keynote speaker Jon Baselice if he foresees a new Gang of 8 in the US Senate.



Baselice was also asked about the Tech Industry and immigration.





The next question was about H-1B visas.



Baselice was also asked about the EB-5 Program.





The final question was about the Travel Ban effects on Tourism and Higher Education.



After the Jon Baselice keynote there were 2 panel discussions. First was The Global Economy and Northeast Ohio Business Connections with:

Jack Schron, President of Jergens, Inc.
Dr. Nizar Zein, Chief of Hepatology and Chairman of Global Patient Services, Cleveland Clinic
Peter Clarke, General Manager and Director of Regional Operations, InterContinental
Baiju Shah, CEO of BioMotiv
Michele Connell, Cleveland office Managing Partner, Squire Patton Boggs
See more from the first panel on The Global Economy and Northeast Ohio Business Connections

The second panel was International Talent as a Regional Economic Driver with:

Dr. Giovanni Piedimonte
, Chairman of Cleveland Clinic Pediatric Institute, Physician-in-Chief of the Cleveland Clinic Children's Hospital, and President of the Cleveland Clinic Children's Hospital for Rehabilitation
Dany Bahar, Brookings Institution and Harvard University Fellow
Jeff Duerk, Dean of Engineering, Case Western Reserve University
Jacob Duritsky, Vice President, Strategy & Research, Team NEO
See more from the second panel on International Talent as a Regional Economic Driver

In the afternoon, break-out sessions hosted by content experts in each of their fields provided attendees the opportunity to discuss their organization's questions in an open, honest environment. Peer-to-peer conversations with case studies and examples from other employers, including many small to mid-sized companies, showcased the potential for growth and competitiveness that comes with international talent attraction, engagement and retention.>/p>
Breakout session hosts included: Envoy, the Refugee Services Collaborative, DwellWorks, Fwd.us, JumpStart, and Thompson Hine
Topics included:
Immigration Trends for Globally Competitive Organizations with Envoy
Business Case for International Hires with Thompson Hine
Creating a Globally Competitive [tech] Team with FWD.us
Engaging and Retaining Global Talent, Locally with the Refugee Services Collaborative
Managing and Developing Global Teams with Dwellworks
Throughout the day, there was an International Student and Entrepreneur Showcase featuring inspiring and talented young students and entrepreneurs.

More from the International Student and Entrepreneur Showcase



***
Want to learn about ethnic and cultural events in Cleveland such as this? Sign up for the free eNews and every Tuesday evening you will receive a free e-mail listing the next week's events. It's easy and free.

Select 'WEEKLY' when you fill out the form for the free weekly eNews.
***
---
Top of Page
Back to ClevelandPeople.Com Community and Special Events
---