Multicultural Fashion Show
Page 3
International Community Council-
Worldwide Intercultural Network
6th Annual Holiday Diversity Party
December 16, 2015
A highlight of the 6th annual Holiday Celebration of Cleveland's Diversity held in the atrium of the Global Center for Health Innovation in the Cleveland Convention Center by the International Community Council-Worldwide Intercultural Network (ICC-WIN) was the multicultural fashion show. Nada Martinovic was organizer of the fashion show and provided us with these notes.
This third video includes fashion from Italy, Liberia, Lithuania, Poland, Russia, Saudi Arabia, Serbia and Spain.
Italy
Models Beatrice Colage with her father Gino Colage.

An Herb - Woman of the Environs of Vicenza (Veneto, Italy) Beatrice Colage is representing an Herb - Woman of the Environs of Vicenza (Veneto, Italy) for the Italian Cultural Garden. She has hand sewn a replica of a traditional, 18th /19th century outfit worn by an "herb-woman" of the province of Vicenza in the region of Veneto, Italy. A wooden yoke was carried over the shoulder to balance the transport of produce in baskets.

Beatrice is accompanied by her 90 years old father, Gino Colage. Gino was one of three honorees at the 70th Annual One World Day in August at The Cleveland Cultural Gardens. Gino Colage is wearing a combination of regional men's fashions that were popular in Italy during the 18th and 19th centuries. Gino wore this costume when he used to sing and dance in "I Gagliardi Italiani" - a choral folkdance group based in Canton, Ohio. Black or brown leather shoes complete the traditional regional outfit. With walking stick and carved pipe in hand, Gino is ready for his "passeggiata", or walk.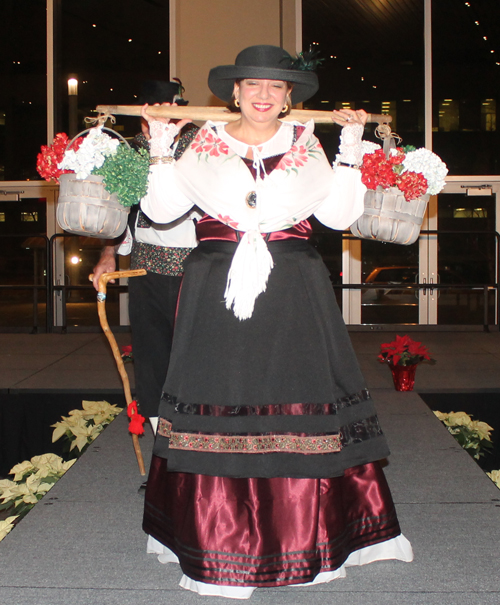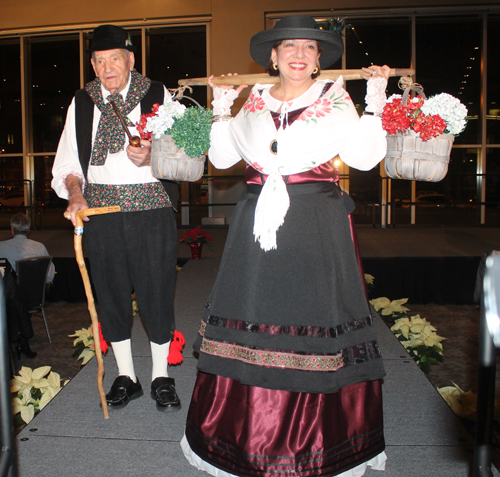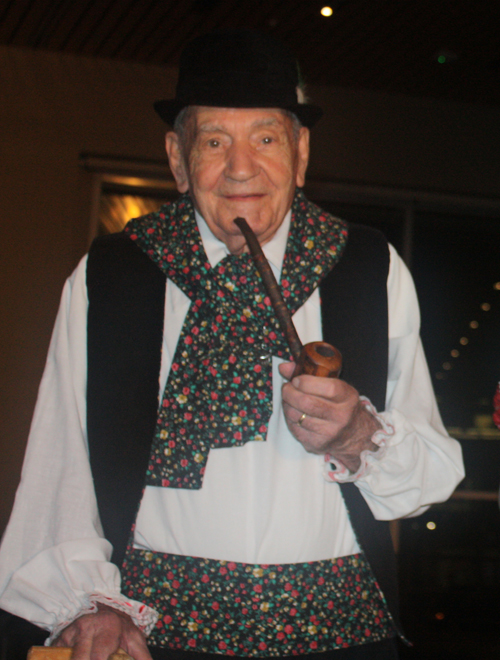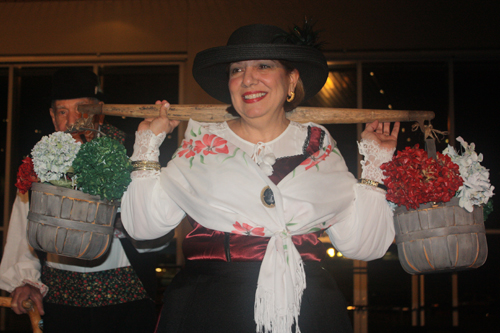 Liberia
Ellen M. Yallah…wearing a traditional lapa suit, this design is worn by business women or a wealthy person

Tunapu Zeinway…wearing a traditional with a modern twist design. You can wear it at wedding, church, work, and at Ball

Leon Poah...wearing a Traditional shirt, you can wear it at any event

Martin Meaipa Zeinway..wearing a chief, king, or a leader 3 piece suit. Only people of power or wealth are able to afford it

Naybone.. wearing a traditional with a modern twist outfit. Everyday weare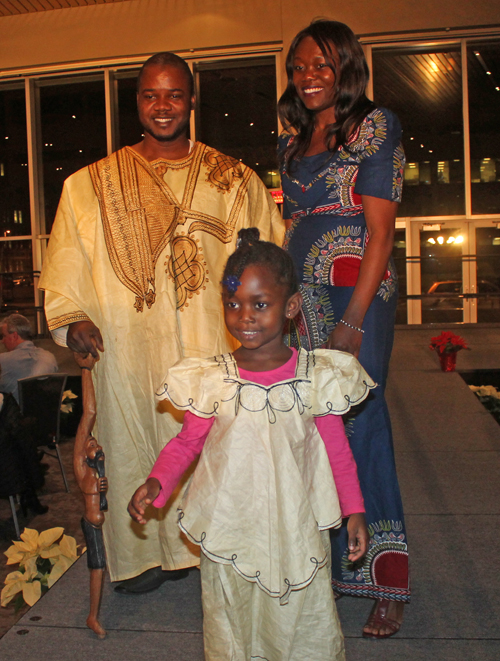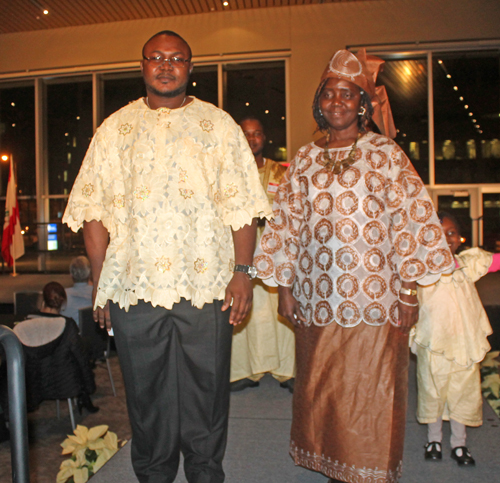 Lithuania
Models: sisters Rita Kizys and Rene Kizys

These are two Lithuanian folk dance costumes based in design from the northern region of Lithuania. They were woven by a seamstress in Panevezys, Lithuania whom also sews modern bridal and ball gowns. Although both of these were woven in 2013, they have been made the same way that traditional dance costumes have been made for the past century. The costumes consist of a crown, blouse, vest, slip, skirt, apron, and juosta (yo-stah) which is a Lithuanian woven sash. Intricately woven fabric is one of the biggest parts of Lithuanian culture. The colors are vibrant to represent nature and stand out at dance performances, festivals, and celebrations.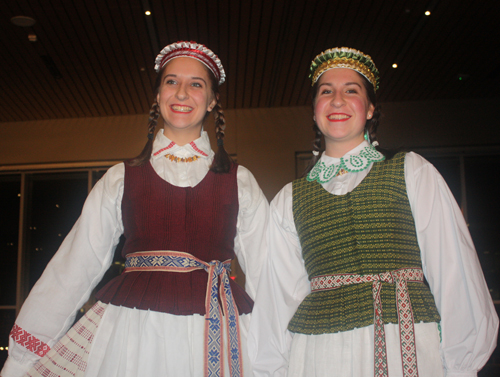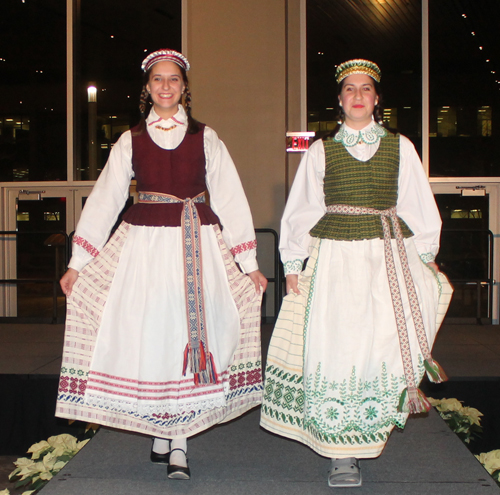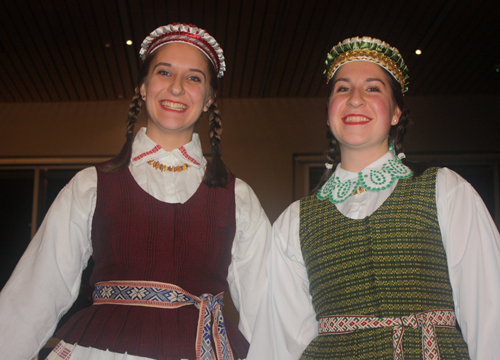 Poland
Models: Gustav Kotlarsic and sister Amelia Kotlarsic

Amelia will be wearing a flowered skirt with white apron, decorative beaded vest, white blouse and flowered wreathed with ribbons on the head. Gustav will be wearing white and res stripped pants, white shirt with red ribbon tie and navy blue vest with large belt with many rings. On his head will be a square hat with a peacock feather.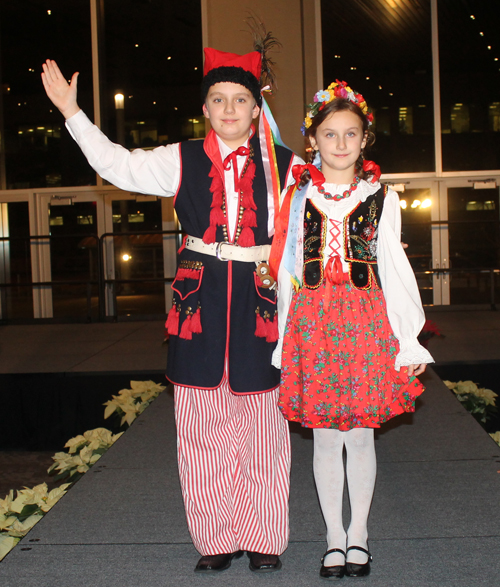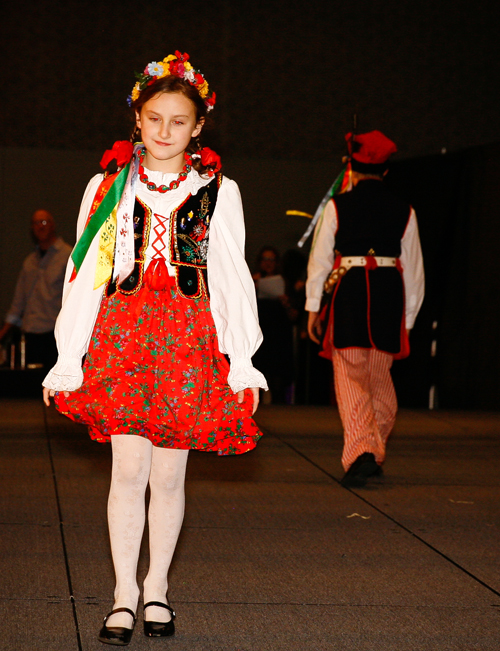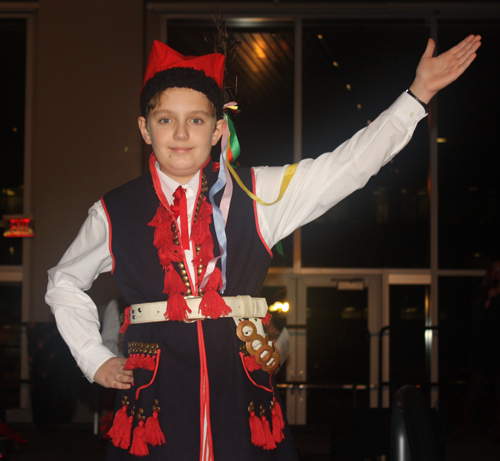 Russia
Models Ksenija Turovskaya and Antonina Pakholkova with daughter Elissa

We'll be presenting sarafans with kokoshniks. Sarafan is a traditional Russian jumper dress worn as Russian folk costume by women and girls. Kokoshnik is a matching headpiece. The costumes were made by Katerina Turichenko with the help of Oksana Dallas for One World Day this Fall and by Antonina Pakholkova for this fashion show.

We'll do the "Bread and Salt" greeting as it is an old welcome greeting ceremony in Russia. In modern days, on official occasions, bread and salt is presented on rushnik (an embroidered towel) by young women dressed in national costumes.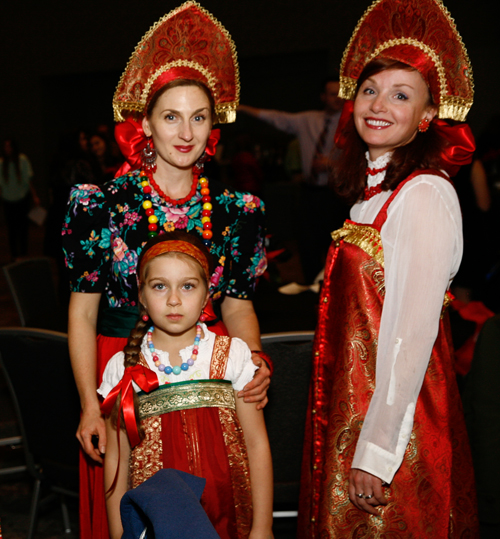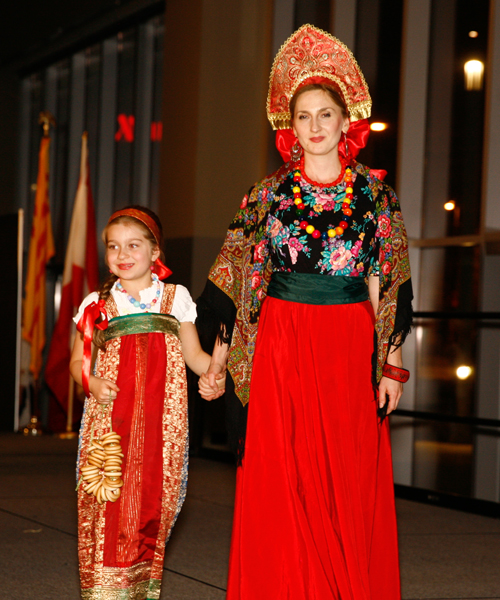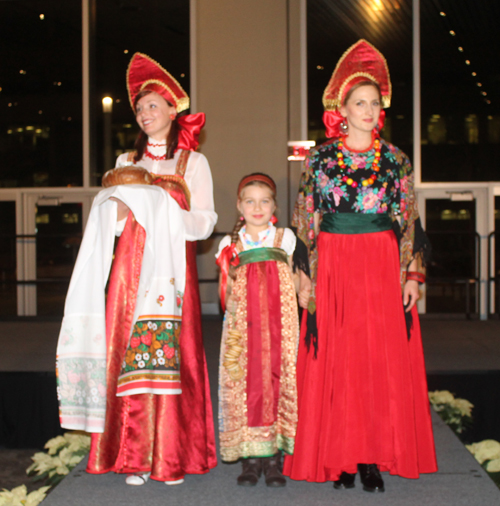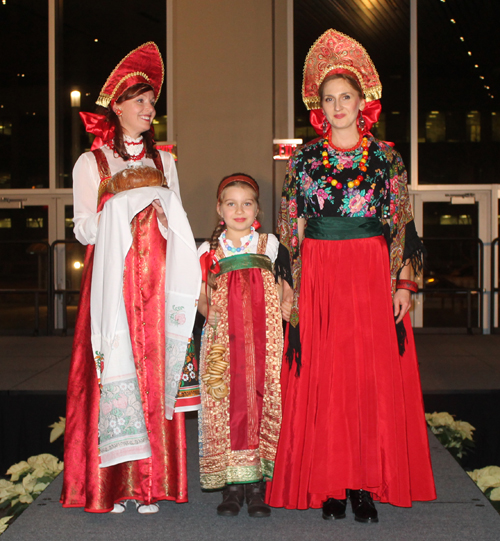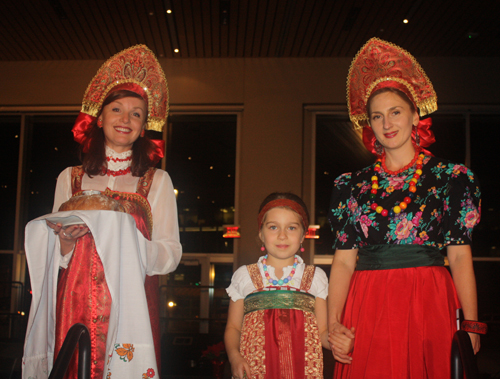 Saudi Arabia and Kuwait
Mr. Fahad (Abou Mohamed) is representing Saudi Arabia and Kuwait in his traditional Thobe, a loose, long-sleeved, ankle-length garment, typical for these two countries. He is wearing a cape, made out of camel wool to signify the importance of the occasion. The agal (a black cord, worn doubled, used to keep the ghutrah-a square scarf, made of cotton or silk, in place on the wearer's head) completes Mr. Fahad's outfit.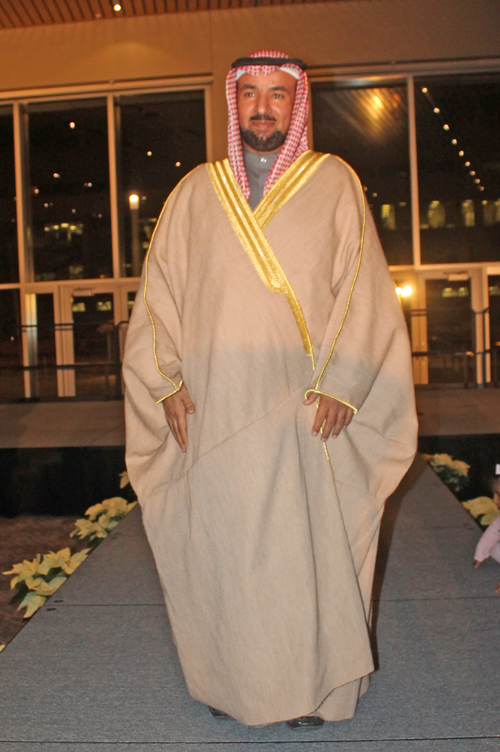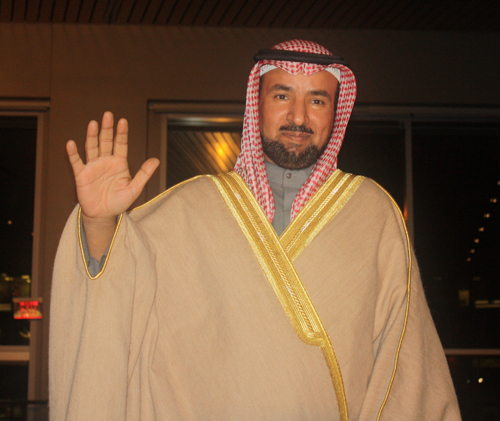 ---
***

Want to learn about ethnic and cultural events in Cleveland such as this ICC-WIN Multicultural Party? Sign up for the free eNews and every Wednesday morning you will receive a free e-mail listing the next week's events. It's easy and free.

Select 'WEEKLY' when you fill out the form for the free weekly eNews.

***

---
Next Page (Page 4) of Multicultural Fashion Show
Previous Page (Page 2) of Multicultural Fashion Show
6th annual ICC-WIN Party - Main Page
Top of Page
Back to ClevelandPeople.Com Community and Special Events
---