Sarolta B. Somogyi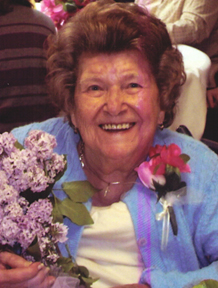 Sarolta B. Somogyi (nee Sarolta Bonaventura Varga), 92, was a Hungarian Association Board Member Since the 1950's and Responsible for Preparing Over 50 Books for Publication on Hungarian History, Culture and Language.

Sarolta B. Somogyi came to America at the end of 1950, having left Hungary 5 years earlier after World War II and after spending 5 years in primarily the British sector DP (displaced person) camp in Feffernitz, Austria, arriving in Cleveland, OH along with many others and joining a thriving Hungarian American community.

Along with her husband, the well-known and respected Prof. Dr. Ferenc Somogyi who died in 1995, they devoted their lives to perpetuating Hungarian cultural values and passing these on to younger generations.

Her most treasured pastime and precious moments were spent in assisting her husband in writing his books, which totaled 29 by the time he passed away. They were an inseparable team, complementing each other perfectly, and sharing the same values and interests in life. "They were truly soulmates," according their son, Lél Somogyi of Parma Heights, and daughter, Ildikó Grisanti of Olmsted Township.

After arriving in Cleveland, she was involved in the monthly publication of the "Vagyunk" (We Exist) news magazine from 1950 through 1956. After the birth of her two children, she and her husband became immersed in the work of the Hungarian Association, a worldwide cultural organization that still functions today putting on both scholarly and popular presentations related to Hungarian topics during its annual 3-day congress held Thanksgiving weekend (www.HungarianAssociation.com).

In her own right, she was a trailblazer, being one of the first woman board members of this organization, during a time when women had not yet come into their own in organizational involvement. Over the coming decades, she was heavily involved in editing, proofreading, typesetting and layout of the 50 annual books published by the Hungarian Association and its scholarly scientific, literary and artistic society, the Árpád Academy, chronicling the many and varied presentations of what became known in 1961 as the Hungarian Congress.

She also worked on the preparation and publication of other Hungarian and English language books by historians, writers and poets, helping to get them published.

Mrs. Somogyi was active in supporting a number of other Hungarian émigré affairs and in various Hungarian American organizations, including the Cleveland Hungarian Heritage Society. She has been a Decorated Member of the Árpád Federation since 1972 and received awards from many other Hungarian American organizations as well.

Sarolta Bonaventura Varga was born in Budapest, Hungary on July 15, 1921. As a child she attended Catholic school, gaining a deep respect and devotion to religious teachings that shaped her views on later career choices. She attended the József Nádor University of Technical and Economic Sciences in Budapest, and later graduated from the Social Welfare Program of the University of Pécs, in southern Hungary. She began her career with the National Foundation for Folk and Family Protection, and served with the Social Welfare Superintendancy in Budapest and Pécs, extending assistance to families in need and with many children.

As a devout Catholic and proud parishioner of St. Emeric Roman Catholic Hungarian Church, she was heartbroken when the Cleveland Diocese closed the church a few years ago and elated when the Vatican intervened and required the Diocese to reopen the long suffering church, most recently saddened by the loss of it long-time pastor.

"She enjoyed gardening immensely, and even in her final years, and at her final residence at a nursing center, always insisted on surrounding herself with colorful live plants," noted her son Lél Somogyi. She was also an avid reader of Hungarian classics and loved poetry.

Sarolta died peacefully on September 3, 2013 at the age of 92 at Royal Oak in Middleburg Heights, OH.

Survivors include her son, Lél Ferenc (wife Mariana) and his son Ferenc Nicolae; her daughter Ildikó Julianna (husband Bruno) and her children Emese Julianna, Tika Lucia (husband Andrew), and Bruno Zoltán; Sister-in-law Ildikó Varga (husband István deceased) and her son István (wife Klári) and their daughter Anita in Hungary; along with many nieces and nephews in the extended family in Hungary; grandchildren Lehel, Hajnal, and Csaba; great-grandchildren Austin, Klatin, Kiera, Kamdin, Kyann and Destin Grisanti (Emese), and Sofia and Avery Krueger (Tika).

The family will receive friends on Saturday September 7, 2013 from 5:00 - 8:00 pm, with a Service at 7:00 pm, at Bodnar-Mahoney Funeral Home, 3929 Lorain Avenue, Cleveland, OH. The Catholic funeral Mass of Christian Burial will be on Saturday September 21, 2013 at 11 a.m. at St. Emeric Roman Catholic Hungarian Church, 1860 West 22nd St., Cleveland, OH followed immediately by a reception in the church hall. Inurnment will be scheduled at a later date for family at Sunset Memorial Gardens in the St. Stephen Hungarian section. In lieu of flowers, the family requests donations to the American Hungarian Friends of Scouting (www.CSBK.org).

By Lél Somogyi
---
September 15, 2013
Hungarian Fall Festival
Noon to 6:00 PM
12027 Abbott Road, Hiram, Ohio

The Hungarian Cultural Center of Northeastern Ohio will sponsor their annual fall festival at their club grounds, , from noon to 6:00 p.m. Featuring Hungarian dance performances by the Cleveland Hungarian Scout Regos Dancers and the St. Elizabeth Festival Dancers. Alex Udvary from Chicago will provide dance music from 2:00 to 6:00 p.m.

Bring a lawn chair and wear your favorite Hungarian outfit to add to this colorful event. All events are open to the public. No pets or coolers please.
---
Through November 30, 2013
From Broadway to Hollywood - Hungarian Songwriters in the early days of the Musical
Times vary
Hungarian Heritage Museum
The Galleria, 1309 East 9th Street,
Exhibit of Hungarian songrwiters and composers whose music appeared on Broadway and in film during the height of the musical productions.
Includes many of your favorite productions which you may not have known were done by Hungarian writers. It is an extensive and very informative exhibit, according to Mike Miller from the Ohio Light Opera, possibly the only one ever done tracing the importance of Hungarian songwriters to the American musical on Broadway and in Hollywood. Andrew Lazar, is the curator who did the exhibit.
Museum is open Tuesday - Friday from 11:00 a.m. to 3:00 p.m. 216-523- 3900
---
Submit your Cleveland Hungarian news and events.
---