2017
Vietnamese Cooking demonstration by Pho Thang Cafe
New to the 2017 Cleveland Asian Festival was a demonstration of Asian cooking. Nancy and Susan from Pho Thang Cafe presented two dishes. They prepared Vietnamese Chicken Cabbage Salad and then Vietnamese Summer Rolls.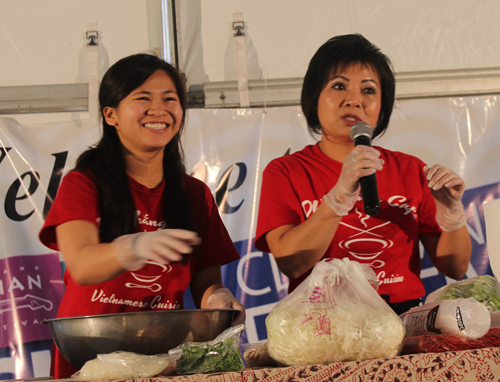 Susan and Nancy from Pho Thang Cafe
See the recipes, photos and videos of Pho Thang Cafe's demonstration
---
Vietnamese history, soldiers and Cultural Garden in Cleveland
Lt. Colonel Joseph Meissner served with the Green Berets in Vietnam. He connected with Miss Gia Hoa Ryan who came from Vietnam in 1971 and formed the Friendship Foundation. Joe tells some of the history of the Vietnamese people (like the Trung Sisters) and Miss Ryan explains the plans for the Vietnamese Cultural Garden which will be part of the Cleveland Cultural Gardens.


---
Escape from Vietnam - A Refugee's Journey to Reach the American Dream
Loi Dang-Nguyen, Ph.D. was the keynote speaker at the 2nd annual ASIA, Inc. Friendraiser at Ariel International in Cleveland. She told how her family, which included 12 siblings, had to suddenly flee the communists in 1975. She told of being part of the boat people and how they arrived in a refugee camp in Florida and eventiually settled in Akron, Ohio.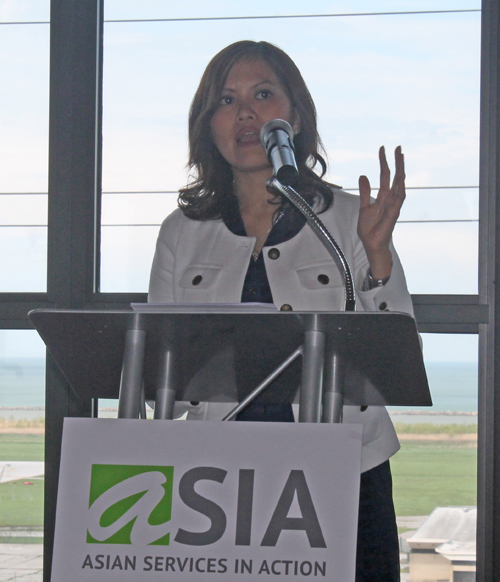 Loi Dang-Nguyen, Ph.D. giving her keynote speech



Dr. Dang-Nguyen told of the cultural issues her family had in their new country and how they have given back to their community.

See photos and videos of the keynote by Loi Dang-Nguyen


---
Call me Father Joseph
After completing some educational charity work in Dien Bien Phu Province in Vietnam, Joe Meissner and his group journeyed to the city of Binh Duong. They became involved in several weddings with some memorable stories.

Read the story of "Father Joseph" and the Vietnamese weddings


---
2016
Health Disparities in Asian Populations
November 10, 2016
Margaret Wong and Associates and Case Western Reserve University joined together to create an evening reception to promote health, education, and awareness to the Asian community in Cleveland. The event featured an educational seminar by Li Li, MD PhD, Mary Ann Swetland Center for Environmental Health at Case Western Reserve University School of Medicine Professor and Director. Dr. Li spoke about Acculturation and Health Disparities in Asian Population.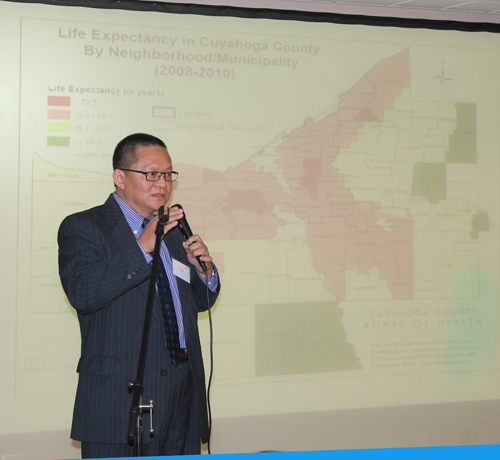 Li Li, MD, PhD speaking on Asian Health
Photos and videos of Dr. Li's presentation on Asian Health
---
Healthy Asian Cooking by Rose Wong
November 10, 2016
Rose Wong founded Pearl of the Orient restaurant in 1978. It was the first to offer Northern and Szechuan cuisine in Cleveland Ohio and continues to be a favorite among Chinese food cognoscenti.

Rose created two healthy dishes and answered questions about woks, soy sauce, MSG and more.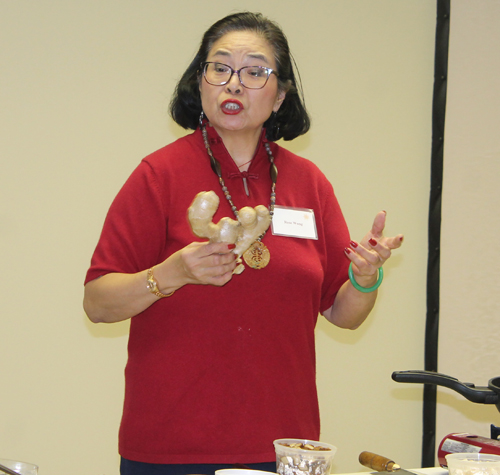 Rose Wong with Ginger Root
Photos and videos of Rose Wong's cooking demonstration
---
Battle of Dien Bien Phu, Psychological Operations, and the Thai People
by Joseph Patrick Meissner
An eleven year old boy kneels beside his bed and studies the pages and maps of the Cleveland Plain Dealer laid out on the bed spread. The ongoing media story for several months has been the titanic struggle at Dien Bien Phu in Northwestern Vietnam. Daily, the Viet Minh Communist forces have tightening their trench line noose around these gallant French forts manned by French foreign legion troops, other French soldiers, Moroccan and African French forces, Vietnamese units of Emperor Bao Dai, and local Thai and tribal groups. The Communists were called the Viet Nam Doc Lap Dong Minh Hoi (League for the Independence of Vietnam)-- or the Viet Minh, as it became known colloquially.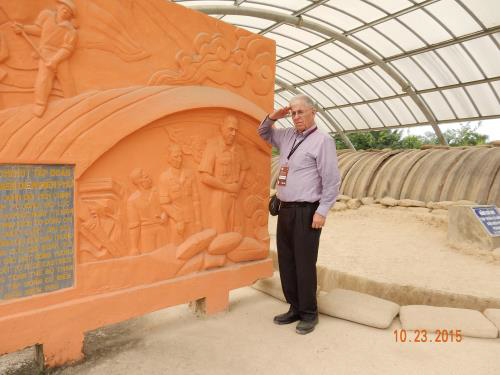 This is concrete relief beside Col De Castries bunker showing brave French defenders. I salute them for their dedication and sacrifice
Read the rest of the essay on Dien Bien Phu
---
Vietnamese Cultural Garden on One World Day
The Vietnamese Cultural Garden and Vietnamese community participated in the 71st One World Day on August 28, 2016. They began with the Parade of Flags.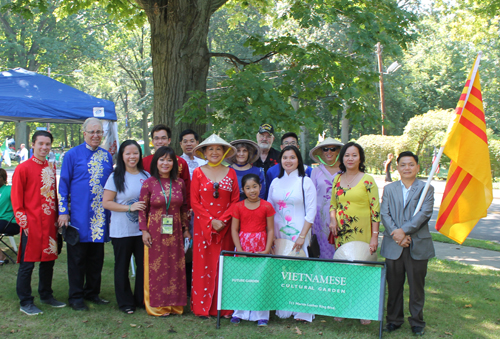 Vietnam in Parade of Flags

Throughout the day members of the Vietnamese community of Cleveland hosted hundreds of visitors in the Vietnamese Cultural Garden and shared Vietnamese food and culture.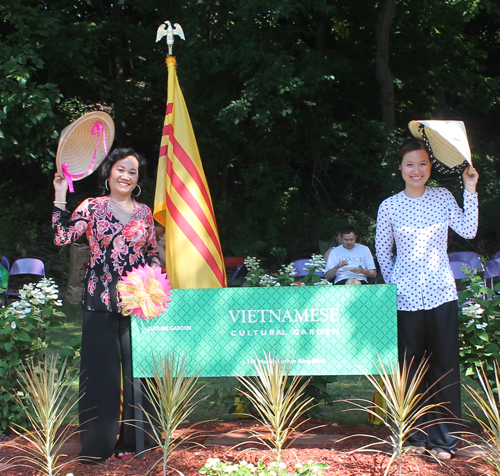 Vietnamese Cultural Garden on One World Day 2016


See more from the Vietnamese Cultural Garden on One World Day
---
Food Adventure to Pho Thang Vietnamese Restaurant
The Cleveland Food Adventurers Passport event in August 2016 was to Vietnam at Pho Thang Restaurant at 815 Superior Avenue East, Cleveland OH.

Owners Henry and Nancy Troung prepared a very special traditional Vietnamese dinner which included four courses: appetizers, soup (pho), entrees and dessert.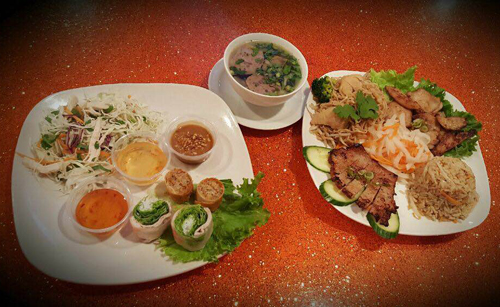 Attendees also enjoyed seeing some of the colorful fashions of Vietnam.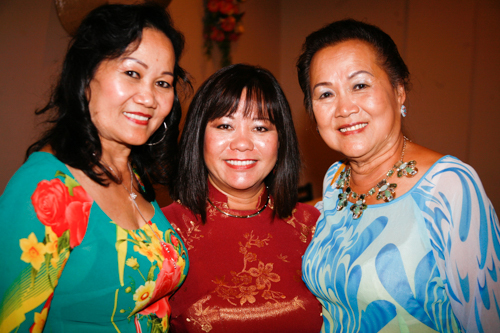 And Vietnam Veteran Green Beret Lt Colonel Joseph Meissner told the story of 4 heroes of Vietnam. The heores were:
The Trung sisters
Trieu Thi Trinh, (Lady Trieu (Bà Trieu))
General Tran Hung Dao
Nguyen Thai
Photos, videos and more from the Vietnam Adventure


---
Cleveland's Asian Immigrant Communities
August 10, 2016
On Wednesday, August 10, 2016, Global Cleveland hosted a panel discussion at the Maltz Museum of Jewish Heritage titled: Begin the Conversation: Cleveland's Immigrant Communities Today: Pan-Asian Community.

Four members of the Cleveland Asian community spoke and answered questions from moderator Jeffery Allen: Gia Hoa Ryan who came to the US from her native Vietnam in 1971, Asim Datta who came from India, Johnny Wu who has lived in Panama, Taiwan and other places and represented the Chinese community and Nupur Goel who is in the 11th Grade at Gilmour Academy. Her parents emigrated from India 20+ years ago.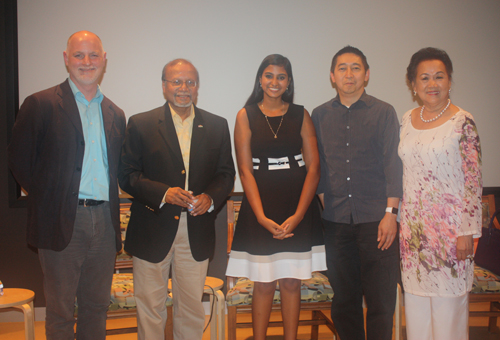 Jeffery Allen, Asim Datta, Nupur Goel, Johnny Wu and Gia Hoa Ryan



Photos/videos of the Asian community panel

Here is a sample video of Gia Hoa Ryan who came from Vietnam in 1971 and told the story of the Cleveland Vietnamese community.


---
Vietnamese Cultural Garden Work Day
The August 7, 2016 project was to clean up the site for One World Day on August 28, Raise the proud Yellow and Red striped Flag of Viet Nam, and Prepare the Cleveland ground for a Beautiful Flower garden. The Morning began with a Salute to the flag by everyone standing at attention, a Review of the Day's Importance, and prayers for all who gave their lives in Viet Nam.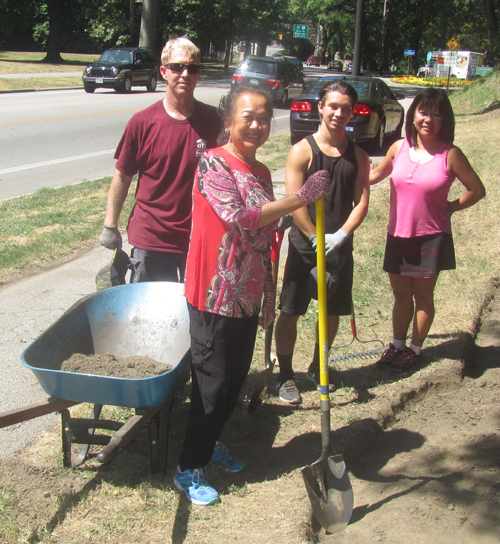 Some of the Vietnamese Cultural Garden work crew
See more from the Vietnamese Cultural Garden Work Day
---
Vietnamese Cultural Garden Benefit Brunch
On Sunday June 26 the Vietnamese Cultural Garden Committee hosted a community event for everyone entitled "BRUNCH A LA VIET NAM" at the Sai Gon Plaza in Cleveland's Detroit-Shoreway neighborhood.

Gia Hoa Ryan, Director of the Friendship Foundation which sponsored the event stated, "Our goal was to educate our entire community about the beautiful Vietnamese garden we are establishing on Dr. Martin Luther King Boulevard. We will join the other gardens that foster appreciation of the many ethnic groups making up our Cleveland. Our garden will proudly display our national flag of the gold field with three broad red stripes symbolizing the North, the Center, and South of our motherland. Our garden will tell the story of the beginning of the Vietnamese people in the marriage of the Mountain Dragon King with the Fairy Princess of the Sea."

The event attracted some two hundred people, representing Cleveland's diversity.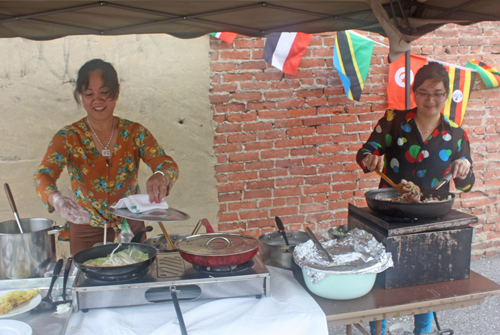 Preparing the delicious food
See more from the Vietnamese Cultural Garden Benefit Brunch
---
2015
Traditional Vietnamese Clothing
A highlight of the 6th annual Holiday Celebration of Cleveland's Diversity held in the atrium of the Global Center for Health Innovation in the Cleveland Convention Center by the International Community Council-Worldwide Intercultural Network (ICC-WIN) was the multicultural fashion show.

Models: Lianana Powell, Marilyn Cassidy, Oanh Loi Powell, Uyen Dam, Michelle Zone and GiaHoa Ryan.

The Ao Dai (Ao Zai) is the iconic traditional clothing of Vietnam. It is fitted, full-length dress worn over loose fitting trousers and dates back to 1744 when Kung Vu Vuong of the Nguyen (Wynn) Dynasty decreed both men and women should wear an ensemble of trousers and gown that buttoned down the front. The modern version dates to the 1930's.

The Ao Dai (Ao Zai) still remains popular and influential in the modern day Vietnamese culture.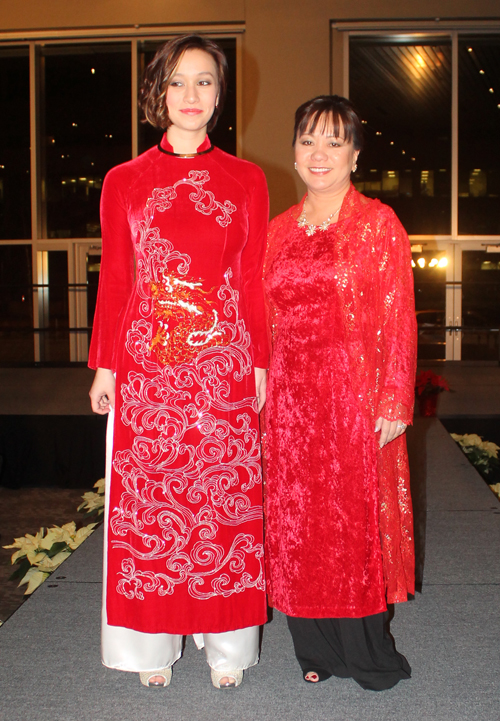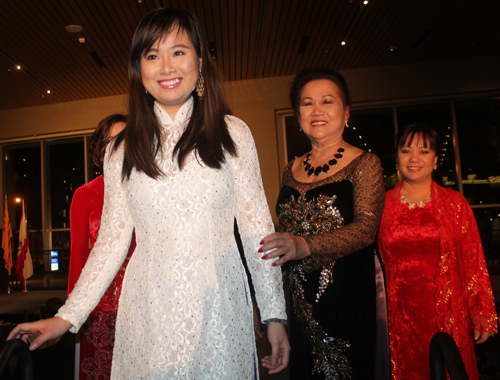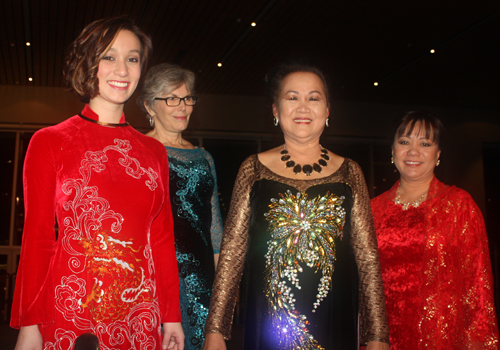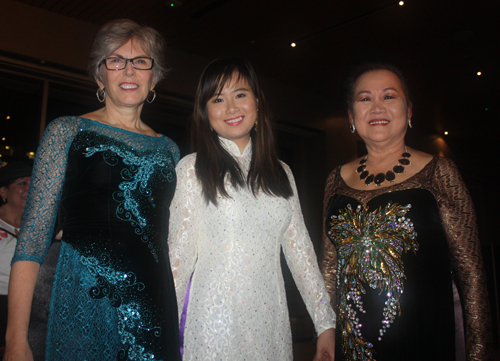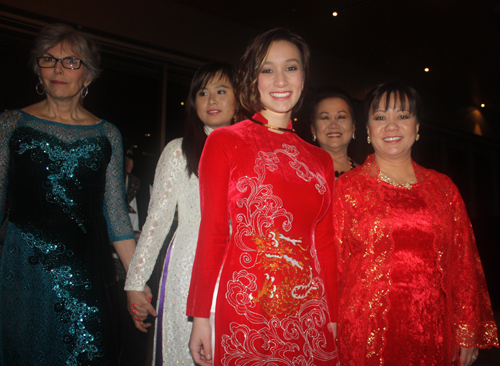 Videos and photos of the International Fashion Show


---
Vietnamese Fashion at Art Museum
Gia Hoa Ryan from Cleveland's Vietnamese community explained the Vietnamese clothing she and her group were wearing to Ken Kovach of ICC-WIN at the Cleveland Museum of Art's International Cleveland Community Day in the Atrium of the museum. This included male and female and young and old.




---
Vietnamese Cultural Garden
Members of the Vietnamese Cultural Garden Committee of the Cleveland Cultural Gardens met at the future site of the Garden. This historic meeting was captured in photos and video.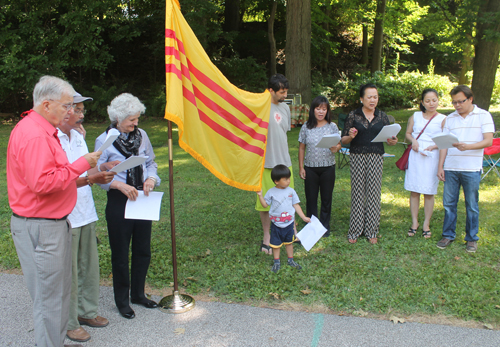 More from the Vietnamese Cultural Garden event
---
Anthem of Free Vietnam (Tieng Goi Công Dân) in Cleveland
Members of the Vietnamese Cultural Garden Committee of the Cleveland Cultural Gardens gathered around a flag at the future site of the Vietnamese Garden on MLK Blvd and sang Tieng Goi Công Dân, which was the national anthem of South Vietnam from 1948 to 1975. It is now called the "Anthem of Free Vietnam".



More from the new Vietnamese Cultural Garden soon


---
Tet Nguyen Dan and a new Morning of Hope
for the Vietnamese-American Community
by Joseph Meissner
This is a Tet Celebration morning. It is Tet Nguyen Danh, the huge festival season for Vietnamese all around the world.

Families will travel from all lands in order to return home at Tet. In Viet Nam they enjoy the warmth and sunshine, while on this Cleveland morning, all is gray with wet mushy snow everywhere. But all still celebrate here with the fruit baskets, the special candies of stringy white coconut, tasty dried fruits, nut-flavored watermelon seeds that you must crack open with your teeth, delicious banh chong cakes packed in the center with all sorts of fillings, "li si" of gaily decorated red envelopes containing new money gifts for the children, and the thin branches of the small flowering yellow buds that especially mark the coming of the New Year.

Read the rest of Joe's experience at the Tet event


---
2014
Vietnamese Fashion at Cleveland Multicultural Event
Representatives from the Cleveland Vietnamese community participated in the International Community Council - Worldwide Intercultural Network's (ICC-WIN) 5th annual multicultural holiday celebration at the Global Center for Health Innovation in the Cleveland Convention Center in Cleveland Ohio. They modeled Vietnamese costumes at the International Fashion Show which featured traditional costumes of dozens of countries.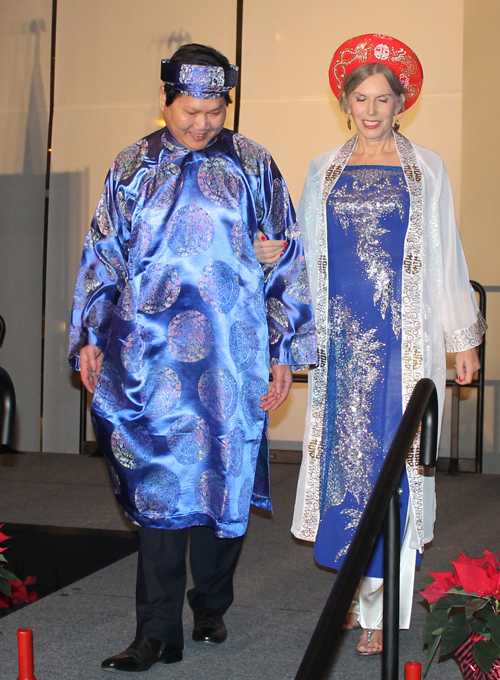 Fashion of Vietnam
Photos and videos of the International Fashion Show
---
Vietnamese at Cleveland Asian Catholic Gathering
About 1000 people celebrated the Annual Mass and Gathering on Sunday, October 5, 2014 at 12 noon at St. Clarence Church. This is the 17th year the event was hosted by the Asian Ministry of the Diocese of Cleveland. It was an afternoon of family celebration of Asian culture and spirituality beginning with the celebration of the Mass with the Most Rev. Roger W Gries, OSB along with priests from the different Asian Catholic communities.

The cultural and ethnic diversity of the Asian Catholic communities assembled at the Mass was reflected throughout the celebration. Members of the various Asian communities came together with their own traditions, dressed in colorful ethnic clothes: shimmering saris, kimonos, karawangs, hanboks, barongs, and ao dai. The entrance procession included Vietnamese drums. During the Mass there was an incense ceremony by the Vietnamese, and the Indian aarti. Hymns were sung by the choirs in various Asian languages: Tagalog (Filipino), Korean, Vietnamese and Hindi (Indian). The readings and the prayers of the faithful were also said in various Asian languages.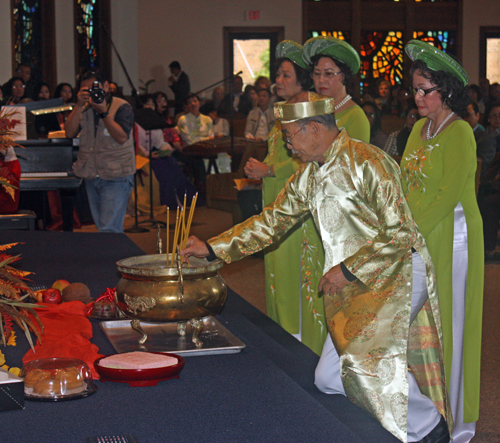 Offertory at Asian Catholic Mass
2 pages of photos and videos of the Asian Catholic Gathering
---
Asian Heritage Day Celebration
Cleveland City Hall Rotunda
May 28, 2014
The City of Cleveland Community Relations Board, led by Asian Liaison Chia-Min Chen, hosted an Asian Heritage Day Celebration on May 28, 2014 in the Cleveland City Hall Rotunda.

Over 60 Asian community groups and organizations participated. Chia-Min Chen called them up to the stage one at a time and each gave an elevator speech explaining their organization. The following Vietnamese groups were represented:
Quan Am Temple of Vietnamese Buddhists of Ohio


Vietnamese Community of Greater Cleveland


Vietnamese Friendship Foundation of Cleveland


Learn more about each organization (and the other Asian groups) including photos and videos of the group leaders at the Asian Organizations in Cleveland pages.


---
Gia Hoa Ryan and Joseph Meissner are currently on another good will trip to Vietnam to help teach and assist with other projects to help the people.

Joe sent this interesting tale from a wedding they attended. Joe said:

We were invited to a local wedding. Couples here consider it good luck to have guests come from afar to wish them well. So Gia Hoa was especially honored and we sat with the groom's family.

There is a wonderful time at a Vietnamese wedding when the couple and their attendants visit each table and they drink toasts and take special photos with the table guests.

So it came to pass that this couple with the bride in a beautiful white dress and her husband in a nice white tuxedo visited our table.

Gia Hoa had a great toast for the wedding couple: "Mot Cham Nam hanh phuc." That means "may you have a hundred years of love and happiness," or in other words, "Blessings forever"

It then came Meissner's turn. So he said, "Co mui hai cong gai va con giai, sau cong gai va sau cong giai."

The couple did not quite understand his Vietnamese, so he repeated it again. "May you have twelve children, six girls and six boys,"

"Oh My God," said the bride in her best English.

We learn later that the Bride's mother was number nine in a family of eleven. Of course Gia Hoa herself is Number One in a family of twelve brothers and sisters.
---
2013
Vietnamese community erects shrine to Our Lady of La Vang
To understand the importance of this shrine to the Vietnamese Catholics, one must only understand that Our Lady often appears when needed most, to provide comfort to those persecuted for their faith as she did in the forest of LaVang in 1798. As Vietnamese Catholics were escaping the onslaught of the communists seeking their destruction, it was their Catholic faith and their belief in Our Lady of LaVang that brought great comfort.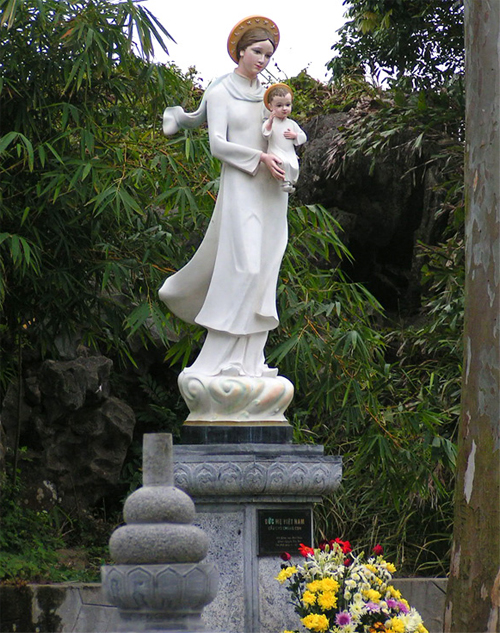 Our Lady of La Vang statue in Vietnam
More on the new shrine
---
40 years after the Vietnam War
Saigon Plaza
September 26, 2013

To celebrate the 40th anniversary of the end of the Vietnam War, the Association of the United States Army (AUSA) (Newton D. Baker Chapter) and Joint Veterans Commission of Cuyahoga County hosted a special event titled: The Vietnam War: A Presentation and a Conversation.

It featured a presentation by Colonel David W. Taylor (USAR-Ret) who is the author of the book: Our War the History and Sacrifices of an Infantry Battalion in the Vietnam War. The event was held at Saigon Plaza in Cleveland and hosted by Lt Colonel Joseph Meissner and Gia Hoa Ryan.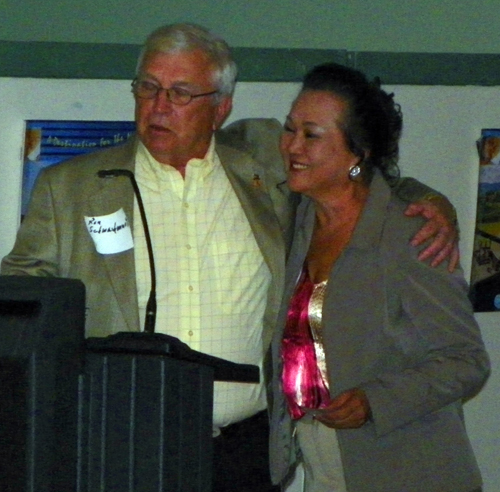 Ron Schwachenwald, president of the Association of the U.S. Army - Newton D. Baker Chapter and Joint Veterans Commission of Cuyahoga County, and Gia Hoa Ryan
---
2013 Cleveland Asian Festival

May 18-19, 2013

The 4th annual Cleveland Asian Festival attracted 38,380 attendees over the weekend of May 18-19, 2013. They spent over $2 million in the AsiaTown neighborhood. There were dozens of performances from local, regional, and national performing groups including headliner Cheesa from NBC's The Voice.

People enjoyed Asian cuisine from over 20 different restaurants and shopping in the World Market which was filled with merchants of Asian themed products while sponsors had informational displays at their tent.

10 pages of photos and videos of the Cleveland Asian Festival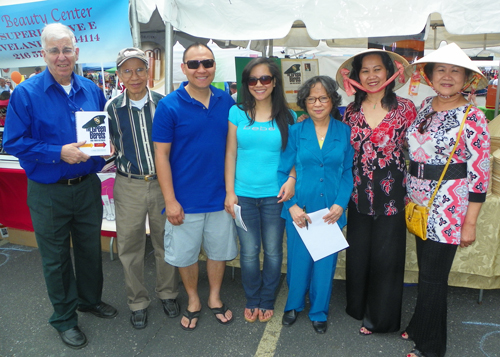 Vietnamese Friendship Foundation
---
Vietnamese Cultural Garden Plot Selection
Cleveland Cultural Gardens
February 11, 2013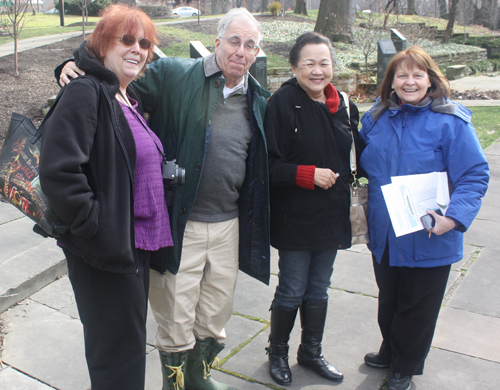 Debbie Hanson, Joe Meissner, Gia Hoa Ryan and Sheila Crawford
---
2012
Congratulations to Le Nguyen, Asian Liaison, City of Cleveland Community Relations Board, who was given a proclamation of appreciation by Mayor Frank Jackson at Asian Pacific American Heritage Day in the Cleveland City Hall Rotunda on May 17, 2012.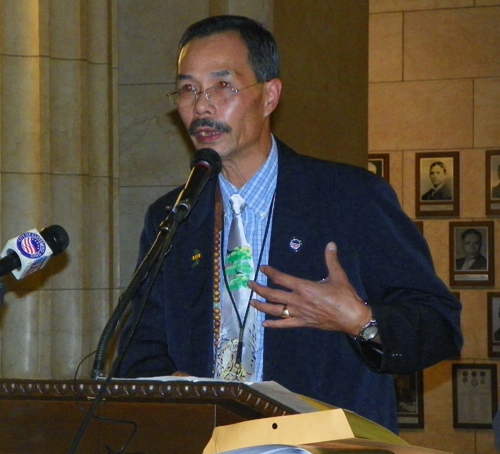 Le Nguyen
More from the event
---
Asian Pacific American Heritage Day
Cleveland City Hall Rotunda - May 17, 2012

A diverse group of Asian Americans (Chinese, Korean, Vietnamese, Indian and others) gathered in the Rotunda of Cleveland City Hall to celebrate Asian Pacific American Heritage Day. In addition to the speeches, entertainment and food, Mayor Jackson gave a proclamation of appreciation to Le Nguyen, Asian Liaison, City of Cleveland Community Relations Board.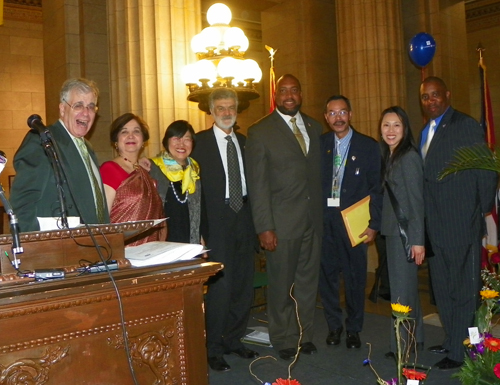 Lt. Colonel Joe Meissner, Mona Alag, Margaret Wong, Mayor Jackson, Blaine Griffin, Le Nguyen, Lisa Wong and Grady Stevenson
2 pages of photos and videos from the event
---
Beyond the Rice Paddies - Book Review
by Linda West
(born Tran Thi Bach Yen Oanh )


The 111 pages of Beyond the Rice Paddies
are organized into a series of 3 or 4 page stories. You will keep saying to yourself 'Just one more' until you realize you have read the entire book.
It is a fascinating look into the world of a young girl in Vietnam in the mid-1960's. Tran Thi Bach Yen Oanh (the author, now known as Linda West) lived with her paternal grandmother, the beloved Ba Noi, in the village of Bien Hoa near Saigon.
The vignettes describe the joys (some American chewing gum, a doll with yellow hair, etc.) and hardships (a toilet comprised of two rickety slats over a maggot and fly infested area) of life in that historic place and time.
The war affects the villagers but not always directly. For example, Young Oanh wakes up one day with 'bubbles' over her one side that they determine were caused by a powder that came from a plane. Bodies are left in the market square to be claimed. Her hut has a dugout area so she and her Ba Noi can hide from the bullets when firefights erupt.
The author tells of the joy of the parade as the "giant-sized" American GIs marched into town to go "Beyond the Rice Paddies' and fight the Viet Cong. She then describes the fear and confusion when only a handful of them limp back a few days later, sans the fanfare.
Her mother worked as a 'bargirl' in Saigon and eventually marries an American who takes Oanh and her brother to the US in 1970. The author is now a real estate broker, a mother of three children and lives in Tucson, Arizona.
It's a fascinating yet humbling book that will make you count your blessings and perhaps look at war and the world in a different way.
---
2011
Gia Hoa Ryan - 40 years in the US
4 pages of pictures and video from the event
Saigon Plaza - November 5, 2011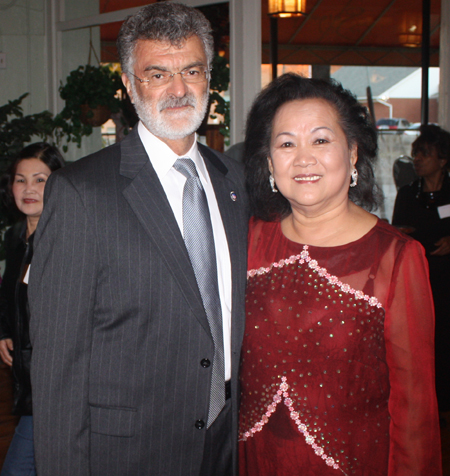 Cleveland Mayor Frank Jackson and Gia Hoa Ryan



Pride in Vietnamese Heritage
---
Giahoa Ryan was inducted into the Cleveland International Hall of Fame in a dinner ceremony on Wednesday May 11, 2011. Margaret Wong inducted Ms Ryan.

Should Asian-Americans change their names to make them easier to pronounce? Watch this eloquent reply from Lt. Colonel Joe Meissner on behalf of Ms Gia Hoa Ryan.






---
2011 Annual Cleveland Asian Festival
May 21-22, 2011
7 pages of photos and videos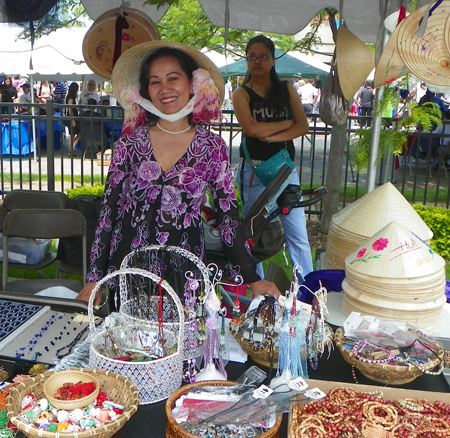 Friendship Foundation Vietnamese Booth
---
Gia Hoa Ryan inducted into the Cleveland International Hall of Fame
May 11, 2011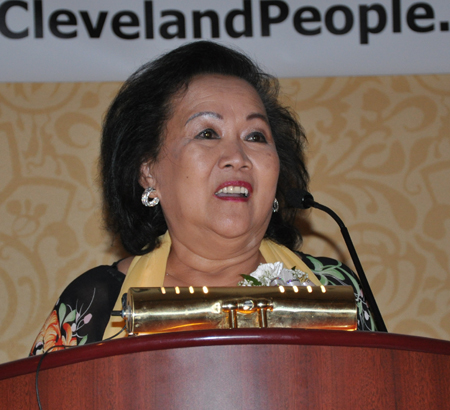 Gia Hoa Ryan at podium at Cleveland International Hall of Fame



Every year I return to my First Motherland of Viet Nam. I go back to see my Mother, visit with my many family still there, and pay honor at my Father's grave site. As the oldest of twelve children, it is my duty to guide and help all of my brothers and sisters, our children and grand children-both in Viet Nam and America-so they may all lead productive and happy lives.

I also go to Viet Nam to carry out the many activities of the Friendship Foundation. Our Foundation mission is "to build bridges of friendship" between the wonderful people of Viet Nam and the wonderful people of America.

In seventeen years of humanitarian work, our Foundation has sponsored over one thousand volunteers to Viet Nam where they have conducted educational, medical, legal, and charitable work. At the same time, we have hosted hundreds of people from Viet Nam--including students, lawyers and business people, and medical and governmental personnel-to come to my Second Motherland of America and to our great City of Cleveland. They come to work, learn, and enjoy time with us.

I thank all of you for this honor of inducting me into the Cleveland International Hall of Fame. I congratulate all the other inductees who richly deserve this achievement.

It is my great dream that we together will find many ways so that all of our diverse peoples can share their talents, traditions, and cultures with each other in peace and friendship.

..From Luong Thi Gia Hoa Ryan
---
2010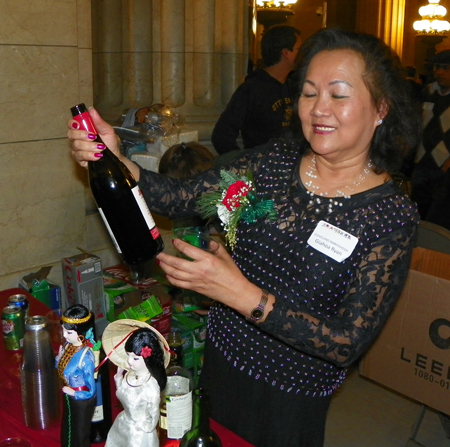 Giahoa Ryan at Cleveland Holiday Diversity Party


---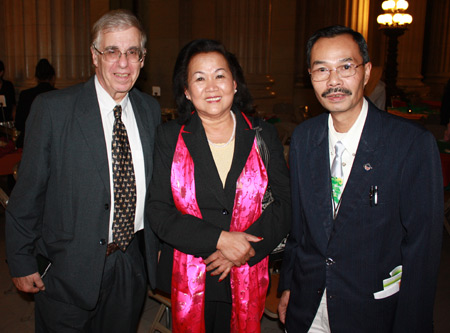 Joe Meisner, Giahoa Ryan and Le Nguyen at Cleveland City Hall for a Diwali celebration
---

Dr. Dieu Thuc Do named to Inaugural Class of Cleveland International Hall of Fame.
The Socialist Republic of Vietnam is the easternmost country on the Indochina Peninsula in Southeast Asia. It is bordered by China to the north, Laos to the northwest, Cambodia to the southwest, and the South China Sea to the east.
With a population of over 86 million, Vietnam is the 13th most populous country in the world.
Vietnam
The conquest of Vietnam by France began in 1858 and was completed by 1884. It became part of French Indochina in 1887. Vietnam declared independence after World War II, but France continued to rule until its 1954 defeat by Communist forces under Ho Chi Minh.
Under the Geneva Accords of 1954, Vietnam was divided into the Communist North and anti-Communist South. US economic and military aid to South Vietnam grew through the 1960s in an attempt to bolster the government, but US armed forces were withdrawn following a cease-fire agreement in 1973. Two years later, North Vietnamese forces overran the South reuniting the country under Communist rule.
Despite the return of peace, for over a decade the country experienced little economic growth because of conservative leadership policies, the persecution and mass exodus of individuals - many of them successful South Vietnamese merchants - and growing international isolation. However, since the enactment of Vietnam's "doi moi" (renovation) policy in 1986, Vietnamese authorities have committed to increased economic liberalization and enacted structural reforms needed to modernize the economy and to produce more competitive, export-driven industries.
The country continues to experience small-scale protests from various groups, the vast majority connected to land-use issues and the lack of equitable mechanisms for resolving disputes. Various ethnic minorities, such as the Montagnards of the Central Highlands and the Khmer Krom in the southern delta region, have also held protests.
(facts courtesy of CIA World Fact Book)


---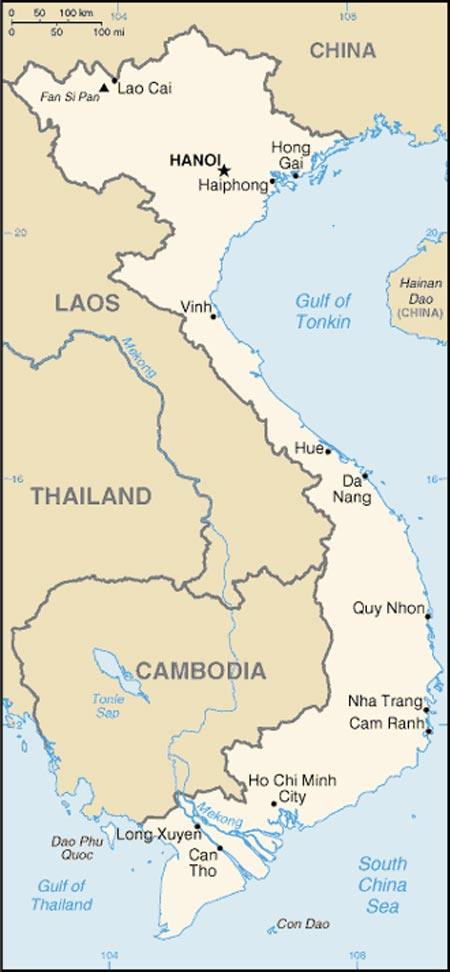 ---
Tell us about the music, food, holidays, traditions, costumes, language and other qualities that make the Vietnamese so special.

Submit your Cleveland Vietnamese cultural items.


---