Tell us about the music, food, holidays, traditions, costumes, language and other qualities that make Ethiopians so special.



---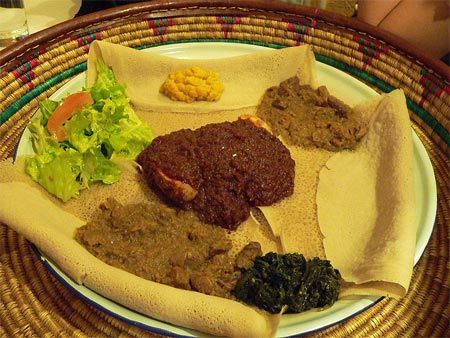 Typical Ethiopian cuisine:
Injera (pancake-like bread) and several kinds of wat (stew)
---
Ethiopia
Unique among African countries, the ancient Ethiopian monarchy maintained its freedom from colonial rule with the exception of the 1936-41 Italian occupation during World War II.
In 1974, a military junta, the Derg, deposed Emperor Haile Selassie (who had ruled since 1930) and established a socialist state. Torn by bloody coups, uprisings, wide-scale drought, and massive refugee problems, the regime was finally toppled in 1991 by a coalition of rebel forces, the Ethiopian People's Revolutionary Democratic Front (EPRDF).
A constitution was adopted in 1994, and Ethiopia's first multiparty elections were held in 1995. A border war with Eritrea late in the 1990s ended with a peace treaty in December 2000.
The Eritrea-Ethiopia Border Commission in November 2007 remotely demarcated the border by geographical coordinates, but final demarcation of the boundary on the ground is currently on hold because of Ethiopian objections to an international commission's finding requiring it to surrender territory considered sensitive to Ethiopia.
(facts courtesy of CIA World Fact Book)


---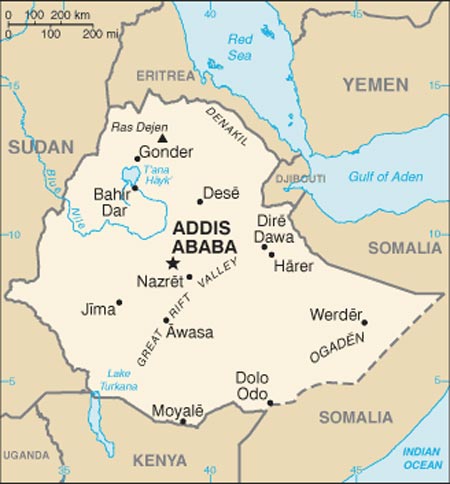 ---
Submit your Cleveland Ethiopian cultural items.
---