Cleveland's Carpatho-Rusyn Folk Ensemble
The Karpato-Rus' Ensemble (KRE) was formed in August 2006. The purpose of the KRE is to promote the culture and values of the Carpatho-Rusyn religious and folk art traditions through dance, music and skits.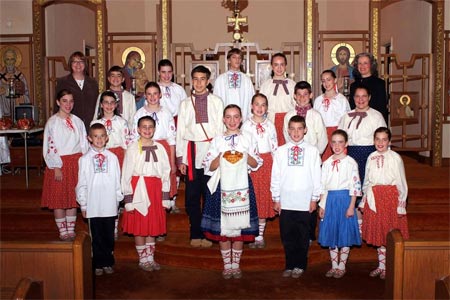 Karpato-Rus' Ensemble October 2008 Performance group
Carpatho-Rusyn Society
The Carpatho-Rusyn Society is a non-profit, 501(c)(3) organization dedicated to manifesting Carpatho-Rusyn culture in the United States and supporting Rusyn culture in the Homeland in east central Europe. It works to educate Rusyns and non-Rusyns about Rusyn culture and history, and to support the development of Rusyn culture on both sides of the Atlantic.
As a membership organization, it boasts over 1,800 members worldwide who support the organization's work through their annual contributions of dues as well as voluntary contributions to funds that support Rusyn cultural development abroad as well as humanitarian aid for Rusyn communities in Europe.
---
Carpatho-Rusyn Genealogy Web Site
Although this site clearly focuses on Carpatho-Rusyn genealogy, it is recognized that the ethnic background of persons from areas where Carpatho-Rusyns lived (primarily where Poland, Slovakia, the Ukraine, and Hungary adjoin or nearly adjoin) is often in doubt. Many other ethnic groups previously lived or now live in this area (Polish, Slovak, Hungarian, Ukrainian, German, Jewish, and others).
Understandably, many persons whose ancestors come from this area are unclear of their ethnic origins. Also, there was intermarriage between such groups before and after immigration. The focus at this web site is on information that may aid those interested in genealogy in tracing their ancestors, all or some of whom may have been Carpatho-Rusyns.
Carpatho-Rusyns have also been known as Rusyns, Rusins, Rusnaks, Ruthenes, Ruthenians, Carpatho-Russians, Carpatho-Ruthenians, Carpatho-Ukrainians and Lemkos.
---
Rusyn Cultural Garden in Cleveland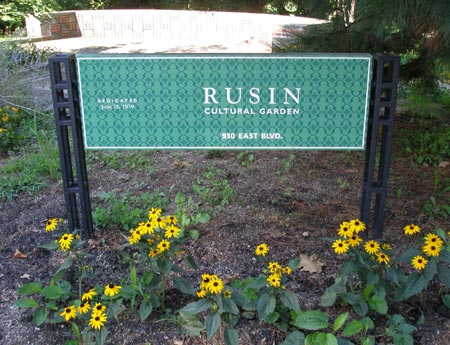 Cleveland Cultural Garden president Paul Burik gives a tour of the Rusyn Gardens and tells of plans for a new statue of Oleksandr (Aleksander) Dukhnovych known for his famous patriotic poem Ja Rusyn Byl, Jesm I Budo (I Was, Am, and Will Be a Rusyn)


Submit your Cleveland Rusyn organizations and resources.