Princeton Prize in Race Relations
Tudor Arms Hotel - Cleveland
May 24, 2012
Cleveland is one of only twenty cities in the nation (and the only in Ohio) to award the Princeton Prize in Race Relations. 2012 was Cleveland's second year.
The purpose of the prize from Princeton University is: "In order to recognize, support, and encourage the young people of our country who have demonstrated a commitment to advancing the cause of positive race relations," annually sponsors an award to a high school student involved in an activity that is helping to improve race relations in his/her community.
A relationship or intended relationship with Princeton University does not factor into the award in any way. The school reaches beyond its own campus to acknowledge and recognize those who are destined to be our next generation of leaders.
The application deadline for the 2013 Princeton Prize in Race Relations is January 31, 2013. Details on the Princeton Prize in Race Relations.
The event was held at the historic and newly renovated Tudor Arms Hotel at 10660 Carnegie Ave. The hotel should be a destination spot for anyone interested in the history of the area. Once a private men's club, this beautiful hotel was also home to The Cleveland Women's Orchestra before they were allowed to join the Cleveland Orchestra.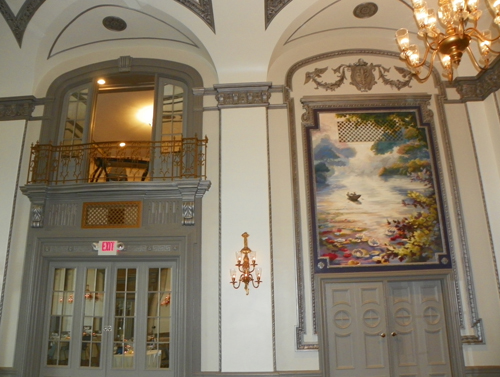 Tudor Arms Hotel



Princeton Prize Cleveland Chapter Co-Chair Sandhya Gupta served as Mistress of Ceremonies for the event.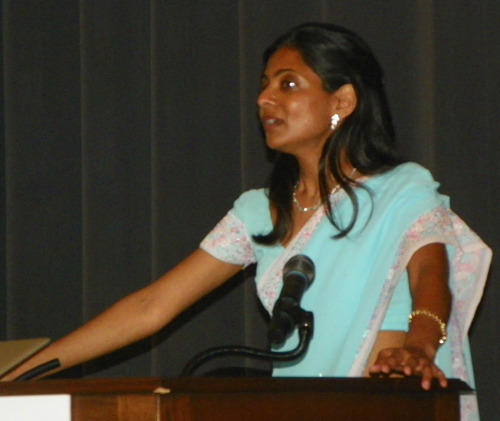 Sandhya Gupta



This year's winner was 14 year old Demi Zhang, an Orange High School ninth grader.

According to the Orange High School website, "Demi won the award based on her efforts to expose the community to Chinese culture through art and music. Her artwork has been entered in professional exhibitions and private collections. For more than four years, she has also performed the Gu-Zheng (ancient Chinese zither) in a professional Chinese music ensemble and has voluntarily performed in many community performances. Devoted to racial and cultural harmony through teaching others, Zhang also runs a Chinese club for neighborhood children."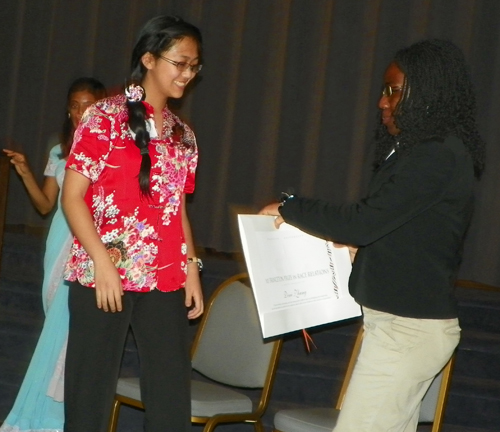 Demi Zhang receiving Princeton Prize in Race Relations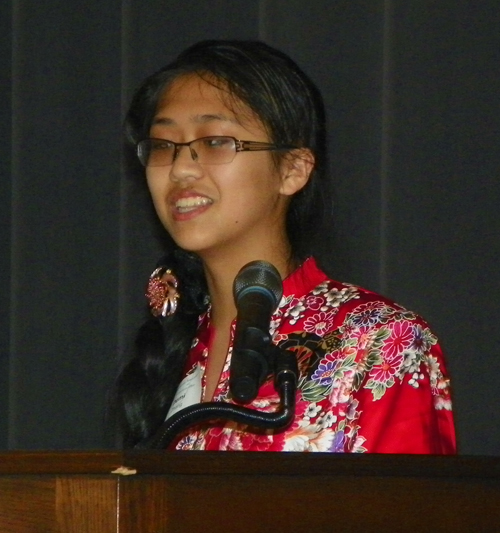 Another Orange High School student was also recognized. Shivangi Bhatia, a sophomore, received a Certificate of Accomplishment. She created a special day to bring awareness to the genocide in Darfur. She says she was shocked to find out what was going on in Darfur and felt obligated to not only act on it, but inform others as well. She created and sold Darfur tee shorts, and raised $500 for the cause and a lot of awareness of the situation.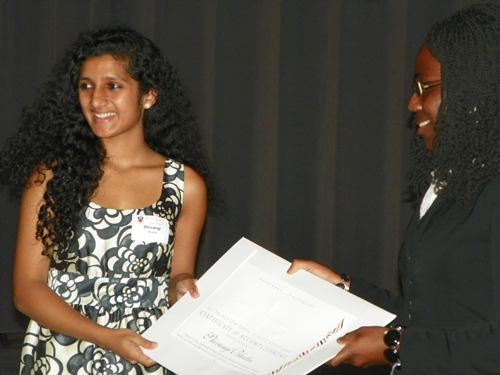 Shivangi Bhatia receiving Princeton Prize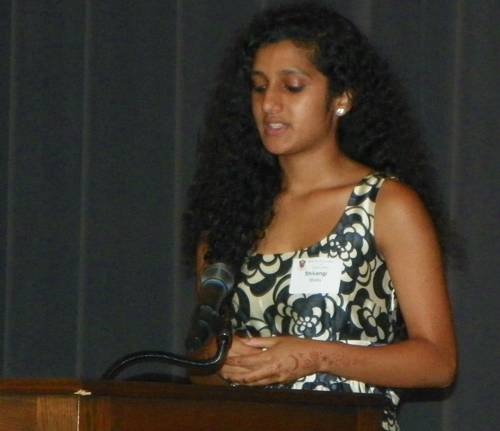 The other recipient of a Certificate of Accomplishment was Prateek Singh, of Solon High School. He came to Cleveland from California. Once here, he realized that his friends took part in racial stereo-typing and generalizations without realizing it. In what they thought was an okay statement they would remark, for example, that "of course Prateek did well in school - he was Asian." Not realizing that regardless of the comment or the intent, stereotyping was still wrong and offensive. He wrote an article for his school paper as well as his community paper and many of his friends and fellow students expressed their gratitude for him calling attention to what they were inadvertently doing.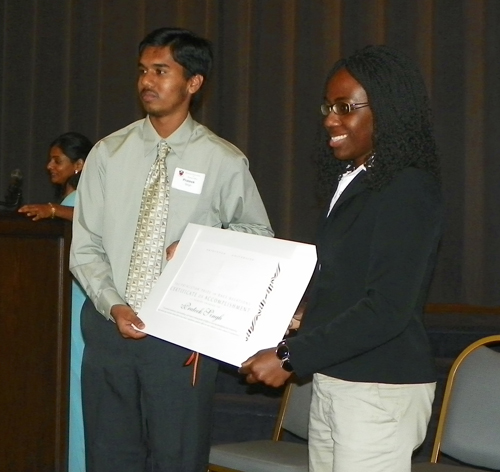 Prateek Singh receiving Princeton Prize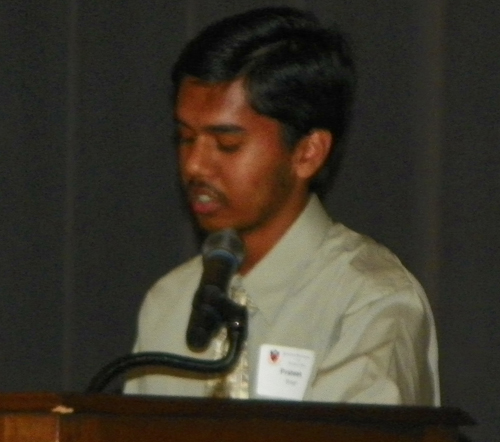 Danny R. Williams, Executive Director of The Free Medical Clinic of Greater Cleveland, introduced the keynote speaker.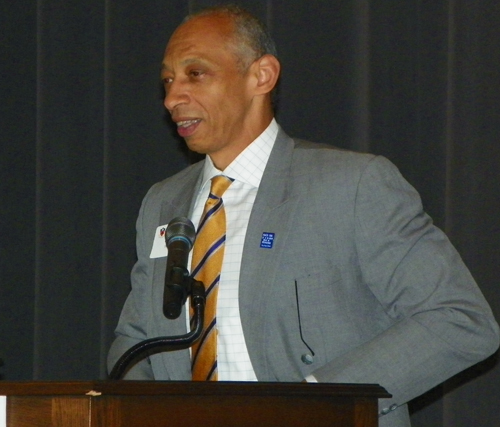 Danny R. Williams



The Keynote address was given by Honorable Solomon Oliver, Jr., Chief Judge United States District Court, Northern District of Ohio. Born and raised in Alabama in the forties, fifties and sixties, he himself experience and lived through racial inequality and prejudice. It was his attitude and the attitude of his family that brought him to the successful and prestigious position he now holds.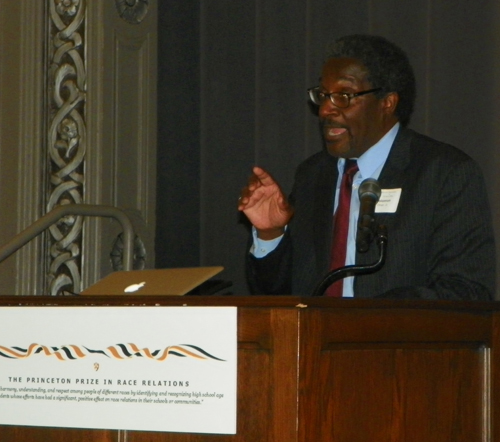 Judge Solomon Oliver, Jr.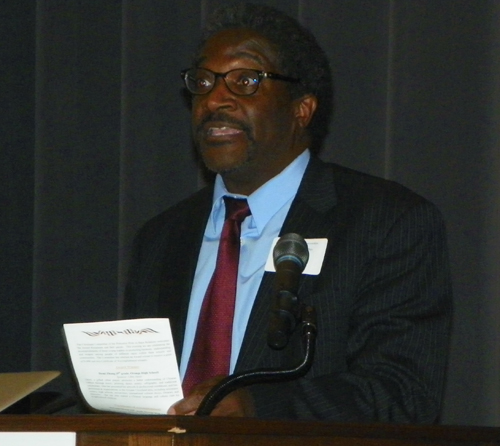 The program concluded with a performance by Demi Zhang on her guzheng (Chinese zither).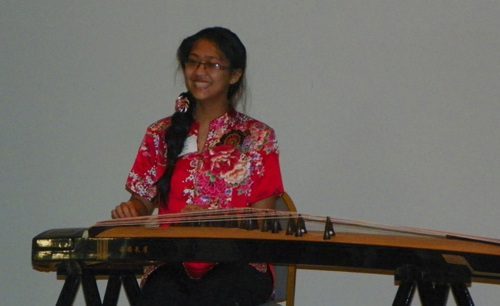 Demi Zhang and her guzheng





Enjoy the other images from the 2012 Princeton Prize in Race Relations ceremony.


Gabe Gordon, Shivangi Bhatia, Demi Zhang,
Prateek Singh and Sahil Jain


---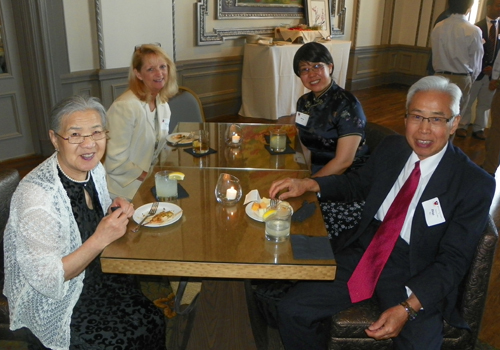 Libby Davis, Bing Xu, Liu and Ying Zhue


---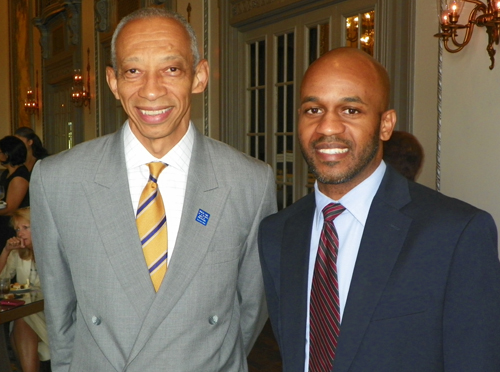 Danny Williams and Terry Lipford


---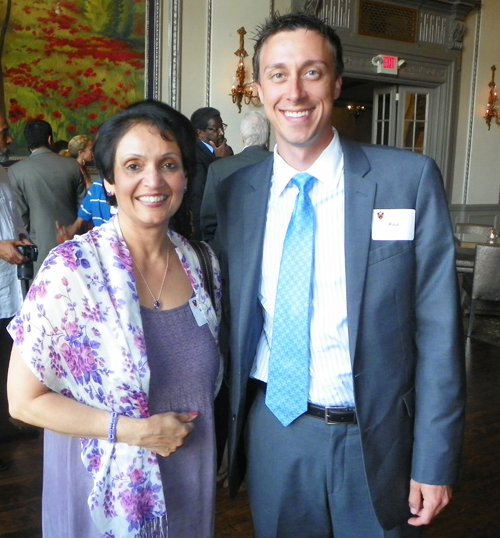 Vandana Marwama and Paul Lucas


---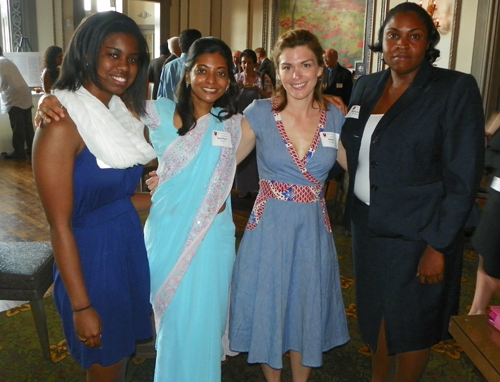 Naja Davis, Sandhya Gupta,
Joslyn Gorstic and Marquettes Robinson


---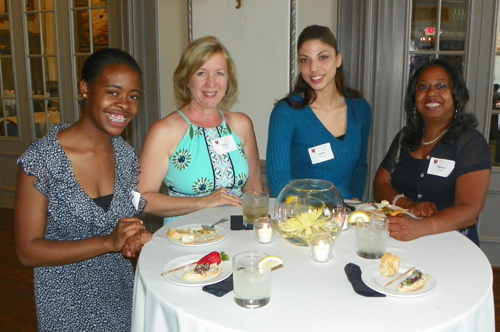 Tiara Sargeant, Alicia Petrella,
Yailee Roman and Kamla Lewis


---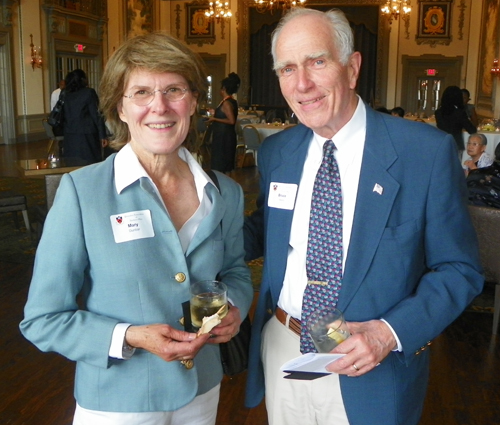 Mary Dunbar and Bruce Akers


---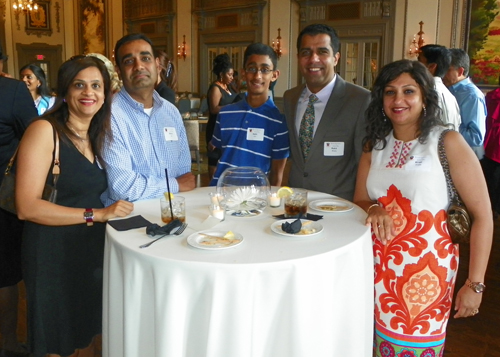 Parul, Steve and Sahil Jain
with Rohit and Kiran Bhatia


---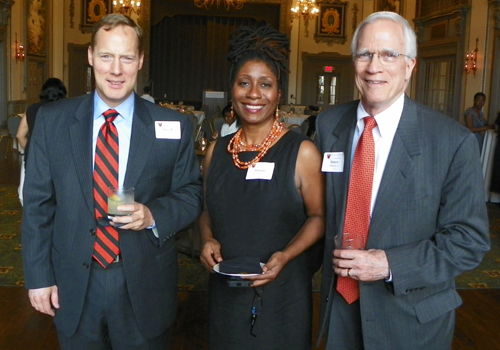 Kevin M White, Carolyn Pugh and Robert Rawson Jr.


---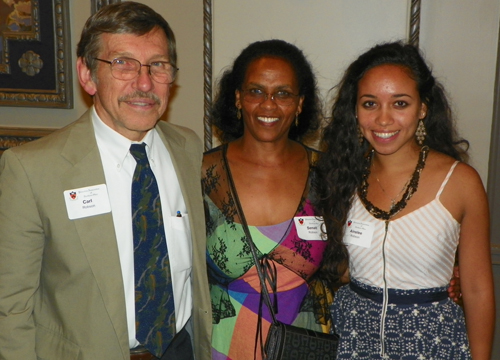 Carl, Senait and Ainslee Robson


---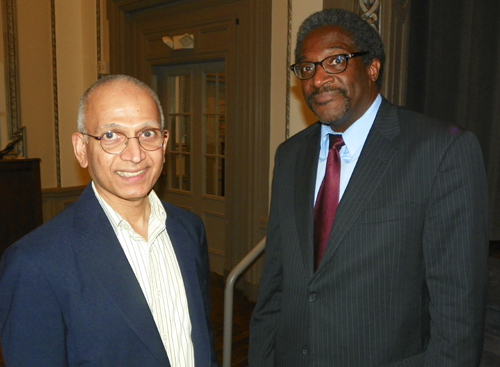 Raj Pillai and Judge Solomon Oliver. Jr.


---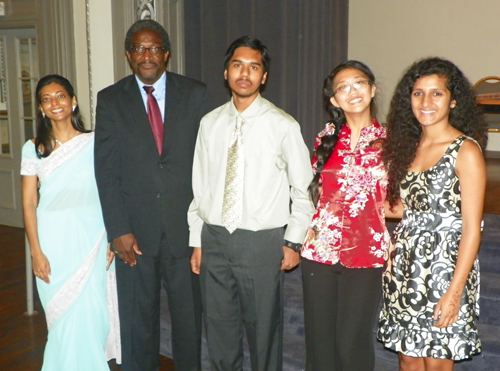 Sandhya Gupta, Judge Oliver,
Prateek Singh, Demi Zhang and Shivangi Bhatia


---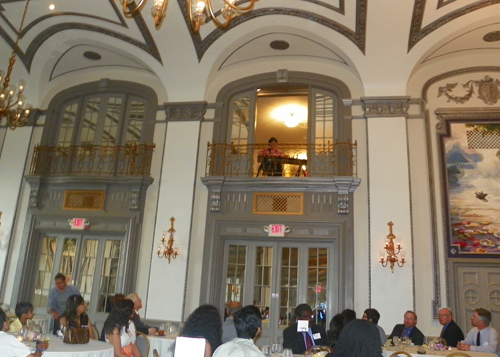 Demi Zhang plays guzheng in Tudor Arms balcony


---
See the ClevelandWomen.Com profile of Demi Zhang
Want to reach thousands of visitors each day?
Your message could be here
Stay informed about the news and special events of the Group(s) you choose by signing up for the free ClevelandPeople.Com e-newsletter




Visit our On-line Store featuring Books, DVDs, Music, Flags, Clothes, Food and more from our various ethnic groups.



---
Want to reach one or more ethnic groups with your products, services or message? Contact us for sponsorship and advertising opportunities at info@ClevelandPeople.Com
---
Follow ClevelandPeople on Twitter or ClevelandPeople on Facebook
---
---