Musical Flavors of the Silk Road
Cleveland Museum of Natural History
June 29, 2014
Celebration of the Traveling the Silk Road Exhibition at the Cleveland Museum of Natural History continued on Sunday, June 29th with a fabulous concert featuring music from the countries of the Silk Road.
Prior to the concert visitors were treated to Indian Kathak dancers and a Chinese Dragon Dance by the Organization of Chinese Americans of Greater Cleveland's Dance Club.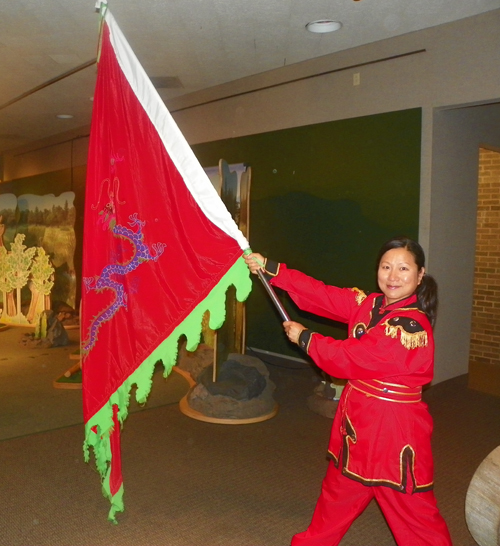 Siu Yan Scott of OCA Dragon Dance team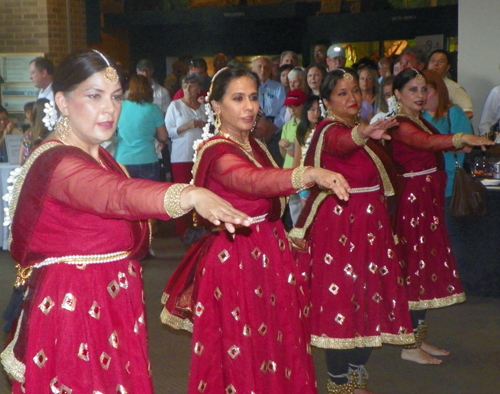 Students of the Anga Kala Kathak Academy



Leading world music and jazz percussionist Jamey Haddad led a group of world class musicians who performed music from around the world and shared insights about their unique instruments.

The musicians have recently performed with the likes of Sting, Simon and Garfunkel and Yo-Yo Ma. They represented their native lands of Pakistan, Afghanistan, Morocco, China and India.

Students of the Anga Kala Kathak Academy performed in the lobby of the Cleveland Museum of Natural History before the main performance.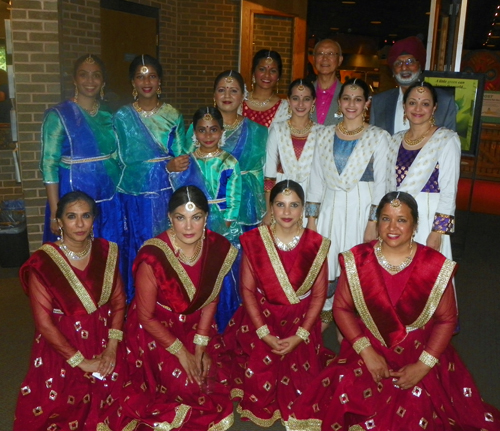 Students of the Anga Kala Kathak Academy
with Anthony Yen and Ratanjit Sondhe



Kathak derives its name from Katha, the art of storytelling. Likely originating in the 3rd century, this form of Indian classical dance absorbed features of Persian and Central Asian dance. The owner and president of Anga Kala Kathak Academy, Antara Datta, has brought this classical dance style to Greater Cleveland.


Jamey Haddad was born in Cleveland, Ohio and fresh off a US tour with Sting and Paul Simon. He is regarded as a leading world music and jazz percussionist. In 2012, Haddad was voted The Top World Percussionist in Drum Magazine. Haddad regularly collaborates with other musical acts such as Simon and Garfunkel and Yo-Yo Ma.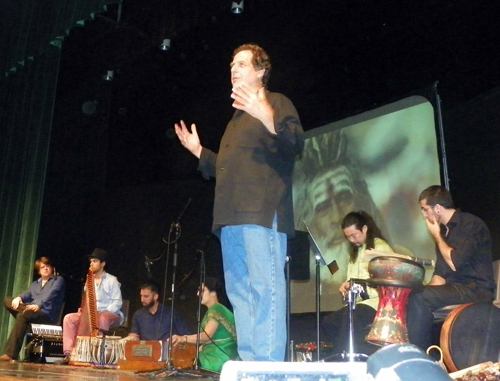 Jamey Haddad



He introduced the diverse musicians at a musical performance at the Cleveland Museum of Natural History for the Traveling the Silk Road exhibit. Jamey Haddad said "In a troubled world I look to the musicians to find truth and harmony."

Sugata Chatterjee was born in Calcutta, India. This classic Hindustani vocalist has cultivated a systematic and disciplined training from her childhood days under the able guidance of Guru Satya Ranjan Chatterjee.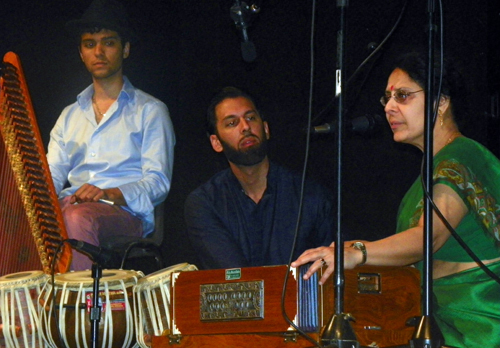 Sugata Chatterjee



Her versatility now includes Hindustani Khyal, Bhajan, Thumri and Ragpradhan.

Jamey Haddad led the diverse musicians in a jazzy jam.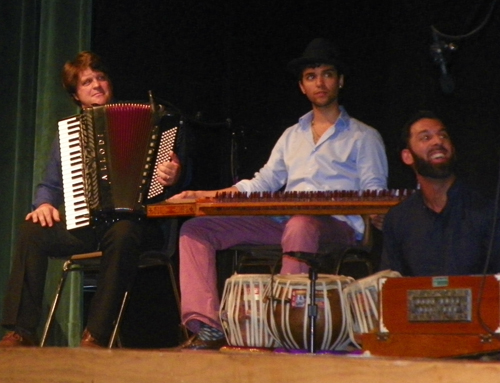 The musicians included Jamey Haddad, Michael Ward-Bergeman, Ali Amr, Yazhi Guo, Salar Nader, Tareq Rantisi and Sugata Chatterjee.
Haddad said that when musicians from other cultures meet, the first thing they do is find what's unusual and then find what's common. He told of being "kidnapped" on the World Music path.
Salar Nader was born in Hamburg, Germany and began studying with the legendary tabla virtuoso Ustad Zakir Hussain at seven years of age. Nader collaborated with Afghan novelist Khaled Hosseini on the stage adaptation of The Kite Runner and co-founded the Afghan music ensemble SARA, featuring percussion, dance, vocal and instrumental elements.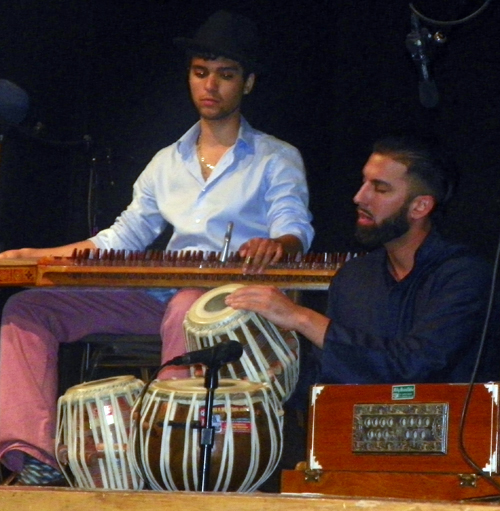 Salar Nader

He explained the different parts of the table and told and demonstrated the different sounds it makes.





Salar Nader then introduced a new Afghan song that the diverse musicians performed at the Cleveland Museum of Natural History for the Traveling the Silk Road exhibit.

Ali Amr was born in Morocco and now lives in Palestine. Ali Amr debuted as a qanun prodigy at 12 years of age and has earned overwhelming international recognition for over a decade. Amr's compositions span a variety of genres including classical music, flamenco, jazz and electronica. A Qanun is an Arabic zither instrument with 76 strings. He joked that he spends half his life tuning it.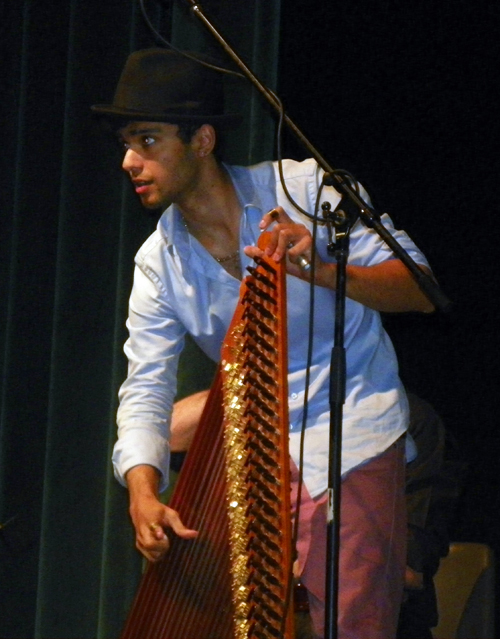 Ali Amr



Tareq Rantisi is a percussionist who was born in Jerusalem, Palestine. This self-taught artist began his percussion career at 12 years of age. Rantisi received the Al-Qattan Foundation Music Scholarship to attend the prestigious Berkeley College of Music in 2008. Graduating with honors in Percussion Performance, Rantisi performs with many modern musicians, composers and ensembles.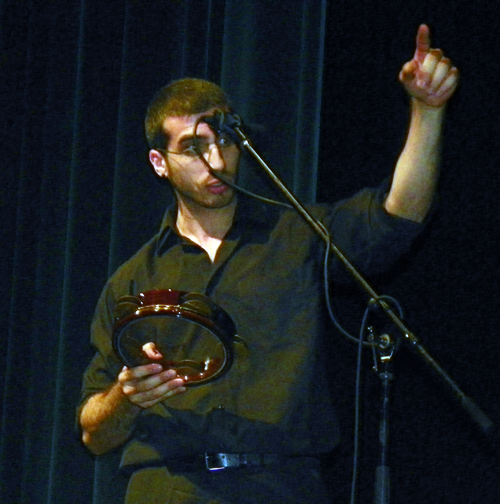 Tareq Rantisi



He explained the Arabic tambourine, a classical Arabic instrument with a high pitch and 4 different sounds. It is "a frame drum that jingles - the original snare drum."



Tareq played the Arabic tambourine and Ali played the Arabic zither, the qanun, in this 10 beat cycle song.



Michael Ward-Bergeman is an accordion master from New York. From his classical creations on stages across the world to the roots music projects of his trio Groanbox, Michael Ward-Bergeman brings extraordinary inventiveness and deep respect for the past to all of his work.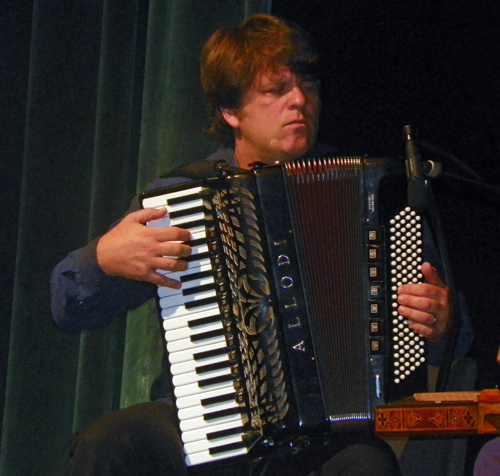 Michael Ward-Bergeman

Ward-Bergeman invented the hyper-accordion, which uses digital signal processing to enhance the sound with a multitude of effects. He explained the bellows and reeds of the accordion or squeezebox.



Yazhi Guo is from Suona, China. Best known for his invention of the suona with a removable reed, Guo served as principal suona performer for the Hong Kong Chinese Orchestra from 1999 to 2011.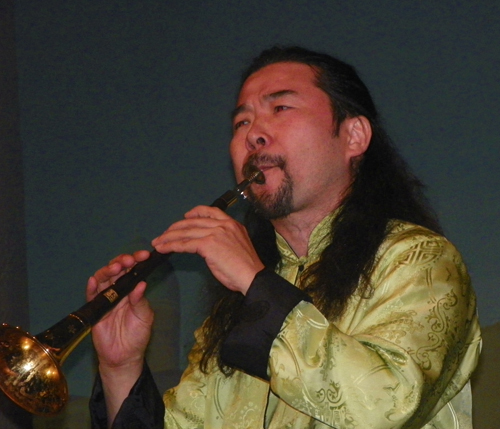 Yazhi Guo



Guo won a Hong Kong Arts Development Award for Best Artist (Music) in 2012. He explained and demonstrated various ancient Chinese horns and reed instruments.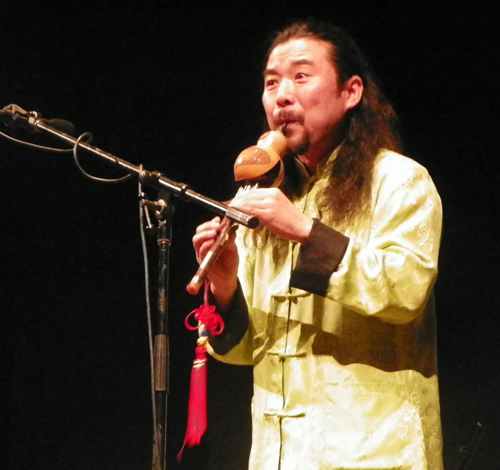 Guo's performance on various Chinese horns led the final song.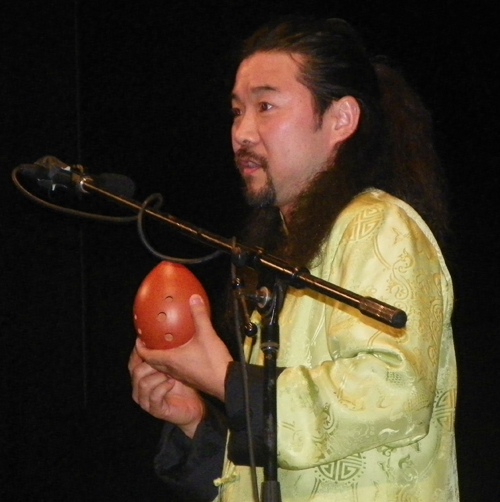 Yazhi Guo
Tareq Rantisi and Jamey Haddad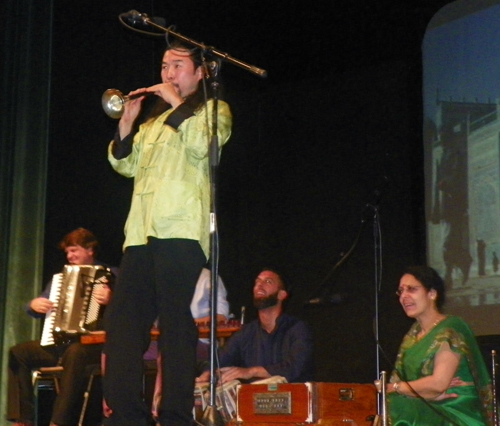 The musical journey along the Silk Road was an amazing event - worthy of the world-class exhibit. The Exhibit continues at the Cleveland Museum of Natural History through October 5, 2014.
Highlights from the Traveling the Silk Road Exhibit

Top of Page

Back to ClevelandPeople.Com Community and Special Events