Section 1: Introduction
An eleven year old boy kneels beside his bed and studies the pages and maps of the Cleveland Plain Dealer laid out on the bed spread. The ongoing media story for several months has been the titanic struggle at Dien Bien Phu in Northwestern Vietnam. Daily, the Viet Minh Communist forces have tightening their trench line noose around these gallant French forts manned by French foreign legion troops, other French soldiers, Moroccan and African French forces, Vietnamese units of Emperor Bao Dai, and local Thai and tribal groups. The Communists were called the Viet Nam Doc Lap Dong Minh Hoi (League for the Independence of Vietnam)-- or the Viet Minh, as it became known colloquially.
The eleven year old knows this is a historic battle. It began in November 1953 when the French parachuted in six battalions of their best soldiers to establish a "Hedgehog" or entrenched fortified base as part of the Navarre Plan devised by the overall Indochina French Commander General Henri Navarre to defeat the Communist Viet Minh led by the inspirational Ho Chi Minh and strategy-genius General Nguyen Giap. The eleven year old, despite his youth, fears the French and their Allies--and there are many Vietnamese who do not want Communist rule and side with the French-will lose this crucial battle and the strategic Indochina area to the Communists.
It is essential for understanding the Viet Minh-French struggle that we simultaneously remember what is happening during this same period around Indochina. There is the ongoing struggle of the British against Communist guerillas in Malaya; the three-year-old-just-ended Korean "Police Action" in which the North communist Koreans almost conquered the South Koreans; and the Philippines where Government leader Ramon Magsaysay (assisted by the legendary General Edward Lansdale) is fighting the Hukbalak Communist guerrillas who control much of the countryside.
The eleven year old as you might have guessed was me. For sixty years I have wanted to visit these historic Dien Bien Phu battlefields far in the northwestern area of North Viet Nam near Laos. I have wanted to walk the hills and valleys, see the trenches and bunkers, and recall all of the courage shown by those who fought on both sides. Finally in November 2016, after making several earlier attempts to travel to the remote region, I have an opportunity. The Executive Director of our Foundation, Ms. Gia Hoa Ryan, has made special arrangements through a young travel agent in Sai Gon for me to travel to this historic area.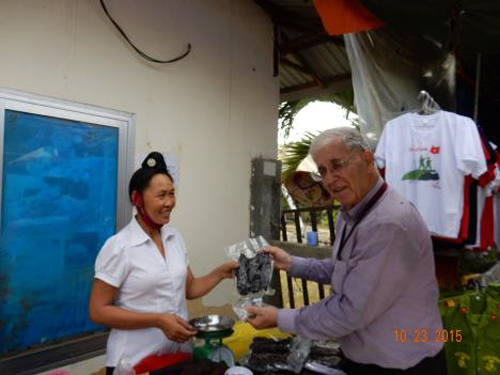 I buy some meat jerky from Thai Lady salesperson just outside Colonel DeCastries Bunker at Dien Bien Phu. Notice the high bun in her hair which indicates she is married


I fly from Sai Gon to Ha Noi, and then from Ha Noi to Dien Bien Phu. I could have traveled by car on the long winding road from Ha Noi northwest to Dien Bien Phu. Today this is a much improved highway where buses and cars can easily go, but it is still at least an eight to ten hour car trip through the mountains. By the way, this route could never have been used by the French to resupply their Dien Bien Phu base. Travel time, a very rough surface filled with deep potholes, and many enemy opportunities for ambush from the hills cut off such a logistics route, leaving the French with only air transportation.

So I take the approximately one hour plane trip which lands on top of the very airfield once used by the French until cut off by Viet Minh artillery and antiaircraft weaponry. As we land safely, I remember the pilots who risked their lives to fly in supplies and reinforcements for the French. Two very brave American pilots flew numerous missions to help the besieged until each was killed during the battle: James P. McGovern and Wallace A. Buford.

Section 2: Importance of the Battle of Dien Bien Phu

Even only eleven years old, I knew the importance of this battle. My view has been confirmed by many other eminent historians. Here is one evaluation:

Dien Biên Phu was the climactic confrontation of the First Indochina War between the French Union's French Far East Expeditionary Corps and Viet Minh communist-nationalist revolutionaries. It was, from the French view before the event, a set piece battle to draw out the Vietnamese and destroy them with superior firepower. The battle occurred between March and May 1954 [actually started in November 1953 with French parachuting into area] and culminated in a comprehensive French defeat that influenced negotiations over the future of Indochina at Geneva. Military historian Martin Windrow wrote that Dien Bien Phu was "the first time that a non-European colonial independence movement had evolved through all the stages from guerrilla bands to a conventionally organized and equipped army able to defeat a modern Western occupier in pitched battle."
Colonel DeCastries Command Bunker now protected by overhead canopy



Secondly, because of the French defeat, northern Viet Nam was taken over by the Communists. The United States, as the French were leaving Indochina, took over supporting the non-Communists, including President Ngo Dinh Diem and his South Vietnamese government. . Eventually this involvement would lead to the Second Indochina War, dubbed the "American War" by the Vietnamese. A book entitled Battles and Campaigns in Vietnam by Tom Carhart focuses on American involvement with this important nation. The book begins with the Battle of Dien Bien Phu which is quite right, even though American foot soldiers did not directly participate, other American military did. The second battle discussed in this excellent book is the Ia Drang Valley in 1965 when the American 1st Cavalry (Airborne) fought with regular NVA troops. So it is a straight trajectory from the French defeat to later when all of us American soldiers wound up at such places as Khe Sanh, the Iron Triangle, Hamburger Hill, and Da Nang among others. Thus Dien Bien Phu is not only important for history writers, but for each of us soldiers including myself who served in Viet Nam. Moreover there are 58, 000 Americans who sacrificed their lives in this war to keep South Viet Nam free and independent. So for us Dien Bien Phu is extremely important at a very personal level.

Thirdly, US military involvement in Viet Nam began in the 1940's and eventually included Dien Bien Phu and then continued all the way until the Fall of Sai Gon on April 30, 1975. But this war is not over. We may think the Viet Nam War or "American War" was concluded on that final day when the last helicopter lifted off the building top in Sai Gon, but Viet Nam has continued to haunt our American foreign policy for the last forty years. Moreover it is my prediction that this Viet Nam shadow will continue for the next century.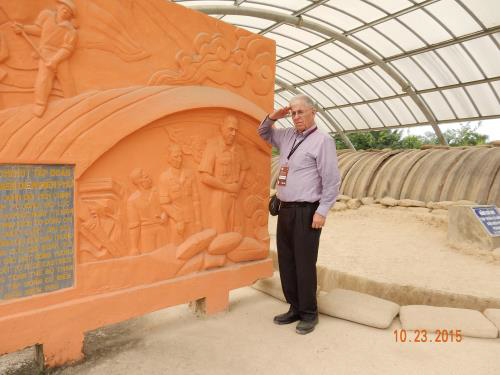 This is concrete relief beside Col De Castries bunker showing brave French defenders. I salute them for their dedication and sacrifice



Let me explain. We can ask, "Who won the Viet Nam War?" I have my views which may differ from many others. But the issue is even more fundamental than chalking up standings for winners and losers. I believe there will be many more conflicts, including military, involving Asia in our future. These will center around the United States and China. Other countries in the region will be compelled to shape their foreign policies, trade, and other economic activities around such conflicts.

So if you were one of the surrounding nations, such as South Korea or the Philippines, how much trust would you place in America, our treaty commitments, and our promises?

President Richard Nixon and his National Security Adviser Henry Kissinger swimming in a sea of antiwar protestors and anti-Vietnam Senators and Representatives, did the best they could so that America could reach an honorable peace settlement. The administration did not want to find itself pushed out of Viet Nam, or having to beg for the return of our prisoners, or -as even many in America advocated--undermining our allies of the Saigon Government and President Thieu. But even at the best, we signed an agreement in 1973 which while our prisoners came home and the treaty called for a truce in South Viet Nam, that still left almost 200,000 North Vietnamese enemy troops within South Vietnam's borders.

Eventually, whether it was because of our governmental weakness caused by Watergate, a crisis in our national leadership, or the military failures of the South Vietnamese forces, the entire Indochinese peninsula was loss to the Communists. It is hard to call this an American victory. Even though we never surrendered, still the Communist side had gambled and held on to take over. So the entire world could see there were limits on what we would do even to helping a staunch ally deep in trouble. The word "ally" covers not only the Sai Gon Government in 1974-75 but the French and their other allies at Dien Bien Phu in 1953-1954. Bottom line: there were and are limits on our resources, resolve, and capabilities.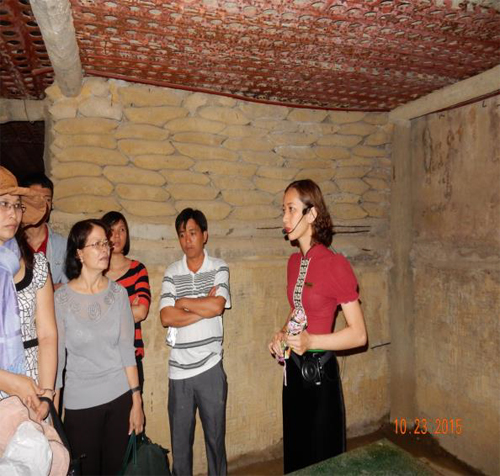 Vietnamese guide in De Castries Bunker explaining the battle to the tourists

.



So again the question, based on such history of Dien Bien Phu in 1954 and Saigon of 1975, how far would you risk your nation based on the promises, treaties, and commitments from the United States, if China was the adversary? This very question shows that Dien Bien Phu still influences our future, and the War in Viet Nam is really not over.

Section 3: Goal of this Article

It would be impossible for me to review the entire battle which began with the French Airdrop in November 1953 and lasted until May 7 1954. There were so many people on all sides as well as so many aspects to the fighting that not even two inch thick books as authored by the famed Bernard Fall or very knowledgeable Jules Roy can do full justice to this battle.

What I have decided to do in this article is to focus on some of the psychological warfare aspects of the fighting, particularly as these involved the Thai People. ("Thai"--which refers to a very special people who have their own written and oral language including terms for themselves-can be spelled in many ways, such as Tai, Thai, Tay Thanh, Man Thanh, Tay Muoi, Tay Muong, Hang Tong, Tay Do and Tho. I will also raise some issues of French mistreatment of the Thai which even today over sixty years later are still not forgotten and which will affect the future.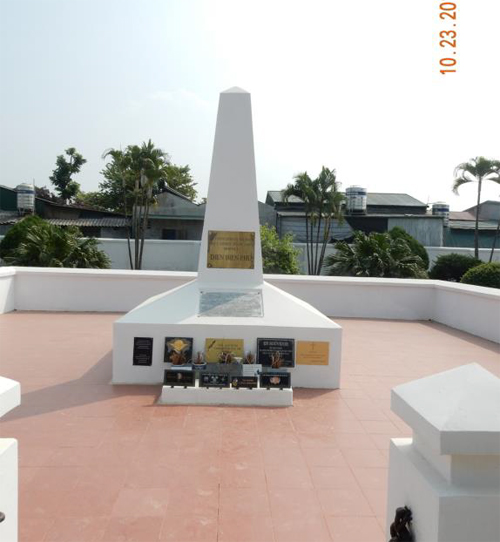 This is a shrine at the battle site dedicated to all the French soldiers who fought and died which included soldiers of German and other backgrounds. Here are plaques left by various people who came to honor the French and other Allied soldiers.
Section 4: Propaganda and Psychological Warfare
We must begin at the beginning. When we Westerners use the terminology of Propaganda and PSYWAR or PSYOP, we have a very different set of ideas than those entertained by the Viet Minh and the Communists when they use these terms. For the Viet Minh, the Military is subject to political control. Every unit down to company level has political officers who are the most influential element in military structure, having even veto power over their military counterparts. (Emphasis provided.) Can anyone picture a US PSYOP officer being able to countermand the orders of his/her unit's commander? That sentence hardly deserves a question mark. The Viet Minh military historically begins with the concept of an Armed Propaganda Team and the formation of such units.
Central to the concept was the new military institution labelled the Armed Propaganda Team, which even today is not appreciated outside of Vietnam. The first of three Armed Propaganda Teams was formed that autumn [of 1944] in the Dinh Ca Valley of Cao Bang -- thirty-four persons with Giap in command. It was armed, Giap wrote later, with two revolvers and thirty-one rifles, of which fourteen were flintlocks that had seen action in the Russo-Japanese War. The date was 22nd December 1944, now observed as the birth date of PAVN [People's Army of Viet Nam].
I kneel and pray to honor these brave men who opposed the Communists at Dien Bien Phu.


The following is a fairly lengthy explanation about Armed Propaganda Teams but this is necessary so we can understand how propaganda (PSYOP) fit into what the Viet Minh and Ho Chi Minh were trying to accomplish.

The concept of the Armed Propaganda Team is well-named providing the term propaganda is accepted in its proper Leninist meaning (i.e. of correct advertisement of the cause to the people) and not with the usual Western definition. The teams were "armed" but only for defensive purposes or for occasional spectacular military gestures to advertise the cause. The teams were never to use weapons to intimidate the villagers, for that was self-defeating. Teams went into the villages of Vietnam to energise and motivate, to raise the villagers' revolutionary consciousness, not by threat or use of force, only by means of communication and persuasion. Changed villager outlook, however, could not become permanent unless the villager was enmeshed in a Party-guided organisational net. Hence, although the team's purpose was mobilisation, most day-to-day activity was organisational. The villagers, of course, were parochial, suspicious, often hidebound traditionalists. It was no easy task to break the communicational ice, and only gifted cadres seemed to be able to do it well.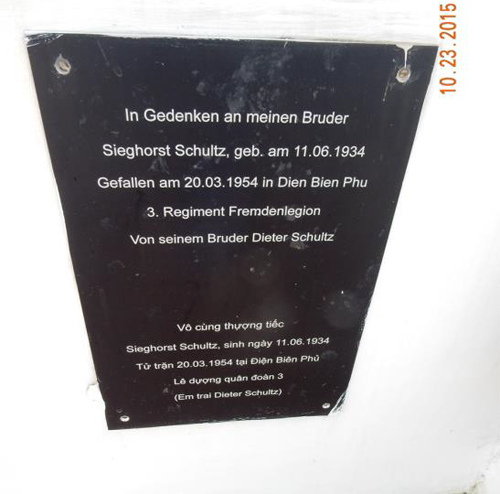 "In honor for his brother" who fought and died in the French Foreign Legion.



Establishing operational revolutionary organisations in the villages was even more difficult. The standard approach was to find a few villagers, usually young and attracted to the cause, recruit them as organisers, and build a village structure around them. Then the team would depart for the next village, to return in a few months for further developmental work or, if necessary, to begin all over again. Sometimes the teams were betrayed, but they pressed the campaign. Soon the seeds of organisation began to grow, and in some, but not all, of the villages a firm foundation was rooted.

The teams operated only on brief general instructions, set down originally -- legend has it -- by Ho Chi Minh in a message smuggled to Giap in a cigarette package. Specific instructions, dated December 1944 and signed by Ho Chi Minh, explained use of the term "armed propaganda" to mean: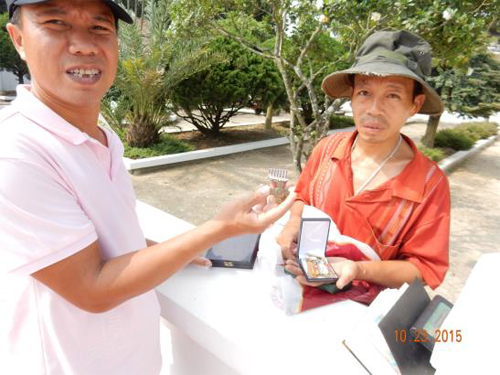 The museum guide and curator who has been there for 15 years shows various medals and memorial items left by visitors to honor the dead.



Politics is more important than military affairs. It is a propaganda unit. In order to operate effectively from a military standpoint, the primary principle is concentration of forces. Therefore, according to the new directive, cadres and determined, enthusiastic members will be selected from among the ranks of the Cao-Bac-Lang guerrilla units, which will be centralised into a large armed element. Because our resistance is one by all of the people, it is necessary to mobilise and arm all of the people. With regard to local armed units: train local cadres who can in turn go to the localities and pass on their experiences, maintain clear communications and co-ordinate operations. With regard to tactics: fully employ the guerrilla tactics of secrecy, speed, activeness, mobility, stealth, and flexible manoeuvre. The Armed Propaganda Unit is a permanent military unit and it is hoped there will quickly be more of them. Although small in scope at the beginning, they have made brilliant progress so far. They are the starting point of the Liberation Army that will travel from North to South Vietnam and throughout the country.

How did all of this fit together? Giap "learned how to move men and supplies rapidly around a battlefield. He and his cadres also learned the importance of advertising the guerrilla's cause and of creating the proper image. Finally, they learned how best to work with villagers without being betrayed by them." Let us consider Western units which would include those the French sent to Dien Bien Phu. Western military units are based on a certain structure with orders provided by higher units to lower units to carry out certain military activities. These may include psychological operations but the latter are almost always subsidiary to the main military mission. Any plan for PSYOP is usually an afterthought and one of the many junior appendices added to the basic military operation plan with its main sections such as "Logistics" or "Operations." Consider the following quotations and reflect upon how this differs from our Western concepts: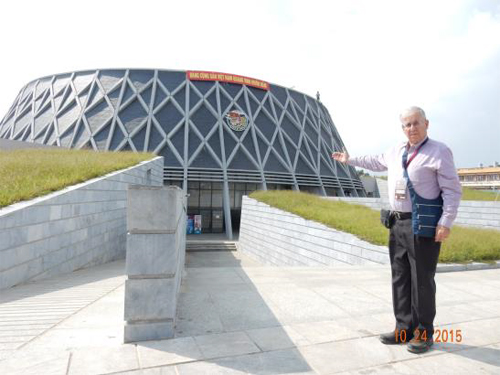 I enter the Viet Minh Military Museum which is shaped like a soldier's helmet.



The office of the political commissar for every unit had its propaganda section in charge of psychological warfare. It prepared pamphlets and newspapers for distribution to the civilian population as well as the troops and worked out topics for the propaganda effort of the individual soldier. [Note that the individual Vietminh soldier had PSYOP responsibilities.]

A propaganda instruction to the troops that were to invade Laos in 1953 [the time of the French at Dien Bien Phu] reflects the main themes of Vietminh propaganda directed toward inhabitants of the mountain areas. Beginning with the usual condemnation of French imperialisms and their desire to keep all the races of Indochina in slavery, the document goes on to stress the brotherhood of these races and their common cause against colonization. Ho is portrayed as a kindly and forgiving leader, untiringly working for national independence and the good of all peoples. [Could General Navarre or Emperor Bao Dai be portrayed in the same way?] The propaganda instruction further suggests stressing the army's love for the people and the people's affection for the army, and supplies a long list of ways in which the people might help the army. [Did the French military "love" the people?] Reassurances to the natives takes the form of helpful hints on air shelters and other self-defense measures, as well as the promise that on the rare occasions when the army is short of food, the government will pay well for any supplies seized by the troops.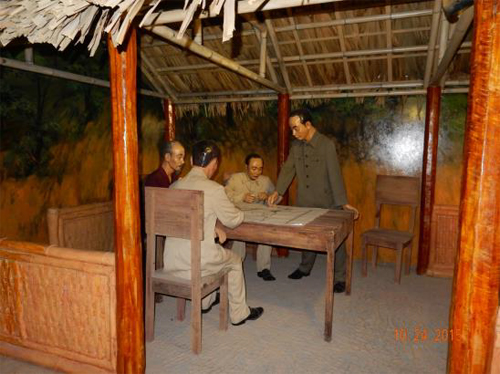 Impressive, three-dimensional display of President Ho Chi Minh, General Giap, and others planning for the Dien Bien Phu campaign.



The importance of propaganda (PSYOP) for the Viet Minh cannot be overstressed.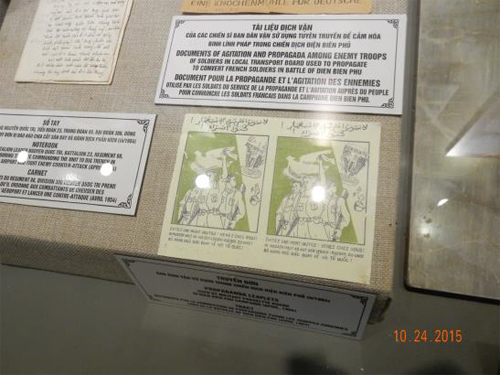 PSYOP? Yes, examples of Viet Minh leaflets, including in languages such as Arabic (for French African soldiers).


The Communists including their military begin with PSYOP, while we in the West barely include PSYOP as a secondary concern. Below in Section 6 we shall discuss about the Thai people's involvement at Dien Bien Phu and then in Section 7 how Viet Minh Propaganda was used against them. But first let us review the grand strategies of the two opposing sides.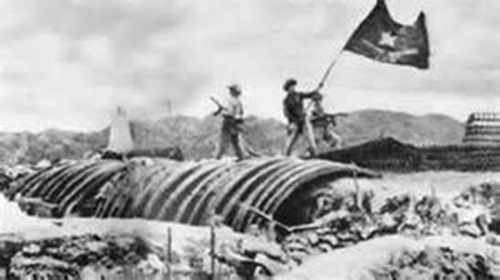 On May 8 1954 Viet Minh flag is waved atop the captured bunker headquarters of General De Castries. Supposedly this is a staged event after the battle ended for propaganda photographs.
Section 5: Giap versus Navarre at Dien Bien Phu
Before turning to the Thai people's experiences during the battles at Dien Bien Phu, it is helpful to briefly review the overall strategies of both sides for this battle. The war had started in 1945 and was now eight years old. The tired leaders of the French government were looking for an honorable way out of this seemingly stalemated conflict which simply consumed more money, resources, and men. The French military leadership in Vietnam had become dispirited and even the main generals had seen their best plans thwarted by the Communist forces.
Then General Henri Navarre in the summer of 1953 was sent to Indochina to assume overall command. He did not like what he saw: leaders who avoided the initiative and troops who only reacted to the enemy. Navarre was convinced that aggressive efforts were required and he devised a plan which might reverse the defeatist attitudes of the French side. He planned offensive campaigns against the Viet Minh bases both in the northern and central areas of Viet Nam. At the same time he moved ahead with plans to expand to native Vietnamese forces called the VNA for Vietnamese National Army. (Does this sound like the later Vietnamization plans of us Americans?) Even though the French government might be reluctant about taking action, Navarre was not.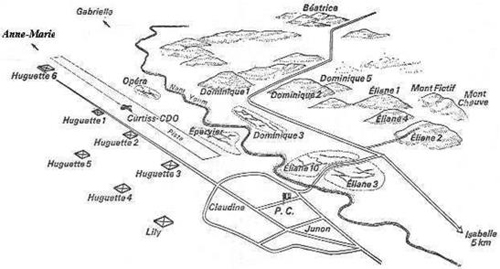 This is a map of Dien Bien Phu with French fortified areas. Note the three northern fortified "hedgehogs", named Anne Marie, Gabriell, and Beatrice. Anne-Marie was staffed mainly by Thai soldiers. By the way, The Viet Minh had their own Vietnamese names for each area.


Simultaneously, Navarre had been searching for a way to stop the Viet Minh threat to Laos. Colonel Louis Berteil, commander of Mobile Group 7 and Navarre's main planner,formulated the hérisson ("hedgehog") concept. The French army would establish a fortified airhead by air-lifting soldiers adjacent to a key Viet Minh supply line to Laos. This would effectively cut off Viet Minh soldiers fighting in Laos and force them to withdraw. "It was an attempt to interdict the enemy's rear area, to stop the flow of supplies and reinforcements, to establish a redoubt in the enemy's rear and disrupt his lines".

The hedgehog concept was based on French experiences at the Battle of Na San. In late November and early December 1952, Giap attacked the French outpost at Na San, which was essentially an "air-land base", a fortified camp supplied only by air. Giap's forces were beaten back repeatedly with very heavy losses. The French hoped that by repeating the strategy on a much larger scale, they would be able to lure Giap into committing the bulk of his forces in a massed assault. This would enable superior French artillery, armor, and air support to decimate the exposed Viet Minh forces. The experience at Na San convinced Navarre of the viability of the fortified airhead concept.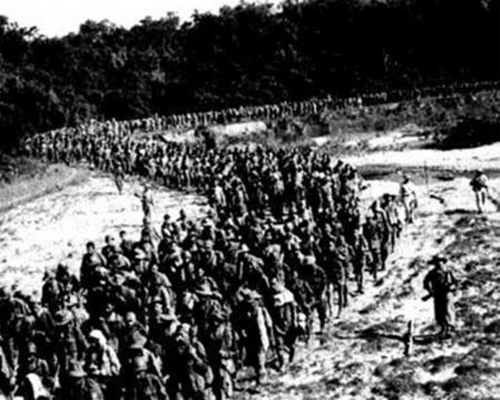 French and their Allied soldiers march off into captivity. Russian film director produced this propaganda piece. Many of the French soldiers did not survive this "Bataan Death March." Also there is still unanswered questions of what happened to the 3,000 Vietnamese soldiers who fought along side the French and were marched off into captivity.



After the battle of Dien Bien Phu, there would be many critics of Navarre's thinking. As has been pointed out repeatedly, victory has many parents, but defeats are orphans. There were differences between Na San and Dien Bien Phu. The logistical and airplane distances between Na San and other French airfields was much shorter than for air flights to Dien Bien Phu. At Na San, French artillery was better placed and Viet Minh artillery more exposed. At Na San French forces were not down in a valley surrounded by hills as at Dien Bien Phu and Vietminh use of artillery was superb. Furthermore, Giap had learned much from Na San.

As a result of blunders [it as I repeat it is easier to find the 'blunders" after a battle than before] in French decision-making, the French began an operation to insert and then support [by air] the soldiers at Dien Bien Phu, deep in the hills of northwestern Vietnam. Its purpose was to cut off Viet Minh supply lines into the neighboring Kingdom of Laos, a French ally, and tactically draw the Viet Minh into a major confrontation that would cripple them. The Viet Minh, however, under General Vo Nguyen Giap, surrounded and besieged the French, who knew of the weapons but were unaware of the vast amounts of the Viet Minh's heavy artillery being brought in (including anti-aircraft guns) and their ability to move these weapons through difficult terrain up the rear slopes of the mountains surrounding the French positions, dig tunnels through the mountain, and place the artillery pieces overlooking the French encampment. This positioning of the artillery made it nearly impervious to counter-battery fire.

Placed in command by Ho Chi Minh, General Giap developed the strategy that he would collect most of his very best troops, send them to the northwest of Viet Nam, completely surround and cut off the French forces at Dien Bien Phu, destroy their resupply capabilities, and then totally annihilate them. Giap would pound the French forces with his artillery, nullify French artillery, and shoot down their planes with his antiaircraft weapons.

Both sides were aware that major negotiations would begin in the Spring at Geneva. Thus the outcome of the Dien Bien Phu battle would probably play a major part, furnishing much leverage to whichever side prevailed.

Section 6: The Thai people

Who are the Thai People and why are their important to this battle?

I have not found much in the history books on Dien Bien about the Thai people, their troops, and the crucial role they played in what happened. The Thai people had lived in this region for many decades, first getting heavily involved with the French in the late nineteenth century. The Thai often are split into at least three separate groups, the White Thai, the Black Thai, and the Red Thai, named after the predominant color in the clothes they wear. There was once a semi-independent White Tai confederation known as Sipsongchuthai, but it was absorbed by France into French Indochina in the 1880s. (Subsequently the region became part of Vietnam following the Dien Bien Phu battle and North Vietnamese independence in 1954.) Throughout the French period, they constantly sought to make alliances with the Thai groups and to use them and their soldiers to bolster French rule.

Why this French solicitude?

The Thai are not "just" a primitive hill people. They have a long and glorious history and a very sophisticated society. Their houses, for example, from my own observations and travel in their areas, are much better built than Vietnamese housing even if the latter feature new red brick and stucco coated walls. Thai houses are large wooden structures built on high timber stilts as thick as telephone poles, sturdy buildings with spacious second floors. They feature a very large long room, with a split guarded by a heavy curtain down the middle between the more public areas for guests and the inner private areas for sleeping and family life. The Thai area has been known by various names over the years, including Lai Chau province which shares a border area with China. This was very useful for connecting the Viet Minh with China and allowing for trucks and other transportation of supplies into Viet Nam from China.

The crucial fact about the Thai people-which I should have stressed at the start of this section-- is that they are the majority people in this entire region including all the area surrounding Dien Bien Phu. This is their land and the "city" of Lai Chau sharing the name of the province is their capital, like Washington, DC, is the capital of the United States.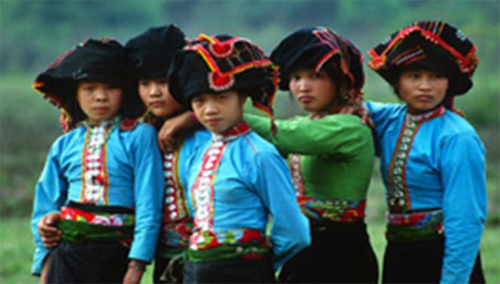 Five beautiful Thai Women in their exquisite fashions. This alone shows the tremendous strength, rich culture, and great history of a proud people who were so deeply involved in the Dien Bien Phu struggle.


As for numbers, the Vietnamese people, called Kinh, are the overwhelming population of Viet Nam amounting to about 85% of the people. The present Vietnamese government boasts about having 54 different ethnic groups within the country, although many are fairly small. The Thai, however, are the second most numerous group after the Kinh, more than the Cambodians in Vietnam and more than the Chinese, amounting today to over three million people, mostly living in this region. At the time of Dien Bien Phu battle they probably totaled over a million or more people. They had their own language, customs and traditions, myths about their land origins, and their own leaderships. To say they are highly advanced is an understatement.

Moreover, just like the Montagnards later encountered by Special Forces in South Vietnam, the Thai had a reputation as good light infantry fighters especially in the jungles and heavily forested mountainous areas. The French over the years had recruited many Thai soldiers who conceivably could provide thousands of troops. So let us look at the Thai role at Dien Bien Phu and the use by the Viet Minh of propaganda and PSYWAR against them.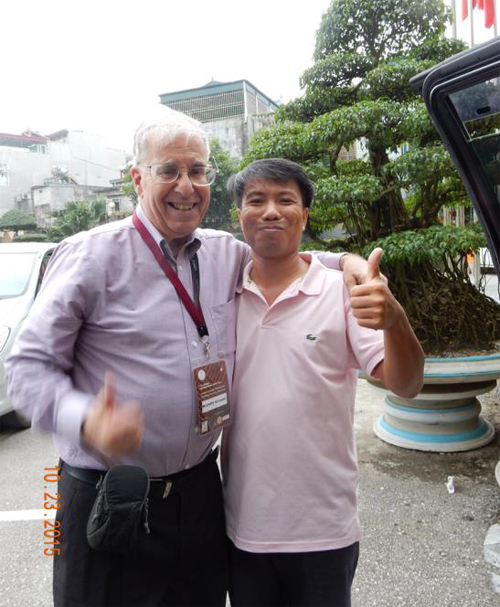 This is me and my guide and interpreter, Mr. Thinh. Versed in every aspect of the Battlefield and the history of the battle, he took me everywhere in the region.
Section 7: Thai Roles at Dien Bien Phu and Viet Minh Propaganda
In November 1953 the French parachuted into Dien Bien Phu and began construction of various fortifications,. These were centered on eight separate hilly areas, each named for a French woman supposedly recalling the Commander's girlfriends. (Probably not true.) (See Map 1.) Seven of these were fairly close, generally designed to protect the airstrip as well as to form a base from which French patrols and larger recon forces could search after and destroy the Viet Minh in Laos and northwest areas of Viet Nam. Perhaps the Thai, located in their capital area of Lai Chau, may have initially welcomed the French forces and may even have thought this was beneficial protection, good for the Thai people in the province. Three main fortified bases were at the northern section of Dien Bien Phu. These were "Anne-Marie" to the northwest, "Beatrice" to the northeast, "Gabrielle" to the north. There were four other locations nearby, and then "Isabelle" 6 km (3.7 miles) to the south, covering the reserve airstrip. This latter was rather far away to really influence the battle and at the end of the battle on May 7, 1954, without much fighting it was surrendered to the Viet Minh. Some 1,400 troops did try to break out of Isabelle and escape to Laos, but only 70 succeeded in this daring venture.
To return to the Thai, remember they had survived eight years of the war and still retained their own areas including their capital of Lai Chau. But…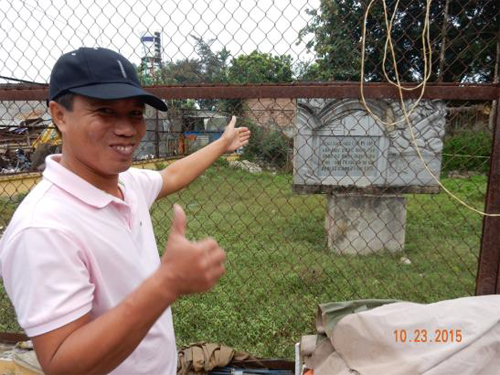 Mr. Thinh points out monument in honor of Colonel Piroth, the French Artillery commander, who committed suicide on the battle's second day when he realized the Viet Minh had gained the artillery advantage over him. This was one of the principal reasons for the Viet Minh victory. Surrounding Colonel Piroth are all sorts of market stalls and great places to buy fruits, vegetables, and live ducks.



The arrival of the 316th Viet Minh Division [in December 1953 and January 1954] prompted [General| Cogny] to order the evacuation of the Lai Chau garrison [mostly Thai] to Dien Bien Phu, exactly as Giap had anticipated. En route, they were virtually annihilated by the Viet Minh. "Of the 2,100 men who left Lai Chau on 9 December, only 185 made it [through jungle areas, across hills infested with Viet Minh, and encountering countless ambushes] to Dien Bien Phu on 22 December. The rest had been killed, captured or deserted." The Viet Minh troops now converged on Dien Bien Phu.

The story of this evacuation can be pieced together in bits and pieces. Remember this was a Thai populated area with Thai leadership. Did Cogny or Navarre consult with the Thai on this move? I can find no evidence of this although this must have been a crushing blow to the Thai people. The straight line route from Lai Chau to Dien Bien Phu was about 25 kilometers south through jungle areas, mountains and ravines, perhaps some trails, but no real roads or highways. Furthermore, as already stated, there were Viet Minh everywhere with surprise ambushes.

Of course, there were always airplanes that could transport people out of Lai Chau but there were not enough of these. So what did the French decide? All the French soldiers were loaded on the airplanes that were available. The French also saved the Thai women and children. But as for the Thai men, the French advice was "Go south and on foot." The French did try to send out patrols from Dien Bien Phu to meet and help those coming south through the jungles, but they were beaten back by the Viet Minh and had to retreat to the Dien Bien Phu garrisons.

As the quote states, 2,100 men almost all Thai, started out from Lao Chau but less than two hundred succeeded in reaching Dien Bien Phu. Now if you were a Thai wife whose husband did not make it, or a Thai mother whose sons were lost in the jungles to Viet Minh attacks, do you think you would be favorably disposed to the French?

We should also look at the numbers. Almost 2,000 soldiers are lost in this retreat. But the French only had about 17,000 total troops at Dien Bien Phu throughout the entire battle. So this opening move has lost about twelve percent of their forces. In the entire battle-not counting the Lai Chau withdrawal-- the French lost between 1,571 and 2,293 dead. The Lai Chau evacuation alone cost some nineteen hundred soldiers very early in the battle due to Cogny's decision to abandon Lai Chau.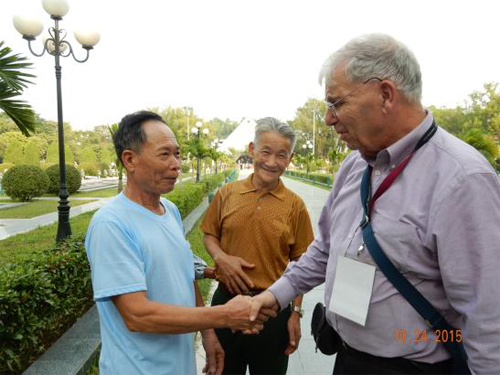 I meet Communist Veteran soldiers in a large Dien Bien Phu military cemetery.



I have even had a worse thought about this. Recall some of the ideas of Vietminh propaganda and PSYWAR. Their goal was to bring over populations to their side. Suppose instead of the nineteen hundred Thai as dead bodies, the Viet Minh with their propaganda managed to win over a number of these to their side. It was not only subtraction against the French but additions to the Viet Minh.

At Dien Bien Phu, the Viet Minh made great use of propaganda. (The French did try this also but that is a story for another article.) One Viet Minh theme was to split the French soldiers from the other soldiers of different ethnic backgrounds. The Viet Minh had loudspeakers they could use. They also printed leaflets which they distributed in different languages. Another tactic was to send back a captured French soldier with a message for his comrades.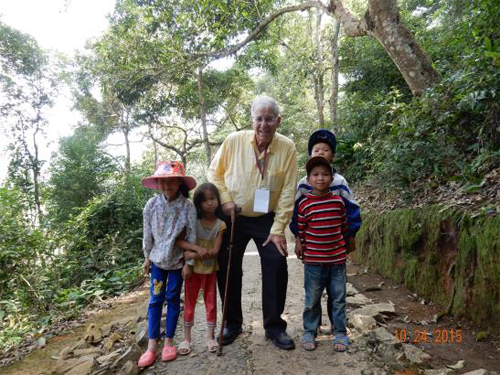 Here I am with my four guides to the mountain are-as where Viet Minh had their headquarters. By the way, always hire local guides in Viet Nam and then do not forget to tip them well. These four, despite their youth, knew much and could speak English with me.



The Viet Minh would broadcast not only verbal messages, but songs and music as well to the French. One was the Marseillaise:

Allons enfants de la Patrie,
Le jour de gloire est arrivé!
Contre nous de la tyrannie,
L'étendard sanglant est levé, (bis)
Entendez-vous dans les campagnes
Mugir ces féroces soldats?
Ils viennent jusque dans vos bras
Égorger vos fils, vos compagnes!

Arise, children of the Fatherland,
The day of glory has arrived!
Against us tyranny's
Bloody banner is raised, (repeat)
Do you hear, in the countryside,
The roar of those ferocious soldiers?
They're coming right into your arms
To cut the throats of your sons, your women

The Viet Minh would also leave leaflets and written materials in the barbed wire at night where the French would find them the next morning when they went out on patrols. Let us look at how the Viet Minh propaganda was directed at the Thai.

The main battle begins on March 13 at 5 PM with a terrible and unexpected artillery barrage on French positions, especially on Beatrice which the Viet Minh finally secured despite terrible losses by midnight of March 13-14. Their next attack is on the adjoining position of Gabriel which they seize after almost two days of attacks. So devastating are these Viet Minh artillery attacks to French morale (which also killed key French officers) and especially on the "mind and heart" of the French Artillery Commander, COL Charles Piroth, who realizes he may be responsible for having lost the entire battle. (Earlier, there had been questions by various military personnel about the French artillery and whether more guns were needed. Piroth had dismissed these doubts and even boasted that if the Viet Minh did fire on his positions, he would easily take care of this by counterbattery fire.) Col Piroth goes down into his bunker, sits on his bed, takes out a grenade, pulls the pin (remember he only has one arm having lost the other in fighting in World War II), and kills himself.

The French command, so shaken by this, tries to hide this occurrence and secretly buries his mangled remains in a bunker so the troops do not know what has happened. Eventually they will learn about this, especially when a new artillery commander is flown into the besieged camp.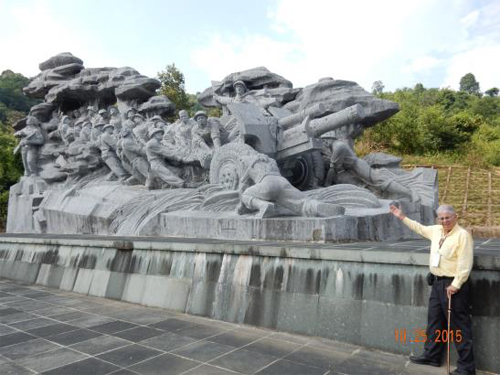 Viet Minh team pulls artillery piece up the mountain to Dien Bien Phu. Notice one soldier sacrificing himself by wedging his body under the wheel so it would not slip down into the deep valley and be destroyed.


The two important outer protective [strong points] for the airstrip have now been destroyed in [only] three days of fighting. Only strongpoint Anne-Marie remains on the north. Would this require similar massive frontal charges with a large loss of Viet Minh troops as at Beatrice and Gabrielle? Here is the answer:

"Anne-Marie" was defended by Tai troops, members of a Vietnamese ethnic minority loyal to the French. For weeks, Giap had distributed subversive propaganda leaflets, telling the Tais that this was not their fight. The fall of "Beatrice" and "Gabrielle" had severely demoralized them. On the morning of 17 March, under the cover of fog, the bulk of the Tais left or defected. The French and the few remaining Tais on "Anne-Marie" were then forced to withdraw. "Battle of Dien Bien Phu," From Wikipedia, the free encyclopedia

Loudspeakers were also used against Anne-Marie. The theme was very simple: "This is not your battle. Do not lose your life for the French." "Look at how they deserted your brothers and fathers at Lai Chau." There was no need to invent anything, nor to color any propaganda.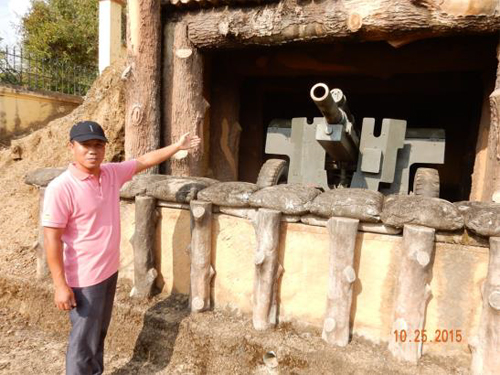 Viet Minh hid their artillery in deep caves in the hills surrounding Dien Bien Phu, only bringing them out to fire and then pulling them back. My guide shows this tactic. It is said that the French artillery (who did have spotter planes) never located a single one of these caves for any effective counter-battery fire.


Everyone knew the truth. There is a further part to this. As the Thai left Anne-Marie, there is a story that the French came after the Thai. What was the point of this? Were the French trying to get the Thai to return? Or was it really the goal to kill these deserters so they could not show up on the other side?

That may seem like an extreme statement. One asks, would the French ever do that?

My excellent guide at the battlefield sites took me south to the fortification of Eloise some seven kilometers from the main battlefield. He took me to a very special monument with a beautiful stone plaza area decorated with budding flowers and trees. In the middle sits a huge statute of a mother and child. On either side of the statue are two huge rectangular memorials all seemingly coated in gold that sparkles in the afternoon Vietnamese sun. On the two large rectangles are raised figures of Thai soldiers joining the Vietminh and fighting with them against the French.

My guide told me this story. After the Thai left Marie Louise, the French sought revenge and to punish the Thai people for their "betrayal". So the French sent their planes which unload many heavy bombs on the surrounding Thai villages and settlements. The bombs dropped down and found their targets of women and children. Some 444 innocent civilians were slaughtered. This is what the Thai people believe even today.

In 1994 the French President came to Dien Bien Phu for the fortieth Memorial of the Battle. He visited this area and the various monuments. When the Thai people learned he had come, they all went out from their homes and villages, surrounding the President. They were shouting loudly and boldly against what the French bombers had done, recalling the innocent who had suffered and died. The French President kept trying to say over and over, "We are sorry. We did not mean that. It was an accident." But the Thai would not accept that apology which was only forty years late.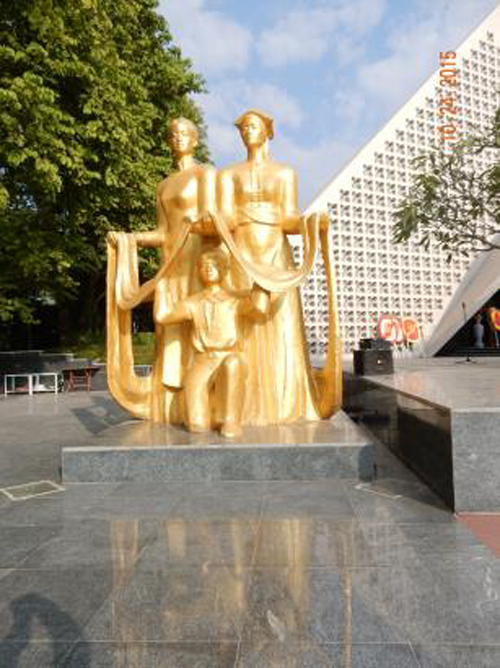 Remembrance statute of Vietnamese mother and Thai mother protecting their soldier sons.

With the fall of Anna-Marie, coupled with the earlier losses of Gabrielle and Isabelle, the Viet Minh now could cut off any attempts by French aircraft to land at the airport and bring in desperately needed supplies and troop replacements. By this time, Giap had definitely dropped the human wave attacks (despite the urgings of his Chinese advisers) and instead adopted a strategy of weaving trench lines across the fields and up to the French barbed wire at their strongpoints. Using these trenches, the Viet Minh troops were protected right up to their final assault lines. Viet Minh artillery continued to dominate the battlefield. There is even a claim that the French, despite the use of spotter aircraft, never found a single communist weapon hidden in their hill bunkers for counter battery fire.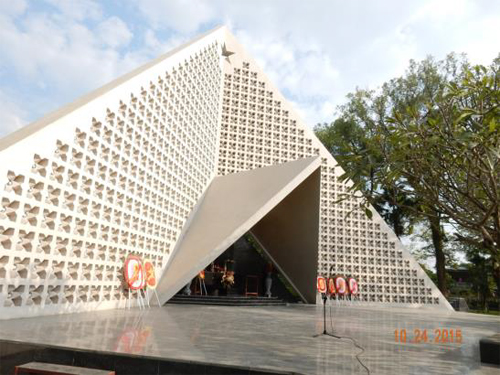 Close-up of main entrance to Memorial Temple for all the Viet Minh soldiers and their families. Many grave sites surround this temple



Some Thai did continue to fight alongside the French. Here is one quotation about this.

"The next phase of the battle saw more massed Viet Minh assaults against French positions in the central Dien Bien Phu-at "Eliane" and "Dominique" in particular. Those two areas were held by five understrength battalions, composed of Frenchmen, Legionnaires, Vietnamese, North Africans, and Tai."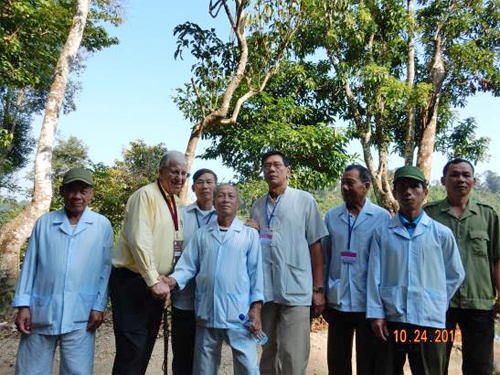 I meet a number of Vietnamese veterans in the Viet Minh secret region in the mountains.



After fifty-five days of bloody trench warfare and countless displays of bravery by troops on all sides, the French were finally forced to cease fighting on May 7, 1954. Whether they actually surrendered remains a moot point for debate.

Section 8: Results

First, the Viet Minh and General Giap had prevailed. Here are the statistics.

On 8 May, the Viet Minh counted 11,721 prisoners, of whom 4,436 were wounded. This was the greatest number the Viet Minh had ever captured: one-third of the total captured during the entire war. The prisoners were divided into groups. Able-bodied soldiers were force-marched over 600 km (370 mi) to prison camps to the north and east, where they were intermingled with Viet Minh soldiers to discourage French bombing runs. Hundreds died of disease along the way. The wounded were given basic first aid until the Red Cross arrived, removed 858, and provided better aid to the remainder. Those wounded who were not evacuated by the Red Cross were sent into detention.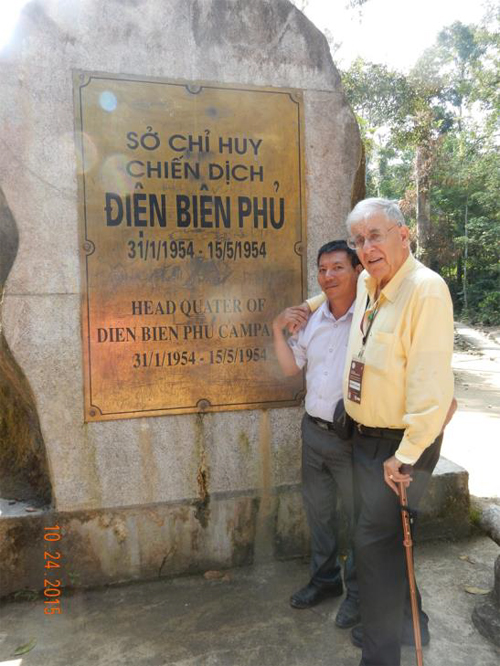 My guide-interpreter, Mr. Thinh, and I stop by the huge bronze metal signs that are everywhere to commemorate the victors.



Of 10,863 survivors held as prisoners, only 3,290 were officially repatriated four months later;[74] however, the losses figure may include the 3,013 prisoners of Vietnamese origin whose eventual fate is unknown.

I did try to find out what had happened to the 3,013 Vietnamese. Of course, this is not a question to be hastily asked of anyone. Despite my subtle inquiries and my listening to various guides and personnel at Dien Bien Phu, I was no nearer any answer after my tour than before.

Secondly, what happened to the Thai? I have already given one story about how they view the French and Dien Bien Phu.

From 1955 to 1975, after Lai Châu Province was formed, ?i?n Biên Phu Province was carved out of Lai Chau. It became part of the Northwest Autonomous Area of the Democratic Republic of Vietnam in 2004. There are now over 3 million of them and they as already stated are the second largest population group in Viet Nam although far smaller than the majority Kinh Vietnamese. From my observations as well as visits to Thai villages and conversations with Thai leaders, they enjoy a fairly prosperous life which includes selling all sorts of souvenirs and books of the battle to the tourists who are mainly Vietnamese people. The fields of rice and small gardens appear everywhere. My impression, but this needs more investigation, is that the government provides some degree of local autonomy for the Thai. It is a harsh judgment, but the Thai may be better off now than they would be under French rule.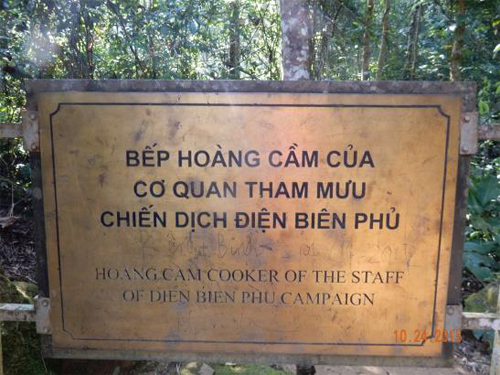 This memorial celebrates a "humble" cook-and-baker who devised a stove which would not give off smoke that might alert French planes and artillery. By the way these smokeless stoves were used in the Tunnels of Cu Chi to protect Viet Cong from American and ARVN soldiers.
Section 9: Could the Battle of Dien Bien Phu have turned out Differently?
When we consider past history, there is a tendency to accept whatever happened as inevitable. Thus the American colonists were sure to win the War of Revolution in 1775. Or the Allies were assured of Victory in World War II. In my view, these are absolute mistakes. Such a periscopic view may rob us of the opportunity to learn lessons from the past that truly can be used in the future.
Also let us suspend concentrating on how the French were defeated and how the Viet Minh gained a great deal of leverage from their victory at Dien Bien Phu to dominate the Geneva talks. Could the French have prevailed at Dien Bien Phu and how could this have happened?

I explore the large inner cave area where the Viet Minh hid their artillery. Even a direct bomb hit from the air would probably have done little dam-age to such a bunker.

First, the French should have properly estimated both the Viet Minh and their leadership. This is exemplified by the haughty French attitude toward General Giap whom they never really recognized as a "General." Possibly this was because he had not attended St Cyr, the French West Point. Or maybe it was a prejudice against the Vietnamese and a failure to understand their capabilities which they had proven many times over in two thousand years of battles against foreign forces including the Chinese. This underestimation of an enemy is usually the prelude to major defeats.

A little humility might have saved Colonel Piroth and the artillery duels with the enemy including how the Viet Minh might be able to transport heavy artillery to Dien Bien Phu, how they would be able to supply their troops including by jerry-rigged bicycles, how the Viet Minh might use trenches to counter French air power and artillery, and how enemy propaganda might weaken French morale.

Second, even in today's accounts of the battle the role of the Thai is poorly understood. This entire region was their homeland. They were the majority people. The French did not seem to recognize and show their appreciation for that. Would five thousand armed Thai soldiers have altered the balance of the forces and at least led to a stalemate on the battlefield? Here is a "what if" question for historians and strategists.

Third, were there any indications of weakness in the Viet Minh morale which might have been exploited? The Viet Minh took Gabrielle in their beginning attack, but they suffered major casualties. Of course, we in the West always think life is cheap in the Orient. So these staggering losses, we presume, would have no effect on a ruthless enemy or an aggressive general. But one has only to see a grieving mother in Viet Nam at her son's military funeral to realize that our attitudes may be completely wrong. Here is one example of this at Dien Bien Phu.

At this point, the morale of the Viet Minh soldiers was greatly lowered due to the massive casualties they had received. During a period of stalemate from 15 April to 1 May, the French intercepted enemy radio messages which told of whole units refusing orders to attack, and Communist prisoners said that they were told to advance or be shot by the officers and noncommissioned officers behind them. Worse still, the Viet Minh lacked advanced medical care, with one stating that "Nothing strikes at combat morale like the knowledge that if wounded, the soldier will go uncared for".[65] To avert the crisis of mutiny, Giap called in fresh reinforcements from Laos.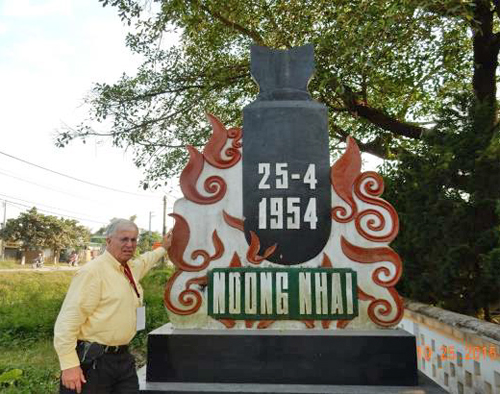 This is the memorial Sign for the air bombing of Thai women and Children by French planes. The Thai people remember this and reject French claims this was only an "accident" of war.


General Giap in his book Dien Bien Phu himself comes close to admitting these Problems. The following is a letter from General Giap to his soldiers, dated March 20, 1954.

I've been told that you have had to build the battlefields for many successive days, next have had to fight, and then go back to building. As a result, some of you have become tired. But remember that enemy troops in Dien Bien Phu are even more depressed and exhausted than we are. Their wounded soldiers have no shelters where they can rest, and lack medicine to heal their wounds. Some of their forts have been destroyed. Others are shaky. Supplies are insufficient. Sometimes, the enemy troops suffer our cannon fire, which causes more injuries to them.

So, should we rest to give them time to reorganize themselves, send along more supplies, parachute in more troops, increase the efficiency of their artillery and air force or should we, as the soldiers of the People's Army and members of the Viet Nam Workers' Party, overcome our fatigue and hardships to cause them greater exhaustion and problems? Which way should we choose? I'm sure you will choose the second way and continue building, battlefields and fighting the enemy.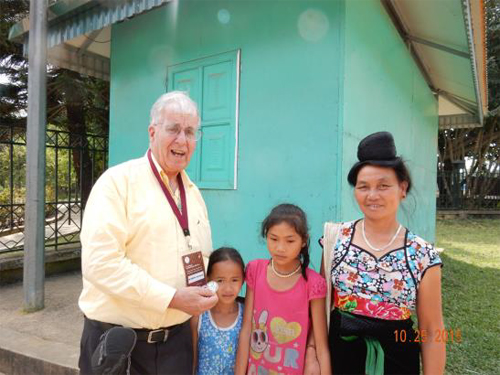 The Thai Mother and her two daughters sell me specially-made Thai Coins. Price was only $10 US which I negotiated to $8 US. Negotiation is always appreciated everywhere in Viet Nam and even at Geneva.


This does not mean that we don't pay attention to our soldiers' health. On the contrary, officers pay as much attention to the soldier' health as possible and soldiers must take care of themselves and their comrades. Cooks should make special efforts to prepare places where soldiers can have meals and sleep, as well as provide them with hot meals and boiled water. Medical workers must intensify disease prevention. Officers must supervise this work, as it is very important to the soldiers' ability to fight continuously.

Commanders and commissars must prepare battle plans carefully and distribute forces reasonably in order not waste time or cause the soldiers greater fatigue. You must meet with soldiers to encourage them and check the battlefields. Recently, you have checked the battlefields carelessly, thus causing more injuries to soldiers.

Once more, I stress that officers have to go to check the battlefields themselves. That is their duty. Whoever fails in this will be punished.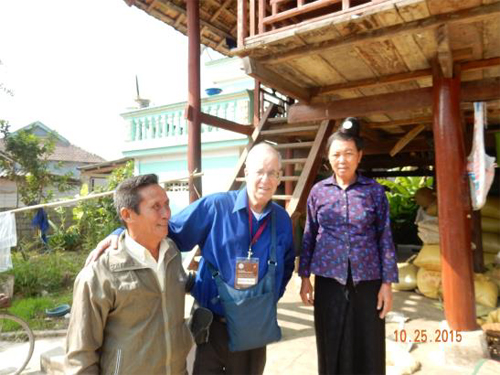 Local Thai leader and his wife show off to me their beautiful house built on thick strong stilts.


In short, the central task for the moment is to build battlefields and surround the enemy quickly and properly. At the same time, we must keep fighting so as to kill troops and complete the task of building battlefields. We have to follow the motto "steady fight, steady advance". Whenever we fight, we must win. This motto does not mean that we don't make use of time. Instead, we have to make use of most of our time, because the earlier the battlefields are completed, the greater difficulty we cause the enemy and the earlier we can win. Digging another meter of soil deeper at the moment prepares well for the final victory of the operation.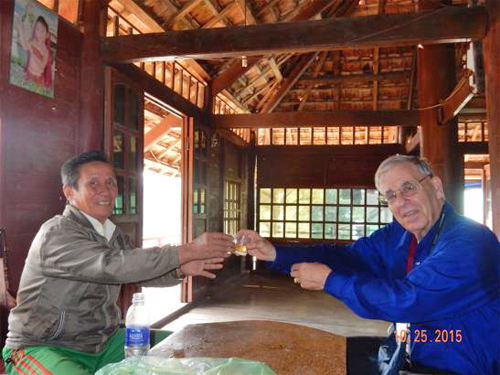 Local Thai village leader and I share a shot glass of home made brew for friendship. Mot Cham von cham: "One hundred percent" or "Bottoms Up" for this strong brew.



This letter contains many, many potential themes which could have been exploited by skillful PSYOP. Soldier fatigue, concerns about health including battlefield wounds, hot food, safe water, officer failures to check the battlefields before attacks, and poor leadership: these are just a few of the weaknesses in his forces to which Giap is admitting.

Suppose the French side and General Navarre had been able to exploit these problems? Would PSYOP have affected Viet Minh operations? Would, for example, broadcasts by captured Viet Minh soldiers led to more breakdowns in enemy morale? Could there have been a strategic PSYOP campaign, seeking some kind of outcome other than the total defeat that the French did suffer including the surrender of some eleven thousand troops who marched off into brutal captivity?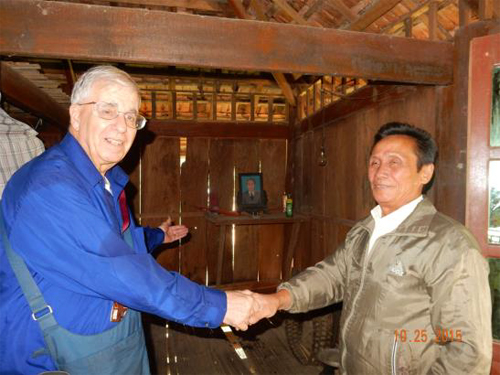 Local Thai Leader and I shake hands in friendship



PSYOP based on exploiting themes contained in General Giap's letter might have slowed down the Viet Minh efforts and led to possible French successes. Could Dien Bien Phu have turned out differently? We all read how the Viet Minh "won a great victory of the people." But was this always a foregone conclusion? For me, History is never a certainty. Gettysburg could have gone the other way. The Germans could have cracked through the West's trench lines and won World War I. With enough fuel, what might have happened at the Battle of the Bulge?

So I suggest that Dien Bien Phu could have had a different result. Just think what that might have meant for America, for how our society evolved, for how our foreign policy has developed, and what it might even have meant for the future of our nation?
---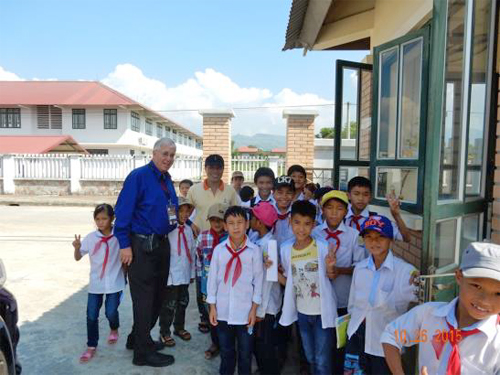 Meeting all the youth in a Children's Home at Dien Bien Phu. Our Friendship Foundation is helping this school with books and school supplies.


---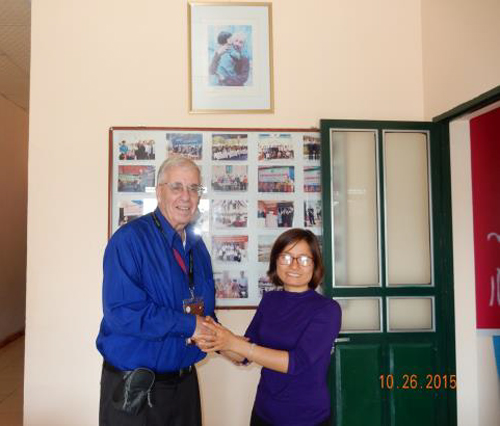 Meeting one of the very dedicated teachers


---


Memorial at altar dedicated to the Thai women and children killed by French bombers. This shows the Thai people joining with the Viet Minh after the French atrocity which they deny happened or apologize that this was just an accident


---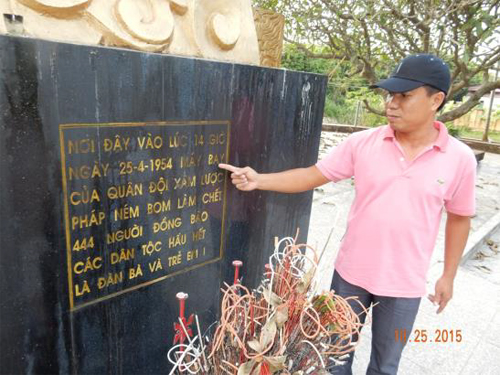 My Guide, Mr. Thin, points to date of French bombing of Thai women and children. 444 civilians were killed in this event.


---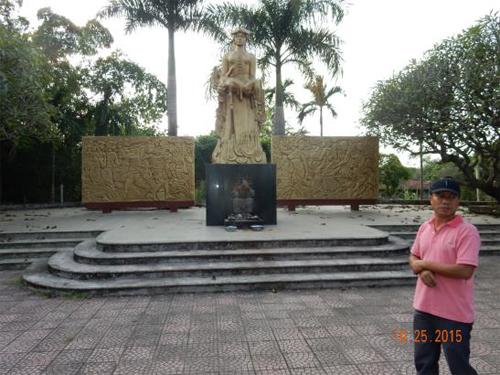 Altar and memorial for Thai women and children who died from French Air attack. Left side plaque and meaning provided earlier in photographs. Right side shows the women and children trying to escape the air bombing. My guide, Mr. Thin, ex-plains the Thai version of what happened.


---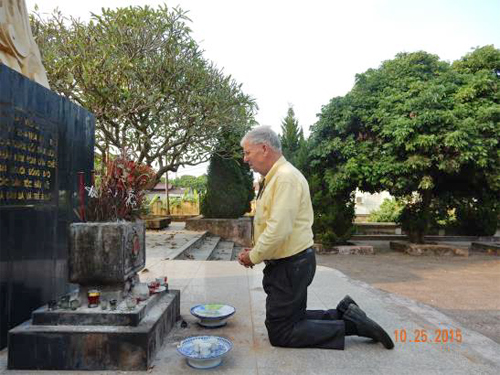 I kneel and say some prayers for the Thai and for all who suffered in this enormously important battle


---
Back to Top
Back to Cleveland Vietnamese
More about Lt. Colonel Joseph Patrick Meissner
---