We asked community leaders of various ethnic heritages to share some holiday traditions of their culture. Miss Gia Hoa Ryan, leader of the Friendship Foundation, shared this.
Remember that Christmas is a Catholic Holiday, but not only Catholics and Christians in Viet Nam celebrate Christ's birth, but so do many others remember this day. We called the day "Noel." It was not unusual for stores to have Christmas trees in their windows and other signs of this holiday.
We all went to Mass in the huge church on Christmas eve. Then we had Masses in celebration on the day itself. The whole Church inside and outside was decorated. Lots of green branches and banners and colorful ornaments. The center of the church in front was always a manger scene with the baby Jesus in His crib of straw and Mary and Joseph kneeling and the shepherds and animals and others there.
Harvey Cohen took this picture of a Creche in Hanoi. He said "Hanoi was lavishly decorated for Christmas. Most of it was non-religious, but Saint Joseph Cathedral was decked out with this enormous creche and more than a square block of other decorations."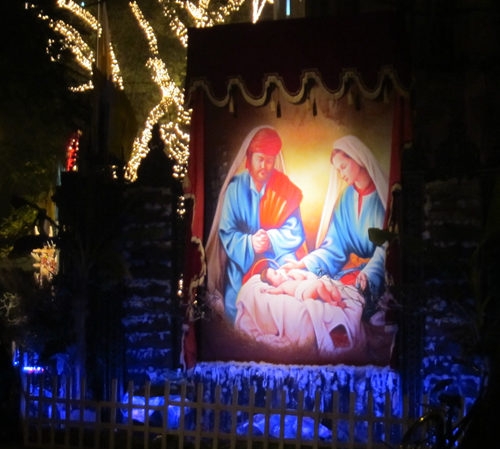 Nativity creche in Hanoi in Vietnam


In the neighborhood my Dad always set up a manger scene for all to pass by and see. It had the baby Jesus and everyone around Him. My Dad also had a light shining bright so people could see it at night as well day.

In the home, My Mom fixed special foods. This included sweet rice. Then there was Chicken soup and rice. Her favorite was chicken with dry bamboo shoots (fresh).

We also lots of singing. These were various Christmas carols in Vietnamese and English. My brothers and sisters and our relatives had music and celebration. The neighbors also stopped by and enjoyed the time with us.

Merry Christmas from Gia Hoa Ryan
---
***

Stay informed about the local Vietnamese community by signing up for the free Vietnamese eNews mailings. You can select other specific groups as well. It's easy and free.
Fill out the form for the free Vietnamese eNews.


***

---
Back to Top
Back to Cleveland Vietnamese
Back to Ethnic Holiday Traditions
---