On October 26, 2017 the Cleveland Chapter of the Carpatho-Rusyn Society celebrated Carpatho-Rusyn Day in North America by having the Rusyn flag flown over Cleveland City Hall for the entire day.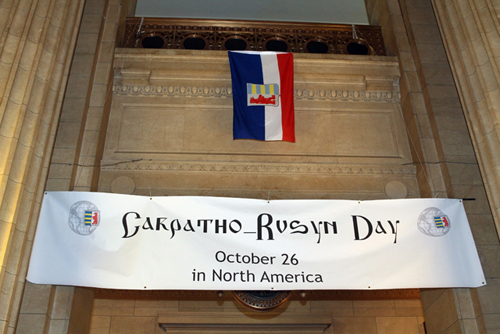 Carpatho-Rusyn Day Banner in Cleveland City Hall Rotunda



In the evening, Sarah Katrenich, garbed in ethnic dress, directed those attending to City Hall's Rotunda where attendees enjoyed refreshments and entertainment.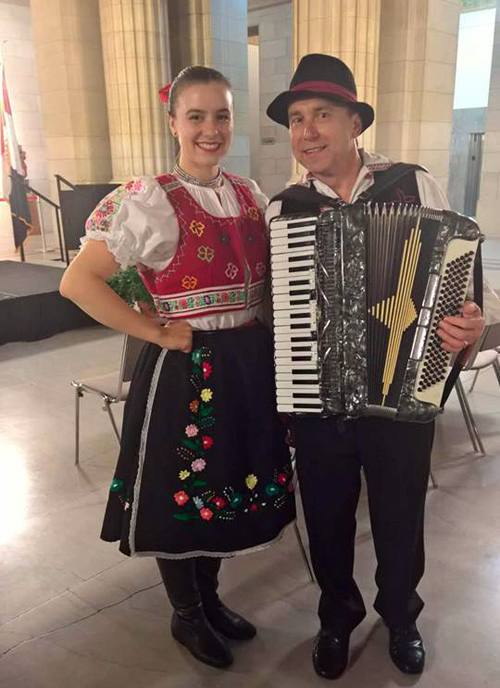 Sarah and Tom Katrenich



The program began with the singing of the Star-Spangled Banner and Ja Ruyn Byl led by, C-RS member, Tom Katrenich on his accordion. Laurel Tombazzi spoke about Who Are the Rusyns and Marcia Benko informed the group about the Carpatho-Rusyn Society and what it has to offer its members.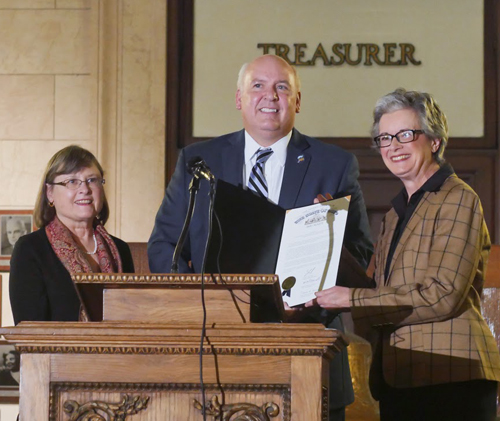 Marcia Benko, State Senator Michael Skindell and Laurel Tombazzi

photo by Tomasz Kacki



The guest speaker was State Senator Michael Skindell who represents the Lakewood area, where many Rusyn immigrants settled. He has Rusyn roots, on his maternal side of the family, and during his presentation recounted stories about his immigrant great-grandparents.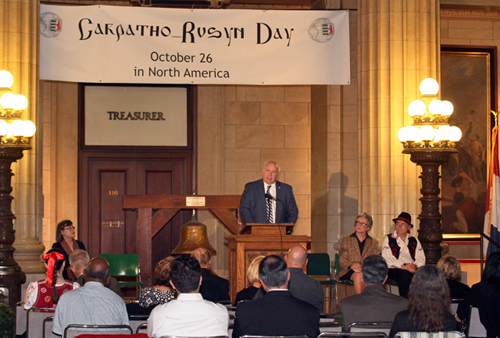 State Senator Michael Skindell



Proclamations were presented from Cleveland by Andrew Lackey on behalf of Mayor Frank Jackson, State Senator Michael Skindell and Ray Paloetta on behalf of US Senator, Rob Portman.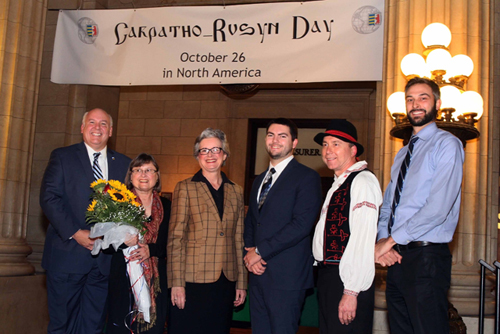 State Senator Michael Skindell, Marcia Benko, Laurel Tombazzi,
Ray Paloetta, Tom Katrenich and Andrew Lackey

The evening ended with entertainment by Tom Katrenich.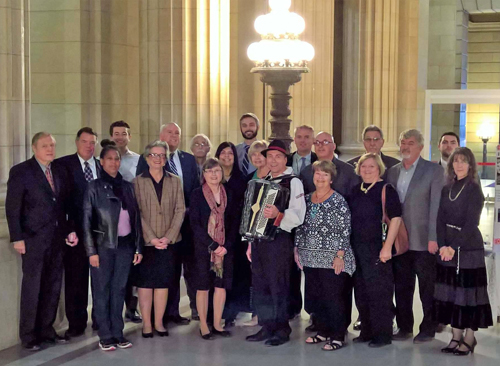 Carpatho-Rusyn Day attendees



Reported by Barb Popovich on behalf of The Carpatho-Rusyn Society Cleveland Chapter

Photos by Marcia Benko except the one noted.
---
***
Want to learn about ethnic and cultural events in Cleveland such as this? Sign up for the free eNews and every Tuesday evening you will receive a free e-mail listing the next week's events. It's easy and free.

Select 'WEEKLY' when you fill out the form for the free weekly eNews.
***
---
---
Back to Top
Back to Cleveland Rusyns
---
For sponsorship opportunities, please contact us.
Your message could be HERE!