The caber toss is a traditional Scottish athletic event practiced at the Scottish Highland Games involving the tossing of a large wooden pole called a caber. It is said to have developed from the need to toss logs across narrow chasms to cross them.
In Scotland the caber is usually made from a Larch pine tree. A caber typically is 19 feet 6 inches (5.94 m) tall and weighs 175 pounds (79 kg).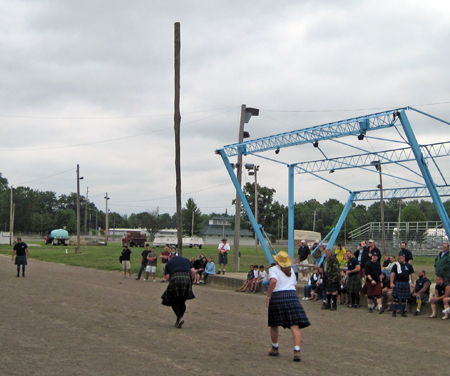 Caber Toss at 2011 Ohio Scottish Games
---
The object is not the sheer distance of the throw, but rather to have the caber fall directly away from the thrower after landing. A perfect throw ends with the 'top' end nearest to the thrower and the 'bottom' end pointing exactly away.

If the throw is not perfect, it is scored by viewing the caber as though it were the hour hand on a clock. A perfect toss is 12:00. A caber pointing to 11:00 would yield a better score than one pointing to 10:30 but would be the equivalent of 1:00.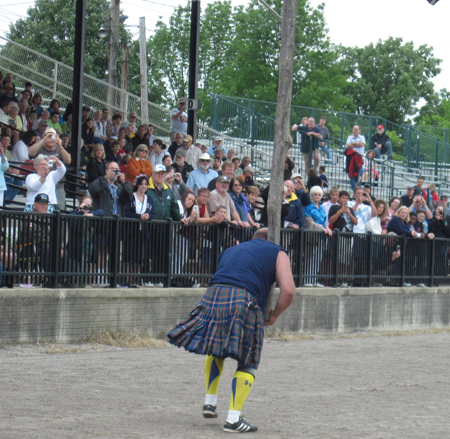 ---
If the caber lands on its end and falls back towards the thrower, the score is lower than for any throw that falls away from the thrower but will be based upon the maximum vertical angle that the caber achieved (side-judging may involve a second judge). An angle of 87° is better than 75°.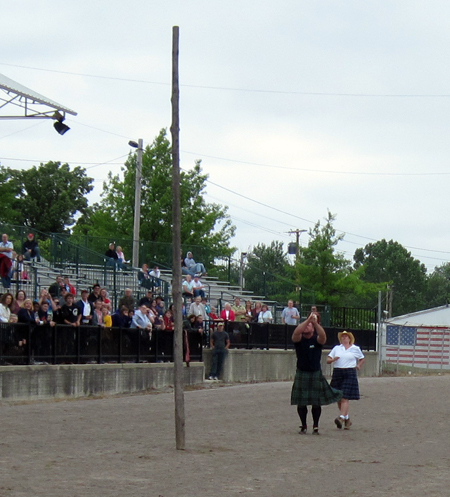 ---
Scoring depends on accuracy, and if the caber did not completely turn once, then it is based on the degree that it rose away from the ground. (from Wikipedia)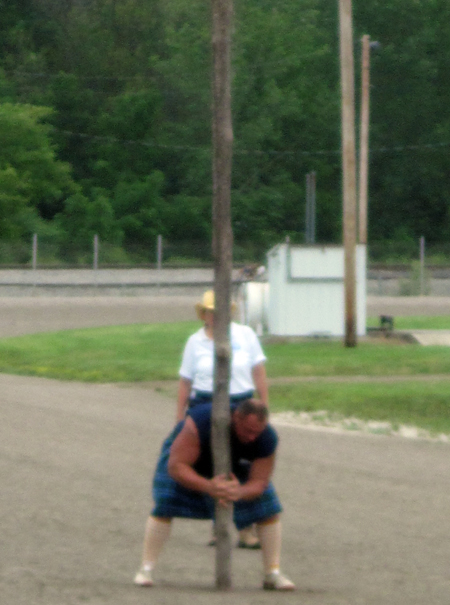 ---
Back to 2011 Ohio Scottish Games in Wellington, Ohio
Photos of the Ohio Scottish Games

Back to Clans at 2011 Ohio Scottish Games


---
Top of Page
Back to Cleveland Scottish