The Cleveland Russian Cultural Garden hosted its first annual Maslenitsa celebration on the site of their coming Garden.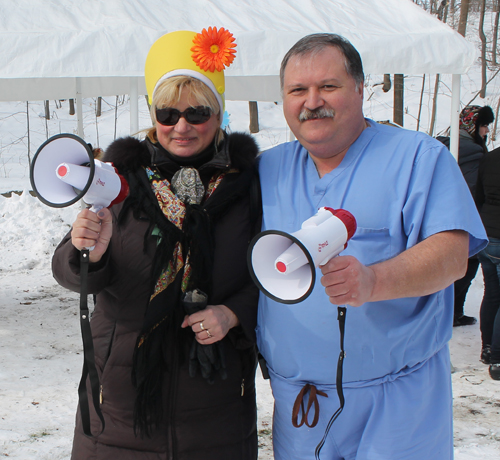 Russian Garden leaders Svetlana Stolyarova and Dr. Boris Vinogradsky, MD

The snow and cold was not a problem for the event - it was a welcome necessity! Maslenitsa is celebrated outside in Russia so outdoor activities are expected and part of the fun.

Maslenitsa has its origins in both pagan and Christian traditions. In Slavic mythology, Maslenitsa is a celebration of the imminent end of the winter. It has been compared to Mardi Gras or Carnival.

The most characteristic food of Maslenitsa is bliny (pancakes or crepes). Round and golden, they are made from the rich foods still allowed by the Orthodox tradition that week: butter, eggs and milk. During pagan times, the round and golden shape and color signified praise to the Sun because of pancakes' resemblance to it.

Svetlana Stolyarova and Boris Vinogradsky are two of the driving forces behind the Russian Cultural Garden in Cleveland. In this short video they talk about the Russian Garden and Maslenitsa.



Maslenitsa activities also include snowball fights, sledding, riding on swings and plenty of sleigh rides. In some regions, each day of Maslenitsa had its traditional activity: one day for sleigh-riding, another for the sons-in-law to visit their parents-in-law, another day for visiting the godparents, etc. The mascot of the celebration is usually a brightly dressed straw effigy of Maslenitsa, formerly known as Kostroma.

During Soviet times, Maslenitsa, like all the other religious holidays, was not celebrated officially. However, it was widely observed in families without its religious significance, just as an opportunity to prepare crepes with all sorts of fillings and coverings and to eat and share them with friends. After the start of perestroika, the outdoor celebrations resumed, although they were seen by some as an artificial restoration of a dead tradition. Although many Russians have returned to practicing Christianity, the tradition is still being revived.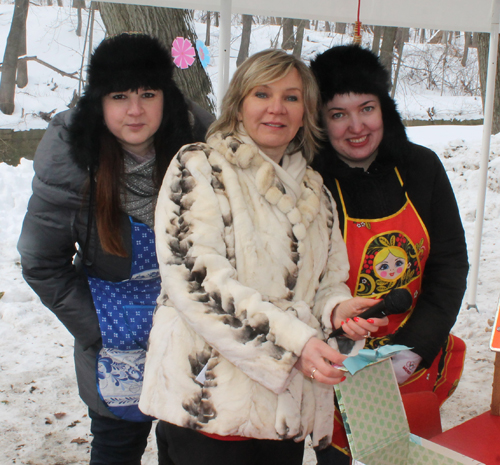 Anna Firsova, Irina Vinogradsky and Olga Nagdaseva

Many countries with a significant number of Russian immigrants consider Maslenitsa a suitable occasion to celebrate Russian culture, although the celebrations are usually reduced to one day and may not coincide with the exact date of the religious celebrations.

Ken Kovach has been to Russia 19 times and is very active in the Cleveland Russian community. He is a Russian ambassador to ClevelandPeople.Com. In this short video, Ken told about the first annual Maslenitsa event in the Russian Cultural Garden in Cleveland Ohio where he was one of the judges of the blini contest and the scarf contest.



Several hundred people visited the Russian Cultural Garden to experience and celebrate Maslenitsa and they were not disappointed. There was a bliny cook-off, a babushka/scarf fashion show and contest, lots of snow games, great food, music and camaraderie.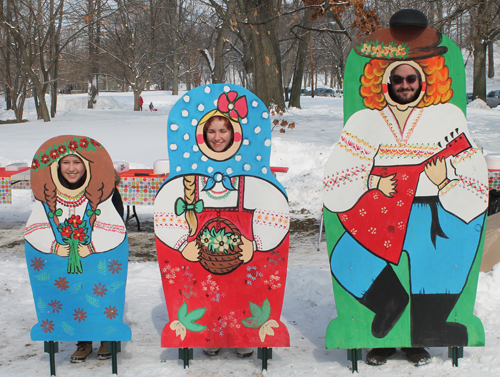 Posing with the matryoshka cutouts



One not-to-be-missed highlight was the group of 3 life size two dimensional matryoshka (Russian nesting) dolls that everyone had to take a picture with.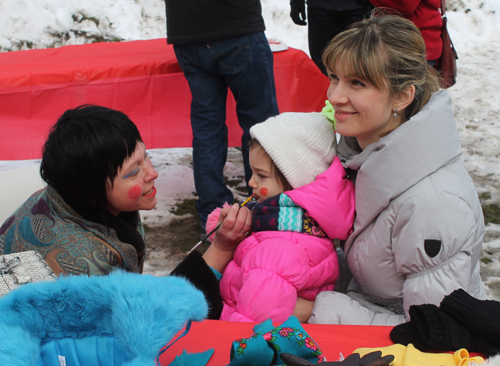 Elena Gomer face painting at Maslenitsa



Committtee Members included:
Dr. Boris Vinogradsky, MD
Irina Vinogradsky
Svetlana Stolyarova
Debbie Hanson
Victoria Kabo
Olga Nagdaseva
Anna Firsova
Vera Astreika
Alex Granovskiy
Elena Gomer
Tamara Elsas
Tatyana Krilova
Congratulations to the leaders of the Russian Cultural Garden and the Maslenitsa committee for a terrific event.

***

Stay informed about the local Russian community by signing up for the free Russian eNews mailings. You can select other groups as well. It's easy and free. Fill out the form for the free Russian eNews.

***

---
***Note: The Russian Cultural Gardens is a non-profit 501 (c) (3) organization dedicated to promoting the Russian Heritage and Russian cultural influence in America. The Russian Cultural Gardens has a prominent goal of building the Russian Cultural Garden as a part of the Cultural Gardens of Cleveland in the Rockefeller Park. Visit their Facebook page at https://www.facebook.com/russiangarden.

And be sure to Save the Date August 23, 2015 for the 68th annual One World Day in the Cleveland Cultural Gardens.

***
---
The main Maslenitsa Page (this page)
Snow Games at Maslenitsa 2015
Posing with Matryoshka at Maslenitsa 2015
Bliny and Babushka Contests at Maslenitsa 2015
More People Photos from Maslenitsa 2015
---
Back to Top
Back to Cleveland Russians