The Republic of Lithuania's foreign minister Linas Linkevicius arrived in Cleveland from Lithuania on Sept. 25, 2015. It was the Minister's first visit to Cleveland, home of a vibrant Lithuanian community.
The Minister was met at Cleveland Hopkins International Airport by City of Cleveland representatives and the Lithuanian Ambassador from Washington to the USA Rolandas Krisciunas, the Honorary General Consul of Lithuania in Cleveland Ingrida Bublys as well as representatives of the Lithuanian Community.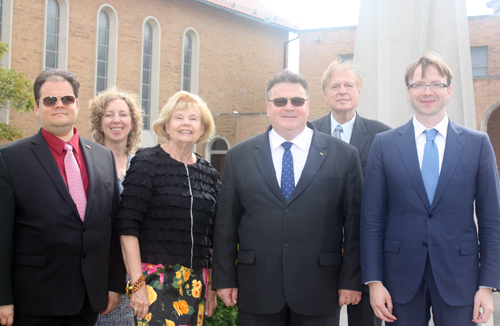 Consul General of the Republic of Lithuania in Chicago Marijus Gudynas, Lyra Puisyte-Bostroem, Honorary Consul Ingrida Bublys, Republic of Lithuania Foreign Minister Linas Linkevicius, Dr. Vik Stankus and Ambassador Rolandas Krišciunas outside St Casimir Church.



Mr. Linkevicius has been written about in the Wall Street Journal. He has visited the USA speaking on the necessity for NATO and the USA to defend the independence and territorial integrity of Ukraine, as well as promoting ties between the USA and Lithuania.

Linas Linkevicius serves as the minister of foreign affairs of the Republic of Lithuania since December 2012. Before that he was ambassador to Belarus. Linkevicius was twice appointed as minister of national defence (1993-96 and 2000-2004) and served twice as Lithuanian ambassador to NATO (2005-2011 and 1997-2000). He was first elected to the parliament of Lithuania in 1992.

While in Cleveland, he paid his respects to Lithuanian president Antanas Smetona - who left Lithuania in 1940 for Cleveland to protest Lithuania's illegal occupation by the Soviet Union - at his final resting place at All Souls Cemetery. Smetona served as the first President of Lithuania from April 4, 1919 to June 19, 1920. He again served as the last President of the country from December 19, 1926 to June 15, 1940, before its occupation by the Soviet Union. He was also one of the famous ideologists of nationalism in Lithuania.

The minister also visited the Lithuanian Cultural Garden. He spoke, together with Ambassador Rolandas Krisciunas, at the Annual Meeting-Conference of the National Board of the Lithuanian American Community of the USA, Inc. at the Radisson Hotel in Eastlake.

With most (almost 80% of) Lithuanians being Roman Catholic, it was not surprising that the Minister would visit a Cleveland Lithuanian Catholic Church.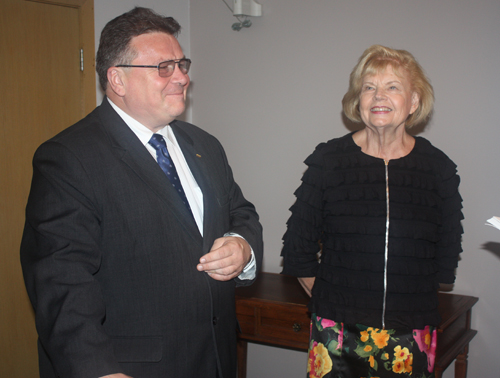 Minister Linas Linkevicius and Ingrida Bublys



ClevelandPeople.Com caught up with the Minister, Ambassador and others at St Casimir Church, a Lithuanian Parish. He was asked if the people in Lithuania know how much Clevelanders care about them. He said, whether they are in the US or UK or Lithuania, Lithuanians are all one nation.



Fr Joseph A. Bacevice, pastor of St. Casimir Parish in Cleveland was asked if Pope Francis' visit to the US would have an influence. He said that it will have a great influence especially with alienated Catholics. He said it already has with several people wanting to get back to the Faith.



During World War I, the Council of Lithuania (Lietuvos Taryba) declared the independence of Lithuania and the re-establishment of the Lithuanian State on February 16, 1918. (Of course, independence was not restored until March 11, 1990). So 2018 will be a major milestone for the country. Minister Linkevicius spoke about upcoming plans for Lithuania's centennial celebration and spoke of Global Lithuania and how people should remember their roots.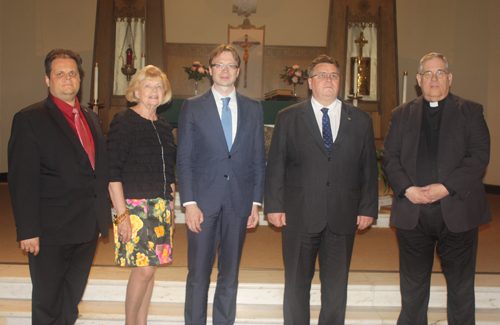 Consul General of the Republic of Lithuania in Chicago Marijus Gudynas, Honorary Consul Ingrida Bublys, Ambassador Rolandas Krišciunas, Republic of Lithuania Foreign Minister Linas Linkevicius and Rev. Joseph Bacevice inside St Casimir Church



Ambassador Rolandas Krišciunas then spoke about his ties to Ohio, having earned his Master's Studies in Economic Sciences at Ohio State University.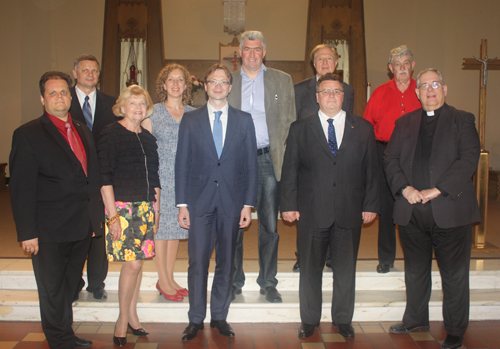 Back Row: Gintautas Valys, embassy staff,Lyra Puisyte-Bostroem, embassy Counsellor, Marius Laurinavicius, Resident Fellow Center for European Policy Analysis(CEPA), Dr. Victor Stankus, Lithuanian American Community Ohio District vice president, Algis Matulionis, Administrator of Lithuanian Newspaper in Cleveland, DIRVA. Front Row: Marijus Gudynas, General Consul of the Republic of Lithuania Chicago, Ingrida Bublys, Honorary General Consul Republic of Lithuania in Ohio, Rolandas Krisciunas, ambassador of the Republic of Lithuania in Washington, Linas Linkevicius, Foreign Minister of the Republic of Lithuania, Rev. Joseph Bacevice, Pastor of the Lithuanian St Casimir parish



Cleveland was happy to welcome the Foreign Minister, Ambassador, Consul General and others and hope that they return soon.
---
Back to Top
Back to Cleveland Lithuanians