The Federation of India Community Associations (FICA) hosted the 63rd Republic Day of India celebration at the Embassy Suites in Independence. One of the highlights of the evening was the dance performances that celebrated the many cultures of India.
Note: Unfortunately, the main video camera died just before the performances. An older spare was used yielding less vibrant color.
The first dance was from the South. Sujatha Srinivasan and her students Shriya Srinivasan, Mathangi Sridharan and Darshana Balasubramaniam performed a Bharata Natayam dance. Bharata Natyam or Chadhir Attam is a classical dance form from the South Indian state of Tamil Nadu, practiced predominantly in modern times by women. The dance is usually accompanied by classical Carnatic music. Its inspirations come from the sculptures of the ancient temple of Chidambaram.
This dance is called 'Jayathi Jayathi Bharatha Mata' and was composed by Mayooram Vishwanatha Shaastri. It is a patriotic song describing the greatness of Mother India. She is hailed as the universal mother nurturing and protecting of all living beings.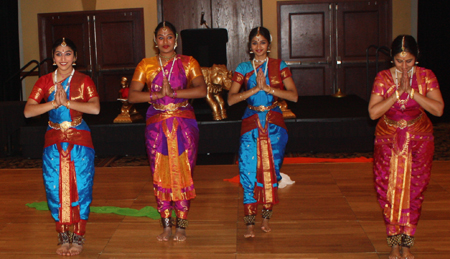 ---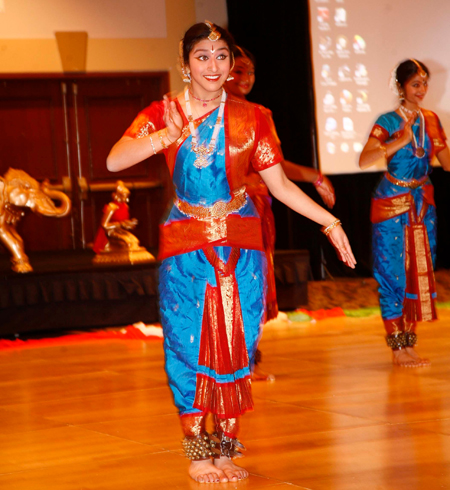 ---
---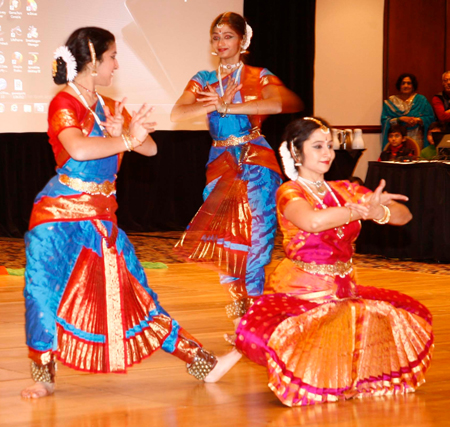 ---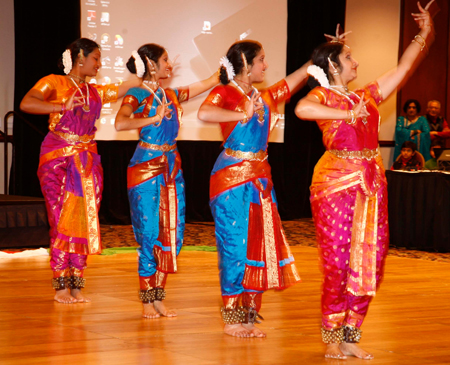 ---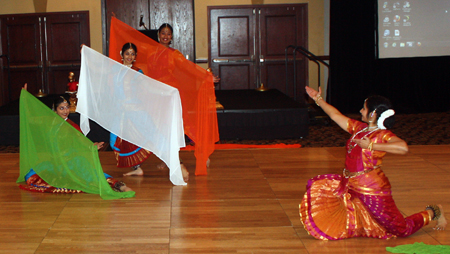 ---
The second dance was from the western state of Gujarat where we were entertained by a Garba Dance coordinated by Sonal Ghiya. Joining her in the dance tonight are Rita Patel, Rupa Patel, Jigisha Patel, Ragini Patel, Ketu Dalal, Smita Shah, Dhaval Ghiya, Dilip Shah, Pragna Parikh and Satish Parikh.

Garba is a popular folk dance performed on all the 9 nights of Navaratri. It is traditionally performed around a clay lantern with a light inside or a statue of Goddess Shakti. The beat is maintained by the clapping of hands. A variation of Garba is the popular dandiya where the beat is maintained by the striking of sticks.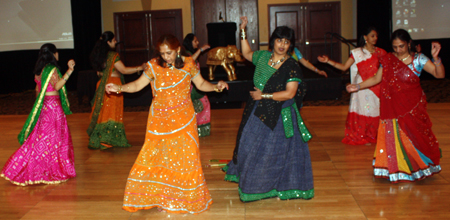 ---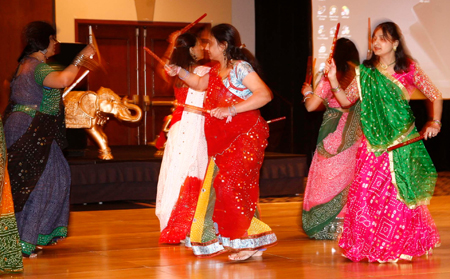 ---
---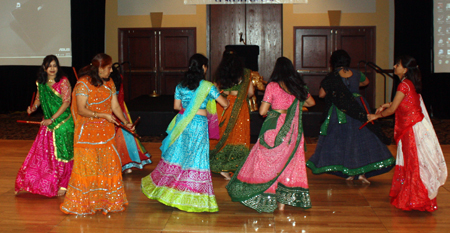 ---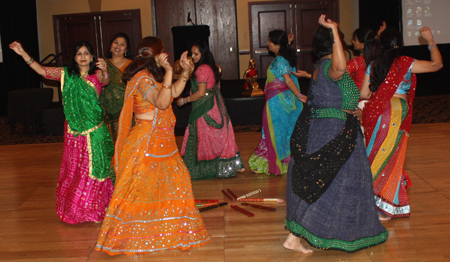 ---
The third performance comes from the northern state of Punjab, where we were entertained by gifted Punjabi artists Roma, Manvir Kahlon, Jyoti, Sujata, Renu Chhada, Rimpy Nijer, Preeti Aulkh, Jatinder Grewal, Guddy Beer, Deep Nilvi, Santosh Attar and last but not the least by Happy. The dancers from Punjab performed Giddha, the popular folk dance performed by women mainly at festive and social occasions.
Some students of dance believe that Giddha was derived from the ancient Ring Dance. Giddha is just as energetic as the popular Bhangra. However it manages to creatively display feminine grace, elegance and elasticity.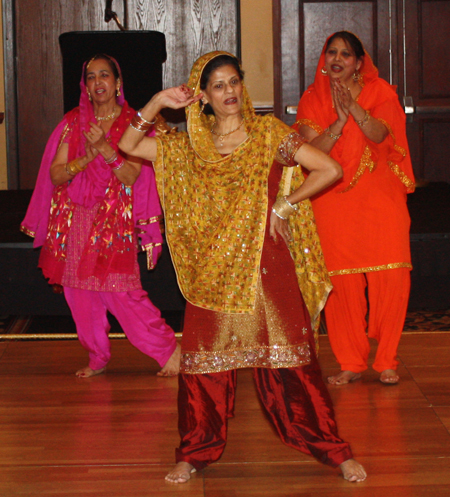 ---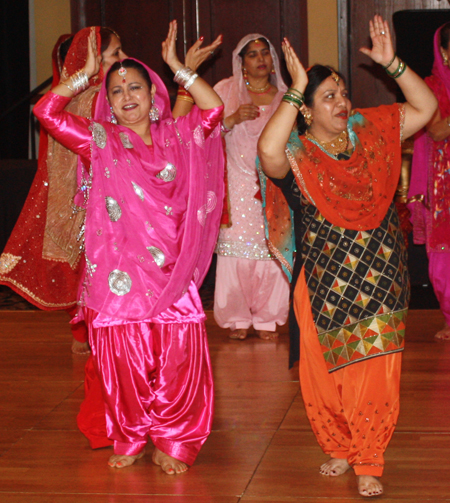 ---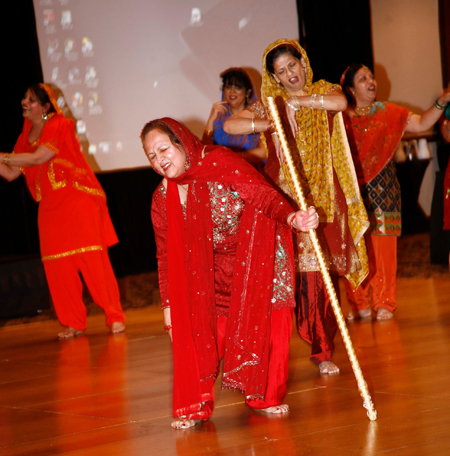 ---
---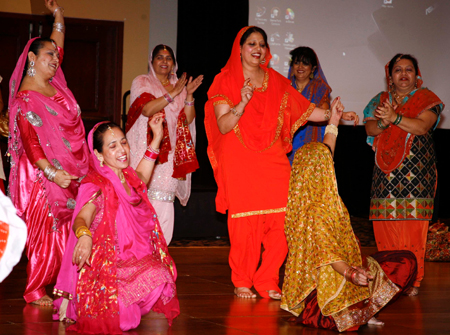 ---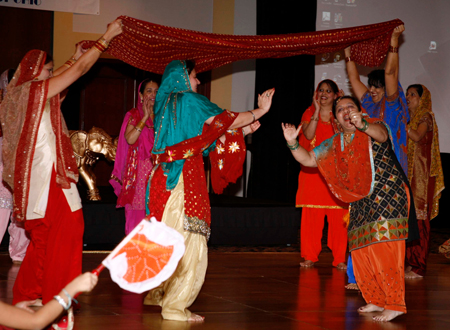 ---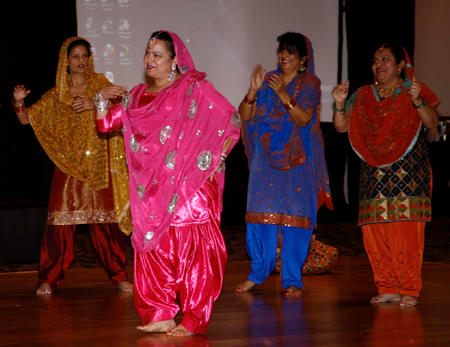 ---
For a grand finale, the 3 dance groups joined together led by Hardail S Sahota carrying the Indian Flag.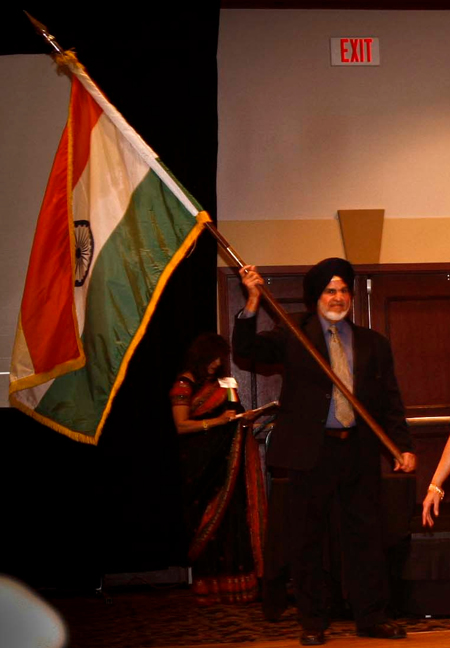 ---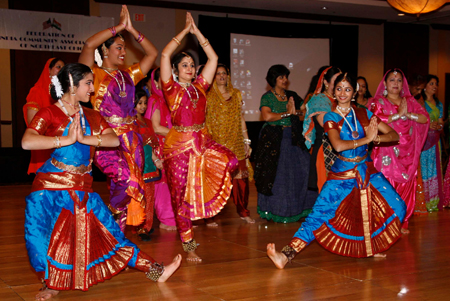 ---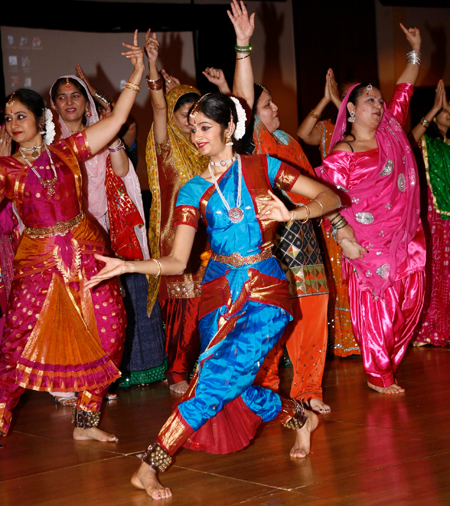 ---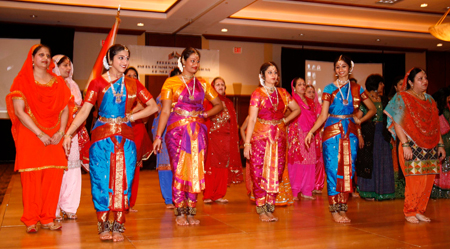 ---
---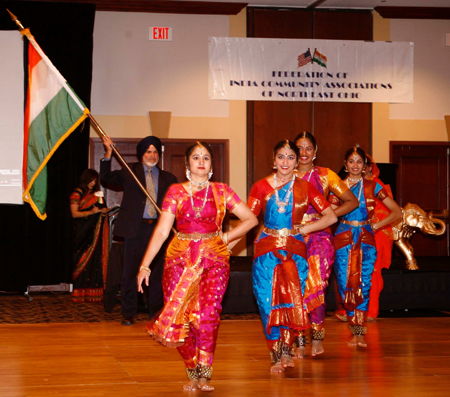 ---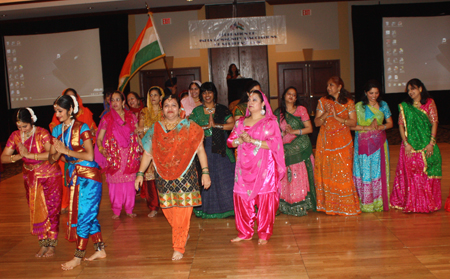 ---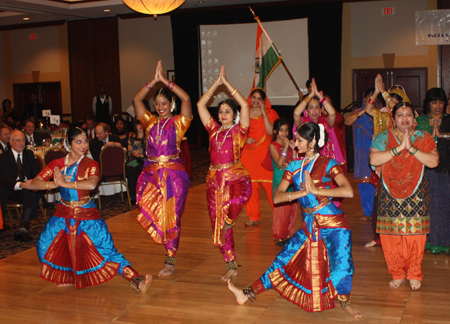 ---
---
Photos by Dan Hanson and Harry Weller
Dance descriptions by Asim Datta
63rd Republic Day of India - Page 1
Speakers & Awards

63rd Republic Day of India - Page 2 (This Page)
Entertainment

63rd Republic Day of India - Page 3
Faces in the Crowd


---
Back to Top
Back to Cleveland Asian Indians
---
For sponsorship opportunities, please contact us.
Your message could be HERE!

ClevelandPeople.com is sponsored in part by


FICA, Federation of India Community Associations