ClevelandPeople.Com
Celebrating Cleveland's Cultural Diversity


Happy Easter
Christ is Risen - around the world
Albanian: Khrishti unjal! Vertet unjal!
Arabic: El Messieh kahml Hakken kahm!

Armenian: Kristos haryav ee merelotz! Orhnial ch harootyunuh kristosee!
Byelorussian: Khristos uvoskros! Zaprowdu uvoskros!

Coptic: - Christos anesti! Alithos anesti!

English: Christ is risen! Indeed He is risen!

Finnish: Kristus nousi Kuolleista!

French: Le Christ est ressuscite! Kriste ahzdkhah! En verite il est ressuscite!

Georgian: Kriste ahzdkhah! Chezdmaridet!

German: Christus ist erstanden! Wahrlicit ist er erstanden!

Greek: Christos anesti! Alithos anesti!

Japanese: Harisutosu Siochatsu! Makoto-ni Siochatsu!

Latin: Christus resurrexit! Vere resurrexit!

Latvian: Kristus ir augsham sales! Teyashant ir augsham sales vinsch!

Polish: Khristus zmartvikstau! Zaiste smartvikstau!

Romanian: Cristos ainviat! Adeverat a inviat!

Russian: Khristos voskrese! Voistinu voskrese!

Serbian: Christos vaskres! Vaistinu vaskres!

Slavonic: Khristos voskrese! Voistinu voskrese!

Spanish: Christos ha resucitado! En verdad ha resucitado!

Ukrainian: Khristos voskres! Voistinu voskres!
Medical Yatra in Gandevi, India
Medical Yatra - AIPNO and Rotary Save Lives in Gandevi, India
Association of Indian Physicians of Northern Ohio (AIPNO) was founded in 1983 as a non-profit organization of physicians of Indian origin in Northern Ohio. Thye partnered with Rotary clubs and Rotary Foundation in a Global Grant #1412348 to make a huge impact in training the trainers and save the lives in remote corners of Gandevi, Gujarat, India.

The aim was "To improve the quality of life of the rural and tribal community by performing the life saving surgeries of Cancer and Coronary diseases as well as by increasing awareness regarding early detection and prevention of Diabetes and to increase the capacity of local health professionals by training and Education."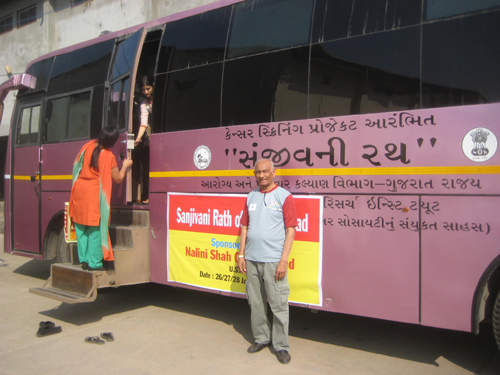 Ramesh Shah with Sanjeevani Rath-Mobile Van equipped with Mammography Sonography and MRI for Early Cancer detection
More from the 2014 Yatra
Top of Page
Passover Seder
Passover Seder by Maury Feren
If you're wondering why Jews all over the world began eating matzo on Monday night, April 14th, at a big family dinner, I will tell you why.

Everyone thinks that all this holiday is about is eating matzo having this big dinner with a lot of ritual taking place not realizing how much more is involved.

Read the rest of Maury Feren's column on the Seder

Top of Page

AJC 11th annual Global Leadership Seder
AJC 11th annual Global Leadership Seder
The 11th Annual AJC (American Jewish Committee) inter-faith Diplomatic Seder was held at Anshe Chesed Fairmount Temple in Beachwood.

Each spring, when the world of nature renews itself, the Jewish people reflect upon their emergence from slavery and the meaning of freedom. Our ancestors have celebrated the Passover Seder, with its rich ceremonies, folk songs, and colorful symbols for thousands of years. Through our ritual retelling of the story of Egyptian bondage, we are reminded of the continuing battle for freedom in every generation.

Several speakers were asked to talk about 'What Freedom means to me.'

An orange was placed on the Seder plate because it was once said the idea of women as rabbis is as farfetched as oranges on the seder plate.
Cleveland Cultural Gardens Officer Induction
Cleveland Cultural Garden Federation Officer Induction
The 2014 Cleveland Cultural Garden Federation officer induction ceremony was held at the Ariel International Center in Cleveland. Ariel is now the business home of the Federation.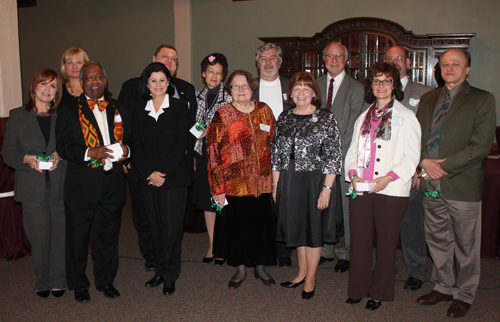 Cleveland Cultural Gardens Federation Board



Photos and videos of The Cultural Gardens Induction Ceremony

As this photo shows, the peaceful philosophy of the Cultural Gardens endures even when the rest of the world does not.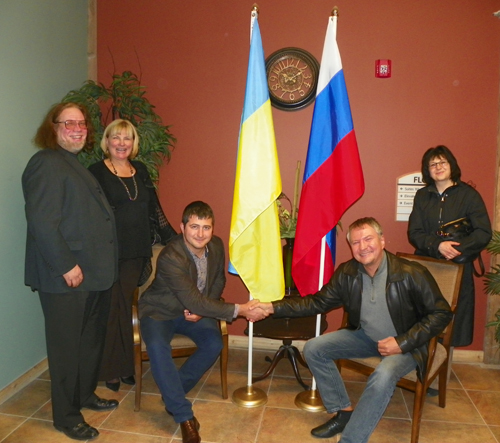 Russia and Ukraine Garden delegates shake hands in front of their flags
Top of Page
Asian Community Leaders and Mayor Jackson
A Dialogue between Asian Community Leaders
and Cleveland Mayor Frank Jackson
A number of Asian community leaders were invited to meet and speak with Cleveland Mayor Frank Jackson at the office of Margaret W. Wong. The meeting was billed as "an opportunity for Community Leaders to speak directly with Mayor Jackson about their concerns as well as strategies to make Cleveland a more welcoming and open city for the Asian and businesses communities."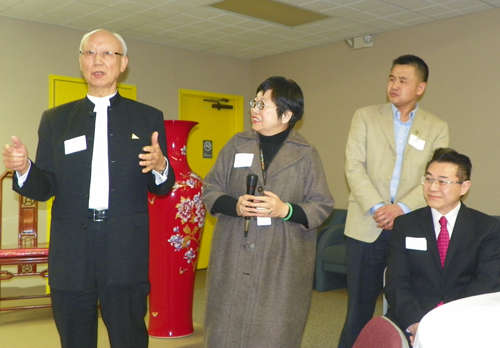 Anthony Yen, Margaret Wong,
Haigang Zhou and George Hwang
Photos and videos of Asian Community dialog with Mayor Jackson
Top of Page
Cleveland International Hall of Fame
Cleveland International Hall of Fame Sold Out
The induction ceremony for the 2014 class of the Cleveland International Hall of Fame on May 12, 2014 is Sold Out!

We are working with the Marriott to add a few tables so if you want to attend, you need to contact Debbie ASAP at deb@ClevelandPeople.Com or 216-381-8310. You can also publish (for a little while yet) congratulatory messages in the collector's edition program book.

The early Sell Out is a testament to the outstanding inductees.

The 2014 Class consists of (alphabetical order):

Monte Ahuja
inducted by Thomas Zenty
Eugene Bak
inducted by Ben Stefanski
Margaret Callander
inducted by Kona Gant
Jim Foster
inducted by Dick Pogue
Donna Hom
inducted by Margaret Wong
Joseph P Meissner
inducted by Jeremy Lin
Ernie Mihaly
inducted by Richard Fleischman
Thomas J. Scanlon
inducted by Sam Miller
---
St Patrick's Day Parade in Cleveland 2014
St Patrick's Day Parade in Cleveland 2014
The 2014 St. Patrick's Day Parade in Cleveland featured Parade Grand Marshall Andy Dever, Irish Mother of the Year Bridie Joyce and Co-Chairs John O'Brien Jr. and Mark Owens as well as visitors such as Ireland's Minister of Health James Reilly and Consul General Aidan Cronin.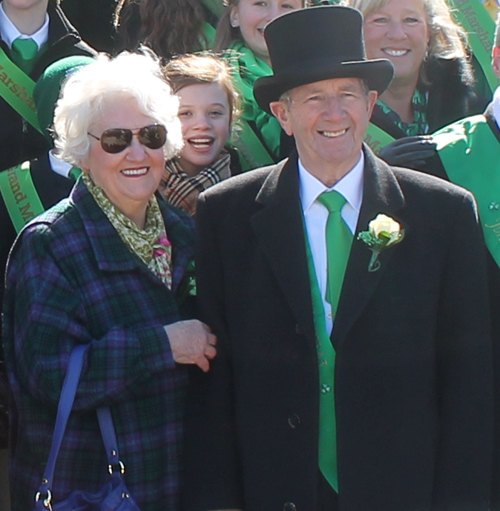 Margaret and Andy Dever

One of the highlights of the Parade was the US Air Force Honor Guard from Washington DC.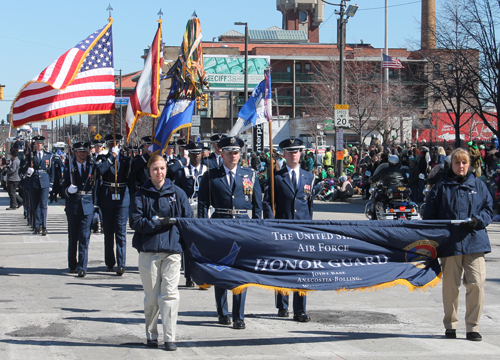 US Air Force Honor Guard marching at Cleveland St Patrick's Day Parade



We have 16 pages of photos and videos from the Parade for those who couldn't attend or want to relive the grand event.

St Patrick's Day Parade in Cleveland 2014


---
Holi - Festival of Colors
Holi - Festival of Colors
FICA, Cleveland State University Center for International Services and Programs (CISP) and Indian Student Association (ISA) hosted a Holi celebration in Cleveland at CSU on March 29, 2014. The "Spring Festival" was greeted with a surprise blizzard of more than 5" of snow but people braved the elements for the good food, camaraderie and especially the performances - both traditional and modern.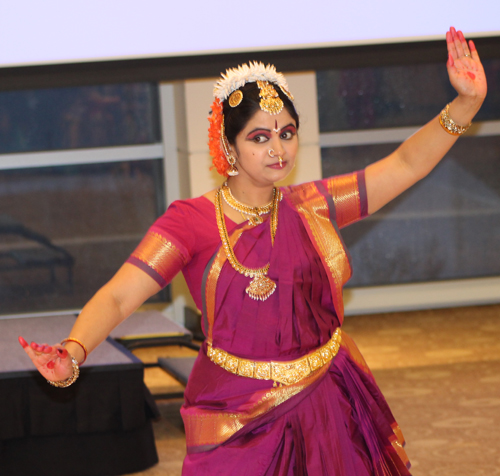 Kalyani Veturi Kuchipudi dance
Photos and Videos of Holi
Top of Page
---
Cleveland Museum of Art ICCA Task Force
Cleveland Museum of Art ICCA Task Force
The Cleveland Museum of Art created the International Cleveland Communities Advancement Task Force to work with leaders in Cleveland's international communities about the international exhibitions and programs that bring masterpieces of art and music to Cleveland.

The most recent meeting featured CMA Curators who provided insightful introductions to the new Asian galleries, current exhibitions and new acquisitions that make the museum internationally relevant and regionally significant.
Anila Nicklos, Pierre Bejjani, Gia Hoa Ryan, Asim Datta, Dan Hanson, Curator Sinead Vilbar, John and Helen Collis. Marjorie Williams, Anthony Yen, Keiko Nakano, Joe Meissner, Maria Pujana, Nadia Martinovics and Hugo Urizar. (Photo by Debbie Hanson)
---
First Mass Mob in Cleveland
Mass Mob at St Casimir Church
Beautiful and Historic Saint Casimir Church at East 82nd and Sowinski in Cleveland was the site of the first Catholic Mass Mob in Cleveland (and the 3rd in the country).

A typical crowd at the 11:30 Sunday Mass might be 100 people but about 750 people showed up at Mass on March 23, 2014 for the first Mass Mob in Cleveland.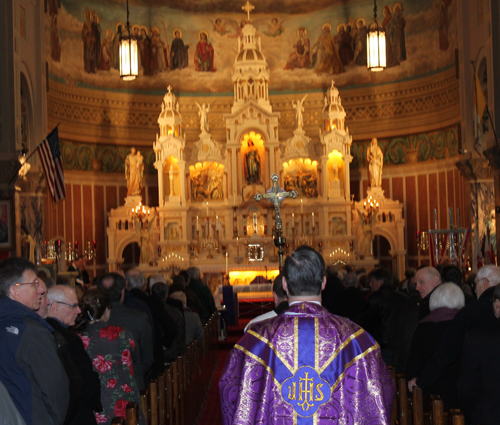 Fr. Orzech processes into the Church
Photos and videos from the Mass Mob


---
Top of Page
---
Cleveland's Diversity at Work
Cleveland's Diversity at Work
Computers Assisting People (CAP) is a Cleveland non-profit that has worked to bridge the Digital Divide since the mid-90s. Since inception, CAP volunteers have refurbished and donated over 15,000 computers to over 450 schools and non-profits in Cleveland.

On Saturday, CAP moved to its new location at 2800 Euclid and a diverse group of volunteers helped out - various races, all ages, men and women - a great microcosm of our community. Here are 2 photos of some of the volunteers. (Debbie Hanson is not in the photos because she took them)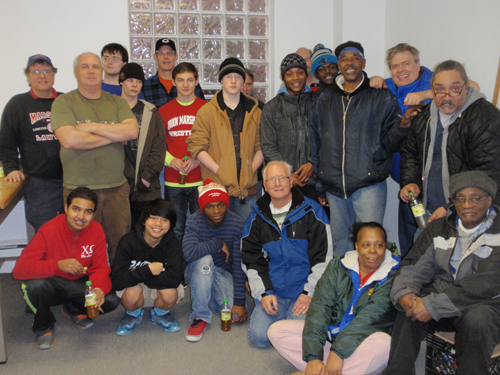 Some of the CAP volunteers on 1/11/13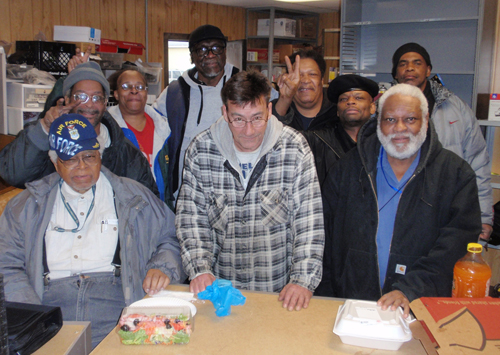 More of the CAP volunteers on 1/11/13
---
Thanks from the Mayor
Thanks from Mayor Jackson
Cleveland Mayor Frank Jackson hosted an event at the Rock and Roll Hall of Fame and Museum in Cleveland Ohio for the Cleveland Consular Corps (leaders representing various countries) and Dan Hanson and Debbie Hanson of ClevelandPeople.Com.

The Mayor singled out Dan Hanson, his sister Debbie and their mother Pat Hanson as being there for every international event in Cleveland and archiving all the ethnic and international activities in the city.
---
Top of Page
---
Cleveland Non-Violence Pledge
Cleveland Non-Violence Pledge
"As chairman and on behalf of the Hispanic Roundtable, we enthusiastically take the pledge of peace and nonviolence. We are honored to be associated with two of the greatest human beings whoever lived: Mahatma Gandhi and Dr. Martin Luther King. Most importantly, we want to be associated with the universal and eternal value of peace and dignity for all human beings, who are all created in God's image.
Josť C Feliciano

Have you signed the Cyber Wall of Peace and Nonviolence yet?
---
Rotary honors ClevelandPeople.Com
Cleveland Rotary Honor
Rotary Club of Cleveland is pleased to present its 2013 International Service Award to ClevelandPeople.com and its founders, Pat Hanson, Dan Hanson, and Deborah Hanson not only for their commitment to a better world and the furtherance of world understanding and peace, but for their global vision in support of the international community of Greater Cleveland and the State of Ohio.
---
ClevelandPeople.Com in Congressional Record
ClevelandPeople.Com in Congressional Record
Thank you to Congressman Dennis Kucinich for recognizing ClevelandPeople.Com into the US Congressional Record. Michael Patterson from Congressman Kucinich's office presented the proclamation at a holiday event.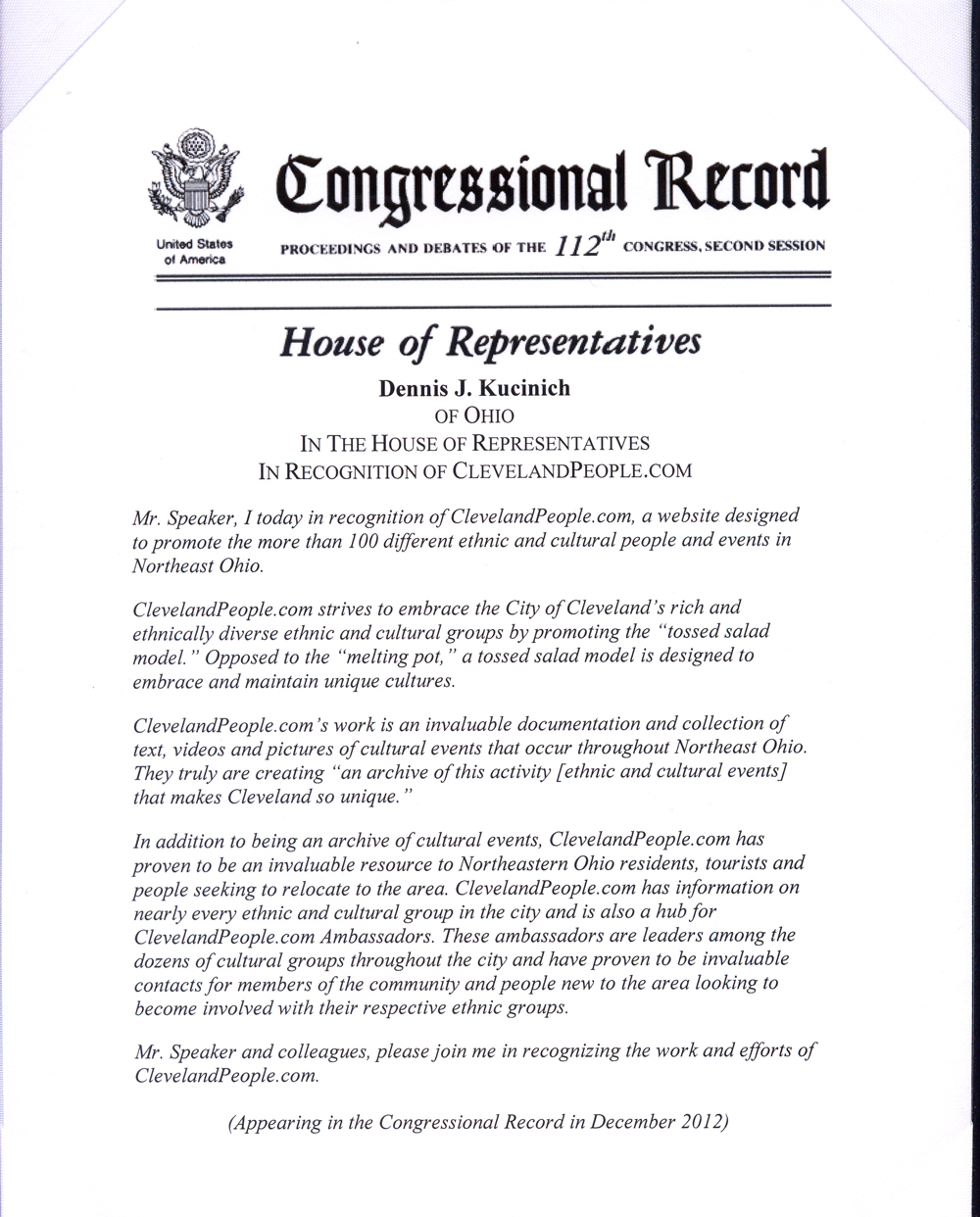 Congressional Record for ClevelandPeople.Com
More from the event
---
Top of Page
---
Questions - we get questions!
Questions!

Besides the daily inquries we receive at ClevelandPeople.Com re visiting and/or moving to Cleveland, we get a lot of interesting questions. Maybe you can help us answer them.

Here are a few:
Are there any Portuguese or other stores in the Cleveland area where one could buy Salt Codfish?

I am trying to find a tutor as I am trying to learn Tagalog (Philippines national language) and I have been trying with learning on my own through cds, books, but still having trouble.

I need help finding a choral work for an all Estonian Music Concert in the New Jersey/New York area to be held May 21,22 The concert incorporates songs and scenes from the documentary "The Singing Revolution." The piece I need is "Puha" (Sanctus) by Urmas Sisask. Although I can order this from the Finnish publisher I was informed it would take 6 weeks to arrive. Is there anyone in the Estonian community who might have this music?

Would you happen to know where I could purchase a Yule Buck/Swedish goat?

I was wondering if there were any opportunities available for an appearance for Little Miss Black America.

I am very interested in joining a Slovak Group if possible. I know I live 1 hour away, but I will drive there it is no problem. I do have others that are interested also after I join. Thank You

I am from the 1957 graduating class at Lincoln High School, Lincoln Nebraska and Silvija [Pakalns] Rutenbergs was a classmate of ours. I have been charged with trying to locate missing classmates and we are hoping you can either forward this message to Silvija or perhaps send me an email where I can contact her.
Can you help? Let us know at info@clevelandpeople.com. Thanks


---
Top of Page
---
Cultural and Ethnic Store
Cultural and Ethnic Store
No matter what your cultural or ethnic background is, you will find products tailored to that group in our On-Line Store.

For example, do you know a Slovenian (or Irish or Polish or Italian or...) Grandma or Grandpa who would love their own Parking Sign? Check it out. Books, DVDs, Music, Flags, Baby Items, Gourmet Foods and much more.

All at great prices and shipped securely from Amazon.com

Please help support ClevelandPeople.Com by shopping in our Online Store.
---
What is Cleveland's greatest asset?
Cleveland People
Sure we love the distinct 4 seasons (most of the time). And we love the great cultural and civic resources such as University Circle, the Cleveland Orchestra, the Cultural Gardens, the Rock and Roll Hall of Fame, Lake Erie, the Browns, Cavaliers and Indians and so much more.
But it's the people that make Cleveland special. The rich culture, traditions and, of course, food from over 100 ethnic groups makes Cleveland a much richer city.
ClevelandPeople.Com Philosophy
Welcome to Cleveland

Helping Monika
Over 1,000 of the daily visitors to ClevelandPeople.Com visit from outside the US. The website has been serving as a Virtual Welcoming Center to people from all over the world. We ask the appropriate Ambassador to assist us with specific cases.
For example, we received an e-mail from a visitor named Monika in Poland. The message was in Polish so we asked Polish Ambassador John Borkowski to translate for us.
Basically, Monika is coming to the Cleveland Clinic and is nervous. She doesn't know anyone or the language.
We sent Monika's information to many on our Polish (and other) lists and the response was terrific. Several organizations and individuals will be assisting and welcoming Monika.
What a terrific group of Cleveland People!

Top of Page
---

ClevelandPeople.Com News & Events
See all of the latest news on the ClevelandPeople.Com News page and a Calendar of Events on the Calendar page.

Top of Page
---
Submit Your Group's Event
If you want your group's events listed in our Calendar, please send an e-mail to events@clevelandpeople.com with the details. Please allow at least 2 weeks lead time.
Top of Page
---
On-line store for browsing and shopping
Do you need a Hungarian Flag? A shirt that says "I love Slovenian girls"? How about a sign that says No Parking except for Irish Grandmother?
These and hundreds of other items for your particular ethnic group are available for browsing at our on-line store. It's safe, fast, easy and fun. And there is a wide selection you will never find in the stores!
---
What is Cleveland's greatest asset?


Cleveland People Sure we love the distinct 4 seasons (most of the time).

And we love the great cultural and civic resources such as University Circle, the Cleveland Orchestra, the Rock and Roll Hall of Fame, Lake Erie, the Browns, Cavaliers and Indians and so much more.

But it's the people that make Cleveland special. The rich culture, traditions and, of course, food from over 100 ethnic groups makes Cleveland a much richer city.

This site serves as a portal to reach the many interesting groups of people that make up Cleveland. While you will want to click on a link of a group that you belong to or are familiar with, why not check out some other groups and see what they have to offer?

If you are from outside the Cleveland area, even outside the US, please contact us to see what our area has to offer you and your family. We think you will be amazed at the opportunities.

Learn more about ClevelandPeople.Com

---
Top of Page

Sponsored in part by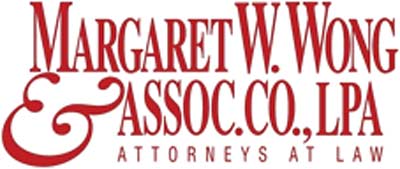 Thanks to Vision Net for hosting this site