ClevelandPeople.Com
Celebrating Cleveland's Cultural Diversity


Cleveland Hungarian Development Panel Paprika! 2014
Cleveland Hungarian Development Panel Paprika! 2014
The Cleveland Hungarian Development Panel, in collaboration with the Great Lakes Science Center, hosted the 24th annual Paprika! event on March 1, 2014 at The Ritz Carlton Hotel. This year's theme was Diamonds of Science: The Brilliance of Hungarian Minds and featured a tribute to Erno Rubik who created Rubik's cube.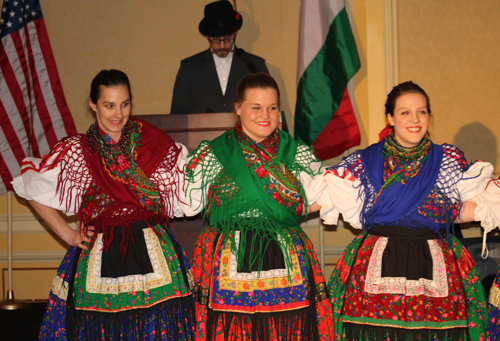 Cleveland Hungarian Scouts Folk Ensemble dancers
3 pages of photos and videos from Paprika! 2014
---
Top of Page
---
2014 Cleveland Kurentovanje Parade and Festival
2014 Cleveland Kurentovanje Parade and Festival
Returning for its second year on Saturday March 1st 2014, the Cleveland Kurentovanje Festival is based on the most popular carnival event in Slovenia and the central figure of the carnival, the Kurent, is believed to chase away winter and usher in spring with its supernatural powers.

The Slovenian National Home, St Clair Superior Development Corp and Sterle's Country House partnered with local businesses and institutions to bring a piece of this cultural event to St. Clair Avenue on Saturday March 1st, 2014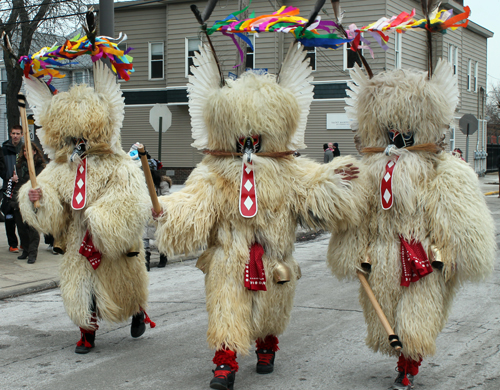 Kurents at the Parade
2014 Cleveland Kurentovanje Parade Highlights

2014 Cleveland Kurentovanje Festival at the Slovenian National Home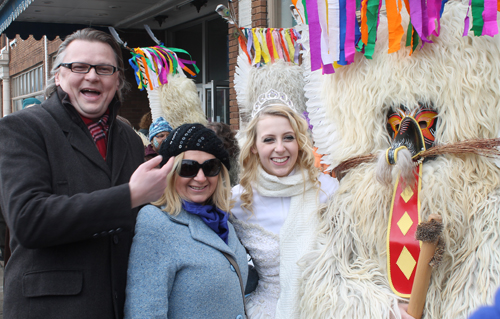 Consul General of Slovenia Jure émauc
with wife Janja and daughter Nika (and Kurent)
Top of Page
---
Dutch Ambassador in Cleveland
Dutch Ambassador in Cleveland
Netherlands Ambassador to the United States Rudolf Bekink along with Klaas van der Tempel, Consul General of the Netherlands, Chicago were the special guests at a luncheon at the Union Club on Friday February 28. The event featured members of the Cleveland Consular Corps as well as representatives of Dutch companies and organizations.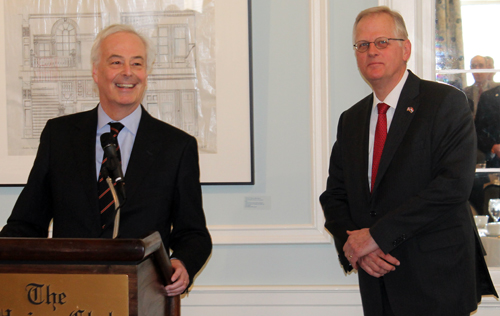 Netherlands Ambassador Rudolf Bekink and
Klaas van der Tempel, Consul General of the Netherlands, Chicago
More from the Ambassador's visit
Top of Page
---
Margaret Wong honored by Rotary Club of Cleveland
Margaret Wong honored by Rotary Club of Cleveland
Immigration attorney and author Margaret W. Wong received the 2014 International Service Award from the Rotary Club of Cleveland on International Fellowship Day on February 20, 2014.
Margaret W. Wong and
Rotary Club of Cleveland President Karen Melton

In this video clip, Dr. Anthony Yen from the Confucius Institute at Cleveland State University (and a longtime friend and colleague of Margaret Wong) presented a proclamation to Margaret and told how with her help, 36 schools in Cleveland are teaching the Chinese language.

More photos and videos coming soon.

Top of Page

---
Organization of Chinese Americans Inauguration
Organization of Chinese Americans Inauguration
The 2014 Inauguration Reception of the Organization of Chinese Americans Cleveland Chapter held in the offices of Margaret W. Wong on Saturday. New president Lisa Wong and her board were sworn in and several performances and presentations rounded out the event.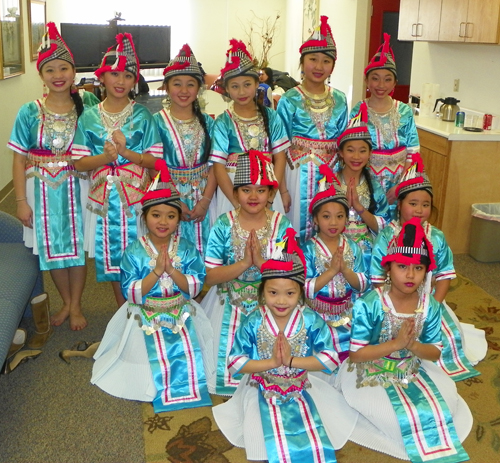 Blooming Flower Hmong Dancers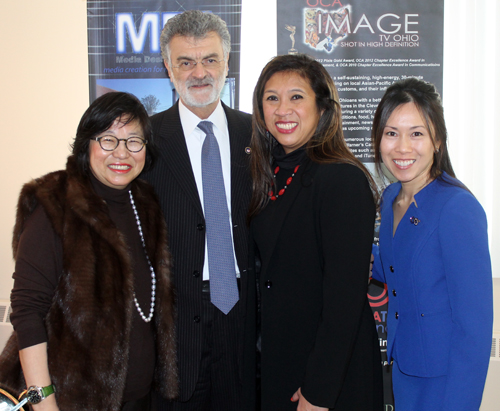 Margaret Wong, Mayor Frank Jackson,
OCA National president Sharon Wong and
OCA Cleveland president Lisa Wong
5 pages of photos and videos from the OCA event begin here

Top of Page

---
Black History Month Flag Raising Ceremony
Black History Month Flag Raising Ceremony
Members of the Underground Railroad Society, Coalition for a Better Life, dba Peace in the Hood and other community organizations marched outside of the Rotunda of Cleveland City Hall to see the African-American flag raised over Cleveland City Hall. This was the 40th annual Black History Month Flag Raising Ceremony at Cleveland City Hall.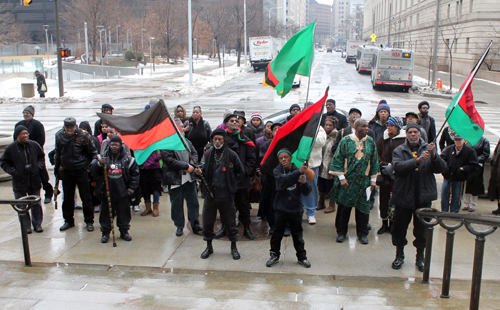 Photos and videos from the event
---
India Republic Day
India Republic Day
Federation of India Community Associations (FICA) hosts an annual event to celebrate Republic Day. The event, dinner and performances took place on Saturday January 25, 2014.

Dr. Mohan Bafna and Cleveland Mayor Frank Jackson were honored.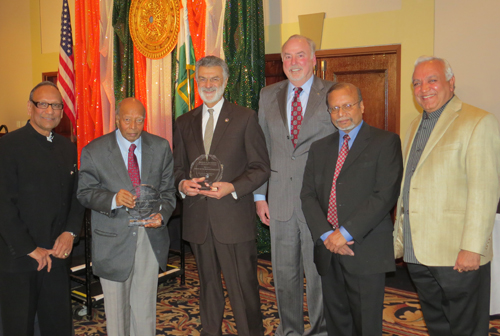 Chittaran Jain, Mohan Bafna, Mayor Frank Jackson,
Ronald Berkman, Asim Datta and Ray Gehani
Photos from Republic Day 2014
---
Mayor Ralph Perk's 100th birthday celebration
Mayor Ralph Perk's 100th birthday celebration
Ralph J. Perk served as the 52nd mayor of Cleveland, Ohio. He was born on January 19, 1914 which makes this the 100th anniversary of his birth. A celebration commemorating the event was held on January 17, 2014 in the Michael Schwarz Library of Cleveland State University (CSU).

Perk was known for his outreach to the ethnic communities and his International Fair on Mall C.

He was of Czech descent and started the American Nationalities Movement in the late 1950's.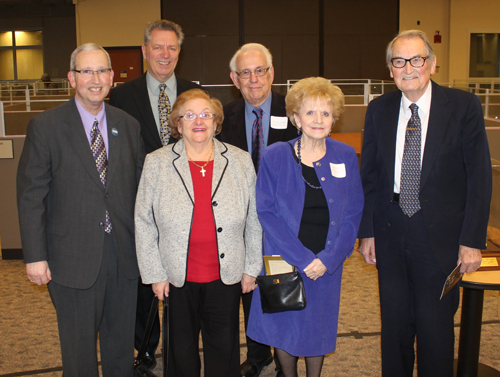 Richard Klein, Rocky Perk, Mary Rose Oakar,
Taras Szmalaga, Irene Morrow and Vlad Rus
More from Ralph Perk's 100th birthday event.
---
Cleveland's Diversity at Work
Cleveland's Diversity at Work
Computers Assisting People (CAP) is a Cleveland non-profit that has worked to bridge the Digital Divide since the mid-90s. Since inception, CAP volunteers have refurbished and donated over 15,000 computers to over 450 schools and non-profits in Cleveland.

On Saturday, CAP moved to its new location at 2800 Euclid and a diverse group of volunteers helped out - various races, all ages, men and women - a great microcosm of our community. Here are 2 photos of some of the volunteers. (Debbie Hanson is not in the photos because she took them)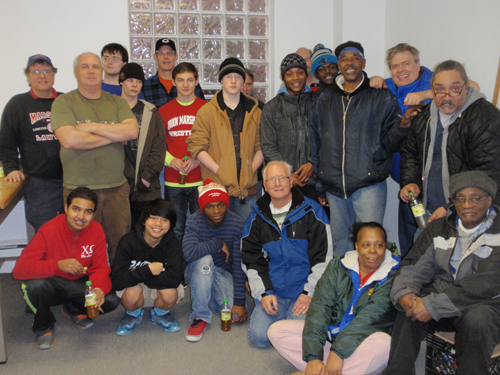 Some of the CAP volunteers on 1/11/13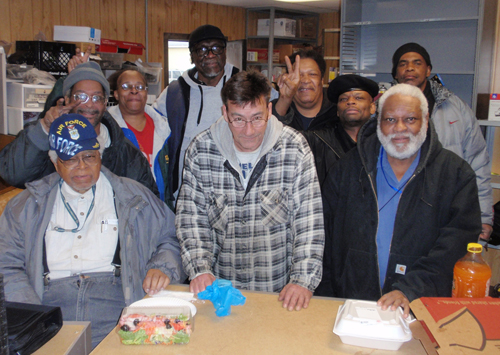 More of the CAP volunteers on 1/11/13
---
Thanks from the Mayor
Thanks from Mayor Jackson
Cleveland Mayor Frank Jackson hosted an event at the Rock and Roll Hall of Fame and Museum in Cleveland Ohio for the Cleveland Consular Corps (leaders representing various countries) and Dan Hanson and Debbie Hanson of ClevelandPeople.Com.

The Mayor singled out Dan Hanson, his sister Debbie and their mother Pat Hanson as being there for every international event in Cleveland and archiving all the ethnic and international activities in the city.
---
Top of Page
---
Cleveland Non-Violence Pledge
Cleveland Non-Violence Pledge
"As chairman and on behalf of the Hispanic Roundtable, we enthusiastically take the pledge of peace and nonviolence. We are honored to be associated with two of the greatest human beings whoever lived: Mahatma Gandhi and Dr. Martin Luther King. Most importantly, we want to be associated with the universal and eternal value of peace and dignity for all human beings, who are all created in God's image.
Josť C Feliciano

Have you signed the Cyber Wall of Peace and Nonviolence yet?
---
Rotary honors ClevelandPeople.Com
Cleveland Rotary Honor
Rotary Club of Cleveland is pleased to present its 2013 International Service Award to ClevelandPeople.com and its founders, Pat Hanson, Dan Hanson, and Deborah Hanson not only for their commitment to a better world and the furtherance of world understanding and peace, but for their global vision in support of the international community of Greater Cleveland and the State of Ohio.
---
ClevelandPeople.Com in Congressional Record
ClevelandPeople.Com in Congressional Record
Thank you to Congressman Dennis Kucinich for recognizing ClevelandPeople.Com into the US Congressional Record. Michael Patterson from Congressman Kucinich's office presented the proclamation at a holiday event.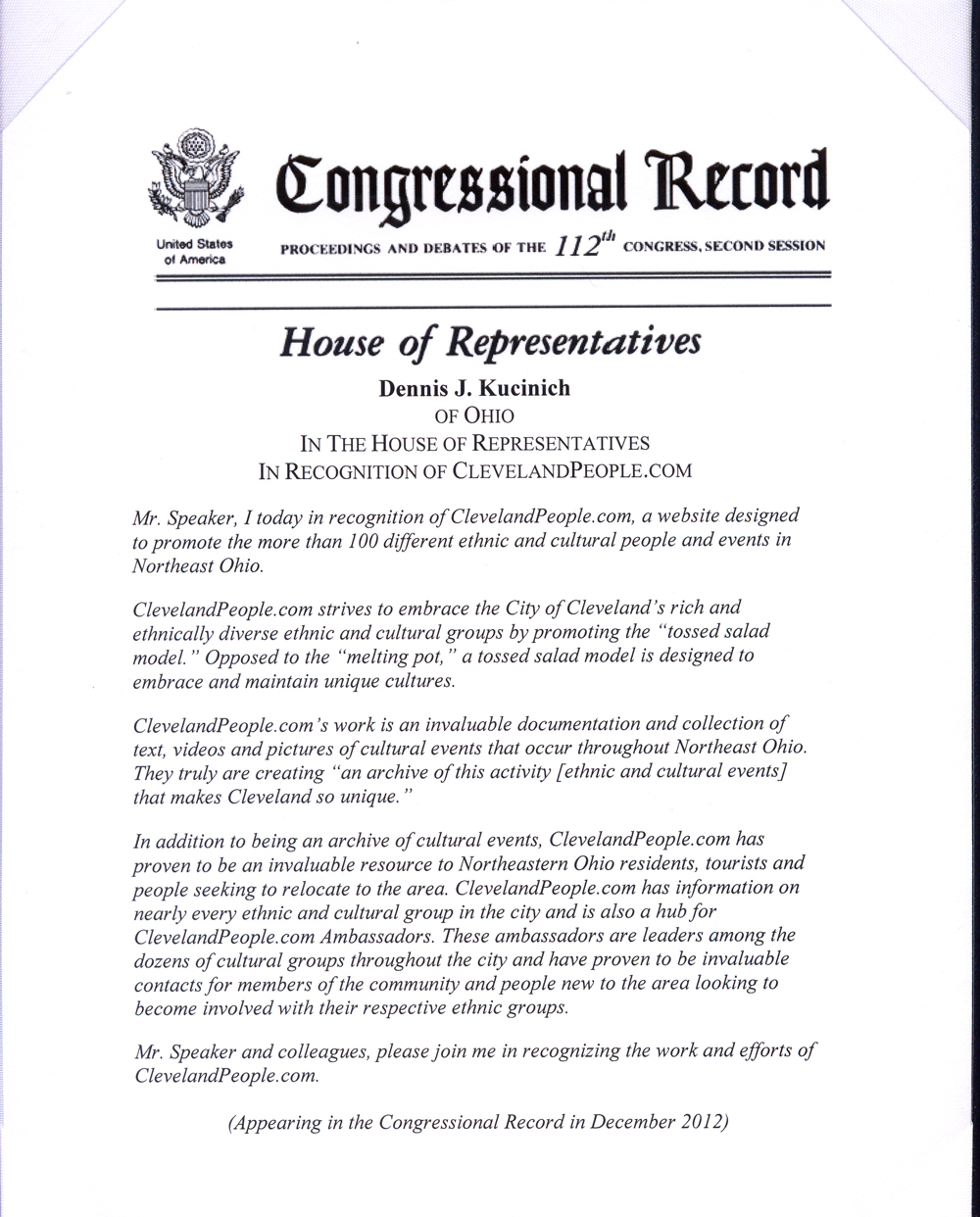 Congressional Record for ClevelandPeople.Com
More from the event
---
Top of Page
---
Questions - we get questions!
Questions!

Besides the daily inquries we receive at ClevelandPeople.Com re visiting and/or moving to Cleveland, we get a lot of interesting questions. Maybe you can help us answer them.

Here are a few:
Are there any Portuguese or other stores in the Cleveland area where one could buy Salt Codfish?

I am trying to find a tutor as I am trying to learn Tagalog (Philippines national language) and I have been trying with learning on my own through cds, books, but still having trouble.

I need help finding a choral work for an all Estonian Music Concert in the New Jersey/New York area to be held May 21,22 The concert incorporates songs and scenes from the documentary "The Singing Revolution." The piece I need is "Puha" (Sanctus) by Urmas Sisask. Although I can order this from the Finnish publisher I was informed it would take 6 weeks to arrive. Is there anyone in the Estonian community who might have this music?

Would you happen to know where I could purchase a Yule Buck/Swedish goat?

I was wondering if there were any opportunities available for an appearance for Little Miss Black America.

I am very interested in joining a Slovak Group if possible. I know I live 1 hour away, but I will drive there it is no problem. I do have others that are interested also after I join. Thank You

I am from the 1957 graduating class at Lincoln High School, Lincoln Nebraska and Silvija [Pakalns] Rutenbergs was a classmate of ours. I have been charged with trying to locate missing classmates and we are hoping you can either forward this message to Silvija or perhaps send me an email where I can contact her.
Can you help? Let us know at info@clevelandpeople.com. Thanks


---
Top of Page
---
Cultural and Ethnic Store
Cultural and Ethnic Store
No matter what your cultural or ethnic background is, you will find products tailored to that group in our On-Line Store.

For example, do you know a Slovenian (or Irish or Polish or Italian or...) Grandma or Grandpa who would love their own Parking Sign? Check it out. Books, DVDs, Music, Flags, Baby Items, Gourmet Foods and much more.

All at great prices and shipped securely from Amazon.com

Please help support ClevelandPeople.Com by shopping in our Online Store.
---
What is Cleveland's greatest asset?
Cleveland People
Sure we love the distinct 4 seasons (most of the time). And we love the great cultural and civic resources such as University Circle, the Cleveland Orchestra, the Cultural Gardens, the Rock and Roll Hall of Fame, Lake Erie, the Browns, Cavaliers and Indians and so much more.
But it's the people that make Cleveland special. The rich culture, traditions and, of course, food from over 100 ethnic groups makes Cleveland a much richer city.
ClevelandPeople.Com Philosophy
Welcome to Cleveland

Helping Monika
Over 1,000 of the daily visitors to ClevelandPeople.Com visit from outside the US. The website has been serving as a Virtual Welcoming Center to people from all over the world. We ask the appropriate Ambassador to assist us with specific cases.
For example, we received an e-mail from a visitor named Monika in Poland. The message was in Polish so we asked Polish Ambassador John Borkowski to translate for us.
Basically, Monika is coming to the Cleveland Clinic and is nervous. She doesn't know anyone or the language.
We sent Monika's information to many on our Polish (and other) lists and the response was terrific. Several organizations and individuals will be assisting and welcoming Monika.
What a terrific group of Cleveland People!

Top of Page
---

ClevelandPeople.Com News & Events
See all of the latest news on the ClevelandPeople.Com News page and a Calendar of Events on the Calendar page.

Top of Page
---
Submit Your Group's Event
If you want your group's events listed in our Calendar, please send an e-mail to events@clevelandpeople.com with the details. Please allow at least 2 weeks lead time.
Top of Page
---
On-line store for browsing and shopping
Do you need a Hungarian Flag? A shirt that says "I love Slovenian girls"? How about a sign that says No Parking except for Irish Grandmother?
These and hundreds of other items for your particular ethnic group are available for browsing at our on-line store. It's safe, fast, easy and fun. And there is a wide selection you will never find in the stores!
---
What is Cleveland's greatest asset?


Cleveland People Sure we love the distinct 4 seasons (most of the time).

And we love the great cultural and civic resources such as University Circle, the Cleveland Orchestra, the Rock and Roll Hall of Fame, Lake Erie, the Browns, Cavaliers and Indians and so much more.

But it's the people that make Cleveland special. The rich culture, traditions and, of course, food from over 100 ethnic groups makes Cleveland a much richer city.

This site serves as a portal to reach the many interesting groups of people that make up Cleveland. While you will want to click on a link of a group that you belong to or are familiar with, why not check out some other groups and see what they have to offer?

If you are from outside the Cleveland area, even outside the US, please contact us to see what our area has to offer you and your family. We think you will be amazed at the opportunities.

Learn more about ClevelandPeople.Com

---
Top of Page

Sponsored in part by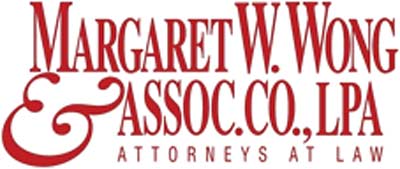 Thanks to Vision Net for hosting this site