ClevelandPeople.Com
Celebrating Cleveland's Cultural Diversity


Columbus Day Parade 2014
Columbus Day Parade 2014
Columbus Day was celebrated in Cleveland's Little Italy on October 13, 2014 starting with Mass at 10 AM at Holy Rosary Church. The parade through Little Italy began at noon. The annual Columbus Day celebration was sponsored by the Italian Sons and Daughters of America (ISDA) and the Northern Ohio Italian American Foundation (NOIA).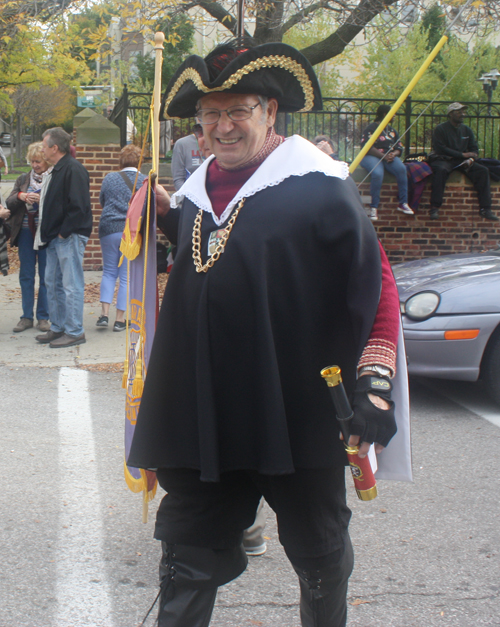 4 pages of Photos and videos from the Columbus Day Parade
Top of Page
La Cucaracha by Santa Cecilia Mariachi Band
La Cucaracha by Santa Cecilia Mariachi Band
The Santa Cecilia Mariachi Band performed at the annual International Cleveland Community Day at the Cleveland Museum of Art. The band strolled the Atrium before their performance and played the traditional Spanish folk corrido "La Cucaracha" which is Spanish for "The Cockroach". This song became popular in Mexico during the Mexican Revolution.

Top of Page

Cleveland Asian Catholic Gathering
Cleveland Asian Catholic Gathering
About 1000 people celebrated the Annual Mass and Gathering on Sunday, October 5, 2014 at 12 noon at St. Clarence Church. This is the 17th year the event was hosted by the Asian Ministry of the Diocese of Cleveland. It was an afternoon of family celebration of Asian culture and spirituality beginning with the celebration of the Mass with the Most Rev. Roger W Gries, OSB along with priests from the different Asian Catholic communities.

The cultural and ethnic diversity of the Asian Catholic communities assembled at the Mass was reflected throughout the celebration. Members of the various Asian communities came together with their own traditions, dressed in colorful ethnic clothes: shimmering saris, kimonos, karawangs, hanboks, barongs, and ao dai. The entrance procession included Vietnamese drums. During the Mass there was an incense ceremony by the Vietnamese, and the Indian aarti. Hymns were sung by the choirs in various Asian languages: Tagalog (Filipino), Korean, Vietnamese and Hindi (Indian). The readings and the prayers of the faithful were also said in various Asian languages.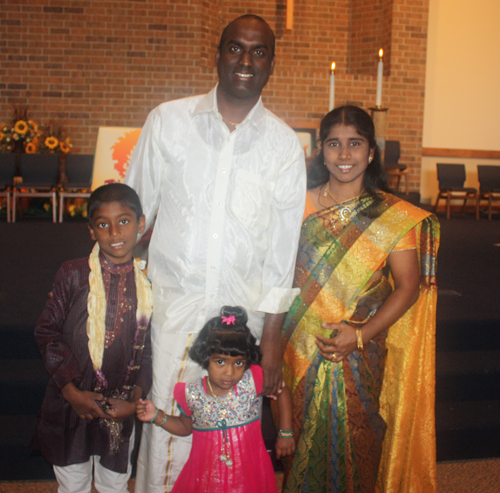 Sesuraj Family at the Asian Catholic Mass and Gathering
2 pages of photos and videos of the Asian Catholic Gathering
Top of Page
Belgrade Philharmonic Orchestra in Cleveland
Belgrade Philharmonic Orchestra in Cleveland
On October 7th, Clevelanders had a unique opportunity to indulge in a pure musical treat when The Belgrade Philharmonic Orchestra (BPO), established 91 years ago, made a visit to Severance Hall as part of the Serbian orchestra's first-ever United States tour.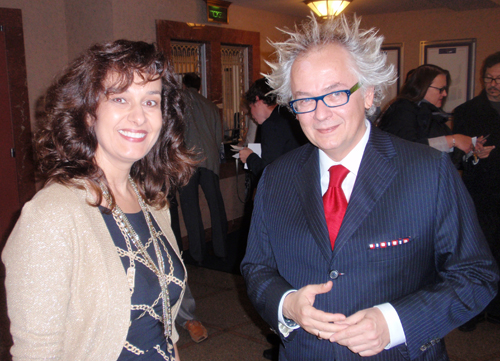 Nada Martinovic and Serbian
Minister of Culture and Information Ivan Tasovac
More from the Belgrade Philharmonic Orchestra at Severance Hall
Italian Heritage Month 2014 Kickoff
Italian Heritage Month 2014 Kickoff
The kickoff event for the 2014 Cleveland Italian American Heritage Month took place in the Rotunda of Cleveland City Hall on October 4, 2014. The recognition ceremony was sponsored by the Cleveland Italian American Heritage Committee with Mayor Frank Jackson and Cleveland Councilman Matt Zone serving as Honorary Co-Chairs.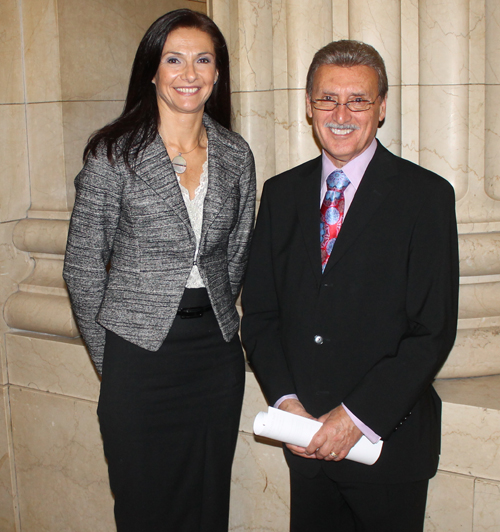 Consul Serena Scaiola and ISDA President Basil Russo
Photos and videos from the Italian Heritage Month event
Top of Page
New Confucius Statue
New Confucius Statue
Over the years there has been damage to the pedestal and statue of Confucius in the Chinese Cultural Garden in Cleveland. A new granite pedestal and larger-than-life statue of Confucius were installed on Friday October 3, 2014.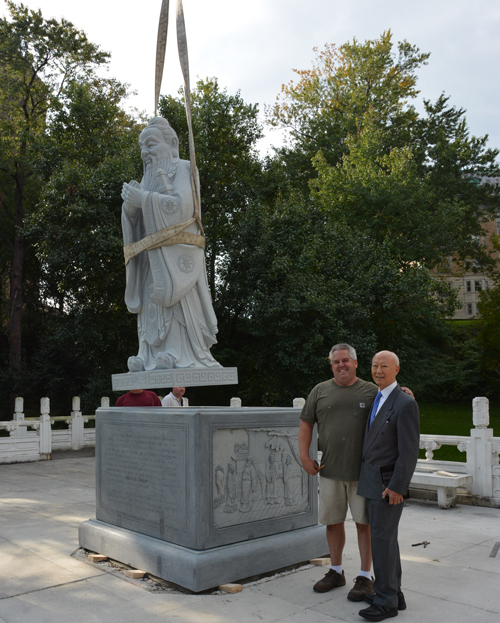 See more from the new Confucius statue placement.
Top of Page
2014 Mayo Ball
2014 Mayo Ball
The 10th Annual Mayo Society of Greater Cleveland Ball was held at The Westin Hotel in downtown Cleveland. It was a very special event in that the Mayo Society of Greater Cleveland (MSGC) hosted the 2014 World Convention of Mayo Societies in Cleveland that weekend.

The 2014 Mayo Person of the Year is the first to not have roots in Mayo. Honoree Ed Crawford's family is from Cork.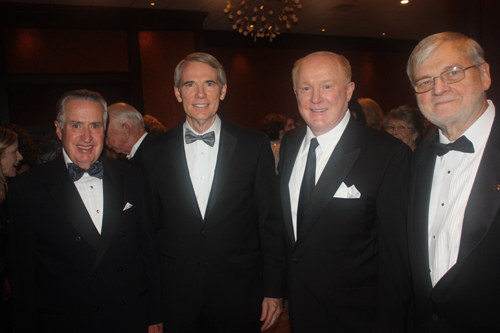 Tom Scanlon, Senator Rob Portman,
Ed Crawford and Gerry Quinn
Photos and videos from the 2014 Mayo Ball
Don't miss the People Page from the Mayo Ball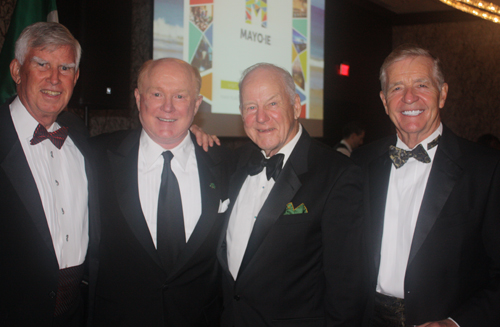 Last 4 Mayo Men of the Year
Jim Boland, Ed Crawford, Bill Conway and Jack Kahl
Top of Page
Johnny Kilbane Statue Unveiling
Johnny Kilbane Statue Unveiling
Johnny Kilbane was a featherweight boxer who held the world featherweight title from 1912 to 1923, the longest period in the division's history. He was the second longest world title holder in boxing history, behind only Joe Louis.

He was also an Irish immigrant and Clevelander.

Hundreds congregated at Battery Park in Cleveland for the unveiling of a statue of Johnny Kilbane by world-class sculptor Rowan Gillespie.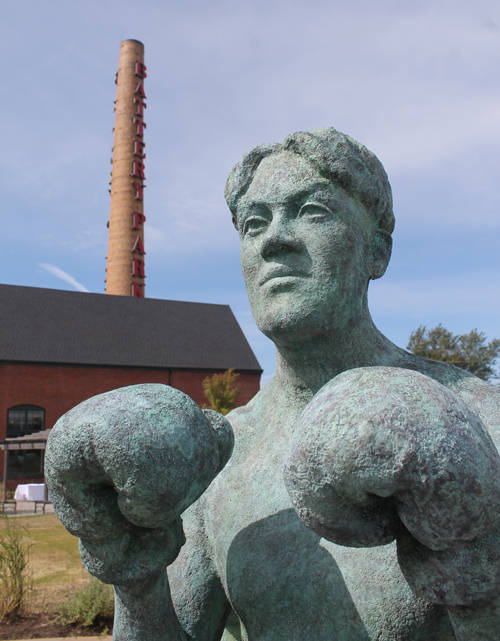 More from the Johnny Kilbane Statue event
Top of Page
10th Annual Carpatho-Rusyn Vatra
Chinese Cultural Garden
Chinese Cultural Garden Honors Teachers
Each year members of the Confucius Institute at Cleveland State University and representatives of the Cleveland Chinese community gather at the Chinese Cultural Garden in Cleveland Ohio and plant a cherry tree. They plant the tree on Confucius' birthday to honor teachers.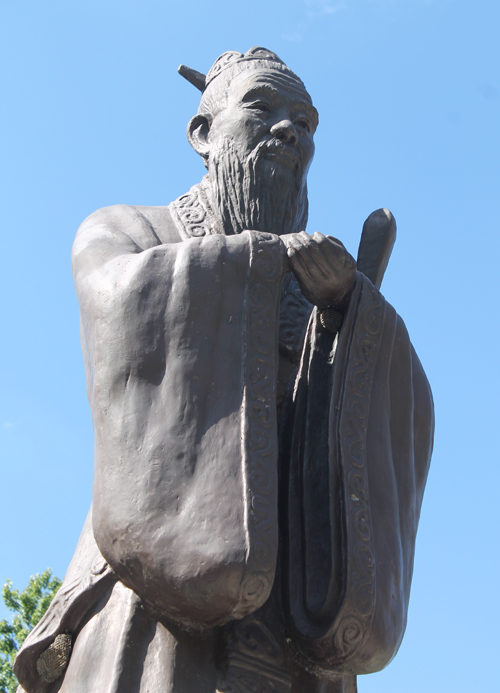 Statue of Confucius in Cleveland Chinese Cultural Garden
Photos and videos from the Chinese Cultural Garden
Top of Page
Cleveland's Ethnic Diversity Mapped
Cleveland's Ethnic Diversity Mapped
At ClevelandPeople.Com we have known for years what a diverse and vibrant city Cleveland is. After all, we have covered the events, people, music, food and other cultural traits of over 100 groups that have large communities in the area.

But we wanted a visual representation to demonstrate this to others. And now we have it.

Wait till you read the story of the maps that we had on display at the One World Festival.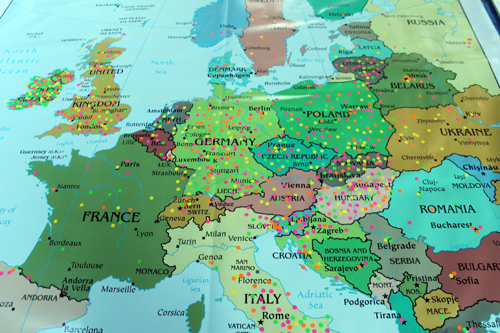 Zoomed view of Europe Map after first day
Top of Page
Slovak Hero General Milan R. Stefanik
Slovak Hero General Milan R. Stefanik
The statue of the Slovak hero was erected in 1922 and resided on an island at MLK Blvd and Jeptha in Cleveland. The statue was moved to its permanent home in the Slovak Cultural Garden.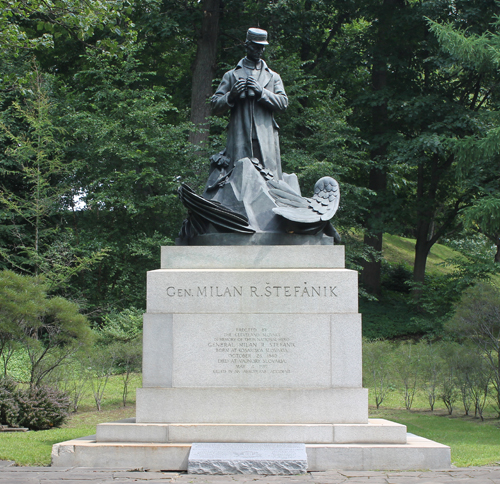 Cleveland International Hall of Fame
Cleveland International Hall of Fame - What a Night!
Over 520 people (many in cultural garb) attended the Cleveland International Hall of Fame dinner ceremony on Monday.

After networking and social time, the attendees were piped into the Grand Ballroom by Pipe Master Bruce Grieg.

It was an amazing and inspiring night. Photos, videos and more will be posted soon.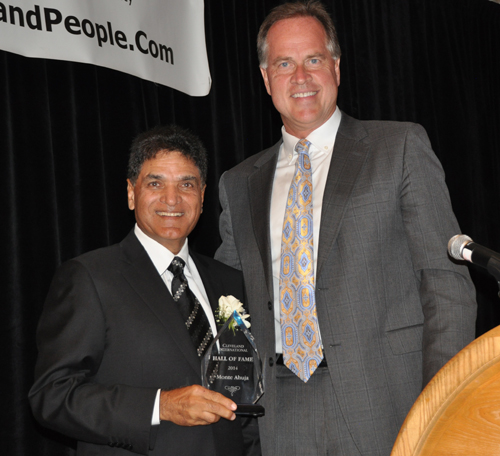 Inductee Monte Ahuja and UH CEO Tom Zenty
---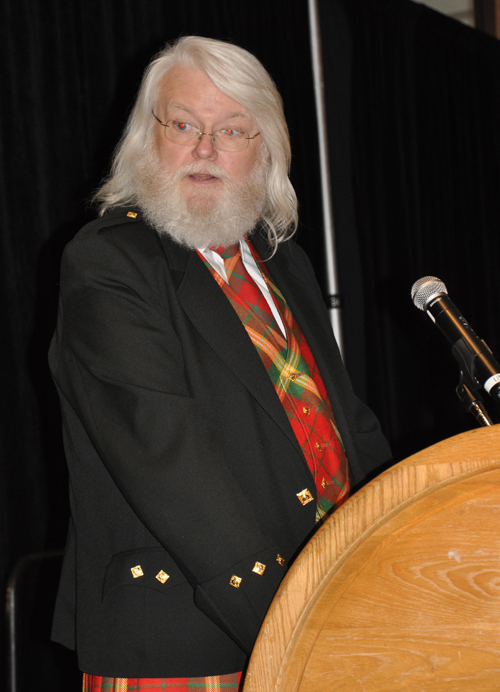 Kona Gant (Clan Claus) inducted Margaret Callander
Top of Page
Cleveland Non-Violence Pledge
Cleveland Non-Violence Pledge
"As chairman and on behalf of the Hispanic Roundtable, we enthusiastically take the pledge of peace and nonviolence. We are honored to be associated with two of the greatest human beings whoever lived: Mahatma Gandhi and Dr. Martin Luther King. Most importantly, we want to be associated with the universal and eternal value of peace and dignity for all human beings, who are all created in God's image.
Josť C Feliciano

Have you signed the Cyber Wall of Peace and Nonviolence yet?
---
Cultural and Ethnic Store
Cultural and Ethnic Store
No matter what your cultural or ethnic background is, you will find products tailored to that group in our On-Line Store.

For example, do you know a Slovenian (or Irish or Polish or Italian or...) Grandma or Grandpa who would love their own Parking Sign? Check it out. Books, DVDs, Music, Flags, Baby Items, Gourmet Foods and much more.

All at great prices and shipped securely from Amazon.com

Please help support ClevelandPeople.Com by shopping in our Online Store.
---
What is Cleveland's greatest asset?
Cleveland People
Sure we love the distinct 4 seasons (most of the time). And we love the great cultural and civic resources such as University Circle, the Cleveland Orchestra, the Cultural Gardens, the Rock and Roll Hall of Fame, Lake Erie, the Browns, Cavaliers and Indians and so much more.
But it's the people that make Cleveland special. The rich culture, traditions and, of course, food from over 100 ethnic groups makes Cleveland a much richer city.
ClevelandPeople.Com Philosophy
Welcome to Cleveland

Helping Monika
Over 1,000 of the daily visitors to ClevelandPeople.Com visit from outside the US. The website has been serving as a Virtual Welcoming Center to people from all over the world. We ask the appropriate Ambassador to assist us with specific cases.
For example, we received an e-mail from a visitor named Monika in Poland. The message was in Polish so we asked Polish Ambassador John Borkowski to translate for us.
Basically, Monika is coming to the Cleveland Clinic and is nervous. She doesn't know anyone or the language.
We sent Monika's information to many on our Polish (and other) lists and the response was terrific. Several organizations and individuals will be assisting and welcoming Monika.
What a terrific group of Cleveland People!

Top of Page
---

ClevelandPeople.Com News & Events
See all of the latest news on the ClevelandPeople.Com News page and a Calendar of Events on the Calendar page.

Top of Page
---
Submit Your Group's Event
If you want your group's events listed in our Calendar, please send an e-mail to events@clevelandpeople.com with the details. Please allow at least 2 weeks lead time.
Top of Page
---
On-line store for browsing and shopping
Do you need a Hungarian Flag? A shirt that says "I love Slovenian girls"? How about a sign that says No Parking except for Irish Grandmother?
These and hundreds of other items for your particular ethnic group are available for browsing at our on-line store. It's safe, fast, easy and fun. And there is a wide selection you will never find in the stores!
---
What is Cleveland's greatest asset?


Cleveland People Sure we love the distinct 4 seasons (most of the time).

And we love the great cultural and civic resources such as University Circle, the Cleveland Orchestra, the Rock and Roll Hall of Fame, Lake Erie, the Browns, Cavaliers and Indians and so much more.

But it's the people that make Cleveland special. The rich culture, traditions and, of course, food from over 100 ethnic groups makes Cleveland a much richer city.

This site serves as a portal to reach the many interesting groups of people that make up Cleveland. While you will want to click on a link of a group that you belong to or are familiar with, why not check out some other groups and see what they have to offer?

If you are from outside the Cleveland area, even outside the US, please contact us to see what our area has to offer you and your family. We think you will be amazed at the opportunities.

Learn more about ClevelandPeople.Com

---
Top of Page

Sponsored in part by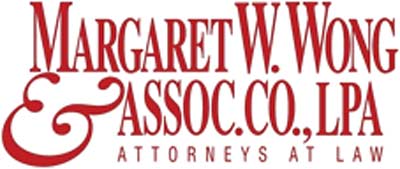 Thanks to Vision Net for hosting this site