ClevelandPeople.Com
Celebrating Cleveland's Cultural Diversity


This is Our Cleveland - ICC-WIN Multicultural Holiday Party
This is Our Cleveland - ICC-WIN Multicultural Holiday Party
The International Community Council - Worldwide Intercultural Network (ICC-WIN) hosted their annual multicultural holiday celebration at the Global Center for Health Innovation in the Cleveland Convention Center in Cleveland Ohio.

At the end of an international fashion show that featured native costumes from dozens of countries, the models gathered on stage and walked out to the sounds of We are the World. Watch this short video and be inspired.

More photos and videos from the event soon.

Top of Page

Korean War Veterans Recognition Program
Korean War Veterans Recognition Program
The Korean American Association of Greater Cleveland gathered at the Louis Stokes Cleveland VA Medical Center to honor veterans of the Korean War. They were joined by the Federation of Midwest Korean-American Associations, the National Unification Advisory Council, the Republic of Korea in Chicago as well as the City of Cleveland Ohio.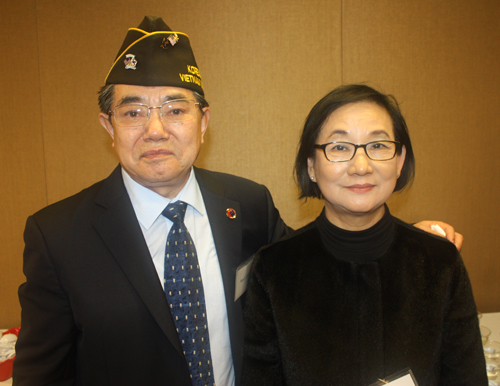 Sam Kim and Hanna Woo - Korean-American Association
Photos and Videos from the Korean War veterans event
Top of Page
RIP Bishop Pevec
RIP Bishop Pevec
We are sad to report on the passing of the Rev. A. Edward Pevec, auxiliary bishop emeritus of the Catholic Diocese of Cleveland.

Pevec, age 89, was the much beloved son of Slovenian immigrants. He was inducted into the Cleveland International Hall of Fame in 2013.

See photos and videos of his induction.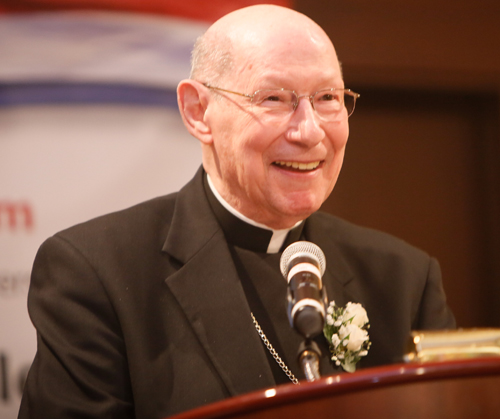 Bishop A. Edward Pevec



Though saddened by the loss of a great man, we are happy that he is the first person on the Cleveland Living Rosary DVD that includes 200 people (bishops, priests, sisters, lay people) each saying a prayer that when put together completes all 4 mysteries of the Rosary. He also closes the DVD. Learn more and order the Rosary DVD
---
Top of Page
Philanthropia 2014
Philanthropia 2014
The Cleveland Indian community was well represented at the 2014 Philanthropia at Landerhaven. AIPNO Medical Yatra 2014, Project Seva of FICA and Rita Singh's Elite Women around the World were all Diamond Donors.

Over 100 Cleveland area charities will receive funds from the $143,954 dollars that were raised at the event bringing the Philanthropia total to 1.7 million dollars!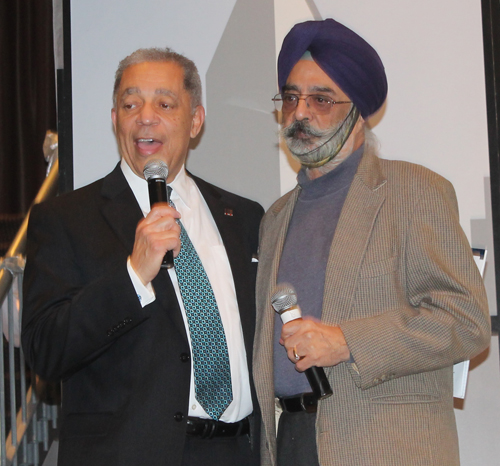 Leon Bibb and Paramjit Singh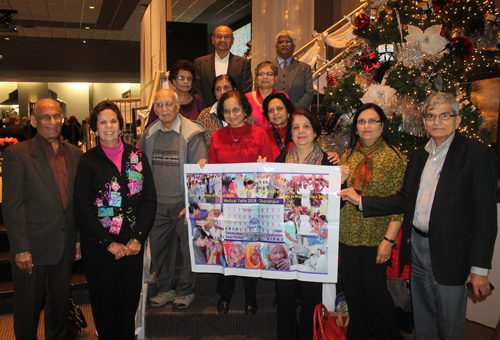 AIPNO Medical Yatra group
See more from the 2014 Philanthropia
Top of Page
2014 Polka Hall of Fame Music Awards
2014 Polka Hall of Fame Music Awards
The Frank Stanger Orchestra repeated as Band of the Year at the 27th annual polka music awards ceremony presented by the National Cleveland-Style Polka Hall of Fame and Museum on Saturday, November 29, 2014.

The musical stage show was the high point of the 51st Thanksgiving Polka Party Weekend, held at the Downtown Cleveland Marriott Hotel.

The Awards Show theme, "Down at the Friendly Tavern," paid tribute to the clubs, halls and lounges that hosted polka dances. Large-scale murals of vintage tavern photos were displayed on the ballroom walls. Forty-three musicians appeared on the main stage in the traditional jam session on Friday evening.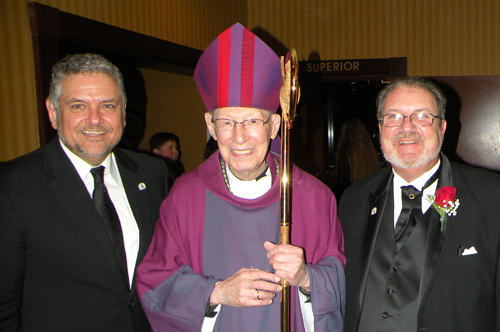 Joe Valencic, Polka Hall of Fame President, and Mark Habat, Vice President, with Bishop Edward Pevec after the Polka Mass
More from the 2014 Polka Hall of Fame Music Awards

Top of Page

African Christmas Song by the Singing Angels
African Christmas Song by the Singing Angels
The Singing Angels performed an African Christmas Song at the 2104 Philanthropia event at Landerhaven in Cleveland.

Top of Page

Lebanon Day 2014 in Cleveland
Lebanon Day 2014 in Cleveland
The American Lebanese Community Council presented Lebanon Day in the City of Cleveland to celebrate 71 years of independence for Lebanon. The Rotunda of Cleveland City Hall was full of Lebanese Americans and friends of the Lebanese community.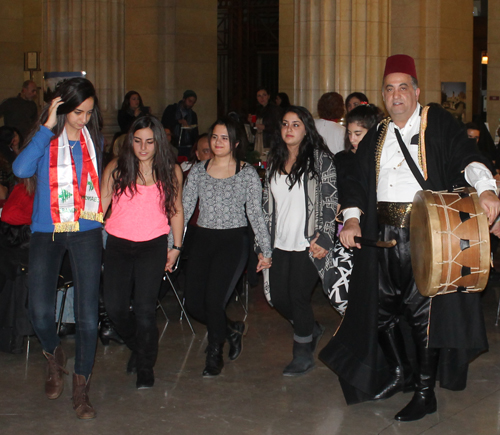 Dancing at Lebanon Day
3 pages of photos and videos of Lebanon Day 2014
---
Top of Page
Ajyal Dabke Dancers at Lebanon Day 2014 in Cleveland
Ajyal Dabke Dancers at Lebanon Day 2014 in Cleveland

The Ajyal Dabke Dancers performed at the 2014 celebration of Lebanon Day in Cleveland in the Rotunda of Cleveland City Hall.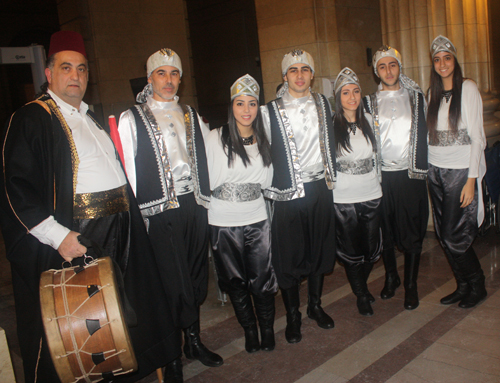 Ajyal Dabke Dancers at Lebanon Day
Photos and videos of Ajyal Dancers
---
Top of Page
We Pray the Rosary - Living Rosary DVD
We Pray the Rosary - Living Rosary DVD
Hail Mary, Full of Grace…
This DVD is a Living Rosary in the sense that over 200 people participated in saying a prayer. 3 bishops, numerous priests and sisters and a variety of lay people all said a prayer (Creed, Our Father, Hail Mary or Glory Be) that when put together combine to form the complete Rosary.
We hope that you will pray along with the diverse group of people on this DVD. They are young and old, different races and ethnicities, in Church and outside, alone and in groups. The prayers are said in English, but occasionally there is a prayer in another language. You may not know the language but will understand, and be able to pray along, because of the context.
American Sign Language
English
Gaelic
German
Hindi
Italian
Konkani
Korean
Lebanese
Polish
Portuguese
Slovenian
Spanish
Swahili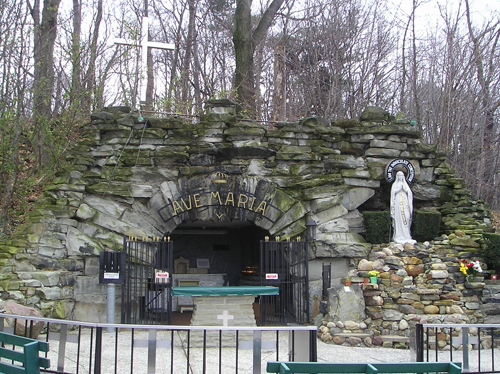 More about the We Pray the Rosary DVD
---
Top of Page
RIP Lucretia Stoica
RIP Lucretia Stoica
Lucretia Stoica, Long time (41 years) Director of the International Services Center passed away Nov. 22, 2014 at the age of 92.

"As we in the International world of Cleveland know she was one tremendous giving women...who dedicated her life, above and beyond the call of duty, finding a home and new life for untold refuges seeking a new life in our Cleveland! God Bless" Jim Craciun

Karin Wishner, who holds the position that Lucretia did for so many years said "The International Services Center is grateful for her many years of dedicated service and great love for the people she served. She was an advocate for those who had no voice. I admired her and will miss her."

Her wake will be Sunday at the Corrigan Craciun funeral home in Fairview Park. The funeral will take place on Monday, Dec. 1st at 10:00 at St. Mary's Romanian Orthodox Cathedral. More Details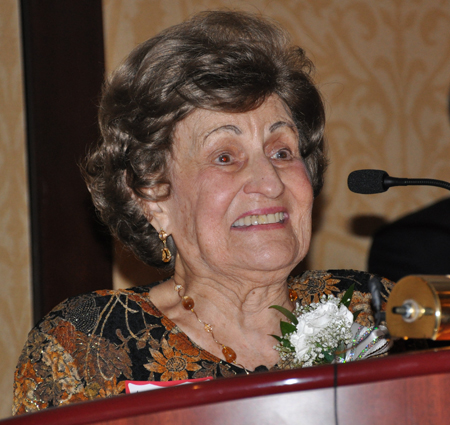 Lucretia Stoica

Lucretia Stoica inducted into Cleveland International Hall of Fame


---
Top of Page
Kala Art Show
Kala Art Show
The Indian community rallied around eight of their finest artists in the 2nd Annual Kala Art Show held Sunday, November 16th at the Ahuja Medical Center in Beachwood.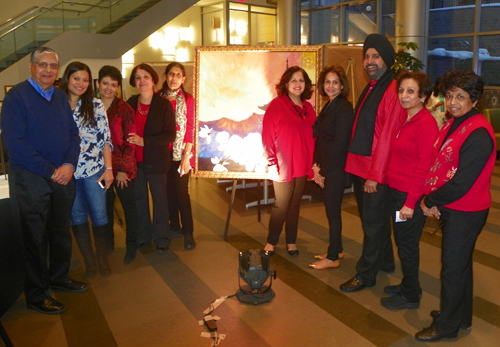 Artists with show organizers Poonam Punwani and Mona Alag
See more from the Kala Art Show
---
Top of Page
Diversity Center Awards
Diversity Center Awards
The 60th annual Humanitarian Award Dinner of the Diversity Center of Northeast Ohio honored Rick Chiricosta, President and CEO of Medical Mutual of Ohio, and Jose C. Feliciano, Partner at Baker Hostetler.

ClevelandPeople.Com congratulates these two worthy choices and gives a special shout out to our Puerto Rican and Hispanic Ambassador, Jose Feliciano.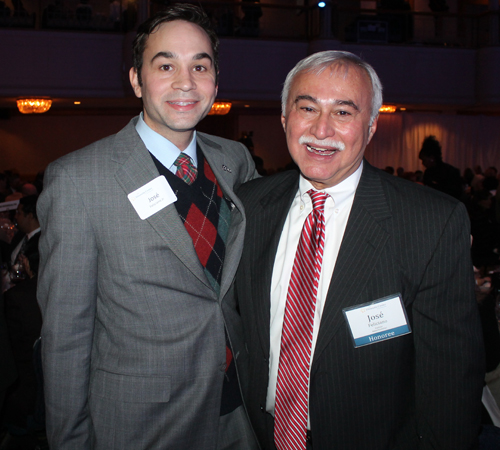 Jose Feliciano Jr and Sr. at the Diversity Center event
---
Top of Page
Sewa International
Sewa International
In the ancient Indian language of Sanskrit, Sewa means Service - a unique concept of Service - Selfless Efforts for Welfare of All. Sewa International USA is a Hindu faith-based humanitarian non-profit service organization. Their vision is to increase civic engagement of the communities in the United States to volunteer and promote volunteering.

On November 15, 2014 a sold-out crowd attended an event in Cleveland to learn more about Sewa International, recognize super volunteers and to support the cause - specifically the Family Services project.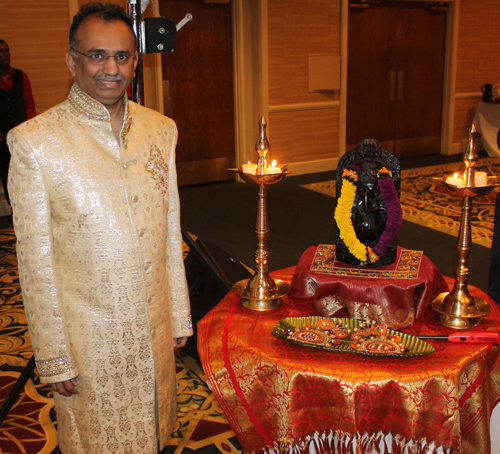 Dr. Sree Sreenath, President of Sewa International
Photos and videos of the Sewa International event
---
Top of Page
Albanian Delegation and Artist Fate Velaj Exhibit
Albanian Delegation and Artist Fate Velaj Exhibit
Photographs from highly acclaimed Albanian artist Fate Velaj were on display in the Cleveland City Hall Rotunda in an exhibit called "Albania - seen differently." Velaj is the recipient of many awards, including the "Albanian Excellence Award" given to him in 2012 on the occasion of the 100th anniversary of Albania's independence.

The photographic display was part of a visit from a delegation from Cleveland's Sister City Fier in Albania. The delegation, which included Fier Mayor Baftjar Zeqaj met with Cleveland Mayor Frank Jackson, Council president Kevin Kelley, Councilwoman Dona Brady and other dignitaries during their visit. Mr. Velaj and the Albanian delegation were also recognized at the Cleveland City Council meeting on November 10th.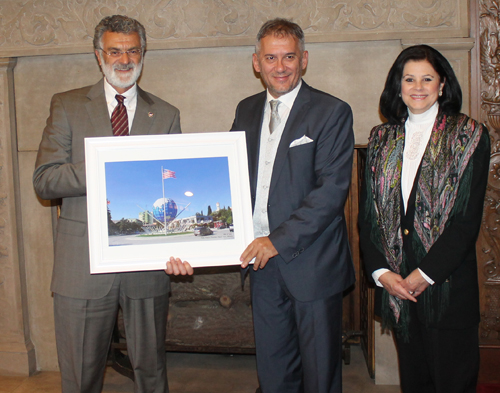 Mayor Jackson, Fate Velaj and Dona Brady
Photos and Videos of the Albanian Exhibit and Visit
Top of Page
Fr. Bob Begin honored on St. Colman Day
Fr. Bob Begin honored on St. Colman Day
Fr. Caroli B. Shao, A.J. Pastor of St Colman Church in Cleveland wrote these remarks about St Colman Day and the honoring of Fr. Robert Begin.

"This year as we honor Fr. Bob, we recall his 20 years of commitment to the people of St. Colman Parish and to the entire neighborhood. During his 20 years as Sacramental Minister and Pastor, we saw St. Colman Parish growing tremendously in all aspects of parish life: spirituality, social justice, service, education and finances.

Fr. Bob never sat back to watch what would happen. He became a key player in the field, along with all of the parishioners who work so hard to ensure St. Colman's future. Thank you, Fr. Bob, for your gift of service to the people of St. Colman's, the neighborhood and the City of Cleveland."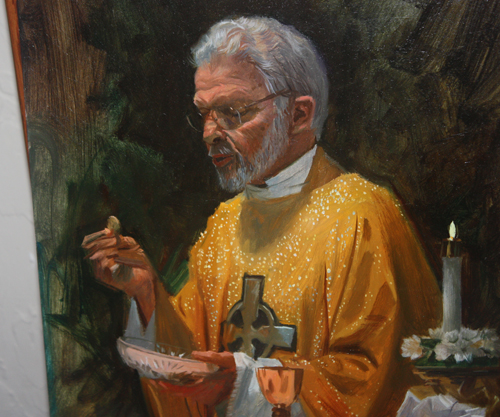 More from the Fr. Bob Begin reception
Adventure to Ireland - in Cleveland
Adventure to Ireland - in Cleveland
The latest Cleveland Food Adventurers Passport event was at the Claddagh Irish Restaurant where the sold out crowd enjoyed a traditional Irish breakfast (bangers, black and white pudding, tomato jam and more) while learning about the history and culture of Ireland and the Irish in Cleveland.

They were also entertained by Pipe Major Bruce Grieg who explained the apparel that pipers wear and the parts of the bagpipes.
Bruce Grieg playing the bagpipes



If you don't know what the word Claddagh means, where most Cleveland Irish hail from or think Craic (pronounced crack)is a bad thing, be sure to watch the videos from the event.

Be sure to learn about the three Irish memorials in Cleveland that every Clevelander should visit sometime.

Photos and videos from the Irish Adventure

Top of Page

1st Annual Refugee Summit in Cleveland
1st Annual Refugee Summit in Cleveland
The first Refugee Summit in Cleveland was held Thursday October 30, 2014 in the Rotunda of City Hall. The Summit was hosted by City of Cleveland Health and Human Services Committee, Councilman Joe Cimperman (Ward 3) and in partnership with the Refugee Services Collaborative of Greater Cleveland.

The theme of the Summit was: Get the facts. Fight misconceptions. Explore next steps.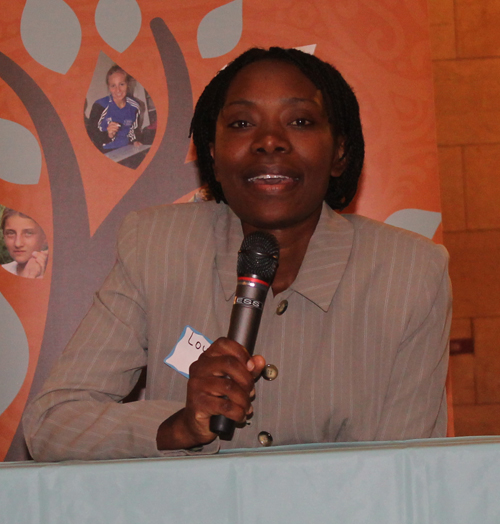 Louise Mugongo told her story of being a refugee from Congo
Photos and videos from the Refugee Summit
Top of Page
Cleveland's Ethnic Diversity Mapped
Cleveland's Ethnic Diversity Mapped
At ClevelandPeople.Com we have known for years what a diverse and vibrant city Cleveland is. After all, we have covered the events, people, music, food and other cultural traits of over 100 groups that have large communities in the area.

But we wanted a visual representation to demonstrate this to others. And now we have it.

Wait till you read the story of the maps that we had on display at the One World Festival.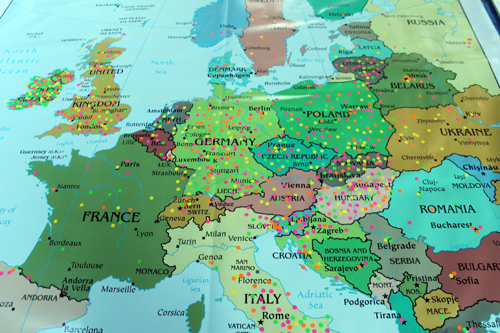 Zoomed view of Europe Map after first day
Top of Page
Cleveland International Hall of Fame
Cleveland International Hall of Fame - What a Night!
Over 520 people (many in cultural garb) attended the Cleveland International Hall of Fame dinner ceremony on Monday.

After networking and social time, the attendees were piped into the Grand Ballroom by Pipe Master Bruce Grieg.

It was an amazing and inspiring night. Photos, videos and more will be posted soon.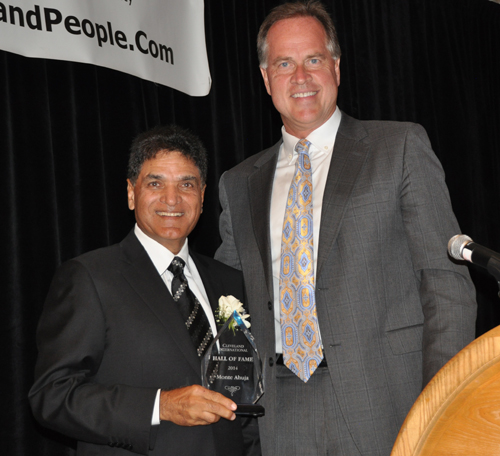 Inductee Monte Ahuja and UH CEO Tom Zenty
---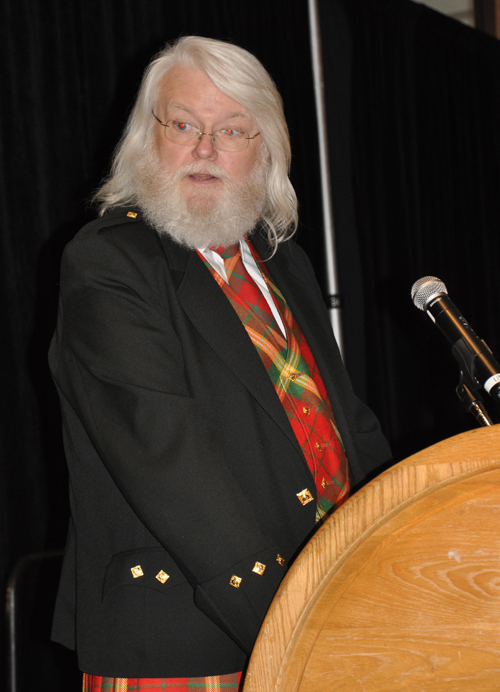 Kona Gant (Clan Claus) inducted Margaret Callander
Top of Page
Cleveland Non-Violence Pledge
Cleveland Non-Violence Pledge
"As chairman and on behalf of the Hispanic Roundtable, we enthusiastically take the pledge of peace and nonviolence. We are honored to be associated with two of the greatest human beings whoever lived: Mahatma Gandhi and Dr. Martin Luther King. Most importantly, we want to be associated with the universal and eternal value of peace and dignity for all human beings, who are all created in God's image.
José C Feliciano

Have you signed the Cyber Wall of Peace and Nonviolence yet?
---
Cultural and Ethnic Store
Cultural and Ethnic Store
No matter what your cultural or ethnic background is, you will find products tailored to that group in our On-Line Store.

For example, do you know a Slovenian (or Irish or Polish or Italian or...) Grandma or Grandpa who would love their own Parking Sign? Check it out. Books, DVDs, Music, Flags, Baby Items, Gourmet Foods and much more.

All at great prices and shipped securely from Amazon.com

Please help support ClevelandPeople.Com by shopping in our Online Store.
---
What is Cleveland's greatest asset?
Cleveland People
Sure we love the distinct 4 seasons (most of the time). And we love the great cultural and civic resources such as University Circle, the Cleveland Orchestra, the Cultural Gardens, the Rock and Roll Hall of Fame, Lake Erie, the Browns, Cavaliers and Indians and so much more.
But it's the people that make Cleveland special. The rich culture, traditions and, of course, food from over 100 ethnic groups makes Cleveland a much richer city.
ClevelandPeople.Com Philosophy
Welcome to Cleveland

Helping Monika
Over 1,000 of the daily visitors to ClevelandPeople.Com visit from outside the US. The website has been serving as a Virtual Welcoming Center to people from all over the world. We ask the appropriate Ambassador to assist us with specific cases.
For example, we received an e-mail from a visitor named Monika in Poland. The message was in Polish so we asked Polish Ambassador John Borkowski to translate for us.
Basically, Monika is coming to the Cleveland Clinic and is nervous. She doesn't know anyone or the language.
We sent Monika's information to many on our Polish (and other) lists and the response was terrific. Several organizations and individuals will be assisting and welcoming Monika.
What a terrific group of Cleveland People!

Top of Page
---

ClevelandPeople.Com News & Events
See all of the latest news on the ClevelandPeople.Com News page and a Calendar of Events on the Calendar page.

Top of Page
---
Submit Your Group's Event
If you want your group's events listed in our Calendar, please send an e-mail to events@clevelandpeople.com with the details. Please allow at least 2 weeks lead time.
Top of Page
---
On-line store for browsing and shopping
Do you need a Hungarian Flag? A shirt that says "I love Slovenian girls"? How about a sign that says No Parking except for Irish Grandmother?
These and hundreds of other items for your particular ethnic group are available for browsing at our on-line store. It's safe, fast, easy and fun. And there is a wide selection you will never find in the stores!
---
What is Cleveland's greatest asset?


Cleveland People Sure we love the distinct 4 seasons (most of the time).

And we love the great cultural and civic resources such as University Circle, the Cleveland Orchestra, the Rock and Roll Hall of Fame, Lake Erie, the Browns, Cavaliers and Indians and so much more.

But it's the people that make Cleveland special. The rich culture, traditions and, of course, food from over 100 ethnic groups makes Cleveland a much richer city.

This site serves as a portal to reach the many interesting groups of people that make up Cleveland. While you will want to click on a link of a group that you belong to or are familiar with, why not check out some other groups and see what they have to offer?

If you are from outside the Cleveland area, even outside the US, please contact us to see what our area has to offer you and your family. We think you will be amazed at the opportunities.

Learn more about ClevelandPeople.Com

---
Top of Page

Sponsored in part by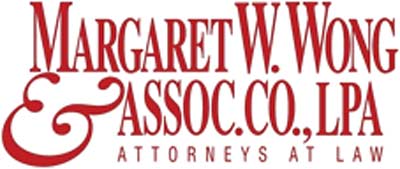 Thanks to Vision Net for hosting this site