The Cleveland Russian Cultural Garden hosted its second annual Maslenitsa celebration at the Rockefeller Greenhouse.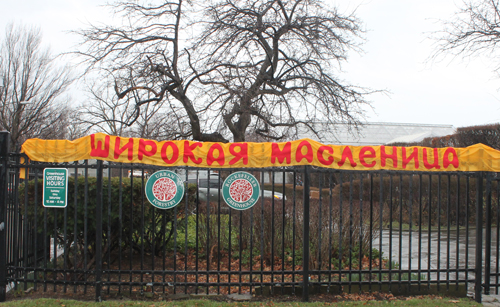 The warm and rainy weather moved the festivities inside so the snow games that are typical of Maslenitsa were missing but the fun, food and spirit were not.

Maslenitsa has its origins in both pagan and Christian traditions. In Slavic mythology, Maslenitsa is a celebration of the imminent end of the winter. It has been compared to Mardi Gras or Carnival.

The event was also a fund-raiser put on by the Russian Cultural Garden committee. The Russian Cultural Gardens is a non-profit 501 (c) (3) organization dedicated to promoting the Russian Heritage and Russian cultural influence in America. The Russian Cultural Gardens has a prominent goal of building the Russian Cultural Garden as a part of the Cultural Gardens of Cleveland in the Rockefeller Park. Visit their Facebook page at https://www.facebook.com/russiangarden.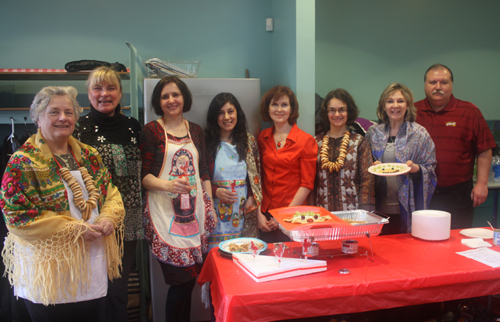 Anna Mata, Svetlana Stolyarova, Olga Konkova, Paula Menguini, Natalia Khoretonenko, Varvara Boryushkina, Irina Vinogradsky and Boris Vinogradsky



The most characteristic food of Maslenitsa is bliny (pancakes or crepes).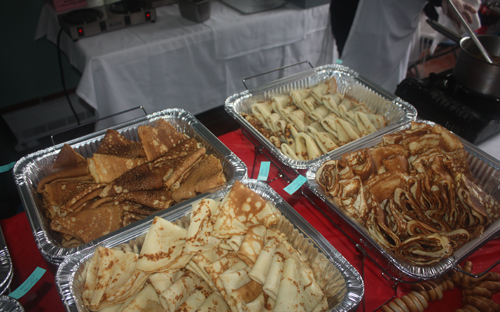 Pans of bliny at Maslenitsa



During pagan times, the round and golden shape and color signified praise to the Sun because of pancakes' resemblance to it.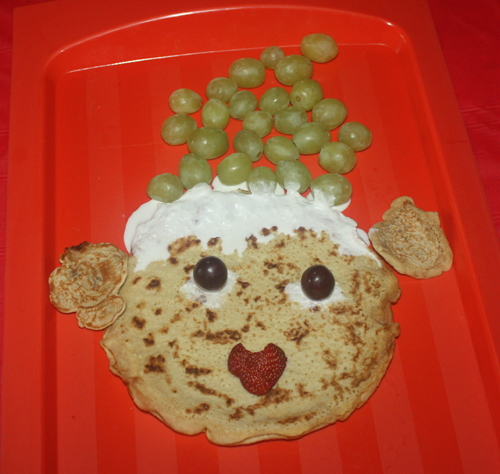 Volunteers Vera Astreika, Victoria Kabo, Tatiana Krilova and Bob and Julia Bolton worked hard on the bliny station.

Judges Ken Kovach, Sheila Crawford, Debbie Hanson, Erika Puussaar and Bob Rotatori sampled and rated the bliny.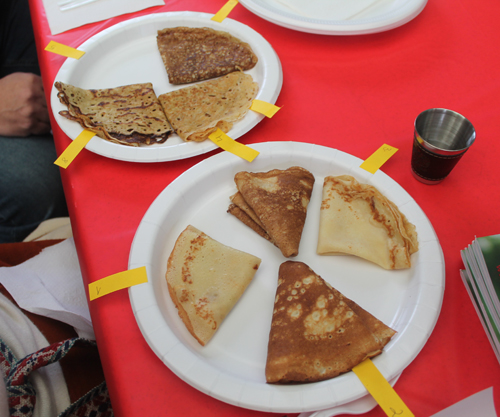 Bliny contest plate at Maslenitsa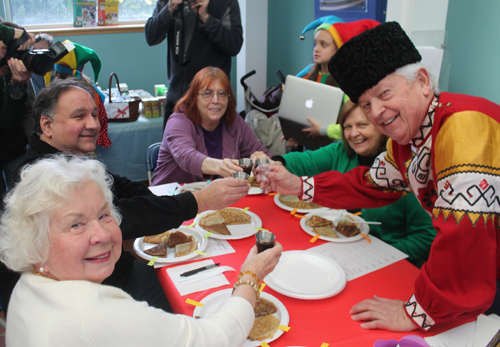 Bliny contest judges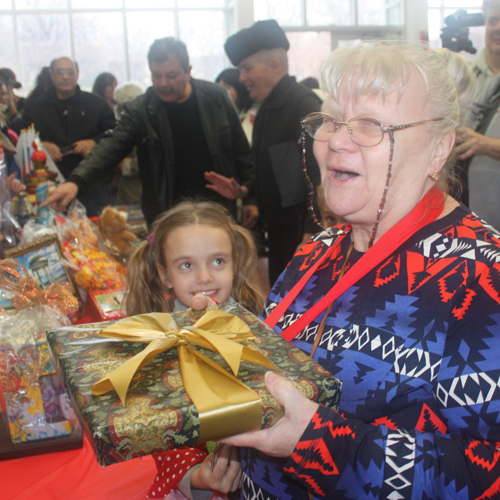 One of the Best Bliny winners



Another contest was for the most traditional babushka.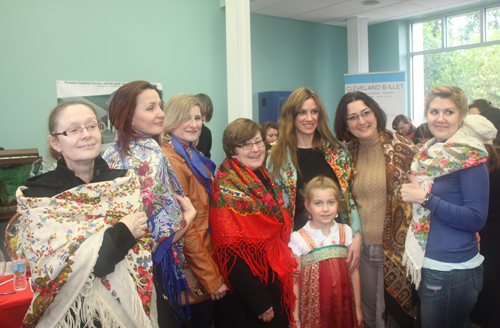 Best Babushka Contest ladies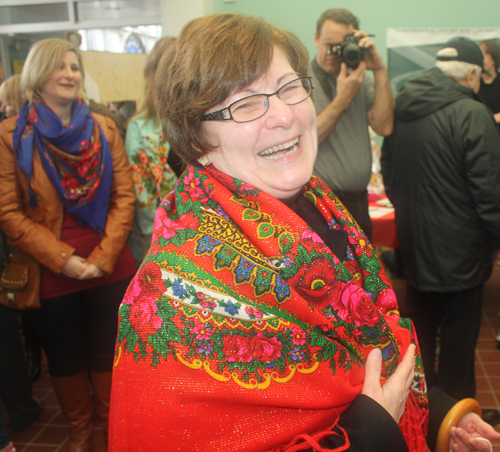 Best Babushka Contest winner



The Greater Cleveland Russian Chorus, aka the Cuyahoga Cossacks, strolled through the Greenhouse and sang traditional Russian folk songs.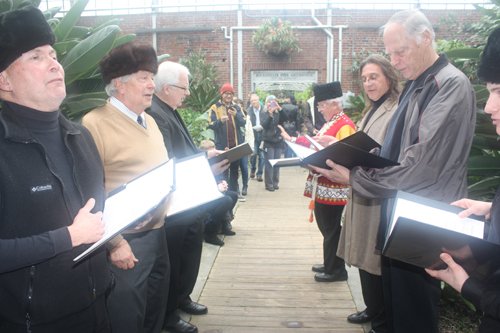 Greater Cleveland Russian Chorus

Because of the weather the games were moved indoors. In this game kids could win candy by answering questions (in Russian).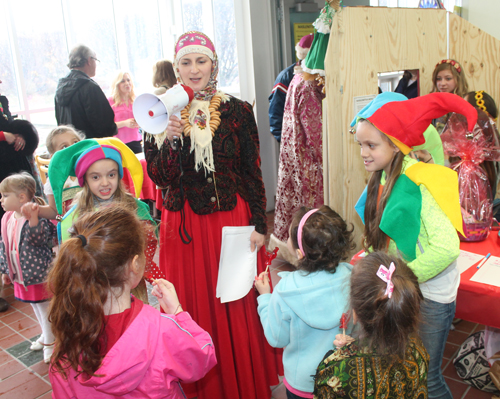 Young people also performed on the violin and some acrobatic gymnastics.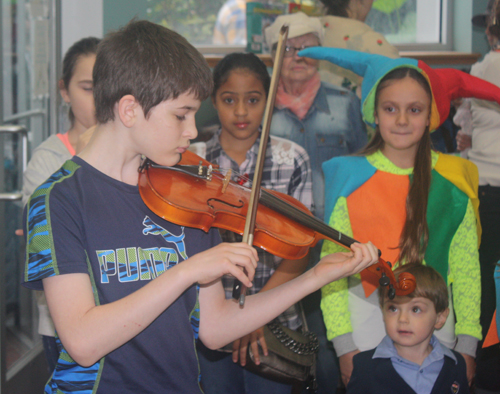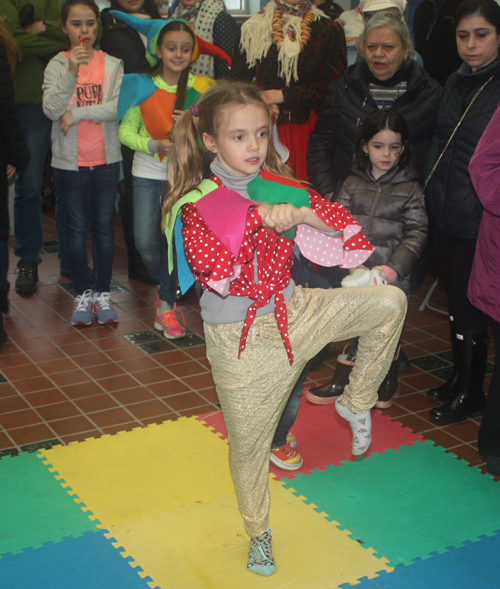 The mascot of the celebration is usually a brightly dressed straw effigy of Maslenitsa, formerly known as Kostroma.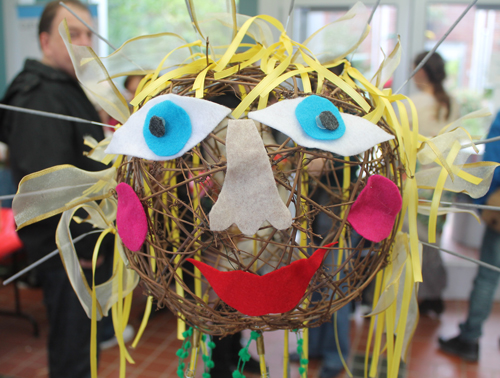 Becuase the event was indoors the Kostroma was not set on fire but sparklers were attached and lit. A song was sung and children circled around it. Bye Bye Winter.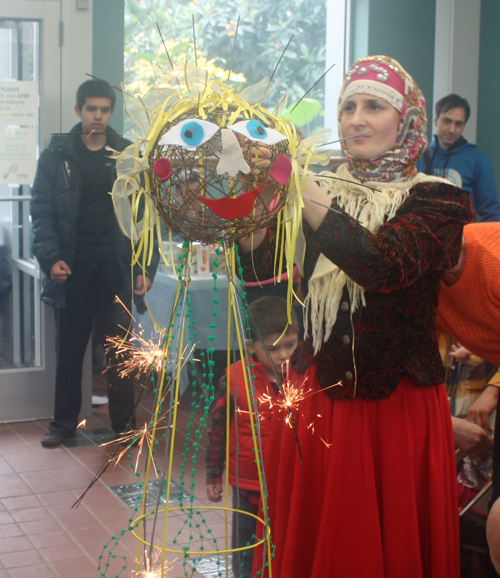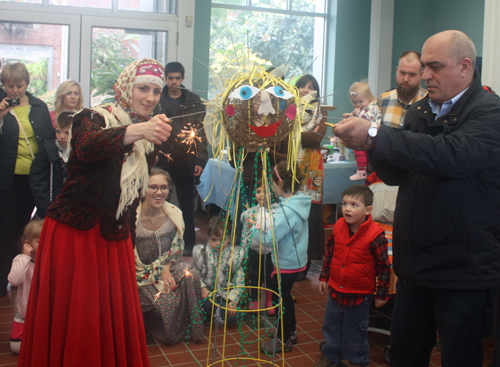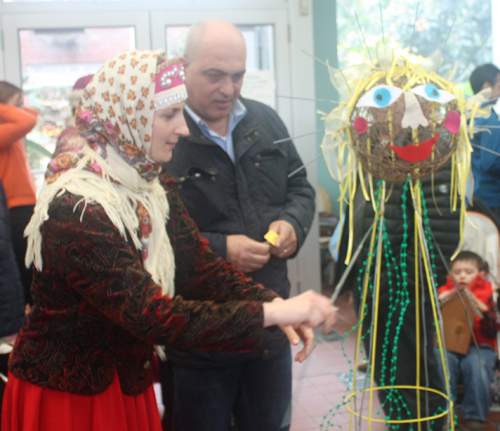 See some of the people and coloirful costumes at the 2016 Maslenitsa
Congratulations to the leaders of the Russian Cultural Garden and the Maslenitsa committee for a terrific event.
***

Stay informed about the local Russian community by signing up for the free Russian eNews mailings. You can select other groups as well. It's easy and free. Fill out the form for the free Russian eNews.

***

---
Maslenitsa 2016 People Page
---
Back to Top
Back to Cleveland Russians