We asked community leaders of various ethnic heritages to share some holiday traditions of their culture. Cleveland Councilman Tony Brancatelli and Polish Cultural Garden delegate Connie Adams shared these traditions.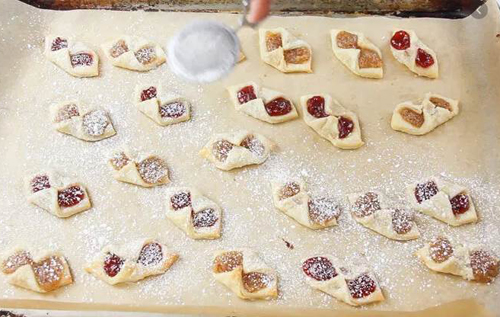 Polish kolaczkis



Tony Brancatelli says "My favorite memory is my Polish grandmothers kitchen (My mom's side of the family, the Cholewas) My Aunt Rose is still in that house 90 years later!!! This time of year they used to pack into a small kitchen on Claasen avenue making Polish kolaczki's.

My cousins and I would sneak in and try and swipe a few off the table right after they were sprinkled with powdered sugar. They were delicious and I still go to Seven Roses Polish Delicatessen on Fleet to get fresh ones every holiday.

Connie Adams says "We love to celebrate Wigilia, which is grand meal on Christmas Eve. Before we sit down to dinner we pass the Oplatek (a wafer cracker) at which time we express good wishes for the new year with words of appreciation and love expressed to one another. The eldest member begins.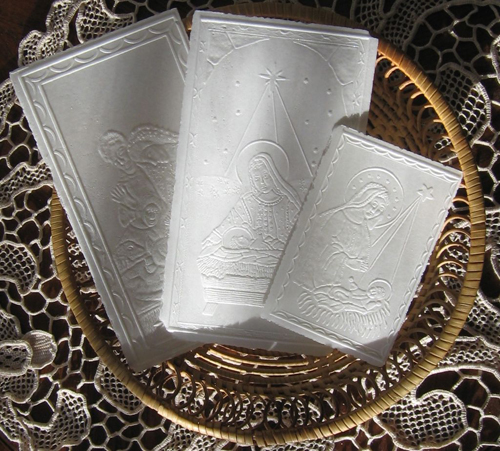 Polish Oplatki (Christmas Wafers)



Then the meal is served on a beautifully decorated dining table with a layer of straw underneath the table cloth signifying the Manger in which Jesus was born. The meal (if one can actually prepare it accordingly) consists of 12 courses, starting with borscht or mushroom soup, herring, fried fish, pierogi, potatoes, dumplings, sauerkraut, fruit compote, babka, pastries, nuts and candies. Totally meatless.

After the meal Christmas carols are sung and more merriment ensues around the Christmas tree. Mass is attended either Christmas Eve or Christmas Day.

Another custom are two that involved the Christmas tree. One is hiding a pickle in the tree….and the child who finds it will have best of luck for the New Year.

The other is also on Christmas morning where if you find spiders on the tree, that is another sign of the good health in the new year for the family. We always placed Beanie Baby-type spiders on our tree for the kids to enjoy, not real spiders of course!

Christmas Dinner is always Turkey with all the trimmings - American style!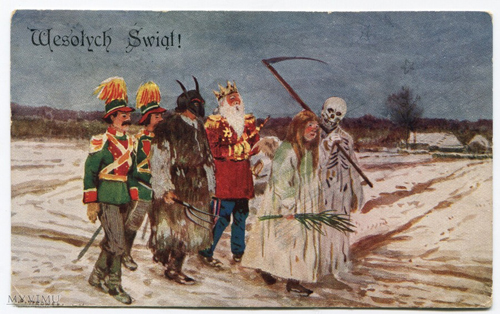 1929 postcard of Mummers with a Turon creature singing Christmas carols called koledy in Poland
Wesolych Swiat Bozego Narodzenia!
***

Stay informed about the local Polish community by signing up for the free Polish eNews mailings. You can select other specific groups as well. It's easy and free.
Fill out the form for the free Polish eNews.


***

---
---
Top of Page
Back to Cleveland Poles
Back to Ethnic Holiday Traditions
---
For sponsorship opportunities, please contact us.
Please support the Polish pages of ClevelandPeople.Com.