Walter, born February 10 1913, just celebrated his 100th birthday. He passed away Feb 20th after a long battle with pneumonia which started between Christmas and New Years. He was hospitalized at first in Parma Hospital, then Regency on Engle Rd and on Sat Feb 9th was moved to a Multicare facility on Broadview Rd. where he died peacefully.
Last week Walter had a choice to get a feeding tube into his stomach so he could live but he decided and said " I don't need a hole in my 100 year old body" and accepted the inevitable outcome. He even mentioned to a friend of his from the veterans," can you get me some pallbearers from the post" his friend Jim Wojciechowski told him he will try but those left are too old and sick so he will get some younger ones.
Walter was the then 96 year old altar boy who pulled the plug on the bishop at the last closing Mass of St. Casimir Church on Nov 8, 2009. At the time he said he did it as his form of protest for an unjust closing. He took great care of the altar at St Casimir each and every day.
Walter was born in Grodno, Poland, an area that was annexed to the Soviet Union after the second war. These lands are now White Russia, Belarus. After the war, Walter could not go back to his home, either instant death awaited a former Polish soldier or a trip to the Gulag.
He last saw his home and family in 1939 when he was called up to the army to defend his country of Poland. Walter accepted this as reality. Walter had a son and wife (who he never saw again).
Walter served in the Polish Army from 1932 until discharge in 1935. He was called back to duty in 1939 but after the defeat of the Polish Nation. Walter was on the run as a soldier to escape the county and reform as an army outside the borders of Poland. Walter never made it. He was captured outside the Polish city of Czestochowa (famous for the shrine of Our Lady of Czestochowa or also called the Black Madonna, an Icon).
He was shipped to Germany to a work camp or a work farm where he told his friends later in life "I was not going to work for the enemy" so he escaped but the Gestapo and their search dogs found him.
He was then sent to a POW/Concentration Camp where conditions were much worse and only death awaited you. He was liberated from the notorious death camp of Bergen-Belsen in 1945 by the approaching Russian Armies and escaped death as he and 300 other prisoners were slated to be killed by poisoning. The War ended and Walter was now in Germany occupied by the Allies. As a member of the Polish Army, Walter was now put in the uniform under the British Army and made a guard.
Walter could not go home. His homeland and city were occupied by the Soviets so he stayed in Germany until 1948 when he immigrated to America and settled in Cleveland in the St. Clair Polish Neighborhood of Poznan (named after a city in Western Poland from where many of the original people came from). He lived on East 78th Street until just 2 years ago when he could no longer be by himself and moved to Parma with Polish people dear to him.
Walter worked for the White Motor company until it closed and then a local machine shop. Always having strong ties to his St. Casimir church where he volunteered as an usher, altar boy, and a reader and even as a janitor. After retirement he spend all his time at the church and of course he was a veteran so he socialized with the veterans of the Polish Army and also of the veterans of the Polish Legion of American Vets.
Walter never went into detail of his war experiences and trials nor did he say much about his family who he could not see. The place of his birth was forever off limits to him a former Polish soldier. He had no choice, he accepted it but did not forget his beloved home and family.
He was a member of the Polish Army Veterans General Sikorski Post 203 and was active there helping out and even assisting the other vets as they too, became sick and disabled. He was a dancer and a good one. Walter was a small man with a big heart as people described him to me. He was about 5' 5" and somewhere around an average of 130 pounds most of hs life and he had no trouble walking.
Only when this last sickness hit him was he completely off his feet never to return to his active life style. He gardened and grew plants and visited his neighbors and attended dances and all Polish church and social functions. Every year, he looked forward to going to the Sorrowful Mother Shrine on Polish Day with his friends in Bellvue, Ohio.
He never complained said his friends Jim and Carol, he acepted life and moved forward. He had great faith and prayed at every meal in his home or at a restaurant.
Here is how people observed him in life. Upon meeting people, he smiled and gave an extended handshake and grasped the shake with his left hand slightly bowing. He was a pure gentleman, never talked about others nor complained. Never heard of him say a bad word to others nor held a grudge. Accepted life and moved forward.
Walter marched every year in the annual Polish Constitution Day Parade held in May and last marched as a 99 year old.
He returned to St Casimir when the church was reopened. This was his life. He sat on the altar with the young altar boys and was recognized at the opening Mass, July 15th with a loud applause from the packed church. After the closing of St.Casimir, he would go to Immaculate Heart of Mary Church where people would go out of their way to shake the hand of this true old soldier, patriot and servant of God.
He went through life giving 100 percent all the time and when called upon he rose to the occasion. When the weather was good, he even came to a few prayer vigils outside St Casimir.
War changed Walter's life. He survived and lived and did his best for a situation that he could not change and he adapted.
Six years ago, Walter was reunited with his son whom he had not seen since he left home in 1939 never to return again. His son finally obtained a visa to come and visit his father. This was a great time for Walter but Walter kept his feelings private. His wife died long ago never seeing each other again.
Walter had his personal belongings sent to his son during this last year as he knew some day he too would leave this life and that is why he was so grateful to God for the life that he was able to salvage after escaping death many times.
The biggest statement about Walter's life or Wladek as everyone called him was his faith.
After St.Casimir was reopened, Walter would go there twice a month and the other times to Immaculate Heart his adopted parish. Walter would arrive very early and go to the altar and kneel before the altar and pray. One day a friend of mine came early to take pictures and captured Walter before the altar deep in prayer. He has that picture of a man in private conversation with God.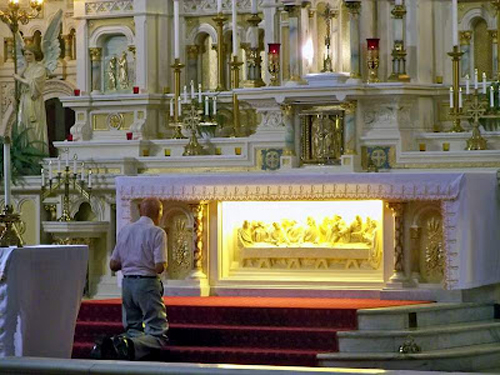 Wladek Szylwian
(photo by Stan Zadnik)



This is Walter, a true servant of the Lord who held no hate towards anyone and forgave others. When the bishop came to Casimir for the installation of Fr. Eric Orzech as pastor on Nov 25, 2012, Walter sat in the first pew, first seat in his Polish Army uniform with the other vets and was the first to receive communion from the floor from the bishop. Walter bore no grudge.

On Feb 3rd of this year, two of us from the prayer vigil group went to visit Wladek in the hospital and his eyes lit up and his hand grasped ours with joy. We thanked Walter for his stepping up and showing us the way on that day of long ago, Nov 8, 2009 when he disconnected the mic during the closing Mass, resulting in the people rising up and saying "NO".

Walter's opened his arms wide, shrugged and said with difficulty: "You do what you can do".

Thank you Wladek, we will miss you but your life is now without limits or restraints. His actions have made this humble man a legend among many Catholics in Cleveland who know the story, he energized us and showed courage and faith.

Bóg Zaplac!

By Joseph Feckanin

Top of Page

Back to Cleveland Poles


---
For sponsorship opportunities, please contact us.
Please support the Polish pages of ClevelandPeople.Com.