The ClevelandPeople.Com Passport Adventurers travelled to Lithuania via the Cleveland Lithuanian Club. The Passport Adventurers visit traditional ethnic restaurants and showcases the food, culture, history of the country - in this case Lithuania.
Lt. Colonel Joseph Meissner told the story of the Hill of Crosses. The Hill of Crosses is a site of pilgrimage about 12 km north of the city of Šiauliai, in northern Lithuania. The precise origin of the practice of leaving crosses on the hill is uncertain, but it is believed that the first crosses were placed on the former Jurgaiciai or Domantai hill fort after the 1831 Uprising. Over the generations, not only crosses, but giant crucifixes, carvings of Lithuanian patriots, statues of the Virgin Mary and thousands of tiny effigies and rosaries have been brought here by Catholic pilgrims.
Estimates put the number of crosses at over 100,000.

Hill of Crosses in Lithuania

By Pudelek (Marcin Szala) - Own work, CC BY-SA 3.0, https://commons.wikimedia.org/w/index.php?curid=17124232



Watch the video clip of Meissner's talk.

The site took on a special significance during the years 1944–1990, when Lithuania was occupied by the Soviet Union. Continuing to travel to the hill and leave their tributes, Lithuanians used it to demonstrate their allegiance to their original identity, religion and heritage. It was a venue of peaceful resistance, although the Soviets worked hard to remove new crosses, and bulldozed the site at least three times (including attempts in 1963 and 1973)

On September 7, 1993, Pope John Paul II visited the Hill of Crosses, declaring it a place for hope, peace, love and sacrifice.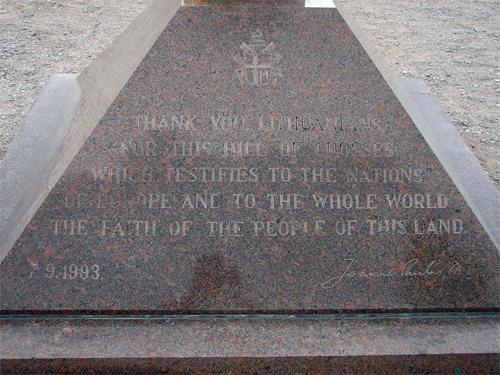 Pope John Paul II message



In 2000 a Franciscan hermitage was opened nearby. The hill remains under nobody's jurisdiction; therefore people are free to build crosses as they see fit.

Ruta Degutis, President of the Lithuanian Club of Cleveland, told about her trip to the Hill of Crosses in Lithuania.



***

Stay informed about the local Lithuanian community by signing up for the free Cleveland Lithuanian eNews mailings. You can select other groups as well. It's easy and free.

Fill out the form for the free Lithuanian eNews.

***

---
---
Lithuanian foods and culture at the Passport Adventure to Lithuania
---
Back to Top
Back to Cleveland Lithuanians