The Jewish Community Federation of Cleveland hosted the annual One World Day 2007 ceremony at the Hebrew Cultural Garden at 1160 Rockefeller Park on September 30, 2007.
One World Day is an annual Greater Cleveland celebration and free community event that this year featured a lively parade led by The Mandel JCC Playmakers Youth Theatre, a naturalization ceremony for new immigrants led by U.S. District Court Judge Dan Polster and translated into Russian, kosher food, entertainment by Mazel Tov (a choir comprised of senior citizens from the Russian community), Israeli dancing, Sukkot and children's activities, food and fun.
Mila & Simon Rekhson, Judy & Burt Saltzman, Ronna & Hal Uhrman and Helene & Malcolm Zucker were recognized for their contributions to the City of Cleveland.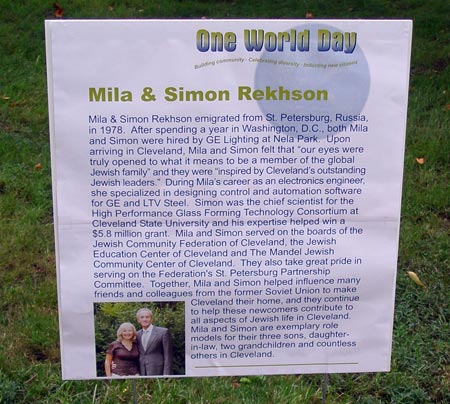 One World Day recognition of Mila and Simon Rekhson



Mila & Simon Rekhson emigrated from St. Petersburg, Russia, in 1978. After spending a year in Washington, D.C., both Mila and Simon were hired by GE Lighting at Nela Park. Upon arriving in Cleveland, Mila and Simon felt that "our eyes were truly opened to what it means to be a member of the global Jewish family" and they were "inspired by Cleveland's outstanding Jewish leaders."

During Mila's career as an electronics engineer, she specialized in designing control and automation software for GE and LTV Steel. Simon was the chief scientist for the High Performance Glass Forming Technology Consortium at Cleveland State University and his expertise helped win a $5.8 million grant.

Mila and Simon served on the boards of the Jewish Community Federation of Cleveland, the Jewish Education Center of Cleveland and The Mandel Jewish Community Center of Cleveland. They also take great pride in serving on the Federation's St. Petersburg Partnership Committee. Together, Mila and Simon helped influence many friends and colleagues from the former Soviet Union to make Cleveland their home, and they continue to help these newcomers contribute to all aspects of Jewish life in Cleveland.

Mila and Simon are exemplary role models for their three sons, daughter-in-law, two grandchildren and countless others in Cleveland.
---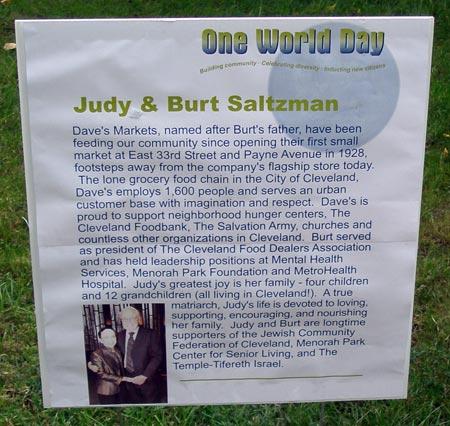 One World Day recognition of Judy and Burt Saltzman
Dave's Markets, named after Burt's father, have been feeding our community since opening their first small market at East 33rd Street and Payne Avenue in 1928, footsteps away from the company's flagship store today.
The lone grocery food chain in the City of Cleveland, Dave's employs 1,600 people and serves an urban customer base with imagination and respect. Dave's is proud to support neighborhood hunger centers, The Cleveland Foodbank, The Salvation Army, churches and countless other organizations in Cleveland. Burt served as president of The Cleveland Food Dealers Association and has held leadership positions at Mental Health Services, Menorah Park Foundation and MetroHealth Hospital.
Judy's greatest joy is her family - four children and 12 grandchildren (all living in Cleveland!). A true matriarch, Judy's life is devoted to loving, supporting, encouraging, and nourishing her family.
Judy and Burt are longtime supporters of the Jewish Community Federation of Cleveland, Menorah Park Center for Senior Living, and The Temple-Tifereth Israel.
---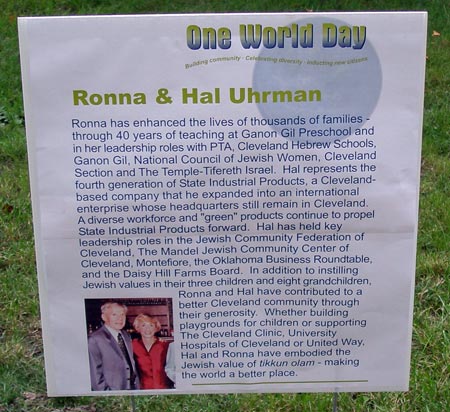 One World Day recognition of Ronna and Hal Uhrman



Ronna has enhanced the lives of thousands of families - through 40 years of teaching at Ganon Gil Preschool and in her leadership roles with PTA, Cleveland Hebrew Schools, Ganon Gil, National Council of Jewish Women, Cleveland Section and The Temple-Tifereth Israel.

Hal represents the fourth generation of State Industrial Products, a Cleveland-based company that he expanded into an international enterprise whose headquarters still remain in Cleveland. A diverse workforce and "green" products continue to propel State Industrial Products forward.

Hal has held key leadership roles in the Jewish Community Federation of Cleveland, The Mandel Jewish Community Center of Cleveland, Montefiore, the Oklahoma Business Roundtable, and the Daisy Hill Farms Board. In addition to instilling Jewish values in their three children and eight grandchildren, Ronna and Hal have contributed to a better Cleveland community through their generosity.

Whether building playgrounds for children or supporting The Cleveland Clinic, University Hospitals of Cleveland or United Way, Hal and Ronna have embodied the Jewish value of tikkun olam - making the world a better place.
---


One World Day recognition of
Helene and Malcolm Zucker



Helene's life has been filled with acts of "chesed" kindness and "tzedakah" charity. She is a Life Member of True Sisters and a Lion of Judah of the Jewish Community Federation of Cleveland. Dozens of Helene's years were spent volunteering at The Temple-Tifereth Israel and the Suburban Hospital Gift Shop.

Malcolm's father, Jay, started State Industrial Products in 1911 (a fifth-generation Jewish owned company in Cleveland). Malcolm is currently Chairman of the Board of State Industrial and has spent his entire career there while at the same time contributing to the City of Cleveland and its institutions. Malcolm is a Life Trustee at Montefiore and has been involved in countless organizations including the Greater Cleveland Growth Association and United Way of Cleveland.

The Malcolm & Helene Zucker & Ronna & Hal Uhrman Gardens at Montefiore provide a landscaped courtyard with colorful seasonal foliage and programs to engage residents and families.

Helene and Malcolm turned heartbreak into generosity and created the Andrew Uhrman Activity Center at Rainbow Babies & Children's Hospital in memory of their loving great-grandson. Helene and Mac are cherished members of their family and of the greater Cleveland community.
---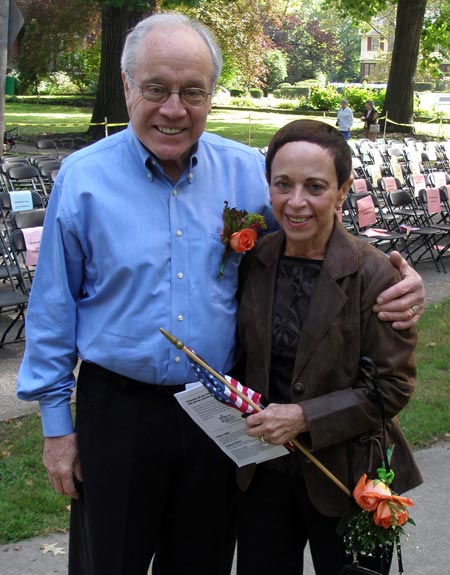 Honorees Burt and Judy Saltzman


---


Harley Gross keynote address


---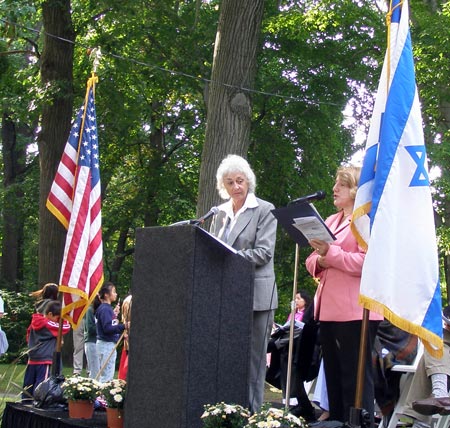 Donna Yanowitz, Chair, Hebrew Cultural Garden


---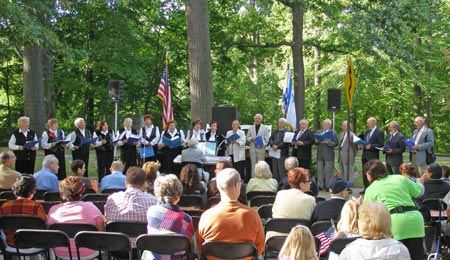 Mazel Tov Choir performing


---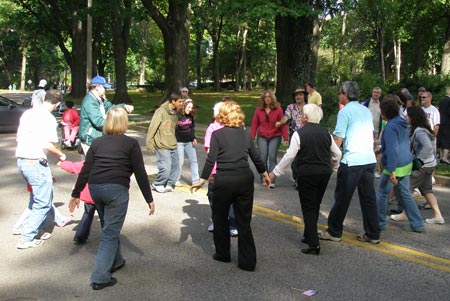 An impromptu dance broke out in the street at the end of the official ceremony

---
See more of the Hebrew Gardens
See more of One World Day 2007
---
Back to Top
Back to Cleveland Jews