The first annual Jewish Heritage Month Celebration was held at Cleveland City Hall on Monday May 24, 2010.
Since 2006, May has been nationally designated Jewish American Heritage Month, recognizing the more than 350 year history of Jewish contributions to American culture.
The First Annual Ceremony at Cleveland City Hall to recognize Jewish American Heritage Month included remarks from Mayor Frank G. Jackson, Councilman Joe Cimperman and Council President Martin Sweeney.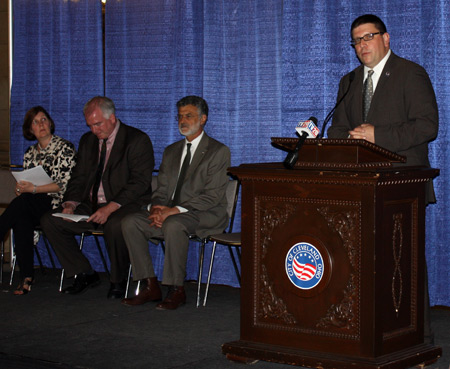 Cleveland Councilman Joe Cimperman
Cleveland City Councilman Joe Cimperman introduced the Jewish Heritage Month celebration at the Cleveland City Hall Rotunda. Mayor Frank Jackson, Council president Martin Sweeney and Maltz Museum Director Judy Fenniger joined him on stage.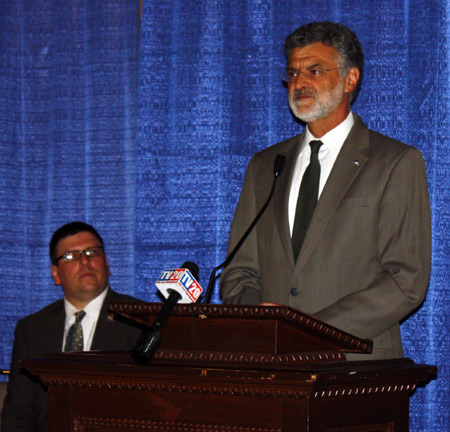 Mayor Frank Jackson commended the students in
the Stop the Hate essay contest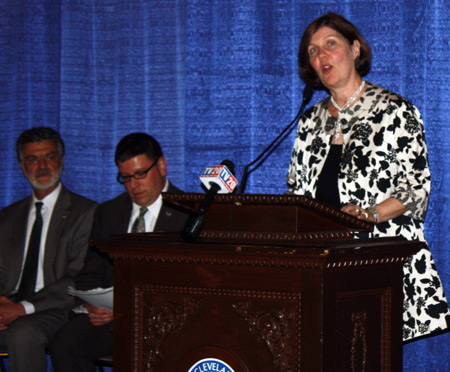 Maltz Museum Executive Director Judi Feniger spoke about the first Jewish council people in Cleveland including their opposition from the Ku Klux Klan.





Milton Maltz' remarks included some "Jewish stories which are really American stories." He had a special message for Adolf Hitler and his reaction to Jesse Owens Olympic triumphs.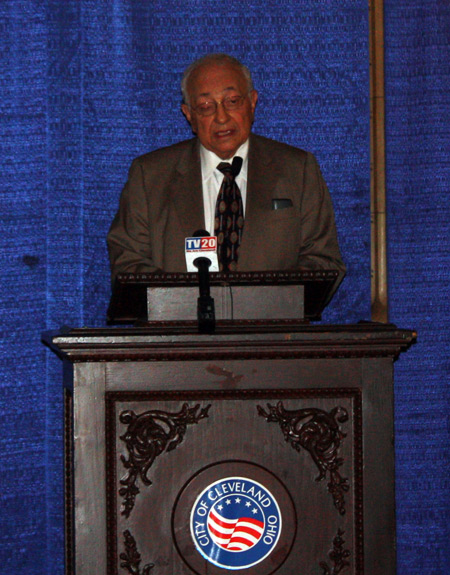 Three plaques depicting early Jewish councilmen were unveiled and will be on display at City Hall.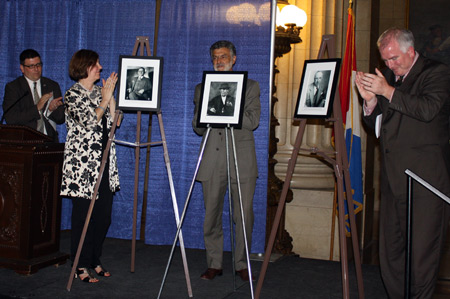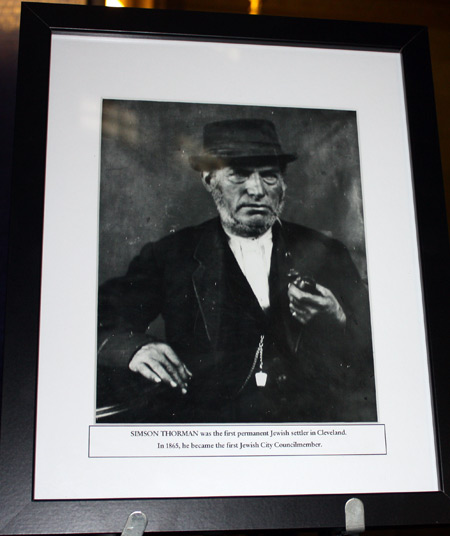 Simson Thorman was the first permanent Jewish settler in Cleveland. In 1865 he became the first Jewish City Council member.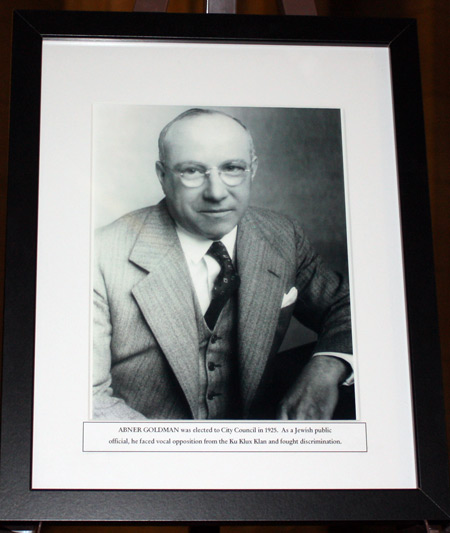 Abner Goldman was elected to Cleveland City Council in 1925.
As a Jewish public official, he faced vocal opposition from the
Ku Klux Klan and fought discrimination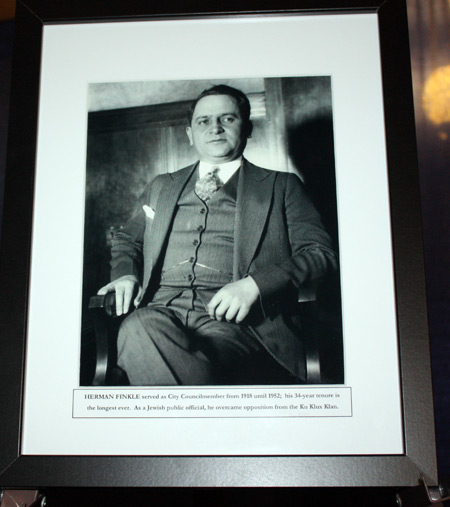 Herman Finkle served on City Council from 1928-1952. His 34 year tenure is the longest ever. He too overcame opposition from the Ku Klux Klan



After the event, the ten finalists in the 2010 "Stop the Hate: Youth Speak Out!" essay contest received special recognition from Cleveland City Council.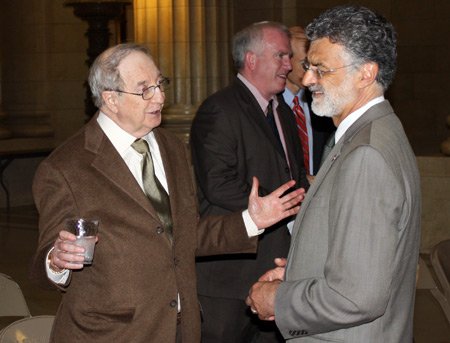 Albert Ratner and Mayor Frank Jackson


---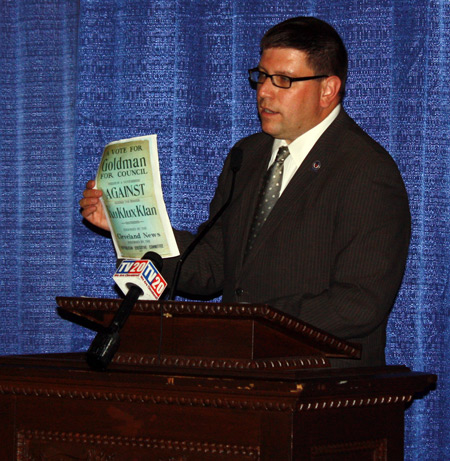 Joe Cimperman with Ku Klux Klan literature against Abner Goldman


---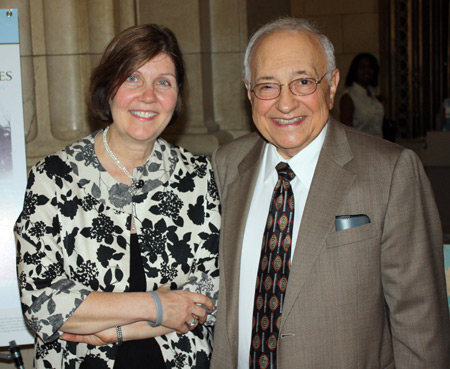 Judi Feniger and Milton Maltz


---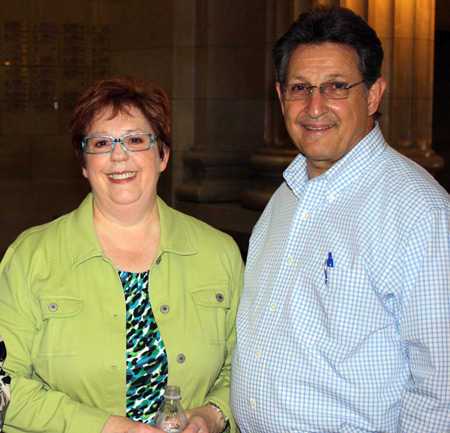 Lynda Bender and Jon Wise


---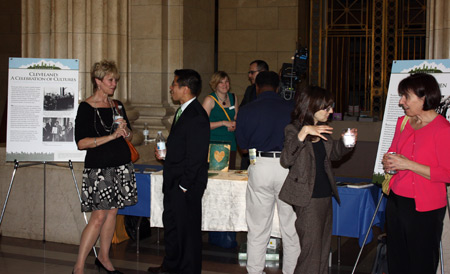 Maltz Museum Display


---


Maltz Museum Staffers
Lenaia Burbank, Amber Anderson and Adam Teresi


---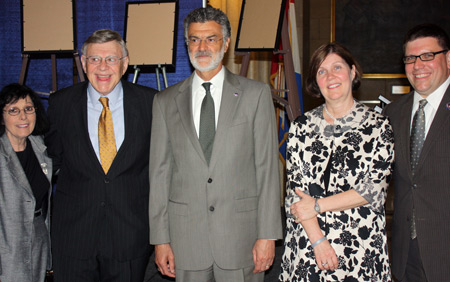 Sharon and Jerry Schmelzer, Mayor Jackson,
Judi Feniger and Joe Cimperman


---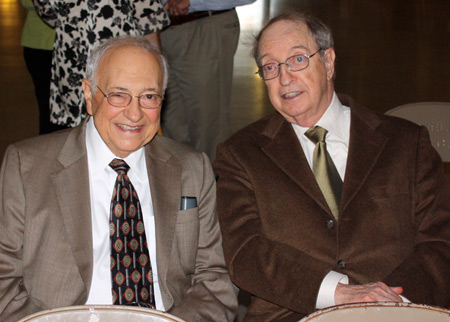 Milton Maltz and Albert Ratner


---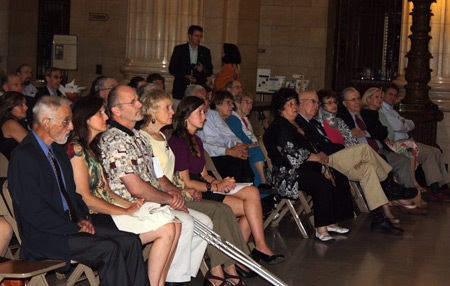 City Hall Rotunda crowd
---
Presidential Proclamation--Jewish American Heritage Month

A PROCLAMATION

In 1883, the Jewish American poet Emma Lazarus composed a sonnet, entitled "The New Colossus," to help raise funds for erecting the Statue of Liberty. Twenty years later, a plaque was affixed to the completed statue, inscribed with her words: "Give me your tired, your poor, your huddled masses yearning to breathe free…." These poignant words still speak to us today, reminding us of our Nation's promise as a beacon to all who are denied freedom and opportunity in their native lands.

Our Nation has always been both a haven and a home for Jewish Americans. Countless Jewish immigrants have come to our shores seeking better lives and opportunities, from those who arrived in New Amsterdam long before America's birth, to those of the past century who sought refuge from the horrors of pogroms and the Holocaust. As they have immeasurably enriched our national culture, Jewish Americans have also maintained their own unique identity. During Jewish American Heritage Month we celebrate this proud history and honor the invaluable contributions Jewish Americans have made to our Nation.

The Jewish American story is an essential chapter of the American narrative. It is one of refuge from persecution; of commitment to service, faith, democracy, and peace; and of tireless work to achieve success. As leaders in every facet of American life -- from athletics, entertainment, and the arts to academia, business, government, and our Armed Forces -- Jewish Americans have shaped our Nation and helped steer the course of our history. We are a stronger and more hopeful country because so many Jews from around the world have made America their home.

Today, Jewish Americans carry on their culture's tradition of "tikkun olam" -- or "to repair the world" -- through good deeds and service. As they honor and maintain their ancient heritage, they set a positive example for all Americans and continue to strengthen our Nation.

NOW, THEREFORE, I, BARACK OBAMA, President of the United States of America, by virtue of the authority vested in me by the Constitution and the laws of the United States, do hereby proclaim May 2010 as Jewish American Heritage Month. I call upon all Americans to observe this month with appropriate programs, activities, and ceremonies to celebrate the heritage and contributions of Jewish Americans.

IN WITNESS WHEREOF, I have hereunto set my hand this thirtieth day of April, in the year two thousand ten, and of the Independence of the United States of America the two hundred and thirty-fourth.

BARACK OBAMA
---
Back to Top
Back to Cleveland Jews