The Honorable Associate Justice Samuel Anthony Alito, Jr. of the United States Supreme Court spoke to a packed house of 1500 at John Carroll University on April 9, 2008.
Justice Alito's speech was titled Remember the Story of Italian Americans and was part of the Bishop Anthony M. Pilla Program in Italian American Studies at John Carroll University.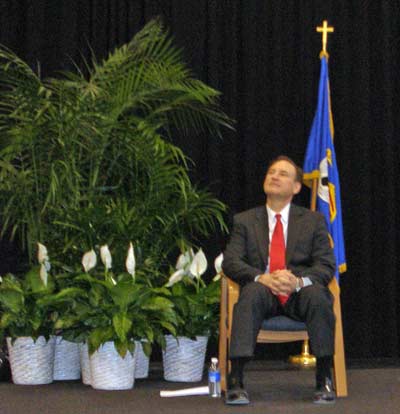 US Supreme Court Justice Samuel Alito waiting to speak



The program began with an introduction and welcome by Dr. Santa Casciani, the Director of the Bishop Anthony M. Pilla Program in Italian American Studies. A color guard of John Carroll University Army ROTC Cadets then presented the flag.

Dr. Linda Eisenmann, Dean of the John Carroll University College of Arts and Sciences led the crowd in the Pledge of Allegiance.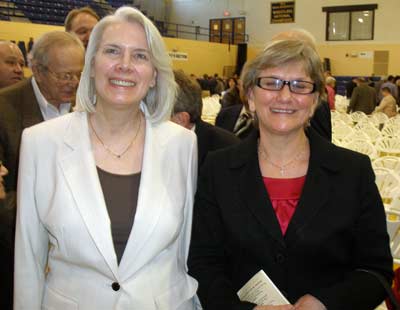 Dean Linda Eisenmann and Dr. Santa Casciani



JCU Dean of Student Development Rev. James Prehn, S.J. gave the invocation and was followed by a welcome from Rev. Robert Niehoff, S.J. the President of John Carroll University.

The Honorable Beryl Rothschild, Mayor of the City of University Heights then welcomed the Justice and gave him 2 keys to the city - one for him and one for his wife.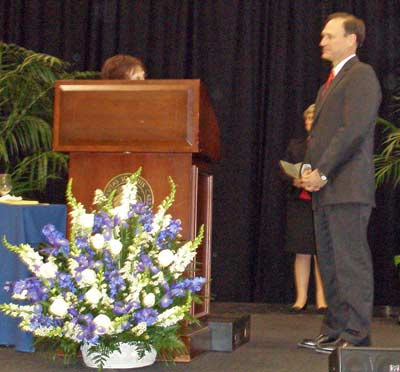 University Heights Mayor Beryl Rothschild (behind podium) presenting keys to the city to
Supreme Court Justice Samuel Alito
Justice Alito was then introduced by former Senator Mike DeWine who served as Ohio Senator from 1995-2006. Senator DeWine stated that Samuel Alito was the 110th person, and the second Italian American, to serve on the United States Supreme Court.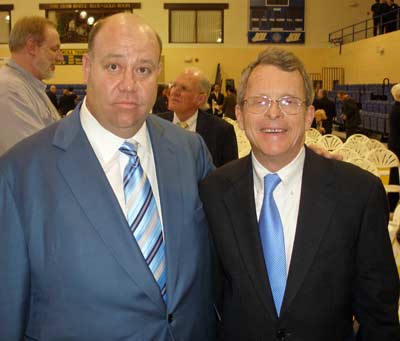 Umberto Fedeli and Senator Mike DeWine

Senator DeWine called Justice Alito the "brainy son and grandson of Italian immigrants" and stressed how he was a "real person." He told how Justice Alito "understands that judicial opinions affect real people and have real consequences."

In calling Justice Alito to the podium Senator DeWine said he was "a good, decent, honest man with a great love for his family."

Justice Alito stayed true to his topic, Remember the Story of Italian Americans, throughout his speech. Speaking in the Tony DeCarlo Varsity Center, he joked that he had dreamed of appearing in a gymnasium in front of a crowd like this - but he was glad that the basketball hoops weren't down.

He told how on the morning that President Bush nominated him for the Supreme Court he thought of the few words he wanted to say. He claims it was "really very corny" but he wished his father, who had come to the US as an infant in 1914 from Calabria, had been there to witness that event. (His father died in Philadelphia in 1987.)

Though he knew his father had been born in Italy, some bloggers stated that he had not. The Boston Globe hired a genealogist and verified that his father had indeed been born in Italy. Justice Alito thanked them for the "nice free service the newspaper provided."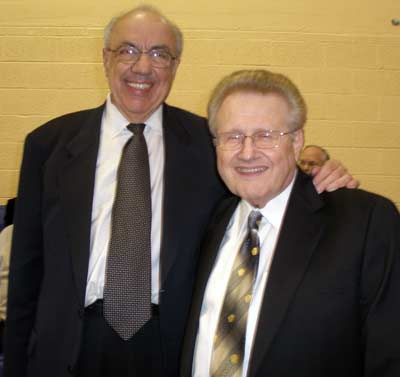 Judge Anthony O. Calabrese, Jr. and Vince Panichi



He had assumed that his father had entered via Ellis Island but it was actually through Philadelphia from Naples. After his Supreme Court nomination, the Italian Ambassador gave him a copy of his father's birth certificate. On the bottom of the form an official had written something like "I am signing this for the two people who came because neither could read or write."

He reflected that in the Philadelphia of 1914, his grandmother and infant father were probably considered the "wretched refuse" that is mentioned in Lazarus' poem etched on the Statue of Liberty.

He told how school authorities changed his father's name from Salvatore to Samuel and changed the family name to Alito, which translates to breath. "If you Google that, after you get through all the nasty bits about me, you'll see that there is a common expression 'alito cattivo,' which means 'bad breath.'"

His father had no money for college so he took a factory job. A "kind person in Trenton" gave him a $50 scholarship so he went to college. He made his own shirt, really only the front of a shirt. A professor made him take his jacket off to embarrass him.

When he was asked on forms to state his ethnicity he always wrote "American" not Italian though he was very proud of his heritage. Samuel Alito Jr. did not learn Italian at home because they spoke English. He learned Italian at Princeton.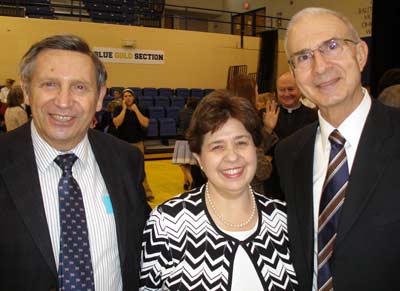 Joe and Gordano Grovimale with former Cuyahoga County Commissioner Vince Campanella



Justice Alito told how those immigrants "did the hard work of becoming Americans… When they said 'goodbye' in their small village, they knew they'd never see them again."

He told of the Immigration Act of 1924 that President Coolidge signed saying, "America must remain American." Before that Act, about 250,000 Italians were coming to America. After the Act, that number dropped to about 6,000.

Now with two Italian Americans on the Supreme Court and 5 US Senators, Alito stated that "divergent people have mixed and blended despite what President Coolidge said."

The Immigration Act was repealed in the 1960's but many of the Italian Americans are now 3rd or 4th generation because of it. Justice Alito wondered what the future would know about Italian Americans. He examined the leading middle and high school text books and was "not pleased but not particularly surprised."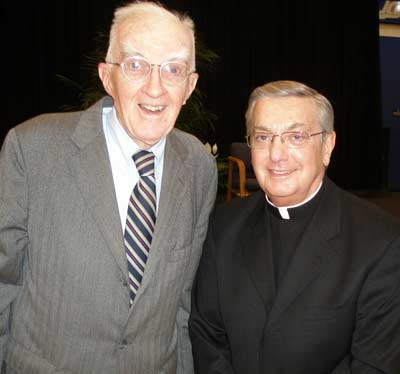 University Heights Community Coordinator Walter Stinson with Bishop Anthony M. Pilla



For example, in one of the top ten history books, of the 1014 pages, Italian Americans were mentioned in one paragraph. In another 1052 page book, they received one sentence, shared with other immigrant groups, but chocolate candy received 2 whole pages.

Another had one reference to immigrants in the 1048 pages but 2 pages on Rock and Roll and 4 pages on the 1960's counterculture. Another book of 1160 pages had one sentence about immigrants but 2 paragraphs on disco music.

He found that Elvis Presley was covered extensively in every book but none mentioned Bishop John Carroll. He lamented, "But how can you compare the father of the Catholic Church in the US with the father of Rock and Roll?"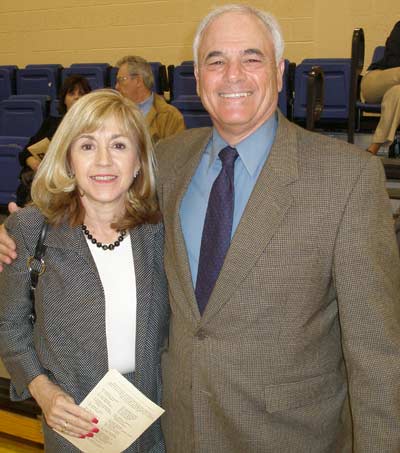 Maria Quinn and Frank Piunno



He told how John Jay, the first Chief Justice of the Supreme Court, led the campaign in New York to prohibit Catholics from holding office. Yet John Carroll, "a figure of genuine importance" is not even mentioned.

So many physical monuments were built by Italian American laborers - work on the Golden Gate Bridge and the Empire State Building for example. The Supreme Court building itself is a "magnificent structure" but there is nor record or tribute to the workers who built it.

So we are left to get information from popular culture. Justice Alito said that the images of Italian Americans in the pop culture are "overwhelmingly false," citing the Mafioso image of the Godfather, Goodfellas and others.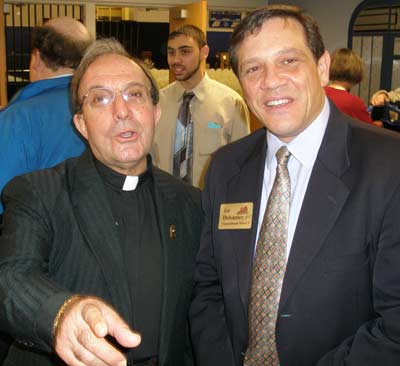 Father Anthony Fortunato and
Brunswick Councilman Joe Delsanter



He spoke of a study of movies that showed that Italians were portrayed negatively 69% of the time, 40% as mob figures. He gave examples from scenes in the Godfather movie and the Sopranos TV series.

He continued that if not portrayed as mobsters, they were shown as dimwitted 29% of the time - characters such as Rocky, Welcome Back Kotter's Vinnie Barbarino Tony Danza's character in Taxi and so on. Justice Alito said that in reality, Italian Americans are 50% more likely to have a college degree than others.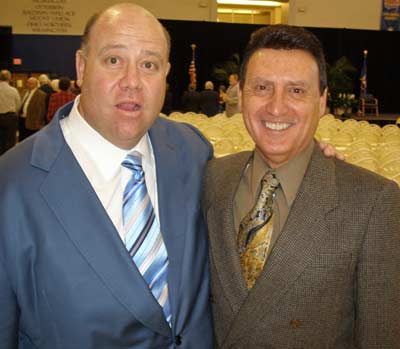 Umberto Fedeli and Basil Russo



Justice Alito concluded by saying, "As the Italian American population melts into the general population, I hope you keep the stories alive. History is too important to be left to the people who write text books."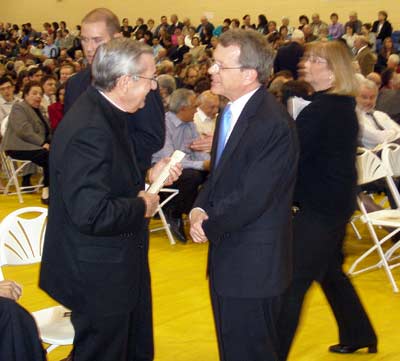 Bishop Anthony M. Pilla and Senator Mike DeWine



Brunswick Ward 4 Councilman Anthony Capretta echoed the sentiments of most of the crowd when he stated, "Everything Justice Alito said in his speech is exactly what my father taught me about our Italian Heritage. I know it's the truth.


---
Back to Top
Please e-mail us if you want to help with ClevelandItalians.com
Back to Cleveland Italians