Cleveland Mayor Frank G. Jackson and the French American Chamber of Commerce (FACC) rolled out the welcome mat for Mayor Valerie Fourneyron and Deputy Mayor Bruno Bertheuil of Rouen, France and a delegation of regional business and community leaders the week of July 4, 2009.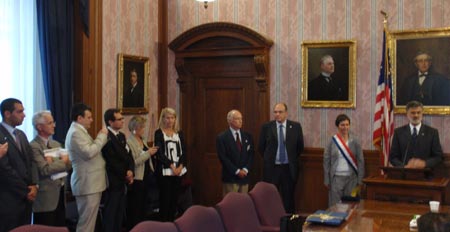 Mayors Valerie Fourneyron and Frank Jackson (right) with part of the Rouen delegation at Cleveland City Hall



The French Consul-General, Mr. Jean-Baptiste de Boissière, and the French Ambassador to the United States, Mr. Pierre Vimont, joined the delegation in Cleveland for a special event on July 5.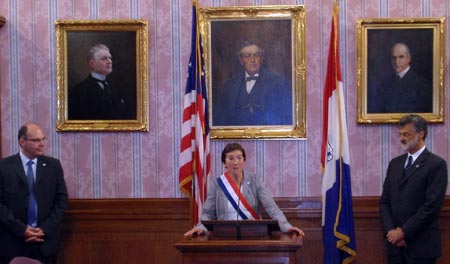 Rouen Deputy Mayor Bruno Bertheuil, Rouen Mayor Valerie Fourneyron and Cleveland Mayor Frank Jackson



In July 2008, Mayor Jackson traveled to Rouen to encourage international trade, cultural exchange and tourism between the two cities and to sign a Sister City agreement with Mayor Fourneyron.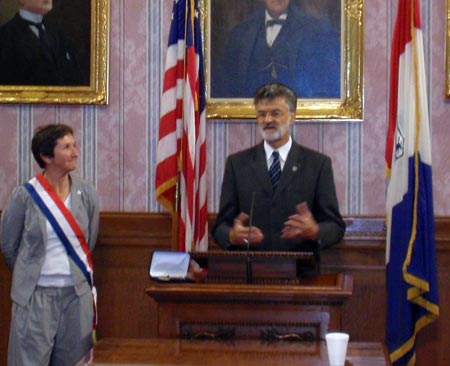 Cleveland Mayor Frank Jackson welcomes
Rouen Mayor Valerie Fourneyron



The City of Rouen, located in the region of Haute Normandie (Upper Normandy), is comparable in size and economic activity to Northeast Ohio. The region of Upper Normandy is rated 13th in economic influence of France's 22 Regions, far surpassing its ranking as 19th of 22 in geographic size. Upper Normandy is home to 1.8 million inhabitants, 700,000 jobs and a gross domestic product of 58.6 billion US Dollars.



---
In her address, Mayor Fourneyron spoke about the similarities between Cleveland and Rouen including the industrial base, hospitals and universities as well as a love for Impressionist Art. (The Rouen Cathedral was the subject of a series of paintings by the Impressionist artist Claude Monet, who painted the same scene at different times of the day.)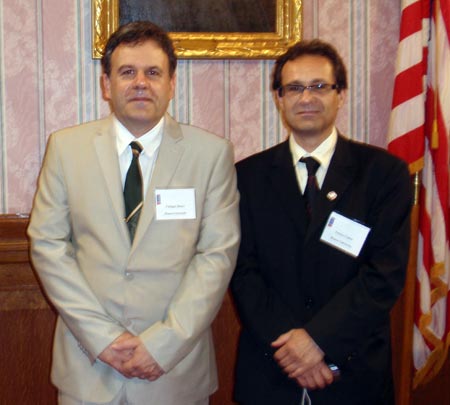 Philippe Bance and Patrice Cohen of Rouen University



The delegation was included in the City of Cleveland's July 4 celebrations and met with local and regional business leaders and community stakeholders, including The Greater Cleveland Partnership, The Port of Cleveland, Cleveland State University, Case Western Reserve University, The Cleveland Clinic, University Hospitals, The Lubrizol Corporation and other areas of specific interest to the delegation.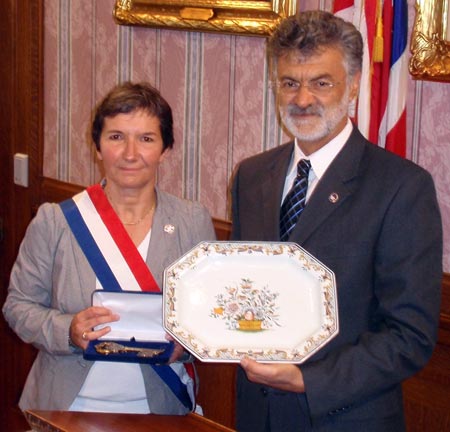 Rouen Mayor Valerie Fourneyron and
Cleveland Mayor Frank Jackson exchange gifts
---
Back to Top
Back to Cleveland French