The Jesuit Ministries Fair was open throughout the event and included numerous organizations of interest such as the Ignatian Solidarity Network, Fr. Don Doll S.J., Manresa Jesuit Retreat House, Jesuit Refugee Service, International Samaritan, The Cana Institute, Loyola Press and more.
NOTE: All the images below with a white arrow in the middle are videos. (The other images are just photos) You can click on the white arrow to watch the video of whatever is described. Make sure your speakers are on and you can make the video full screen once it begins by clicking the icon in the lower right corner.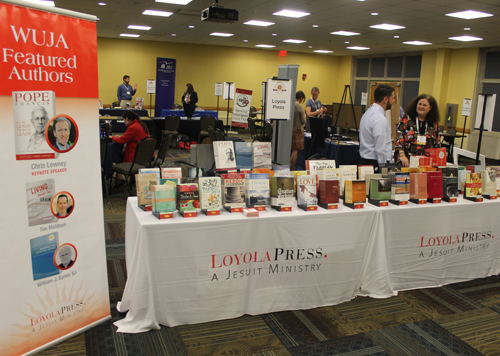 Loyola Press at WUJA Jesuit Ministries Fair

Bridgett Brennan from The Cana Institute said that it was founded to proclaim the Good News that God is in the midst of Married Life.





Learn more about the Cana Institute


---
Lena Chapin, Development Coordinator of Ignatian Solidarity Network said that The Ignatian Solidarity Network works to network, educate, and form advocates for social justice animated by the spirituality of St. Ignatius of Loyola and the witness of the Jesuit martyrs of El Salvador and their companions. Lena told about the Ignatian Carbon Challenge and programs to welcome immigrants and refugees.



Learn more about the Ignatian Solidarity Network


---
Dan Piaskowski from International Samaritan told how International Samaritan works to save the lives of people in garbage dump communities worldwide. They guide them from the horrors of despair (scavenging garbage to exist) to a life of dignity. International Samaritan serves victims of severe poverty in developing countries by partnering with them and others to alleviate hunger, homelessness, endemic disease and ignorance.





Learn more about International Samaritan



---
Top of Page
Back to Cleveland Catholics
Back to main 2017 WUJA (World Union of Jesuit Alumni) page
---
We Pray the Rosary - Living Rosary DVD
Hail Mary, Full of Grace…

This DVD is a Living Rosary in the sense that over 200 people participated in saying a prayer. 3 bishops, numerous priests and sisters and a variety of lay people all said a prayer (Creed, Our Father, Hail Mary or Glory Be) that when put together combine to form the complete Rosary.

All 4 Mysteries (Joyful, Sorrowful, Glorious and Luminous) are included and there is an extra Decade for your special intentions.

We hope that this DVD inspires you to pray the Rosary more frequently. You can choose to view/pray a single Decade, a complete Mystery or all 4 Mysteries. The DVD includes a listing of all the Mysteries.

The Rosary is a great gift given to us by Our Blessed Mother.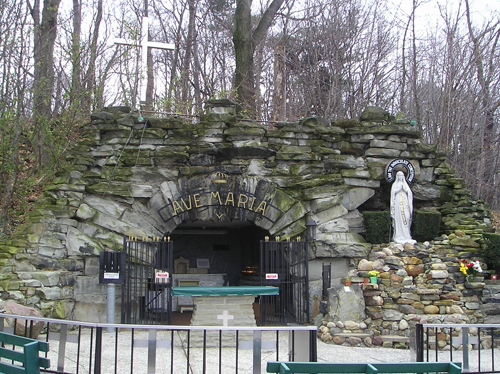 Learn more about the Living Rosary and how you can order this DVD
---
---