International Fashion Show
Page 2
8th annual Cleveland Multicultural Holiday Celebration
International Community Council
Worldwide Intercultural Network (ICC-WIN)
December 6, 2017
Continued from Page 1 of the International Fashion Show
Lebanon
Nemer Saueidi and Pierre Bejjani represented Lebanon.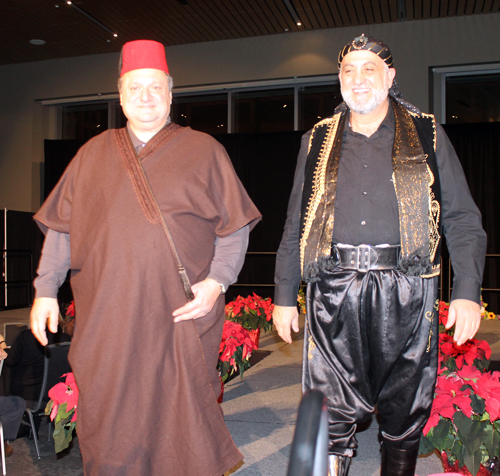 Pierre Bejjani and Nemer Saueidi
representing Lebanon
---
Lithuania
Kristina Vidžiunaite, Kristoforas Ciurlionis, Audrele Bielinyte, Martins Krebs, Gabriele Baltrunaite and Aras Stungys represented Lithuania.

Men's and women's Lithuanian folk costumes use a variety of colors, designs, textures, and patterns. Aprons embroidered with geometric designs cover long plaid skirts. Hats trimmed with ribbon and vests are also typical elements to Lithuanian traditional costumes. The men's clothing, while understated, is decorated with woven sashes and boots.

Vests are typical accessories for both male and female Lithuanian traditional costumes. Women's vests are often fitted with a ruffle at the waist. The shirts are worn over long-sleeved blouses with collared necks. The pillbox hat, which is often richly decorated and may be finished with long ribbons that trail down the back, is common to Lithuanian traditional dress.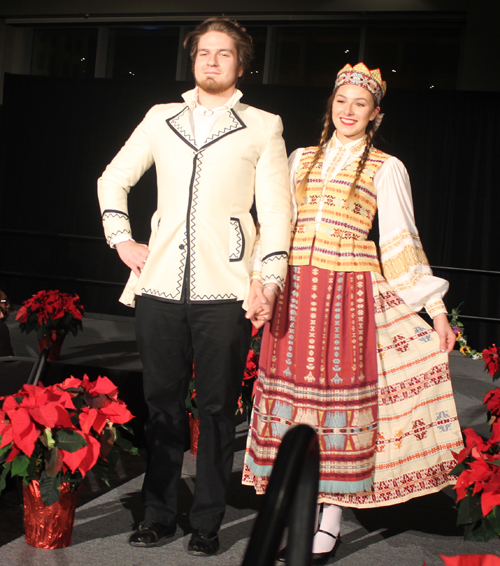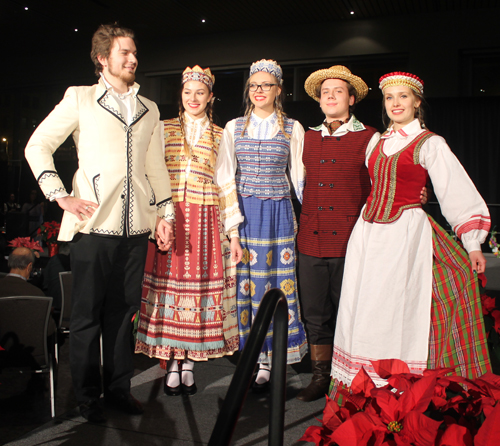 ---
Morocco
Loubna Blail and Bahareh Gharehgozlou represented Morocco.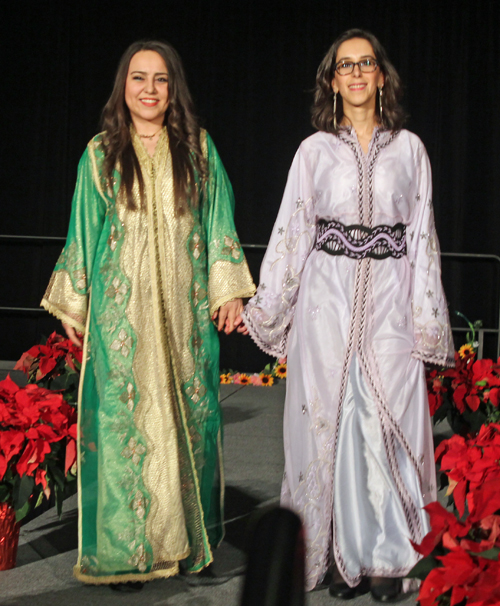 Loubna Blail and Bahareh Gharehgozlou
representing Morocco

The caftan, or kaftan, is the traditional dress of Moroccan women. In the era of the Sultans, the caftan was worn by both men and women, the design of the caftan was a symbol of rank, with everything from the patterns to the buttons symbolizing the wearer's place in the Sultan's hierarchy. When the caftan came to Morocco, it became primarily an article of women's clothing.

The caftan is a long dress in the style of a robe. Caftans are made of either cotton or silk. They are ankle-length and can be fastened up the front with buttons. A sash around the waist completes the outfit. This piece is made of two layers: a dress covered by a button-up robe. It is worn for special occasions such as weddings.

Loubna Bilali is originally from Morocco. She is a Ph.D. candidate in the Translation Studies program where she's currently working on her dissertation. She also teaches language and translation-related courses at the MCLS department.

Bahareh Gharehgozlou is originally from Iran. She is a Ph.D. candidate in the Translation Studies program where she's currently working on her dissertation. She also teaches language and translation-related courses at the Kent State Honors College.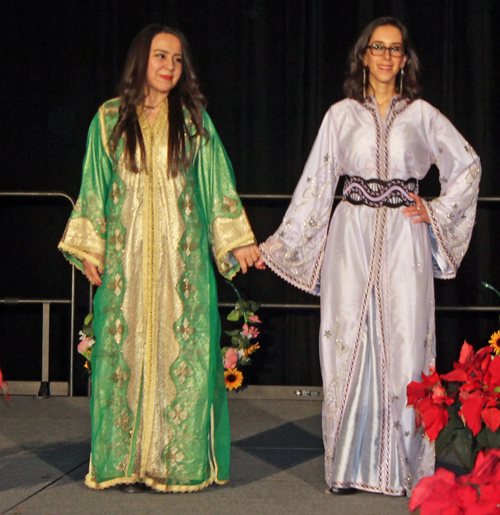 ---
Palestine
Shirien Muntaser is wearing a traditional Palestinian dress in celebration of her proud heritage.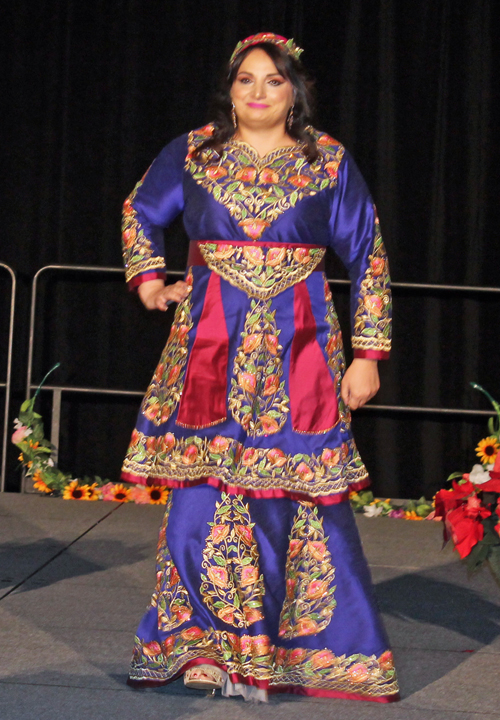 Shirien Muntaser representing Palestine
---
Poland
Gustav Kotlarsic and Amelia Kotlarsic represented Poland. Gustav wore a traditional "Green Kurpie" costume which consists of a red felt vest with black trim and stylized red and white accents, white pants and brown hat. Amelia wore a traditional "Green Kurpie" costume. Which consists of a vest and skirt with white apron. On her head is a head piece full of colorful ribbons which is characteristic of the Green Kurpie region from North Central Poland.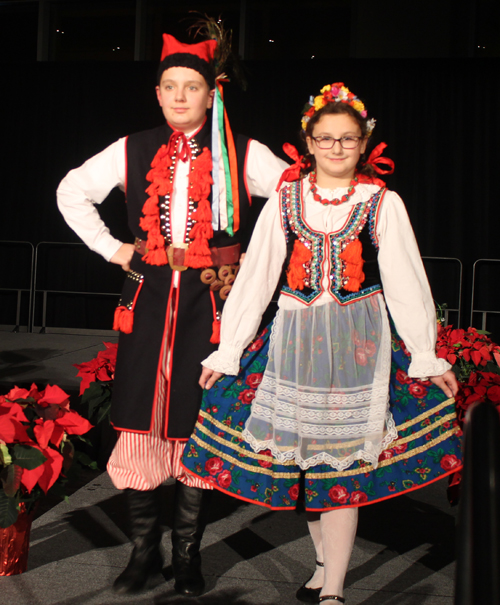 Gustav Kotlarsic and Amelia Kotlarsic
representing Poland.
---
Polynesian Islands
Gideon Lorete and Phola Sade Adu represented the Polynesian Islands. The Polynesians are the original inhabitants of a vast string of islands in the Pacific Ocean, from New Zealand in the south to Hawaii in the north. The cultures of the region share many traits with each other. Their differences are often subtle and not readily perceived by outsiders.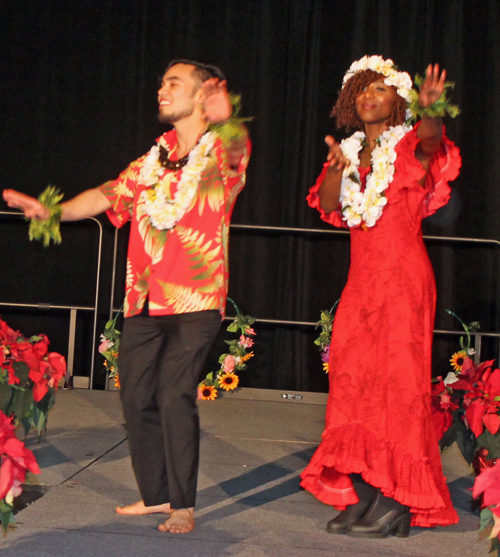 Representing the Polynesian Islands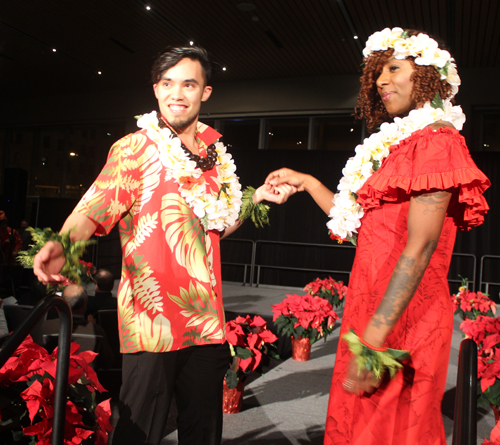 ---
Russia
Antonina Pakholkova Mohamed, Elissa Mohamed, Kristina Shapiro, Varvara Zasukhina, Ekaterina Turichenko, Sasha Hillards and Patrik Hillards represented Russia.

The Women are wearing traditional Russian dresses called "sarafan" with headpieces called "kokoshnik". Boys are wearing blue and read "kosovorotka" with Cossack's hats. They also demonstrate boyar winter coats and hats.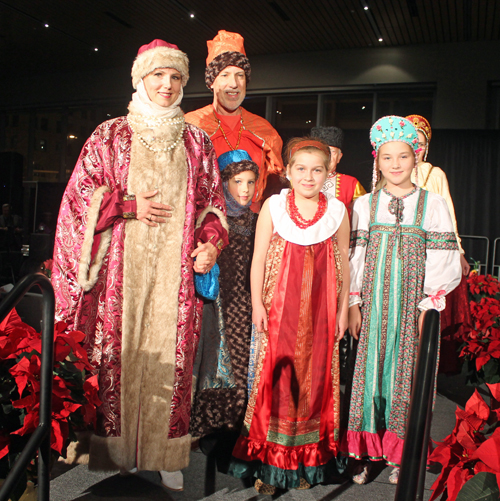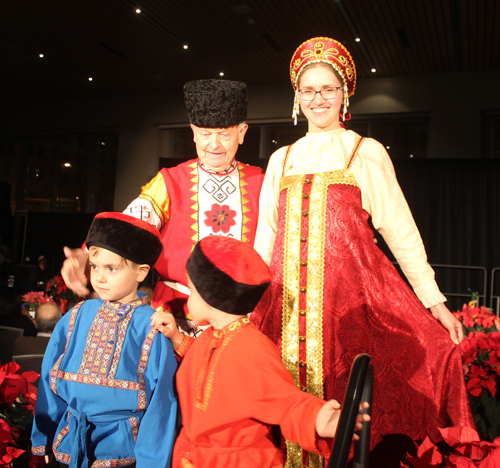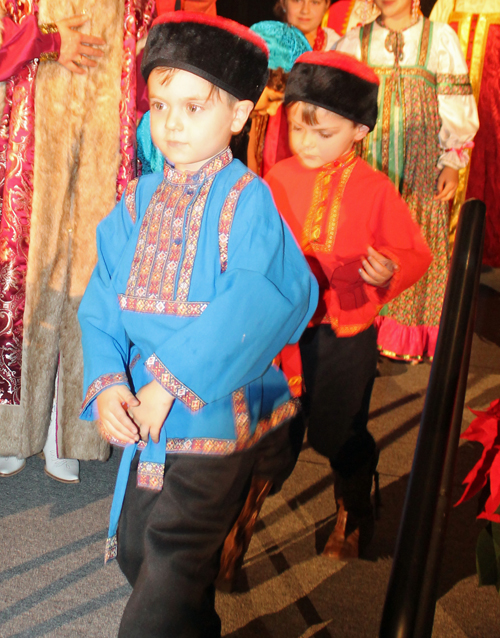 ---
Rwanda and Burundi
Raissa and Jeanine represented Rwanda and Burundi. Raissa wore a mushanana like a Rwandese, and Jeannine also wore mushanana with the colors of Burundi.

Representing Burundi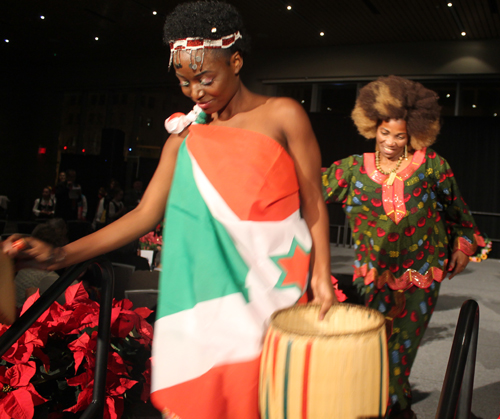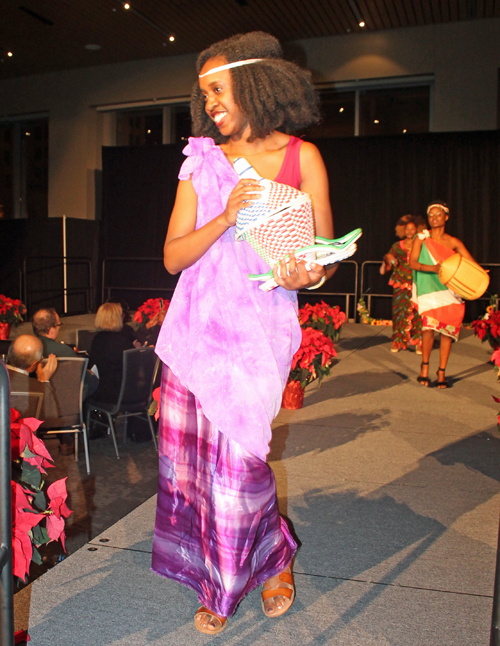 Representing Rwanda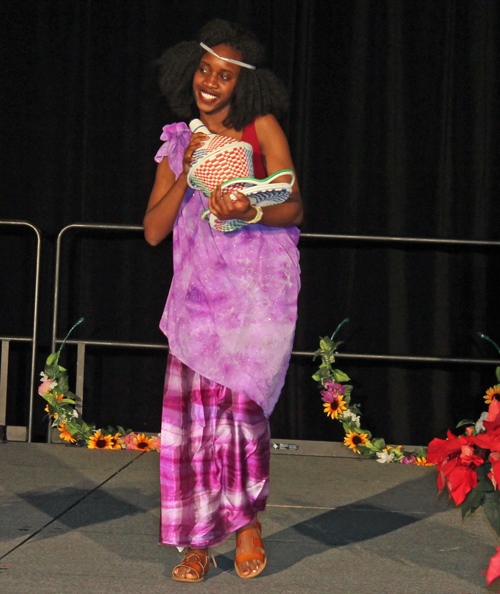 ---
Scotland
Alexander Murray, Bill Kennedy, Kate Walsh and Katie Gressock representing Scotland.

Kate Walsh is wearing the traditional Aboyne costume worn by Scottish Highland Dancers during competition. Katie Gressock is wearing a traditional Highland dancing costume.

The men are wearing Formal Evening Wear consisting of a black barathea "Price Charlie' style kilt jacket with matching waistcoat, (vest), low-cut and fastened with three Celtic buttons. White tuxedo shirt with shirt studs, French or barrel cuffs, Black bow tie. Ghillie brogues (tongue-less brogues with kilt hose (knee-length wool socks).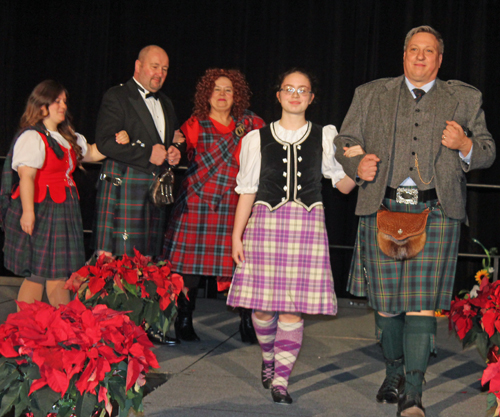 Representing Scotland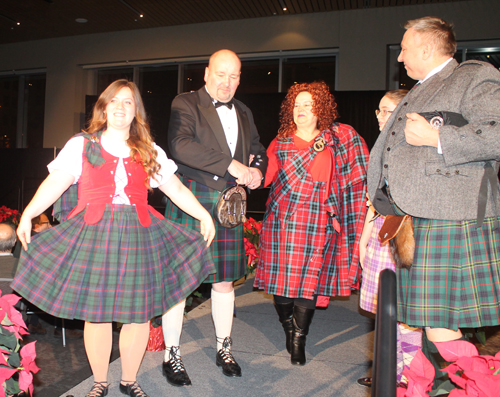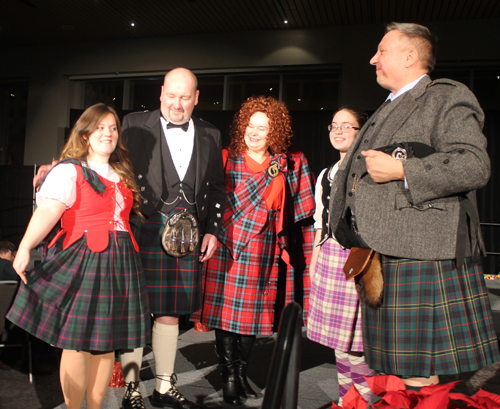 ---
Serbia
Sladjana Kozul, Elena Kozul, Tijana Kozul and Milica Tojagic represented Serbia.

Among the creative aspects of the culture of the Serbian nation, traditional costumes occupy one of the most important places because of their role in everyday life, their significance for ethnic identity, and their value artistically and aesthetically. This variety and richness is present in both men's and women's costumes.

Sladjana Kozul is presenting a traditional outfit from the region Vlasko. It is located in the south eastern part of Serbia. Originating back to the 1700s. Milica Tojagic, Elena Kozul and Tijana KOzul are wearing a traditional outfit from the central part of Serbia (Shumadija) - characterized by a colorful and rich hand-stitched embroidery. Most of the costumes have been saved from the XIX century and characterized by a great diversity in form and decoration.

Note the difference in style and color as we move to Southern parts of this country.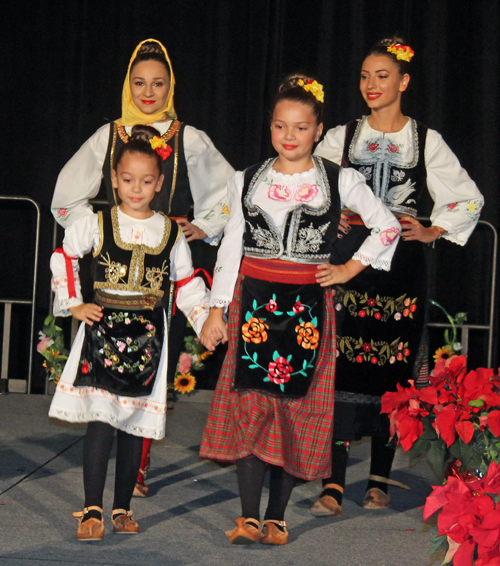 Representing Serbia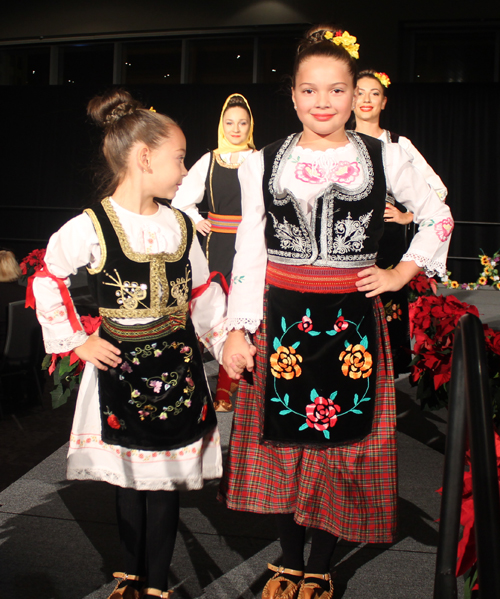 Tijana and Elena Kozul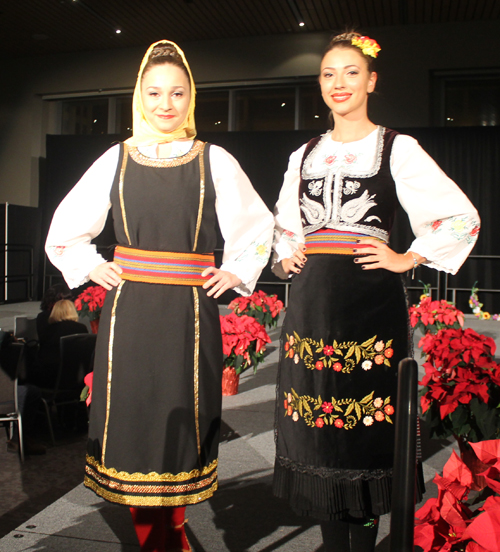 Sladjana Kozul and Milica Tojagic
---
Slovenia
Natasha Paros-Gaser (president) and David Turk (vice president) of Folklore Ensemble KRES representing Slovenia. These costumes are from the region of Gorenjska which consist of several elaborate pieces of varying fabrics, colors, and designs.

Most dances performed by Folklorna skupina Kres are done in the Folklore Ensemble KRES noša. This costume ensemble is the most intricate and distinguishable out of all regions in Slovenia.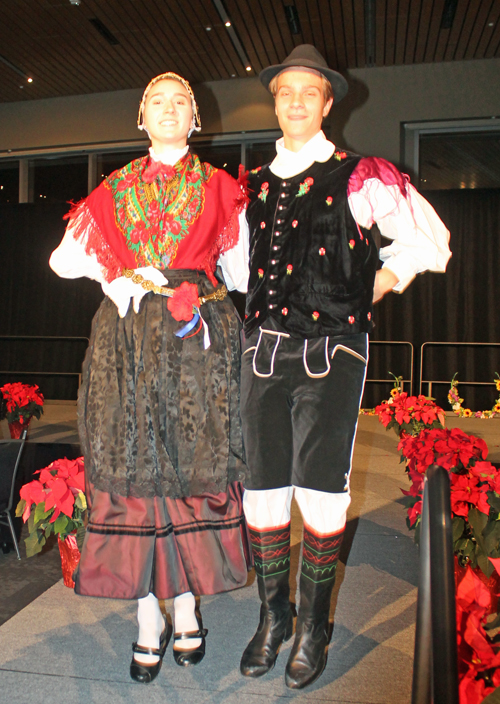 Natasha Paros-Gaser and David Turk
representing Slovenia
---
South Korea
HyunJin Oh, Umgie Oh and Kate Oh represented Korea.

The clothing they are wearing is called "Hanbok". It is characterized by vibrant colors and simple lines without pockets. Although the term literally means "Korean clothing", Hanbok usually refers specifically to clothing of the Joseon period (beginning term of Korean History) and is worn as semi-formal or formal wear during traditional festivals and celebrations such as Thanksgiving and New Year's Day.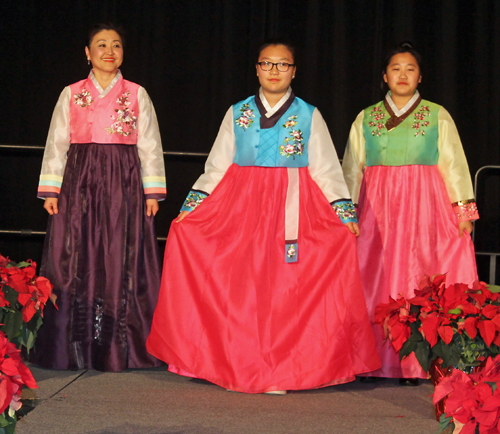 HyunJin Oh, Umgie Oh and Kate Oh
representing Korea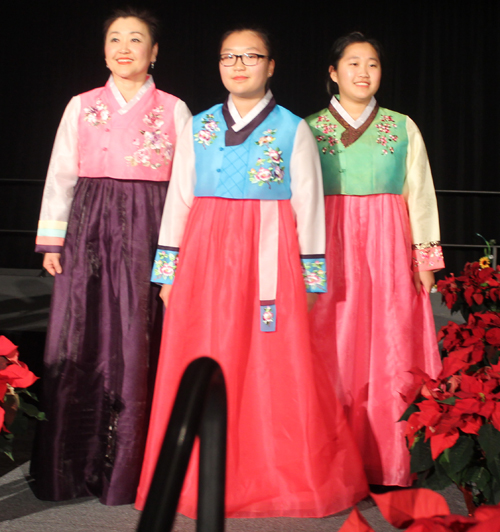 ---
Turkey
Tugce Sareyyuoglu and young daughters Ceren and Defne represented Turkey. They are wearing clothing from the Turkish Hana Ceremony for the Bride before the Wedding.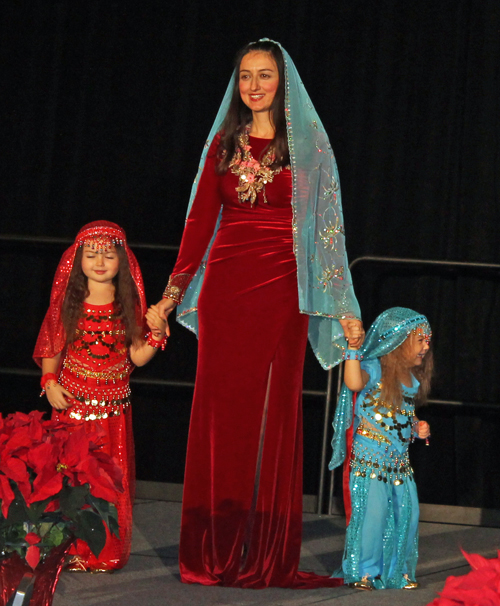 Tugce Sareyyuoglu and young daughters Ceren and Defne representing Turkey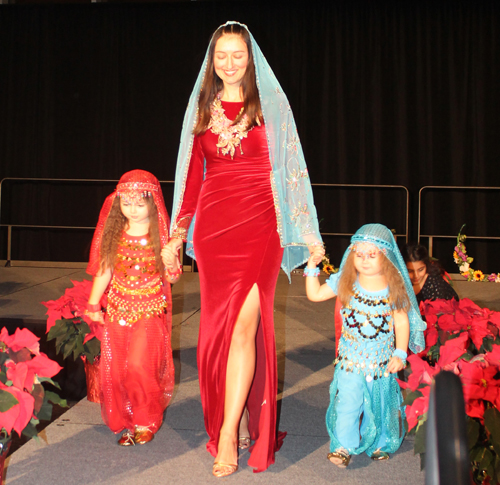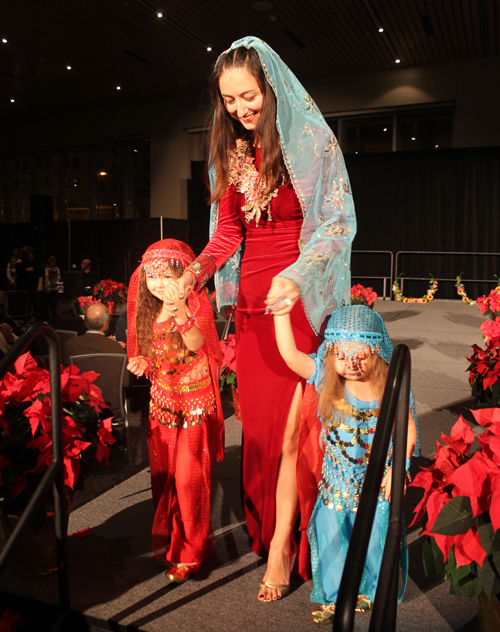 ---
Before all the models returned to the stage for a grand finale we heard from the Fashion Show coordinator Nada Martinovic who thanked announcers Ayla Gencer and David Delgado, the models and crowd.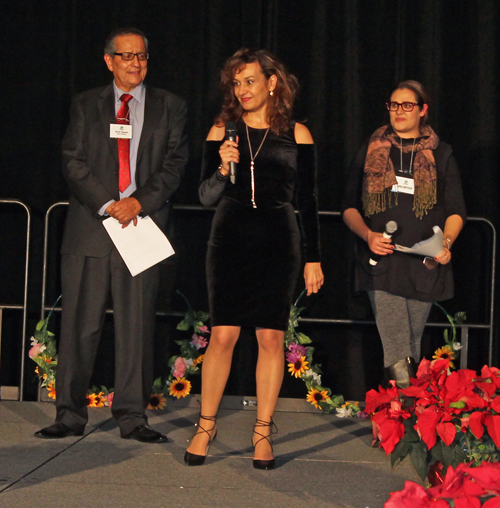 David Delgado, Nada Martinovic and Ayla Gencer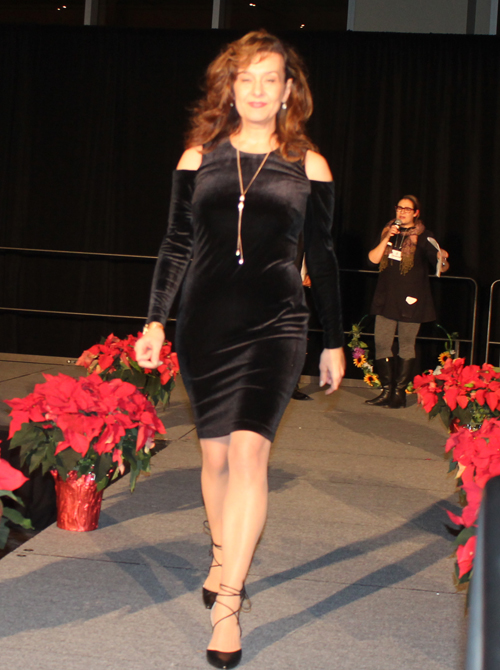 Entertainment Chair Nada Martinovic





The Fashion Show ended in a Grand Finale with all the participants gathering back on stage. Event coordinator Mehmet Gencer thanked all involved and all the models came on stage and then danced their way off as a grand finale.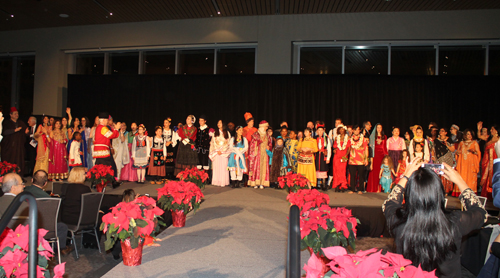 Fashion Show Grand Finale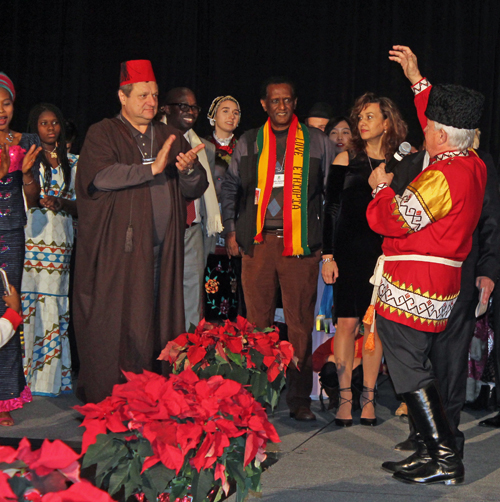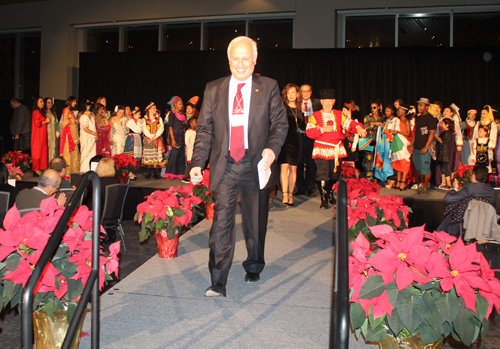 Event Chair Mehmet Gencer leads the way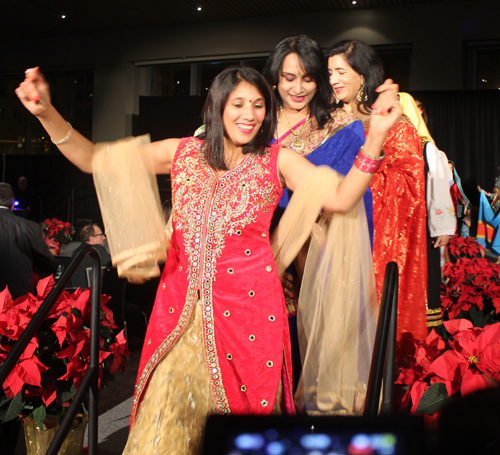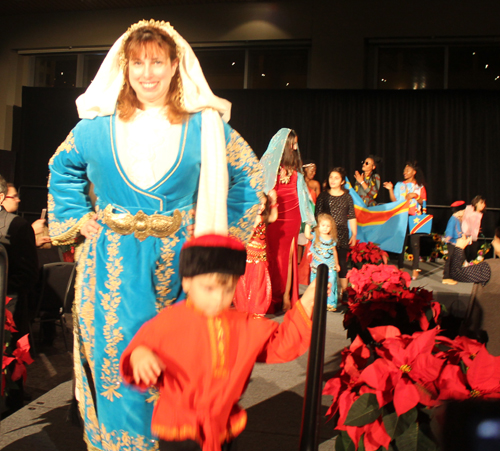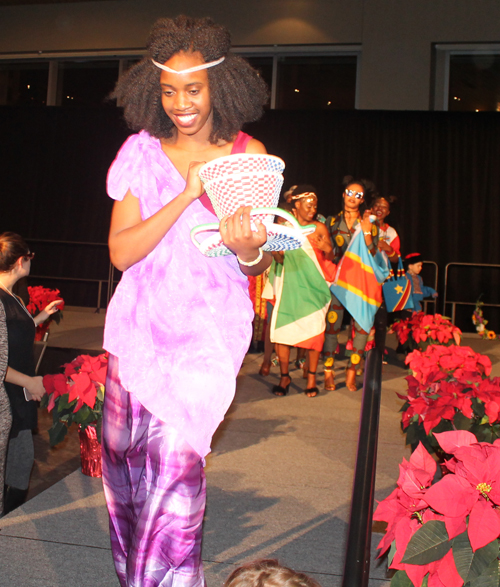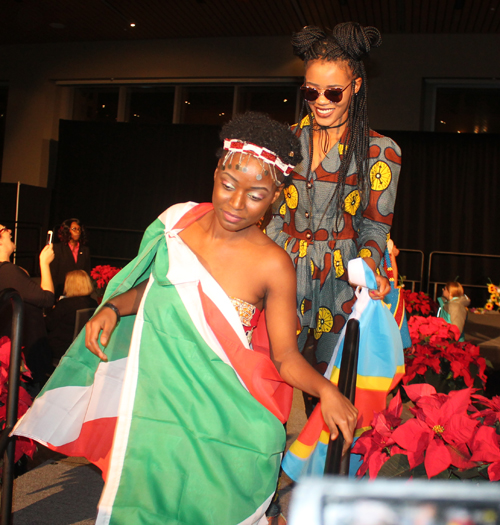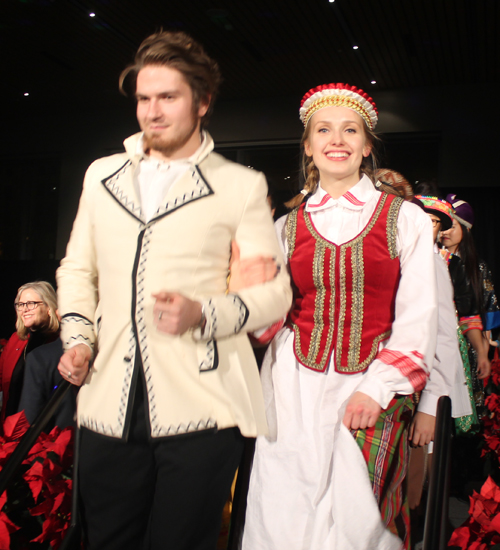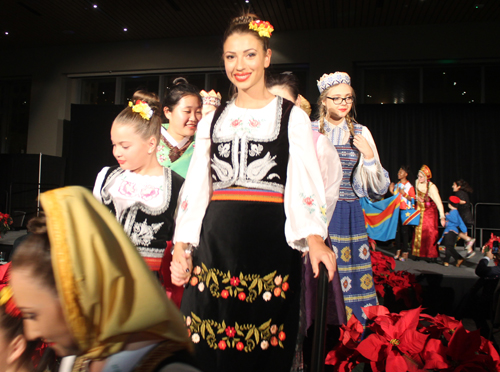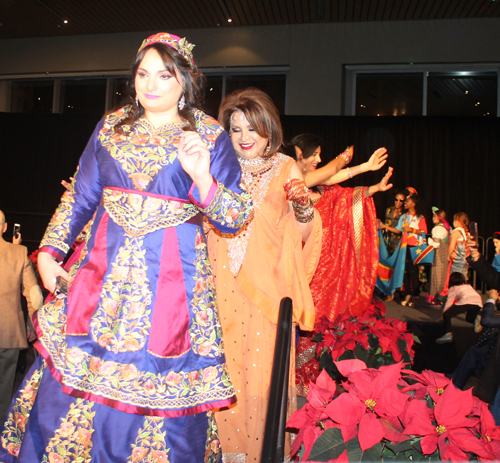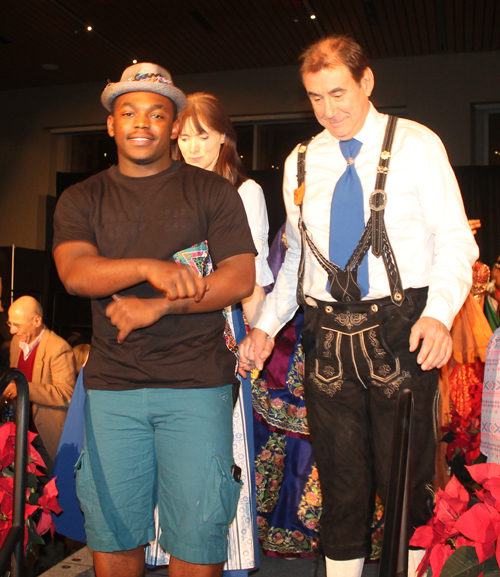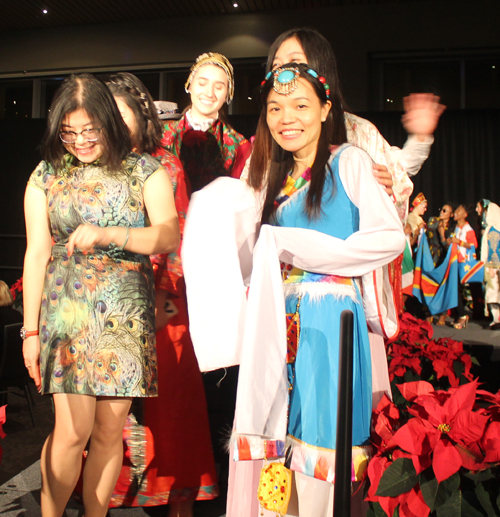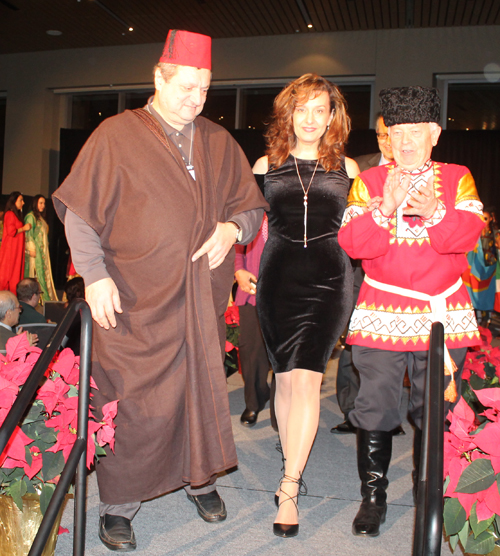 Pierre Bejjani, Nada Martinovic and Ken Kovach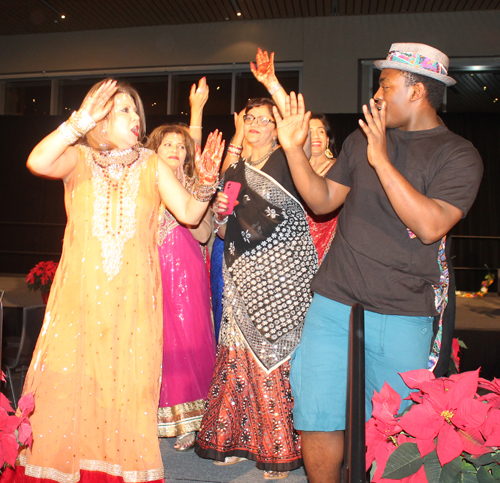 Dancing after the Fashion Show
---
***
Want to learn about ethnic and cultural events in Cleveland such as this? Sign up for the free eNews and every Tuesday evening you will receive a free e-mail listing the next week's events. It's easy and free.

Select 'WEEKLY' when you fill out the form for the free weekly eNews.
***
---
Back to Page 1 of the International Fashion Show
Back to main ICC-WIN Party Page

Back to People at the Party Page - Who do you recognize?

***

Stay informed about the local ethnic and international community by signing up for the free eNews mailings for any group or groups (or all) that you choose. It's easy and free. Fill out the form for the free ethnic eNews.

***

---
Top of Page
Back to ClevelandPeople.Com Community and Special Events