Cleveland Asian Festival named Best Festival
Cleveland Asian Festival named Best Festival
For Immediate Release
March 23, 2015
Cleveland, OH - The Cleveland Asian Festival was named Best Festival by Cleveland Hot List voters. The Cleveland Hot List (http://cleveland.cityvoter.com) features more than 6,000 businesses competing for the title of Cleveland's best. The results are based on more than 100,000 votes from local experts.
The competition was between over 10 longtime and newer Cleveland area festivals and the Cleveland Asian Festival climbed to the top in a relatively short time. 2015 marks the 6th year of the Cleveland Asian Festival.
Cleveland Asian Festival founder Johnny Wu said, "We truly appreciate the many people who voted for our festival. This is a proof that we are doing something right and that many enjoyed their time at the Cleveland Asian Festival."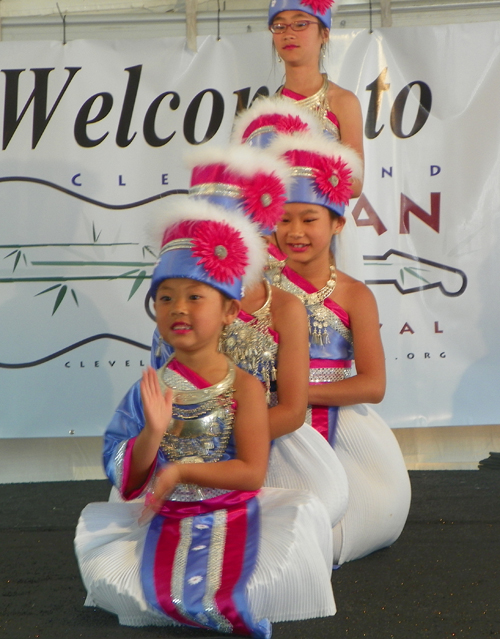 Paj Tawg Tshiab dancers

The annual two-day event typically draws about 40,000 people to Cleveland's Asia Town and they spend about $2 million at the event and in the area.

One voter's note summed up the responses: "Even though it's called the 'Cleveland Asian Festival' this spectacular two-day event is filled with so much culture and diversity; not just that of Asian descent, but the culture and diversity of Cleveland as well. As a growing city, festivals like these bring a city together, and it's always a great time!"

About the 2015 Cleveland Asian Festival

The 2015 Cleveland Asian festival #CAF2015 will be held May 16th & 17th, 2015 on Payne Ave between East 30th and East 27th Street in Cleveland. Admission and Parking are free.

The Cleveland Asian Festival features modern and traditional performers on two main stages as well as a food area with dozens of restaurants featuring various Asian foods. The entire family will find something to enjoy including an Educational Children's Activity Area, Sushi and Egg Roll Eating Competitions, inflatable sumo wrestling, Free AsiaTown Trolley Tours and more. The Health Pavilion will once again offer free health screenings on both days of the festival. Stay tuned for details on a performance by a national act.

For more information, please visit http://clevelandasianfestival.org/2015

Contact

To learn more about the Cleveland Asian Festival

Johnny Wu
1419 East 40th Street Cleveland, OH 44103
Office: 216.539.4634
www.ClevelandAsianFestival.org
johnny@mdifilm.com

###



For more information on this release contact Dan Hanson at dan@clevelandpeople.com or Debbie Hanson at 216-406-6594 cell.








---
Top of Page
Back to ClevelandPeople.Com Community and Special Events