Cleveland's Ethnic Diversity Mapped
One World Festival - Cleveland Cultural Gardens
September 13-14, 2014
At ClevelandPeople.Com we have known for years what a diverse and vibrant city Cleveland is. After all, we have covered the events, people, music, food and other cultural traits of over 100 groups that have large communities in the area.
But we wanted a visual representation to demonstrate this to others. So at the 2014 Cleveland Asian Festival (CAF) we set up a large map of Asia and asked people to place a dot where they or their ancestors came from. At first people were reluctant to do so and we had some language issues. But gradually people migrated to the map and discussed (in various languages) with us and their family and friends.
There were quite a few parents showing their adopted children "This is where you came from!"
By the end of the CAF portions of the map were saturated with dots - especially China, India, Vietnam, Korea, Japan and the Philippines. We encouraged people to place their dot as close to the city/village as they knew. Many were excited to have their small town, far from a capital or well-known city, represented.
The interest generated from the map at CAF convinced us to continue the efforts. For the One World Festival in the Cleveland Cultural Gardens, the ClevelandPeople.Com booth had our map of Asia but also a large map of Europe and a map of the world that clearly identified countries in Africa and the Americas.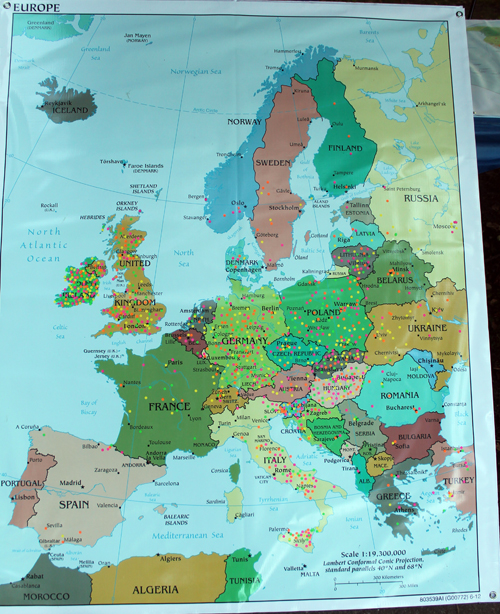 Map of Europe after Day 1



Again, people were initially reluctant to place their dot but soon our tables were packed with people identifying their roots and swapping stories. There were some fascinating moments such as:
A person approached from the left and another from the right at the same time. Both were placing dots in the country of Belarus. Neither had known each other before. They, of course, began talking.

Several people shyly stated that "You won't have my country" but then saw that yes there was a space for, and perhaps already a dot in, Iraq, Sierra Leone, Kuwait, Guyana and others. Their eyes lit up and more great discussions ensued.

We expected the map of Ireland to have dots all over County Mayo because of the large Cleveland population from there and we were not disappointed. But we were surprised that the entire Emerald Isle was covered with people from numerous counties, North and South.

Many people were very interested in seeing just where Ukraine and Russia were and the closeness of the Baltic States. It gave them a better view of the situation there they told us. Very few realized there is an isolated chunk of Russia to the west of Lithuania and north of Poland.

Similarly, many were amazed at how small and close many of the Middle East countries that are in the news are. Again, many walked away with a new perspective as to the situation there.

Most African-Americans did not know their original country of origin. Most could tell us where they came from in the US (Alabama, Mississippi, etc.) but few knew beyond that. But there was a lot of interest in finding out. There were discussions about DNA testing, genealogy and more.

We expected lots of Germans, Slovenians, Polish, Italian, Hungarian, etc. and were not disappointed. We were very surprised to have 2 people (not together) from the tiny Isle of Man and one from the Orkney Islands.

Many were proud to be from Sicily or Bavaria or another specific region of a country.
There were so many synergies and connections. For example, one of our booth volunteers, Mari Galindo-Dasilva works at MetroHealth and had a long conversation in Spanish with a man on his bike who, like her, is from Mexico. It turns out he is a doctor and they will be following up on their conversation.
Our booth was on East Blvd in front of the German Garden and there was no mention of the maps from the stage or in the event program. So we relied on foot traffic and aggressive, friendly workers (Debbie, Andrea, Joe, Linda, Mari, Eileen, etc.) to engage people. And engage them they did. Many came back later to continue their stories and often brought friends with them.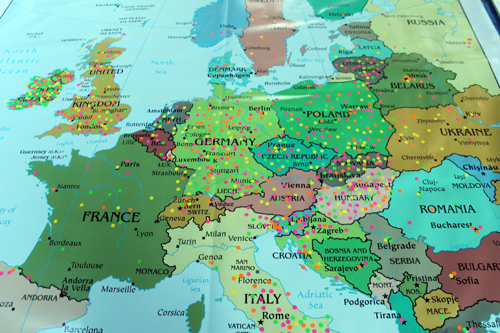 Zoomed view of Europe Map after first day



Looking at the maps after the 2 days we identified the following countries that were represented:
Albania
Argentina
Armenia
Austria
Azerbaijan
Belarus
Belgium
Bosnia
Brazil
Bulgaria
Canada
China
Croatia
Cuba
Czech Republic
Denmark
Egypt
England
Estonia
Ethiopia
Finland
France
Germany
Greece
Guatemala
Guyana
Hungary
India
Indonesia
Iran
Iraq
Ireland
Isle of Man
Israel
Italy
Ivory Coast
Jamaica
Japan
Kazakhstan
Korea
Kuwait
Latvia
Lebanon
Liberia
Libya
Lithuania
Luxembourg
Macedonia
Mexico
Moldova
Native American (various tribes)
Netherlands
Nigeria
Norway
Orkney Islands
Pakistan
Peru
Philippines
Poland
Puerto Rico
Romania
Rusin (nationality, not country)
Russia
Saudi Arabia
Scotland
Serbia
Sierra Leone
Slovakia
Slovenia
South Africa
Spain
Sweden
Switzerland
Syria
Thailand
Trinidad and Tobago
Turkey
Uganda
Ukraine
Vietnam
Wales
From previous efforts we have seen people from Portugal, Iceland, Australia, New Zealand, Sri Lanka, Bhutan, Nepal, Mongolia, Laos and Palestine but they did not come by our table this weekend.

Obviously this is an unscientific sampling. But it clearly demonstrates the cultural diversity that we have in our city. This is a blessing and advantage.

ClevelandPeople.Com will continue to work to show how diverse and welcoming Cleveland is. If you want to learn more or become involved please contact us at info@ClevelandPeople.Com.

In addition, you can subscribe to the free weekly news of upcoming ethnic events or pick one or more specific nationalities to receive news about at our e-newsletter page.
---
Top of Page
Back to ClevelandPeople.Com Community and Special Events