Ethnic Holiday Traditions
Cleveland is a diverse city with about 120 distinct ethnic heritages represented. We at ClevelandPeople.com and the Cleveland International Hall of Fame believe that this ethnic diversity makes us a much richer city and that we should all celebrate this fact.
We asked people from various ethnic groups to tell us how they celebrate the holidays. Here are some of their replies.
---
Argentine
Our Argentine Ambassador Maria Paula Bozoklian shared an article by written by Lucio García Carluccio about food enjoyed in Argentina over the holidays. This includes of course, Asado, the main national specialty.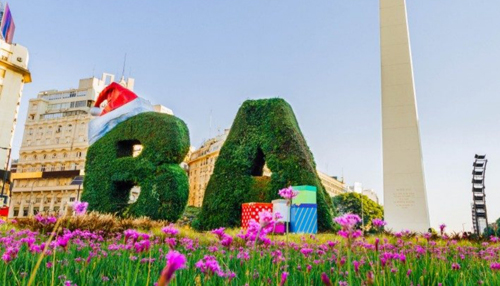 Christmas decorations in front of the Obelisk in Buenos Aires
See the food Argentinians enjoy for Christmas
---
Armenian
Anita Kazarian says "Armenians get to celebrate Christmas twice!" She shared an article inspired from the late Archbishop Besak Toumaian called 'Why Armenians observe Christmas on January 6.'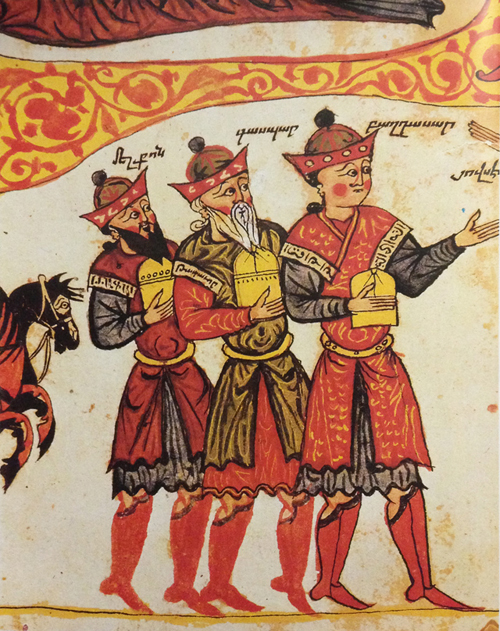 Armenian illustrated manusript page of the Adoration of the Magi
See the Armenian Christmas article
---
Chinese
Coming soon from Margaret Wong


---
Czech
Cleveland International Hall of Fame inductee Paul Burik says that in the Czech Republic just before Christmas one can find in the town square large wood barrels filled with fish, usually "Kapr" - Carp, that people purchase for the traditional Christmas eve dinner. The buyer points to the fish as they splash in the barrel creating a lively spectacle. The proprietor uses a net to capture the poor creature to joy of the on looking children. The fish often end up in the family bath tub until his unfortunate demise on the Christmas Eve. The Czech Republic is known for the many artificially created lakes in the southern part of the country that sustain this holiday tradition.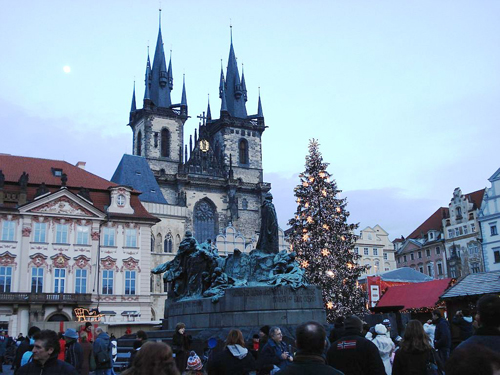 Christmas in Prague Old Town Square
---
Czech and Italian
Judge Ralph Perk Jr., president of the American Nationalities Movement of Ohio, says "When I grew up in the 50's & 60's the Perk home joined in a mix of Czech and Italian backgrounds including large families we found ourselves doing the same things year after year. We would start with midnight mass at Our Lady of Lourdes, a Czech parish. Which unlike today was actually at midnight. When we arrived home we enjoyed a meal of ham and potato salad, which to this day was the best potato salad I ever tasted.

After getting up on Christmas morning we'd open presents in a usual disorganized order and attend church again. This was followed by a pork, dumpling and sauerkraut lunch. Then we would always go to our Italian grandparents for spaghetti and meatballs with grandma's unique Italian sauce. Of course, there would be more presents exchanged and lots of stories and jokes before we left for our Czech grandparents. There we had traditional desserts of poppyseed rolls, nut rolls, and apple kuchen with eggnog. Not to forget a few more gift exchanges plus some Czech Christmas cookies (vanocni cukrovi) and kolachkes. Then home (which was just around the corner) to play with our favorite present.


---
Dutch
Bernardine van Kessel said "In the Netherlands, Christmas is actually a two-day religious family holiday celebrating the birth of Christ on Dec. 25 & 26. Although it is becoming more of a tradition to give presents on First Christmas Day (Dec. 25), traditionally, presents are only given on Dec. 5 during the separate and unrelated fest of Sinterklaas or St. Nicolaas.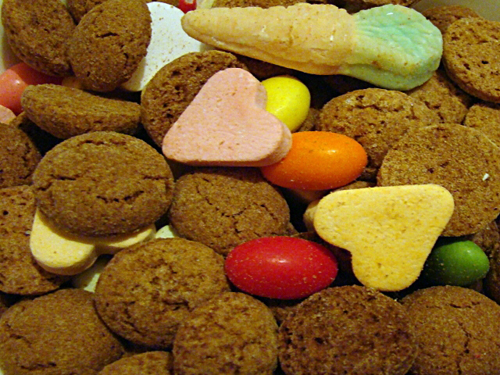 Dutch Strooigoed - a mixture of confectionery that is often strewn around rooms during Sinterklaas celebrations, for children to pick up. The main ingredient is typically kruidnoten.
See more about Sinter-klaas and Dutch Christmas
---
Greek
Rania Abbadi's mom is Greek and dad is Jordanian. Growing up they lived in Greece, England and Jordan. She said, "We always celebrated the Greek way though, haha. Can't expect it differently since mom was in charge of the decorations, cooking and planning the activities for the Holidays. Dad was always working; he is an ENT doctor.

In Greece it's popular to decorate both Christmas trees and wooden boats. The picture is from my city (Thessaloniki) that shows a decorated ship in one of the main streets of the city.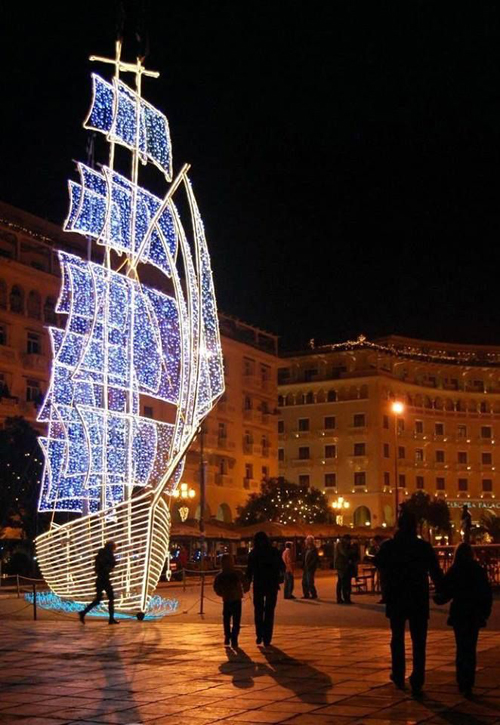 Decorated ship in one of the main streets of the city of Thessaloniki in Greece
---
Hungarian
Cleveland International Hall of Fame inductee Jeanette Grasselli Brown says, "Christmas season brings back memories of my mom baking nut and poppy seed rolls, plus endless cookies. My dad's specialty was cooking pig's feet and putting the pot on the back porch in the cold overnight to set into a clear, amber jell-like consistency which was delicious.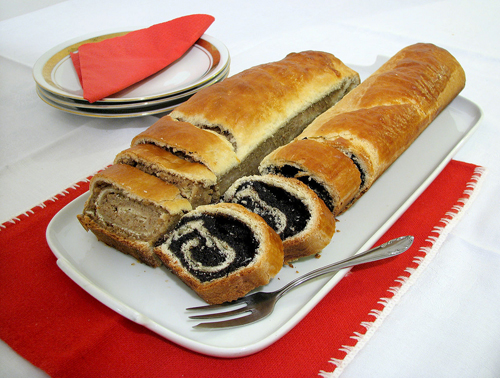 Hungarian Bejgli



Christmas eve dinner was always mushroom soup (which I didn't like but had to eat or "Santa would not come"!).

My parents decorated the Christmas tree on Christmas eve after my brother and I went to sleep, and I heard years later - with plenty of home-made Palinka to assist. The tree was decorated with candy wrapped in paper (which my brother and I helped to prepare for weeks before) AND with real candles along with ornaments. On Christmas day when tree was lit - it was magical (and happily, always safe).

On Dec 26 our family went to visit relatives and close friends - enjoying food and wine with each until we were totally stuffed!


---
Indian
Vandana Marwaha says that the Indian community "gets into the spirit of the holidays and celebrates not so much for the religious aspect but more for the communal one. There are holiday parties and gift exchange and singing. Christmas Trees are decorated with ornaments and little ones anxiously watch their behavior while they await Santa's arrival. Many families involve children in baking and decorating. It is a time to inculcate gratitude and teach the children the virtue of giving. Many families make donations of toys and other gifts to the less privileged. However, the big holiday is Diwali which was celebrated on the 14th of November this year. This Festival of Lights spreads the light of peace and joy all over much like Christmas and Hanukkah.

Michael Sreshta adds that St. Aloysius Chapel, a Christian chapel in Mangalore in the state of Karnataka in southwest India, "is very special to me and was built hundreds of years ago , hand painted." Especially at Christmastime.


---
Irish
Dan Coughlin is of Irish heritage. He says, "In the 1940s, Lakewood, Ohio, my mom and dad put everything together on Christmas Eve, including the tree, after the kids went to bed. Yes, the first time we saw our fully decorated Christmas tree surrounded by presents was when we came down the stairs on Christmas morning. My mom and dad were up most of the night assembling stuff that needed to be assembled. Rudolph was not invented yet. What Santa's helpers needed was a Phillips head screw driver. Where my parents hid it all, especially the tree, I do not know.

I also don't know if that was tradition or procrastination.

When I was in college, my mother gave me ten dollars to buy a tree. Days went by, I still hadn't bought a tree. I spent the money in a bar. So on Christmas Eve, after everything had closed, I stole a tree. It was one of the last trees abandoned on the lot, a rejected orphan. Its branches were skinny and it was losing its needles. The next morning my family discovered the tree leaning against the fireplace.

Later, when I had my own family and our own house, I would wait until the stormiest day of the winter to string up the outdoor lights. I'm talking ladders, burned out bulbs, blown fuses, driving rain and gale-force winds. Think of Mt. St. Helens. Merry Christmas.

Respectfully submitted, Jake from State Farm"

Check out Dan's books for more great humor and amazing stories of the biggest sports people and events.


---
Jewish
The Jewish Festival of Chanukah goes from December 10 till December 18. Our Jewish Ambassador Rabbi Pinchas Landis says, "Chanukah is observed for 8 days by lighting a special candelabra called a Menorah each night and adding special prayers to the daily services. The festival commemorates the victory of the Hasmonean led rebellion over the Seleucid (Syrian) Greeks and their assimilated Jewish coconspirators. The victory saw the Greeks dislodged from the Holy Temple in Jerusalem so that the Temple could be rededicated at that time.

At the time of the rededication, a miracle occurred in which oil for the Menorah (candelabra) that was only meant to last for one night lasted for eight nights until more oil could be secured. Because of this, a menorah is lit for eight nights in Jewish homes starting with one candle on the first night and adding a candle each subsequent night."


---
Latvian
Our Latvian Ambassador Anda Suna Cook said, "The main Christmas celebration in Latvia is on Christmas Eve. The Christmas tree is decorated with white candles and hand made straw ornaments and presents are placed under the tree. After a church service a family meal of roast pork and sauerkraut with other trimmings is enjoyed before gathering around the Christmas tree. Candles are lit and Christmas carols sung. Children have been memorizing verses of poetry which they recite in front of the Christmas tree. Presents are distributed.

Another tradition to ensure all misfortunes are left behind, is an outdoor activity of lighting a log (the Yule Log) and pulling it around the house. As it burns, more Christmas carols are sung, and all the troubles waft up with the smoke. No Christmas is real without the traditional gingerbread cookies and piradzini (Dough crescents filled with finely chopped bacon)."


---
Lithuanian
Honorary Consul General of Lithuania Ingrida Bublys says, "Christmas Eve (Kucios) is a more important day than Christmas Day. It is a special Christmas Eve meal when family members gather together. Kucios is also the last day of Advent, so it is important and special.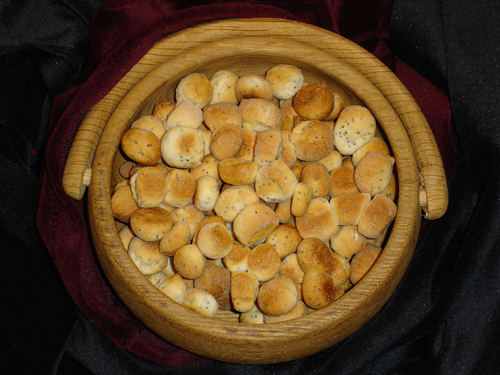 Lithuanian Kuciukai before being soaked in poppy seed milk
Lithuanian Christmas Traditions - By Ingrida Bublys
---
Mexican
Judith Villalón Saucedo tells the story of the nine nights of Mexican "Posadas", piñatas and "Ponche con Piquete" (Christmas Punch).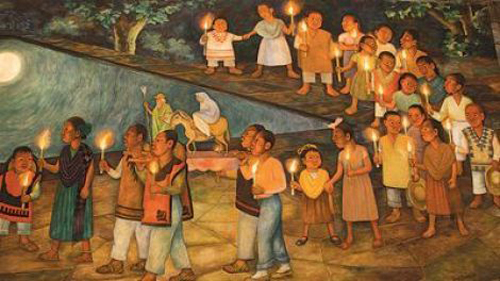 Niños pidiendo posada, 1953 by Diego Rivera
at Children Hospital of Mexico, Mexico City.
See the Mexican Holiday Traditions
---
Multicultural - Slovenian, Polish, Scottish and Turkish!
John J. Grabowski, Ph.D. says "My mother was born to Slovenian parents and each Christmas she would make potica, grinding the nuts with an old hand crank grinder and stretching out the dough to a very fine thinness. It didn't last long. My Polish-American father ate piece after piece -- adding butter to my mother's amazement (and I think disgust).

Fast forward. My wife Diane learned to make potica from my mother early in our marriage. Her family roots are deep and multiple but her family name Ewart is Scottish. Her potica is as good as my mothers. But the tale doesn't end there. In 1996-1997 we lived in Turkey where I was teaching as a Fulbright scholar at Bilkent University. We had the good fortune to meet a normal, working class Turkish family, the Onens. So, Diane took it upon herself to teach the oldest daughter, Tugba, how to make potica. So, this is a long story of a family tradition that has been inherited well beyond its origins.


---
Peruvian
Eduardo Romero is of Peruvian heritage. He says: So in our family we celebrated by attending Mass on Christmas Eve. As children we wanted to go to an early Christmas Eve Mass so we could open our gifts at midnight. When we got to be teenagers we attended midnight mass. We also would have Pannetone (an Italian Sweet bread that was brought to southern Latin America by early/mid 20th century Italian immigrants) and homemade hot chocolate!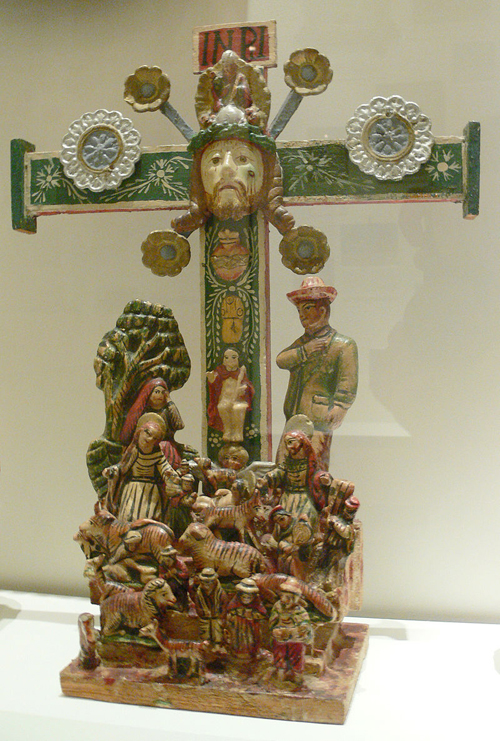 Peruvian crucifix with nativity scene at its base, c.1960


In Peru, Midnight Mass is followed by open houses for the home bound mass goers by the neighborhoods as people set up tables with small foods & treats for those coming back from church! Another way to connect with community! Also, they celebrate a second time on January 6th for Three Kings/Wisemen Day too! Feliz Navidad!
---
Polish
Cleveland Councilman Tony Brancatelli and Polish Cultural Garden delegate Connie Adams shared Polish Christmas traditions about kolackzis, Christmas Eve dinner, koledy and more.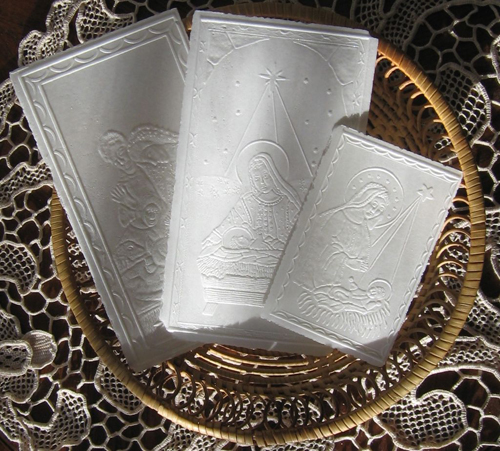 Polish Oplatki (Christmas Wafers)
Polish Christmas traditions
---
Russian
Boris Vinogradsky, MD says "Russian history is complex and confusing, but nevertheless interesting.

During the Czar's times Russia used the Julian (Old Style) calendar which was introduced by Julius Cesar in 46 BC and was two weeks behind the now widely accepted Gregorian calendar introduced in 1582 by the Pope Gregory XIII. Russian Orthodox Church still uses the Julian calendar, because it considers itself The Third Rome - the Roman Empire being the 1st, Constantinople (Eastern Rome) being the 2nd and Russia (Moscow) being the 3rd. The change to the New Style occurred after the 1917 Revolution when Lenin and Bolsheviks decided to join the developed world.

After that the New Year's Day moved to January 1st. Soviets did not celebrate Western Christmas (December 25th), since they banned all religious holidays, but the devout Russians kept celebrating January 6th (Epiphany - Old Christmas Eve), January 7th (Sochel'nik) and January 14th (the Old New Year).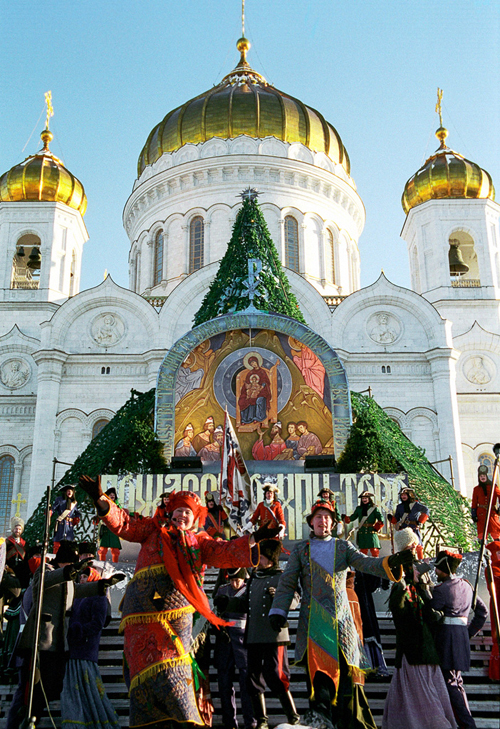 Celebrating Christmas in Moscow
A festive celebration of Christmas nearby the
Cathedral of Christ the Savior in Moscow. 2003
---
Serbian
South Euclid Mayor Georgine Welo and Alex Machaskee shared Serbian Eastern Orthodox Christian traditions. Mayor Welo said, "There are many rituals, beliefs and customs connected to "Bozic'", the Serbian name for Christmas celebrated on January 7th. The day before Christmas, January 6th is called "Badnji Dan" and the evening "Badnji vece." It's the last day of the Nativity Fast.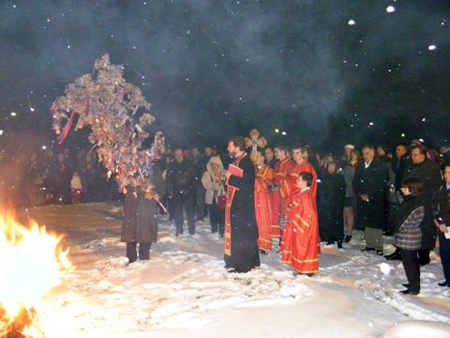 Burning of the badnjak outside of St Sava Cathedral in Cleveland
Serbian Christmas Traditions by Mayor Georgine Welo and Alex Machaskee
---
Slovenian
The Consul General of the Republic of Slovenia in the United States Alenka Jerak says that "December is the month of anticipation. Expectations of holidays, New Year and gifts. And Slovenia is among the rare countries in the world, where gifts are carried by three good December men: St. Nicholas, Santa Claus and Dedek Mraz."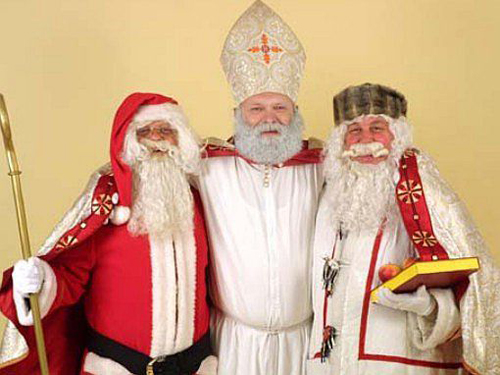 Santa Claus, St. Nicholas and Dedek Mraz
More Slovenian Holiday Traditions - St. Nicholas, Santa Claus and Dedek Mraz
---
Slovenian and Ukrainian
Cleveland International Hall of Fame inductee Dick Russ is part Ukrainian and part Slovenian. Dick says, "As for the Slovenian traditions passed down in my family through the generations - the one which first comes to mind is putting out shoes on the eve of the Feast of St. Nicholas (6 December). The venerable saint (Sveti Miklavž ) would then leave small gifts reflecting how good or "bad" you were in the year. If you received an orange, a couple pieces of candy, and maybe a few assorted nuts, that was a big deal. My grandsons were thrilled to receive exactly those gifts this year. It was nice to see them keep the tradition, through their father (my middle son), and his wife. It really reminded me of how my brother, sister, and I reacted when we found treats, and not a lump of coal (we had a coal furnace then!) in our shoes when we were kids. In addition, no Slovenian Christmas is complete without reverently attending Holy Mass, and at some point enjoying as much potica as possible.

On the Ukrainian side, my wife, Chris Sywyj-Hlabše, maintains in our home the centuries old tradition of Christmas Eve dinner with 12 meatless dishes. In the U.S., it was passed to her by her parents ("Baba" still presides as Matriarch of the family at age 90), and their parents before them, and on and on. As many family members as are able gather, and at the sight of the first star (your best estimate when it's cloudy!) the celebration of Sviat' Vechir (Holy Evening) begins.

Christmas hymns (Koliadky) are sung, God is thanked, and those gathered dine on borsch (mushroom stuffed dumplings optional), pyrohy (mushroom, cheese, and/or potato), holubtsi (stuffed with rice or buckwheat), fish, kapusta (cabbage), pickled herring with onions, generous helpings of garlic, and more. After dinner, gifts are exchanged, and then it's off to church."

"My wife's mother (Baba) has lived with us for more than 3 years, and thanks be to God her health is pretty much OK, and she is still very sharp. She spent several years in a Nazi forced labor camp like many of the "Ukes" here in Cleveland did - and has been giving us many details of her life under Stalin and then Hitler, and then the DP camps, and finally to the U.S. (where she was first sent to Mississippi to pick cotton on a plantation!)

The Slovenians as you know lived in those camps as well, and tragically so many were murdered by the Communists even after the war. Mass graves such as Ko?evski Rog were revealed in the early 90's and I reported on many of these things back then when I was on TV. I did a fairly long piece with the only known 3 survivors of a slaughter that saw more than 10,000 Slovenians killed and dumped in a pit.

Sorry to bring a downer toward the end of the note - but the point is that the resiliency of the people like the Ukrainians and Slovenians is testament first to their Christian faith, which carried them through, along with the strength of their family life and their love of liberty. (God, family, homeland). Those are the characteristics which now allow us, who were born in the U.S., to carry on their traditions, and celebrate great feasts like Christmas, together with our families."

Merry Christmas!
Vesele Božicne Praznike!


---
Swedish
Karen Chilcote says that while many know about the Lucia celebrations, there is much more to Sweish holiday celbrations including Advent Stars, julbord, the Gävle Goat and even a Donald Duck cartoon!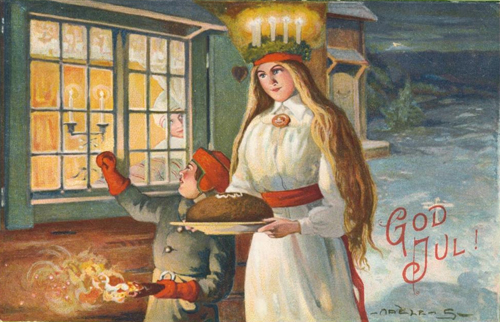 1916 Swedish Christmas card with Lucia in the snow
Swedish Christmas Traditions by Karen Chilcote
---
Ukrainian
2020 Ukrainian Museum-Archives Christmas Video Greeting.


---
Vietnam
Miss Gia Hoa Ryan, leader of the Friendship Foundation, shared some memories such as "In the home, My Mom fixed special foods. This included sweet rice. Then there was Chicken soup and rice. Her favorite was chicken with dry bamboo shoots (fresh)."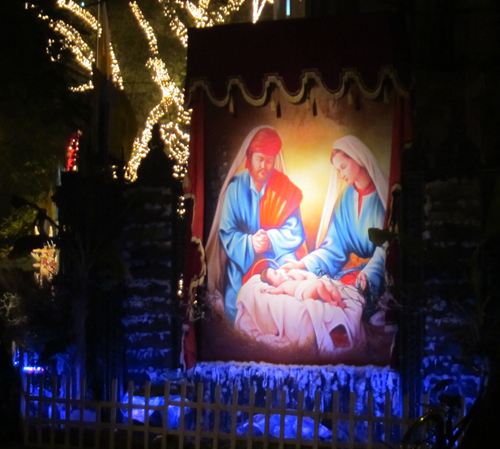 Nativity creche in Hanoi in Vietnam
See Miss Ryan's Christmas memories
---
Have an ethnic holiday tradition to share? E-mail us. Thanks


---
***
Want to learn about ethnic and cultural events, people and traditions? Sign up for the free eNews and every Tuesday evening you will receive a free e-mail listing the next week's events. It's easy and free.

Select 'WEEKLY' when you fill out the form for the free weekly eNews.
***
---
---
Top of Page
---