The Cleveland Food Adventurers Passport event in January 2015 was at the Mad Greek Restaurant in Cleveland Heights.

People who enjoy trying different foods and learning about different cultures participate in the Food Adventurer's group. Austin from the Mad Greek Restaurant served as our host and gave some history of the restaurant. The Mad Greek has been around since 1976. It started on Coventry but burned down and moved to the current Cedar Hill location in 1979. The building used to be a Brown Derby.



Austin explained the Greek appetizers they were serving including Spanakopita (spinach pie), Hummus (chickpeas) and Baba ghanoush (cooked eggplant dish). He told why a peninsula like Greece doesn't feature fish as much in its menu as you would expect.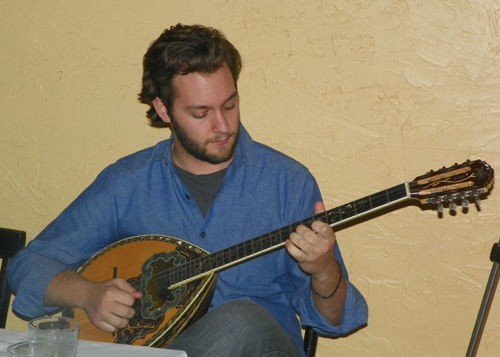 Kosta Revelas entertained by playing bouzouki



Austin also explained the Greek anise -flavored aperitif called ouzo. He also spoke about a Greek wine called Retsina which has a piney flavor. He said that his grandmother told him the word 'opa' was similar to the Spanish word 'ole.'



Austin from the Mad Greek Restaurant in Cleveland Heights asked the audience how they pronounce the word 'gyro'. He told how the gyro meat is half beef and half lamb formed together and put on a spindle and heated and pieces are sliced off as they cook for the gyro.



He told of a Greek chicken dish that might be served on a typical Tuesday night in Greece. He then explained the entrees that would be served including Gyro meat, chicken souvlaki (small pieces on a skewer), beef and vegetarian Dolmathakia (stuffed grape leaves) and a seasonal vegetable medley.



He told of the typical meats that are eaten in Greece.



Between courses there were cultural presentations. Dan Hanson told about the Greek Cultural Garden in Cleveland. The Hellenic Preservation Society is now in charge of the Greek Garden.

Lt Colonel (and history buff) Joseph Meissner gave the Top Ten Facts about Alexander the Great. Alexander was King of Macedonia and the young conqueror of the Persian Empire. Did Alexander cut the Gordian Knot with his sword? Listen to Joe.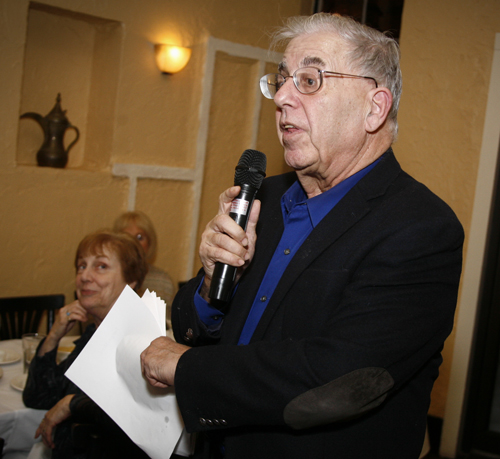 Joseph Meissner



Dan Hanson then told about the Greek Alphabet. Besides having 24, not 26, letters there are three that are commonly mispronounced including the common letter 'beta'.

A special treat was Kosta Revelas who played a tetrachordo (four pairs of strings) bouzouki at the Mad Greek Restaurant in Cleveland Heights, Ohio. He played a Greek Zeibekiko Dance Song with a rhythm pattern of 9/8th.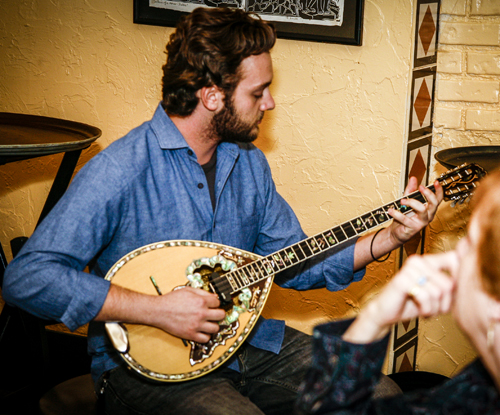 Kosta Revelas playing bouzouki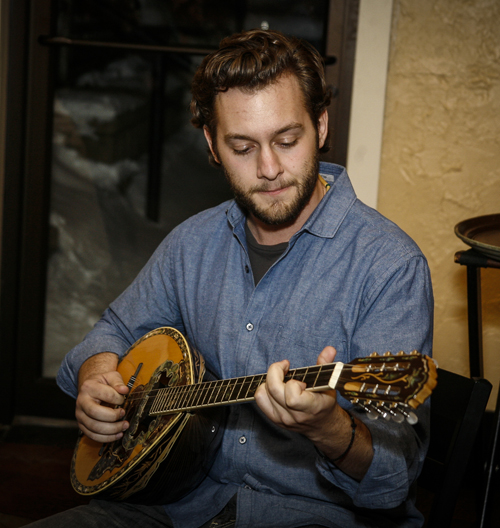 Dan Hanson also spoke about Greek mathematics and told about how the cult of Pythagoras, who saw numbers as almost divine, fell apart after the Pythagorean Theorem with the simple proof that the square root of 2 is irrational.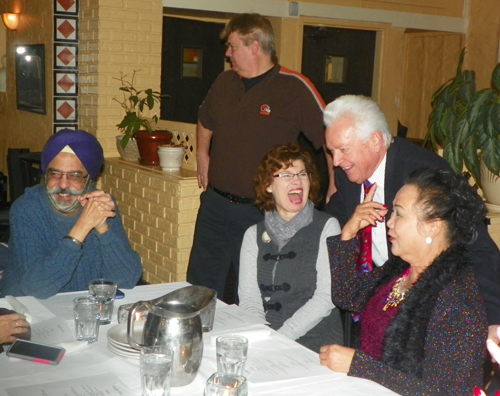 Dan Hanson told about Socrates and the Socratic method, reduction ad absurdum and ending a proof with QED. He also told how their misunderstanding of infinity led to paradoxes from Zeno and others such as Achilles and the tortoise.



Here is the special menu from the Food Adventure to the Mad Greek Restaurant.

Starters
Spanakopita - spinach and feta cheese baked in fillo dough
Hoomis - ground chickpeas whipped with fresh lemon, olive oil, tahini and garlic
Baba Ghanouj - grilled eggplant whipped with fresh lemon, Greek olive oil, tahini and garlic
Greek Salad - mixed greens with tomato, onion, cucumbers, feta cheese and kalamata olives with dressing choice of cucumber yogurt or Greek vinaigrette
Avgolemeno Soup - Greek egg lemon soup with orzo pasta
Greek Sampler Entree
Gyro Meat
Chicken Souvlaki
Vegetarian and meat stuffed grape leaves
Seasonal vegetable medley
Dessert
Baklava - homemade pastry with fillo dough, walnuts and honey
A great time was had by all. Opa!


---
Back to the main ClevelandPeople.Com Passport Page
Back to Greeks in Cleveland
Top of Page
---
***

If it's Greek in Cleveland it's on ClevelandPeople.Com.

***