On February 6, 2023, an earthquake struck southern and central Turkey, and northern and western Syria. It had a magnitude of at least Mw 7.8 which caused widespread damage and tens of thousands of fatalities. It was the deadliest and strongest earthquake in Turkey since the 1939 Erzincan earthquake,of the same magnitude. It was also the deadliest earthquake to have affected Syria since the 1822 Aleppo earthquake, one of the strongest earthquakes ever recorded in the Levant, and the deadliest earthquake worldwide since the 2010 Haiti earthquake.
It was felt and caused structural damage as far as Israel, Lebanon, Cyprus, and the Black Sea coast of Turkey. The earthquake had more than 1,000 aftershocks, including an unusually powerful Mw7.7 nine hours after the mainshock.
As of February 21, more than 50,000 deaths had been reported and hundreds of thousands displaced and injured. It is a tragedy of immense proportion.
As a gesture of support and reflection, the Board of the Syrian Cultural Garden endorsed holding a vigil event at the Garden. A list of active civic organizations that are involved in humanitarian relief efforts were provided to the attendees (see list below).
People gathered in front of the replica of the Arch of Palmyra.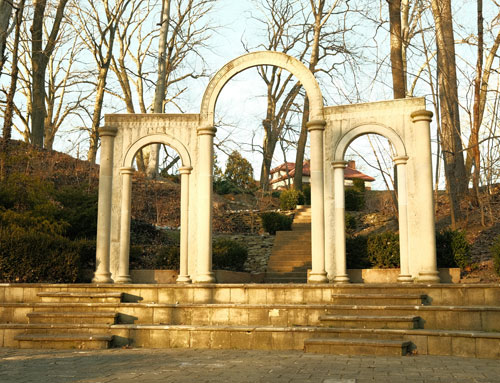 The Syrian Cultural Garden board consists of: Adnan Mourany, Wael Khoury, Jamil Dayeh, Naim Farhat, Fadi N Bashour, Fadi S Bashour, Ibrahim Bshara, Basel Mousa, Layla Khouri, Ahmad Ascha, Maan Fares, Nizar Zein, Rima Akhrass, May Azem, Marwan Hilal.

Dr. Wael Khoury served as MC and told the crowd that they were there to mourn the loss of life and destruction and reflect on the suffering of millions and show support. They began with reading of the poem "The World Gone Dark" by Nassif Zeytoun.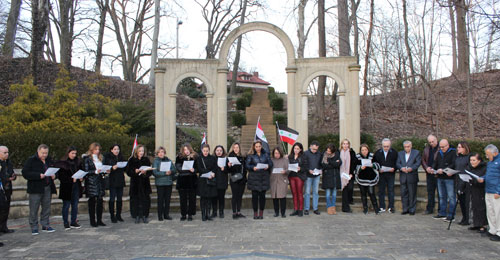 Dr. Khoury then introduced other speakers.

Former Plain Dealer publisher Alex Machaskee spoke next and then Cuyahoga County Executive Chris Ronayne. Mehmet Gencer from the Turkish community spoke next followed by George Koussa (Syrian), Pierre Bejjani (Lebanese), Anil Kumar Singh and Sunil Narahari (Project Seva and Indian community) and others. Mehmet Gencer sang a song about separation and then a Syrian song was sung by candlelight.

Watch a video of the vigil.





Here are some other images from the Syrian Cultural Garden vigil.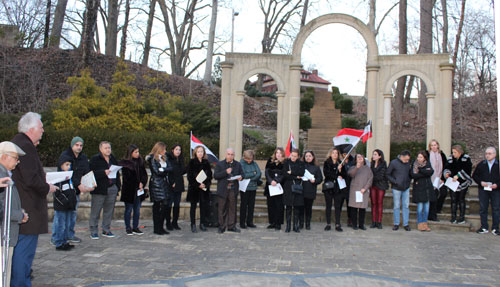 Dr. Wael Khoury speaking at the vigil


---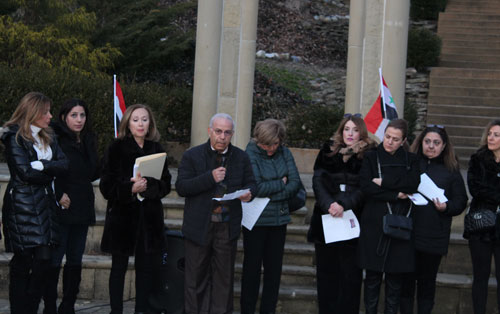 ---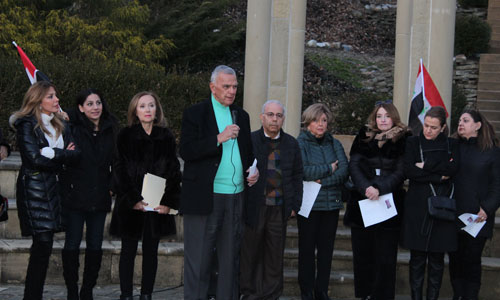 Alex Machaskee


---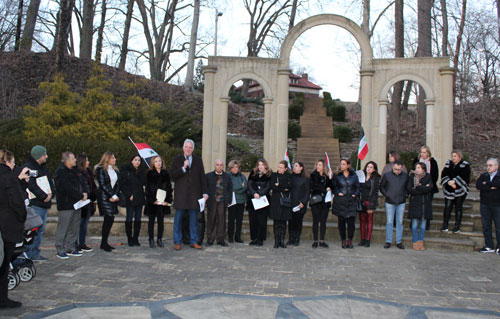 County Executive Chris Ronayne


---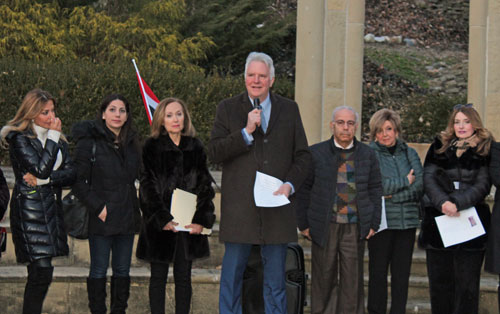 ---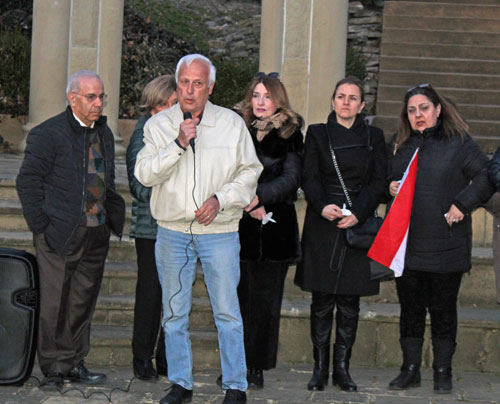 Mehmet Gencer


---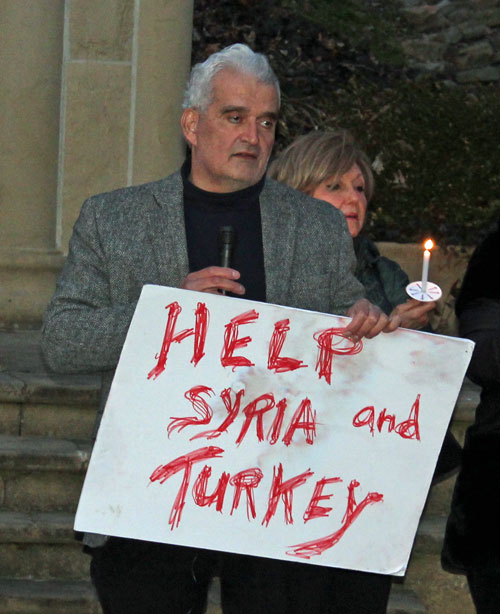 George Koussa


---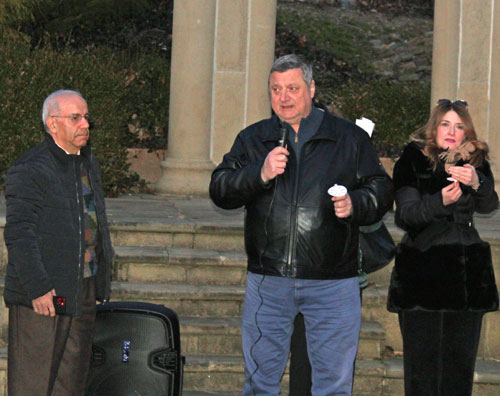 Pierre Bejjani


---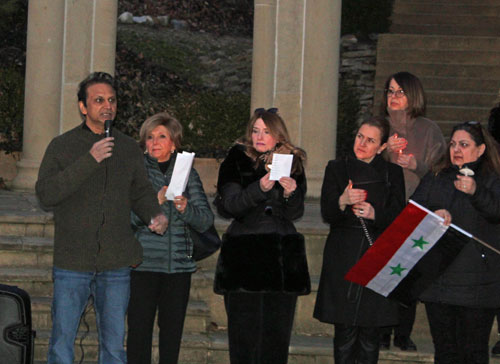 Anil Kumar Singh


---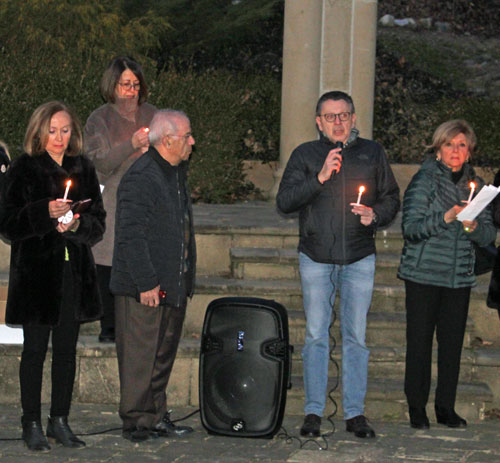 ---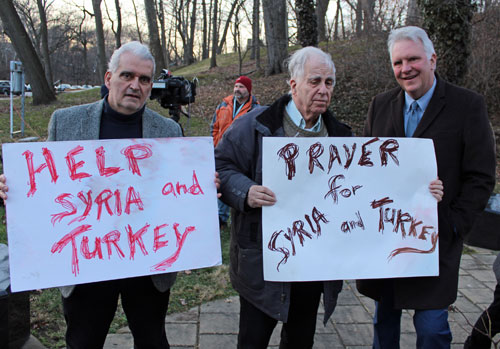 George Koussa, Joe Meissner and Chris Ronayne


---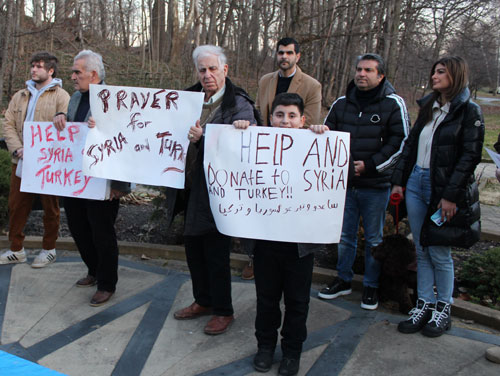 A plea from a young man


---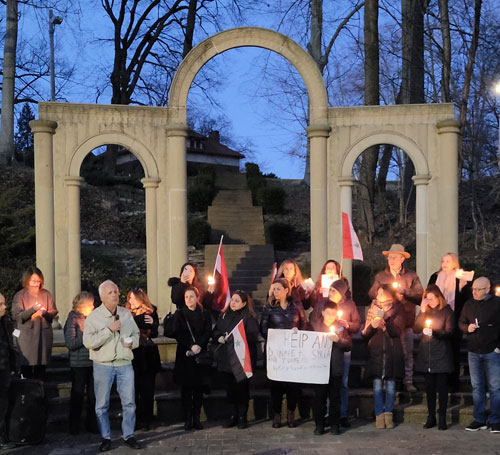 ---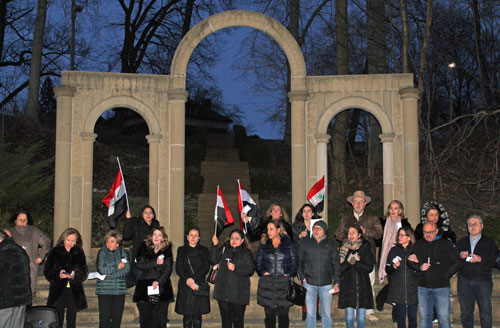 ---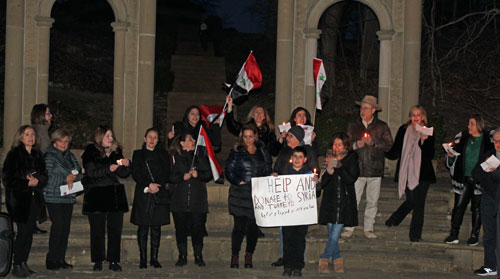 ---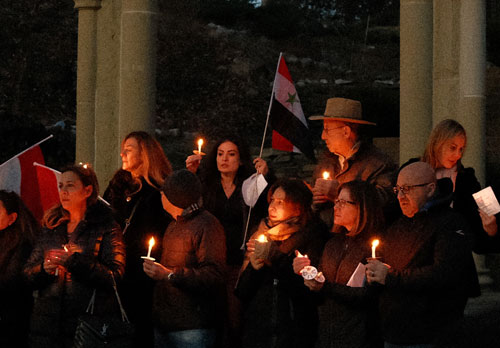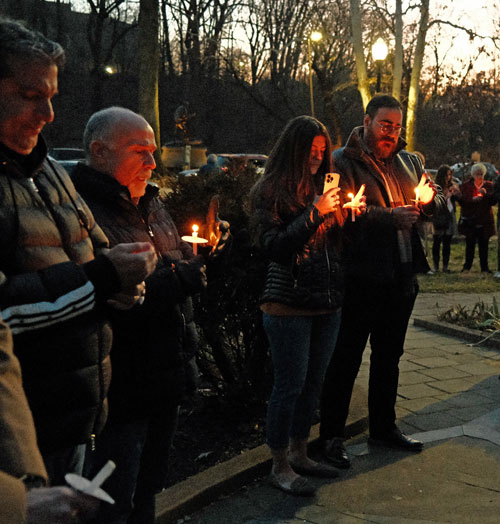 ---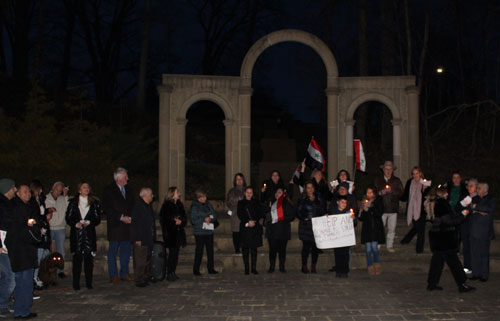 We will post links to legitimate relief organizations here as they come in.

Unicef

Syrian American Medical Society (SAMS) Foundation

National Arab American Medical Association (NAAMA)

TogethernessUS

The International Federation of Red Cross and Red Crescent Societies (IFRC)

Oxfam

World Food Programme

Doctors Without Borders

Focus-USA

Catholic Relief Services


---
Top of Page
Back to Cleveland Syrians
Back to Cleveland Turkish