Enjoy these other images from the service at the Sikh Gurdwara in Richfield Ohio to unite after the Oak Creek tragedy.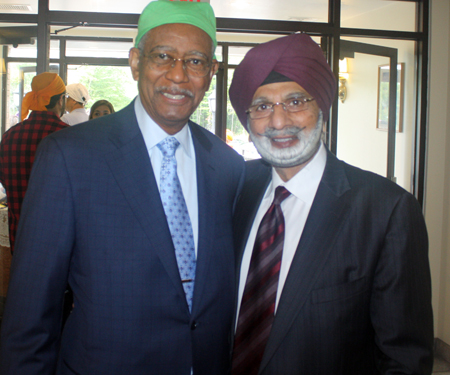 Rev Dr. Otis Moss Jr. and Ratanjit Singh Sondhe


---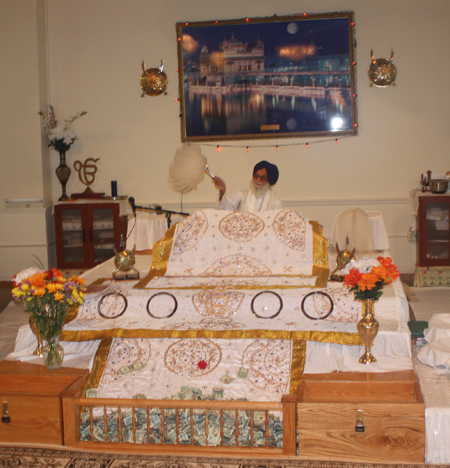 ---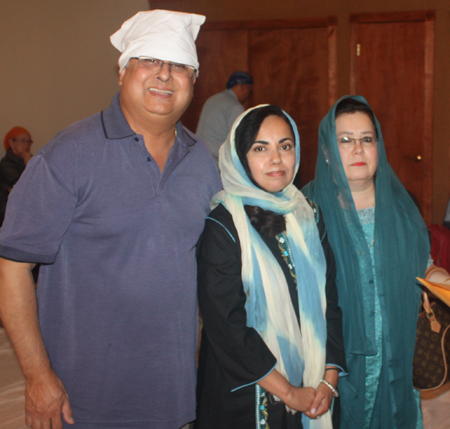 Anjan Ghose, Sujata Burgess and Kathy Ghose


---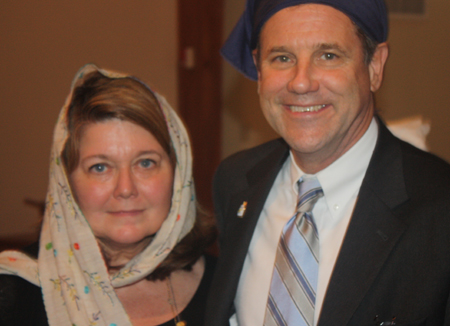 Connie Schultz and Senator Sherrod Brown


---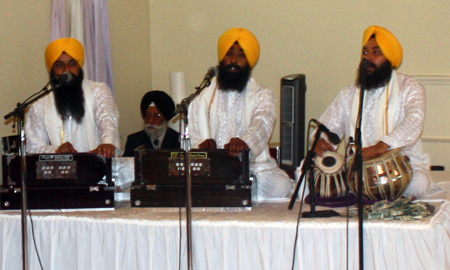 ---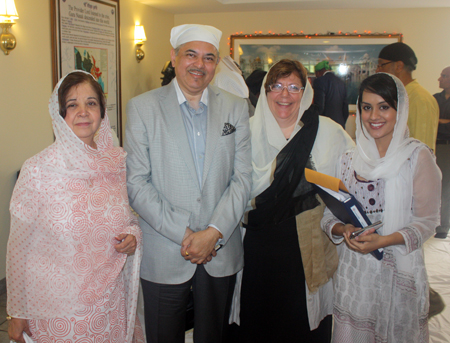 Mona Alag, Sudarshan Sathe, Lee C Shapiro and Jusleen Kaur


---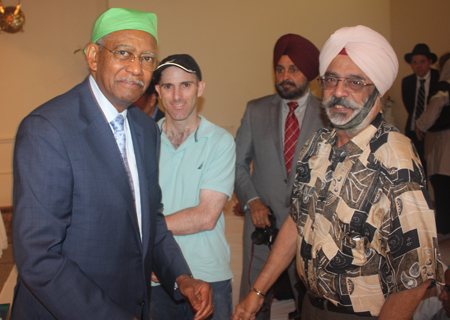 Otis Moss Jr. and Paramjit Singh with Eric Olson and Dr. Parminder Singh from Ashtabula in the background.


---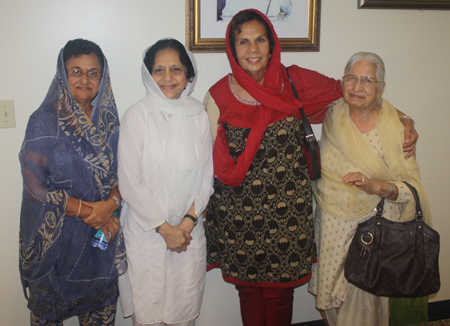 Kokila Patel, Neena Patel, Dr Gita Gidwani and Dr Sidhu


---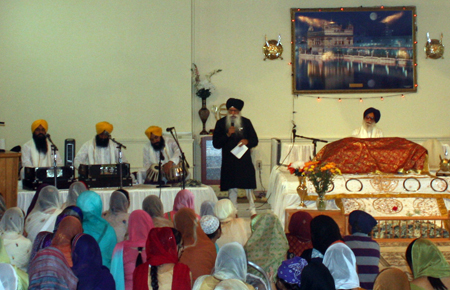 ---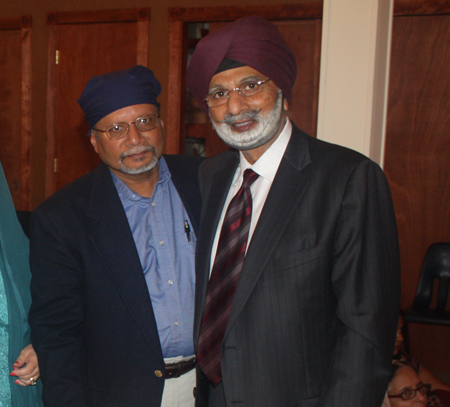 Asim Datta and Ratanjit Sondhe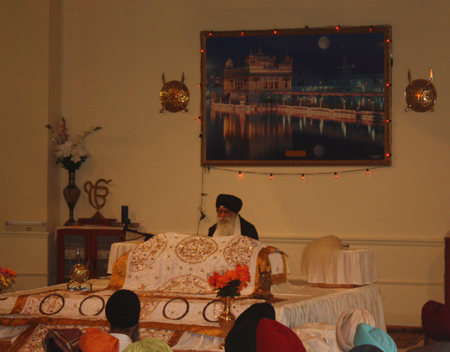 ---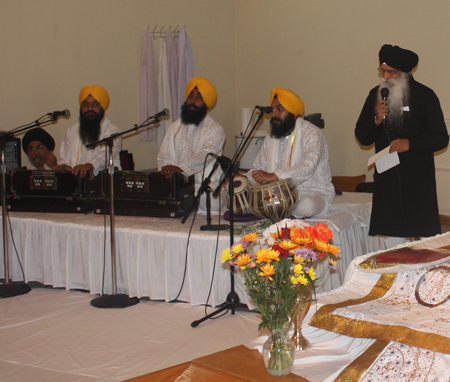 ---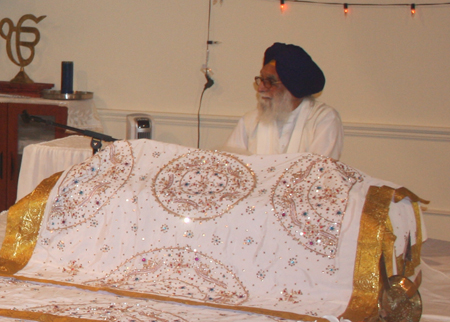 ---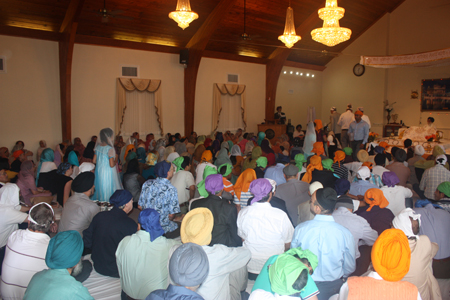 ---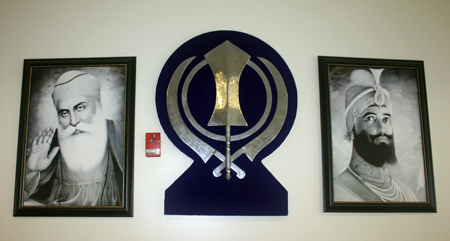 Inside the Gurdwara you will see these photos and symbol. The photo on the left is Guru Nanak (First Guru) and right is Guru Gobind Singh (Tenth Guru).

The center is the symbol of Sikhism called Khanda-Kirpan.

The circle in the emblem of Sikhism represents the Deg (cauldron or kettle) used to prepare food, Guru ka Langar initiated by the founder of the Sikh faith, Guru Nanak to remove caste barriers, teach people equality and humility before each other and to feed all and sundry on an egalitarian base so that no body sleeps with an empty stomach.

The two swords on the outside represent the Miri--Piri (Bhagti and Shakti) doctrine of Sikhism, revealed by Guru Nanak and put into practice by his sixth successor, Guru Hargobind indicating the integration of spiritual and temporal powers together and not treating them as two separate and distinct entities.

In the center is the Khanda, the double-edged sword, used by the tenth Guru, Guru Gobind Singh to prepare Amrit to initiate the Sikhs. Khanda has cutting edge on both sides indicative of two swords fused together representing Bhagti and Shakti (spiritual and temporal powers), giving birth to "The Khalsa", who is a saint-soldier (Sant-Sipahi), the saint meaning scholarly in knowledge of Gurbani and soldier meaning martial in spirit. (Thanks to Paramjit Singh for this explanation)

Page 1 of the Richfield Ohio Gurdwara service for the Oak Creek victims
Politicians and Sikh Leaders

Page 2 of the Richfield Ohio Gurdwara service for the Oak Creek victims
Other Religious and Organization Leaders

Sikh Gurdwara in Richfield Ohio - Photos
Historical marker of the first Gurdwara in the state of Ohio.


---
Top of Page
Back to Cleveland Sikhs
---
ClevelandPeople.com is sponsored in part by