The Cleveland Russian Cultural Garden hosted its 4th annual Maslenitsa celebration at the Rockefeller Greenhouse.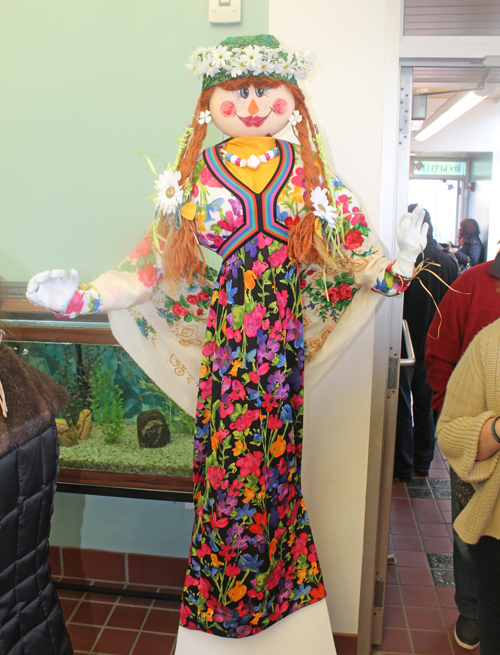 Maslenitsa has its origins in both pagan and Christian traditions. In Slavic mythology, Maslenitsa is a celebration of the imminent end of the winter. It has been compared to Mardi Gras or Carnival.

The event was also a fund-raiser put on by the Russian Cultural Garden committee. The Russian Cultural Gardens is a non-profit 501 (c) (3) organization dedicated to promoting the Russian Heritage and Russian cultural influence in America. The Russian Cultural Garden has a prominent goal of building the Russian Cultural Garden as a part of the Cultural Gardens of Cleveland in the Rockefeller Park. Visit their Facebook page at https://www.facebook.com/russiangarden.

The event was full of music, games, shopping, auction and Russian food and drink.

The Greater Cleveland Russian Chorus aka the Cuyahoga Cossacks performed. Here is video one of their Russian songs from the 2018 Maslenitsa celebration.

NOTE: All the images below with a white arrow in the middle are videos. (The other images are just photos) You can click on the white arrow to watch the video of whatever is described. Make sure your speakers are on and you can make the video full screen once it begins by clicking the icon in the lower right corner.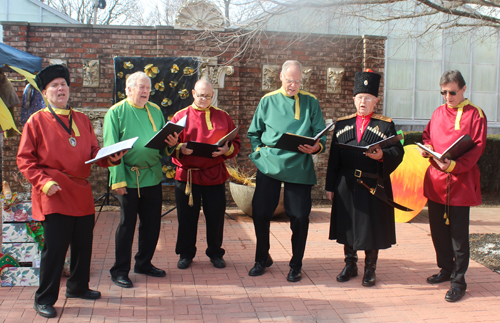 Greater Cleveland Russian Chorus
Another highlights was the Best Babushka Contest where ladies showed off their favorite babushka.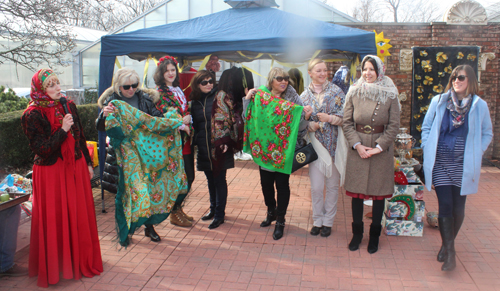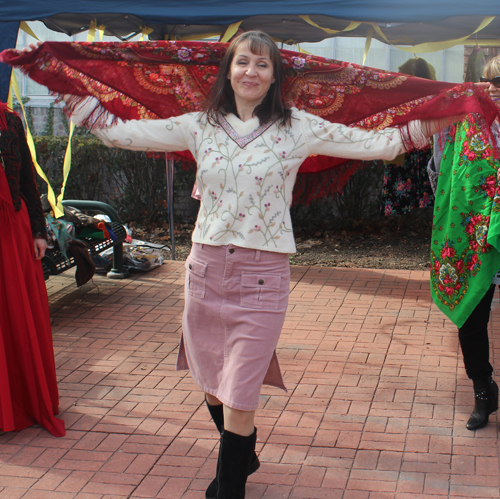 The food was a major attraction as people enjoyed Blini (pancakes) (maybe with a cup of Caviar), Baranki (pretzels), Pelmeni (dumplings), Sbiten (traditional hot herbal beverage), Petushki (Russian lollipop) and Shashlyk (grilled chicken or pork). Shashlyk is like shish kabob and can be chicken, beef, pork, lamb and even fish. The meat is marinated and put on skewers and grilled on an open flame.
Preparing the Shashlyk
---
***
Want to learn about ethnic and cultural events in Cleveland such as this? Sign up for the free eNews and every Tuesday evening you will receive a free e-mail listing the next week's events.
It's easy and free.

Select 'WEEKLY' when you fill out the form for the free weekly eNews.
***
---
Enjoy these images from the 2018 Maslenitsa Celebration in Cleveland.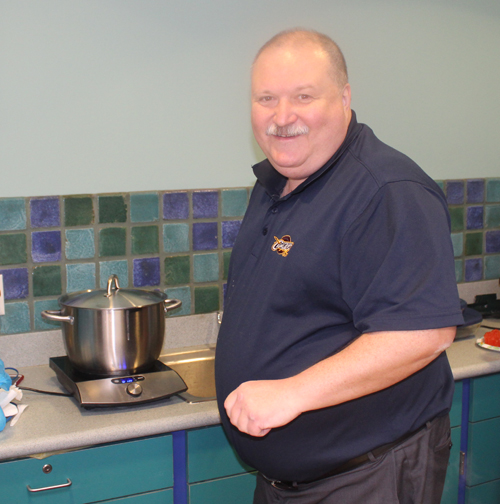 Boris Vinogradsky


---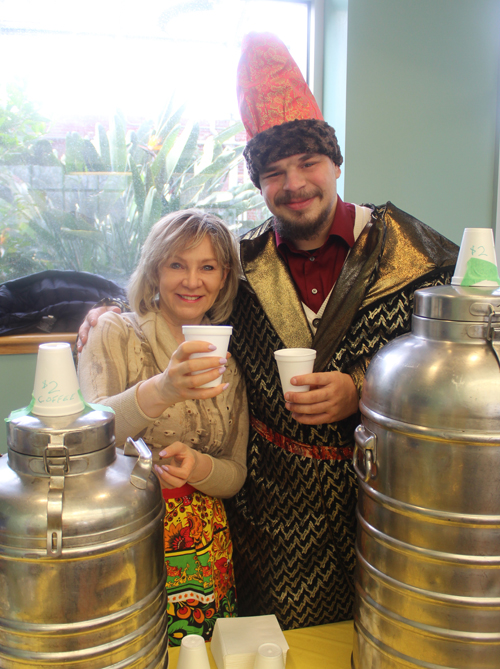 Irina Vinogradsky and Mikhail Stolyarova


---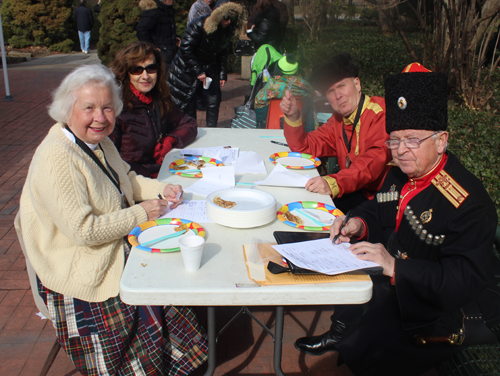 Blini Contest Judges


---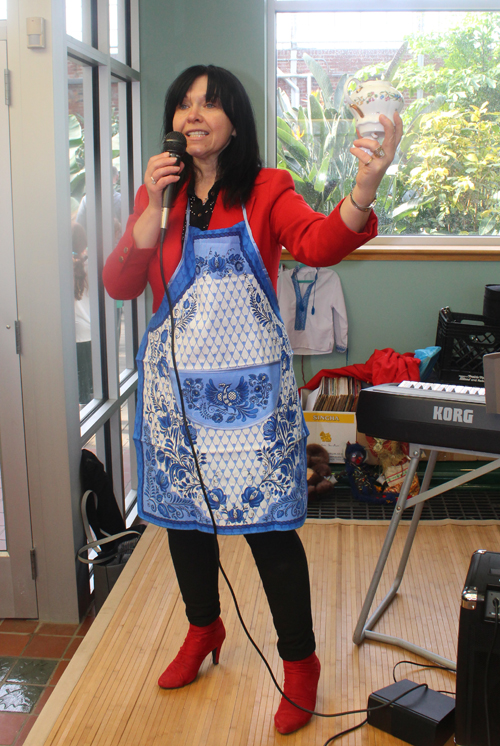 Auction


---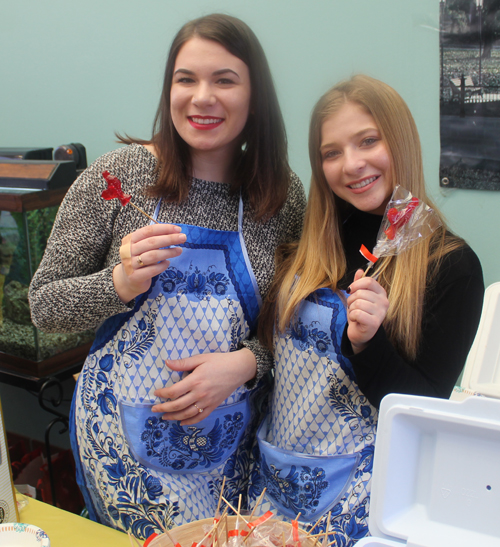 Russian lollipops - Petushki


---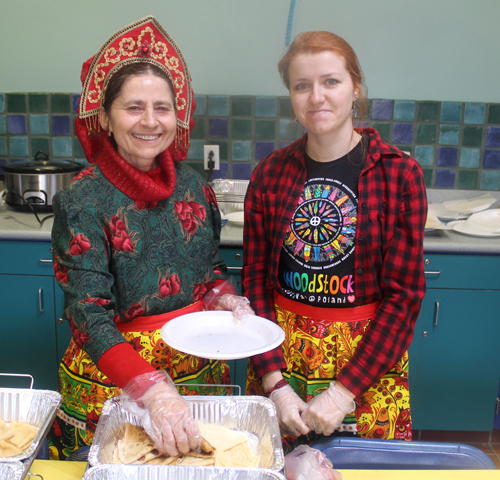 ---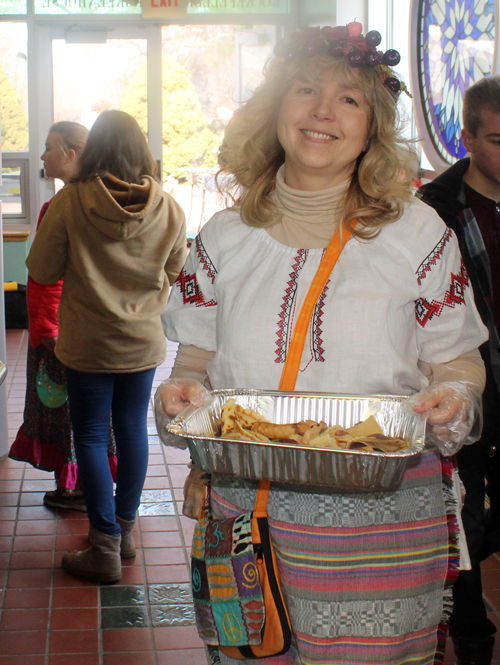 ---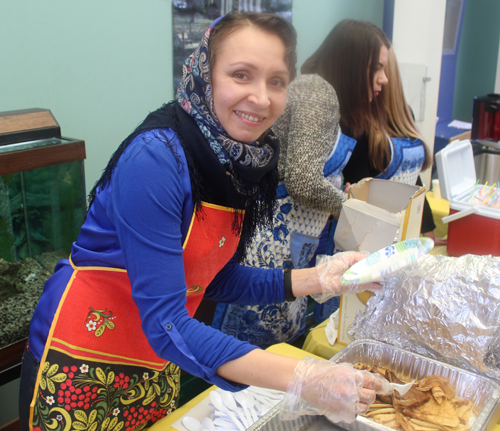 ---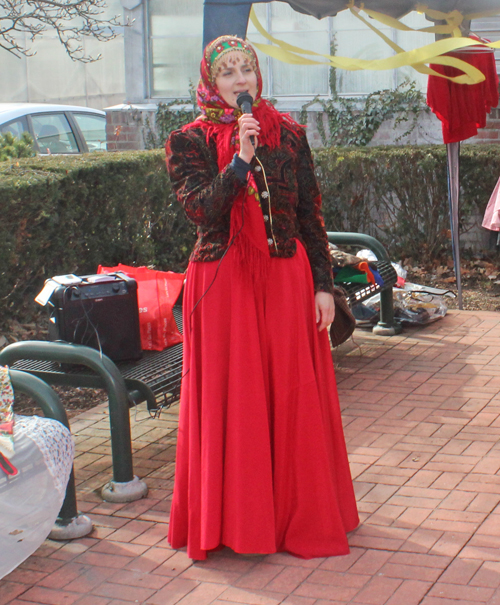 ---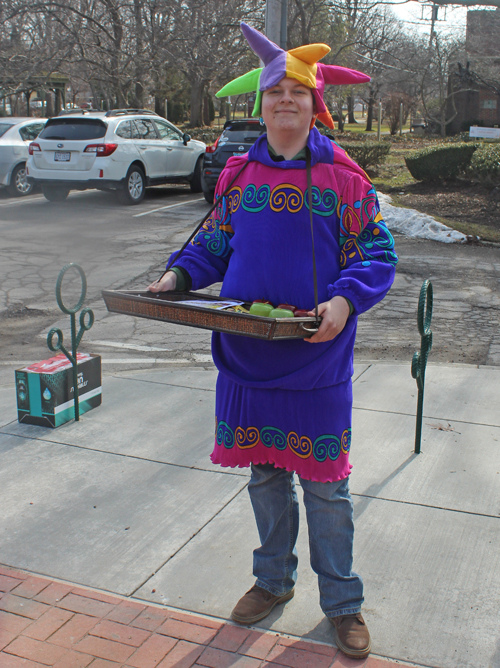 ---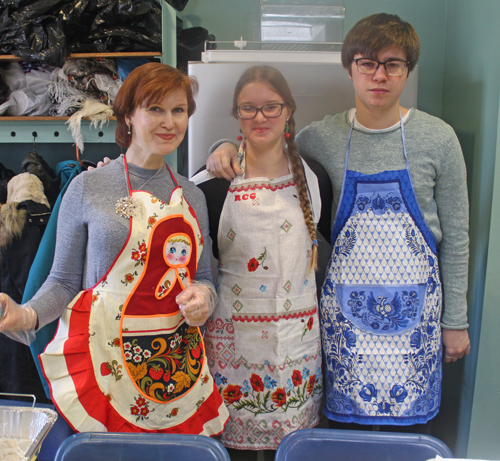 ---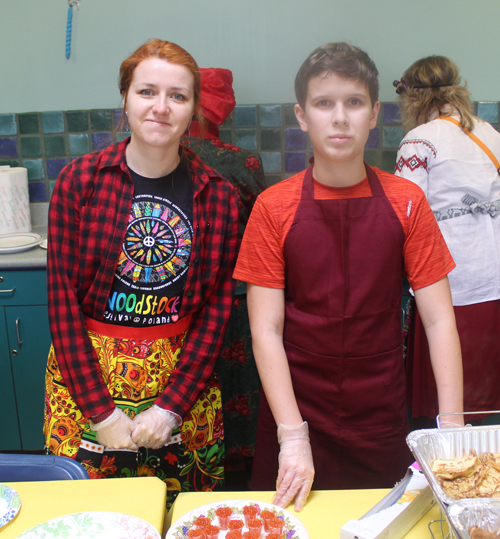 ---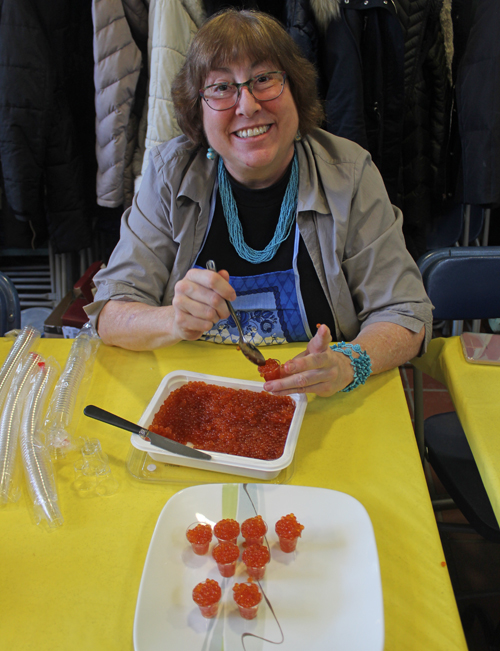 Caviar!


---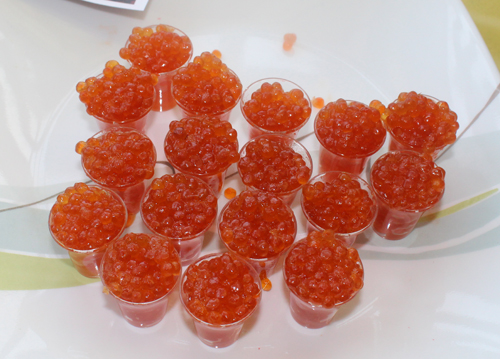 ---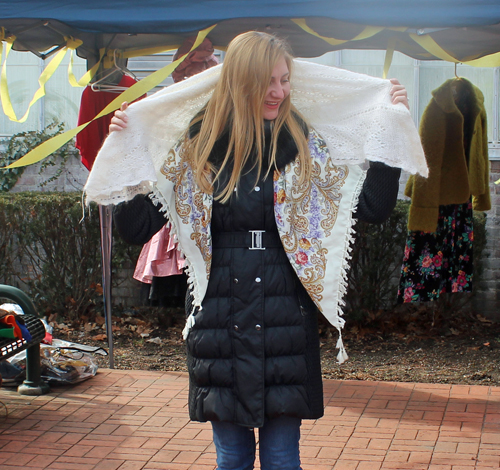 Best Russian Babushka Contest


---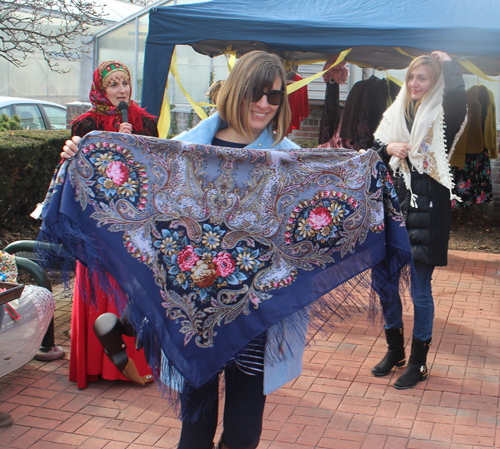 ---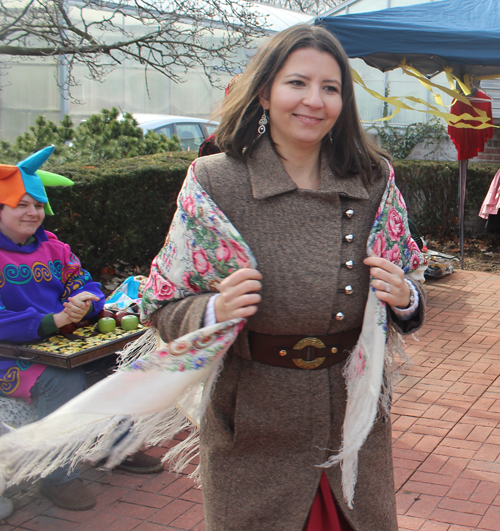 ---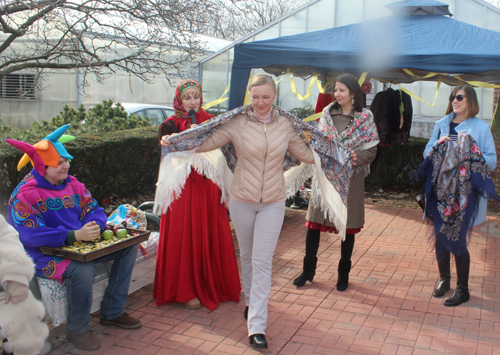 ---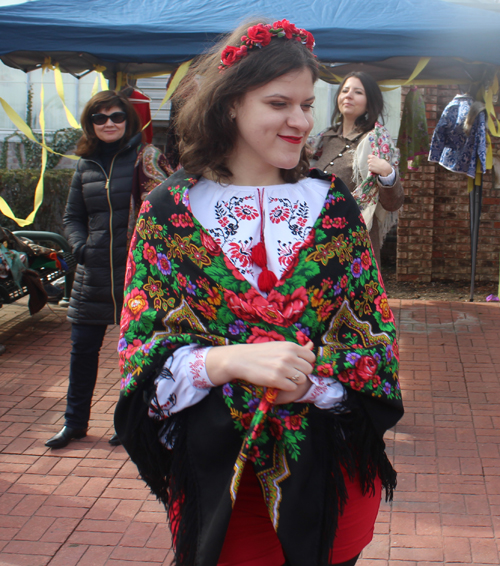 ---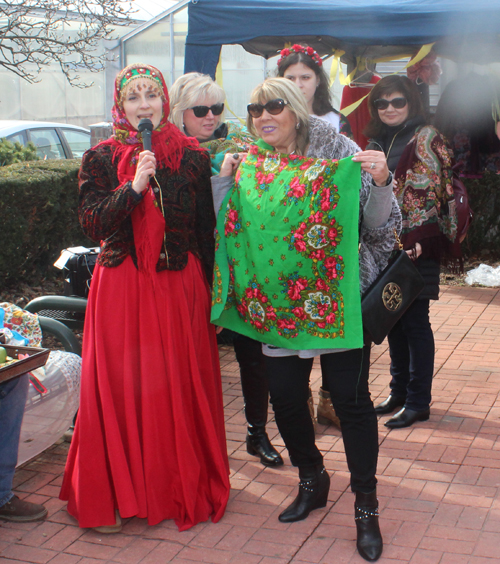 ---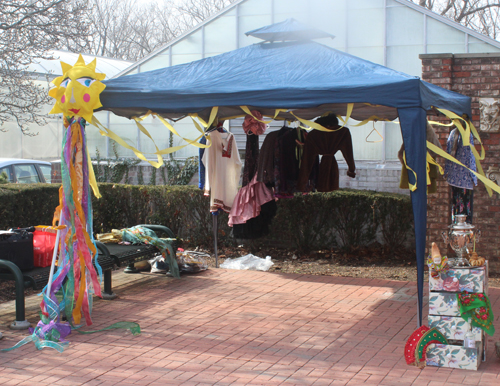 Guests could try on Russia costumes for photos


---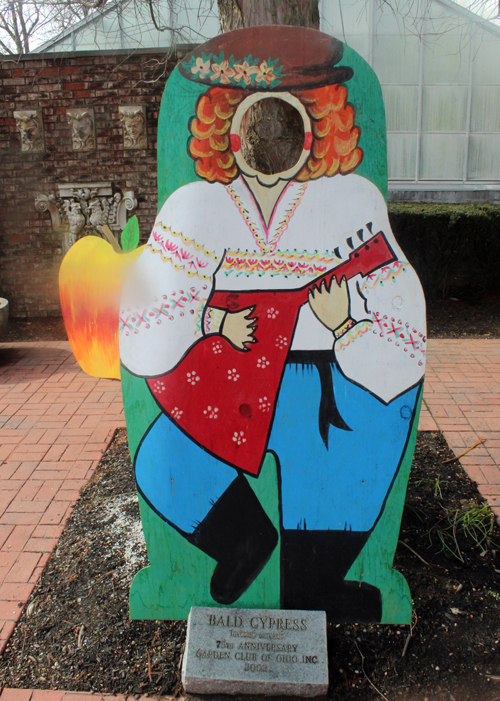 They could also pose with Russian cutouts


---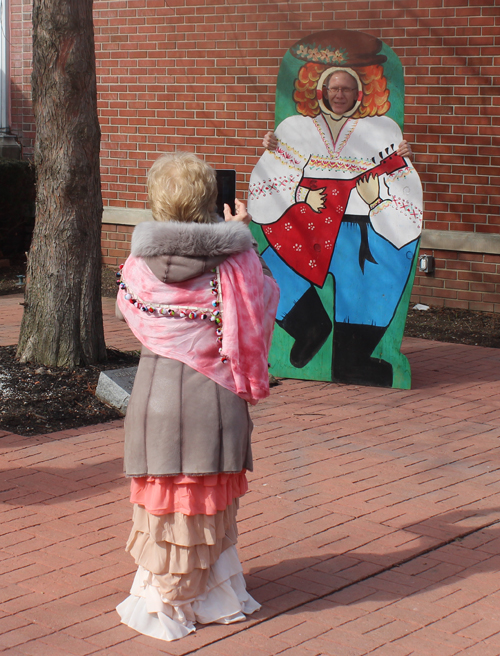 ---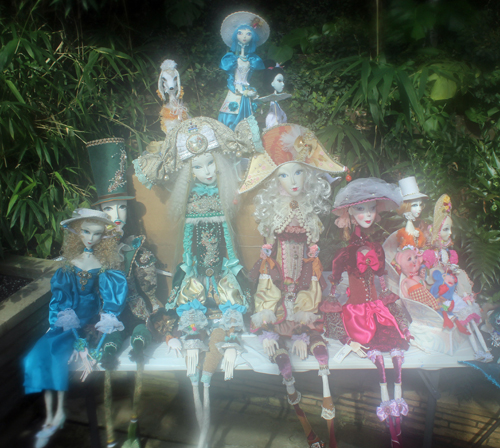 Russian dolls


---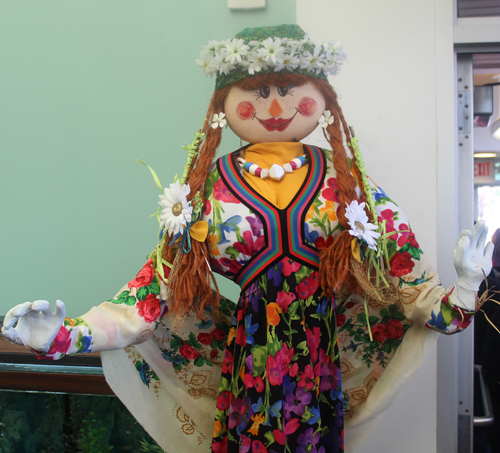 ---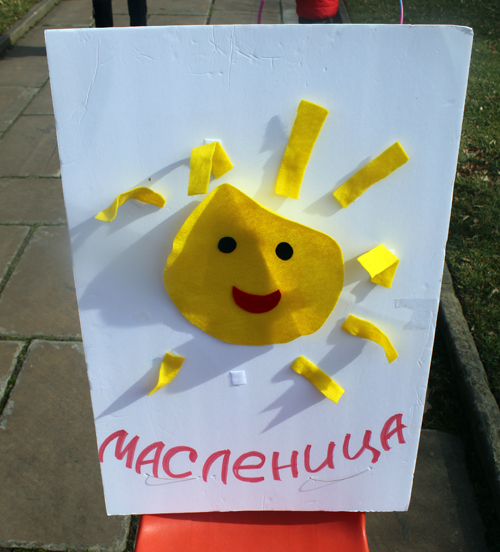 Congratulations to the leaders of the Russian Cultural Garden and the Maslenitsa committee for a terrific event.
***

Stay informed about the local Russian community by signing up for the free Russian eNews mailings. You can select other groups as well. It's easy and free. Fill out the form for the free Russian eNews.

***

---
---
Back to Top
Back to Cleveland Russians